If you have visited a decorative arts museum, or attended an auction preview, the chances are high that you have seen or held a piece of pottery or porcelain with a mark on the underside, foot, or sometimes top of the object. Marks are a useful clue for understanding origin, but ultimately must be treated with suspicion, and understood in the wider context of the history of a piece of ceramic. Furthermore, not all pieces of pottery or porcelain bear marks, and not all un-marked pieces of pottery and porcelain are old. So why are ceramics marked at all? And what knowledge can we gather from observing them? If you are a curious, aspiring collector of porcelain, or simply want to know more about the old plate you inherited from your grandparent, this article will give you the basics to start your journey to understanding marks on British and European pottery and porcelain.
A brief history of marking ceramics in Britain and Europe
The application of a deliberate inscription on a ceramic object as a seal of origin is a practically ancient concept. Hellenistic vessels of the kind found in museums across the globe have signatures of painters, and red-gloss Samian ware (terra sigillata) mass produced by the Romans often bear seals of makers. Inscribing the base of an object can be traced back to Chinese pottery and porcelain production, though these types of mark are more often the names of an Emperor to denote a reign, or words of commendation, or symbols of good fortune. Similarly, maiolica wares from the 16th century in Italy bear marks of ownership and dedication as opposed to origin and production. The dome of Florence's cathedral Santa Maria del Fiore on Medici pottery, the lighthouse of Genoa, and the shield mark of Savona (as found on lot 609 from Roseberys' 18/11/2021 Fine & Decorative auction – pictured below), are virtually factory marks in the modern understanding, though they relate to place and not a particular maker.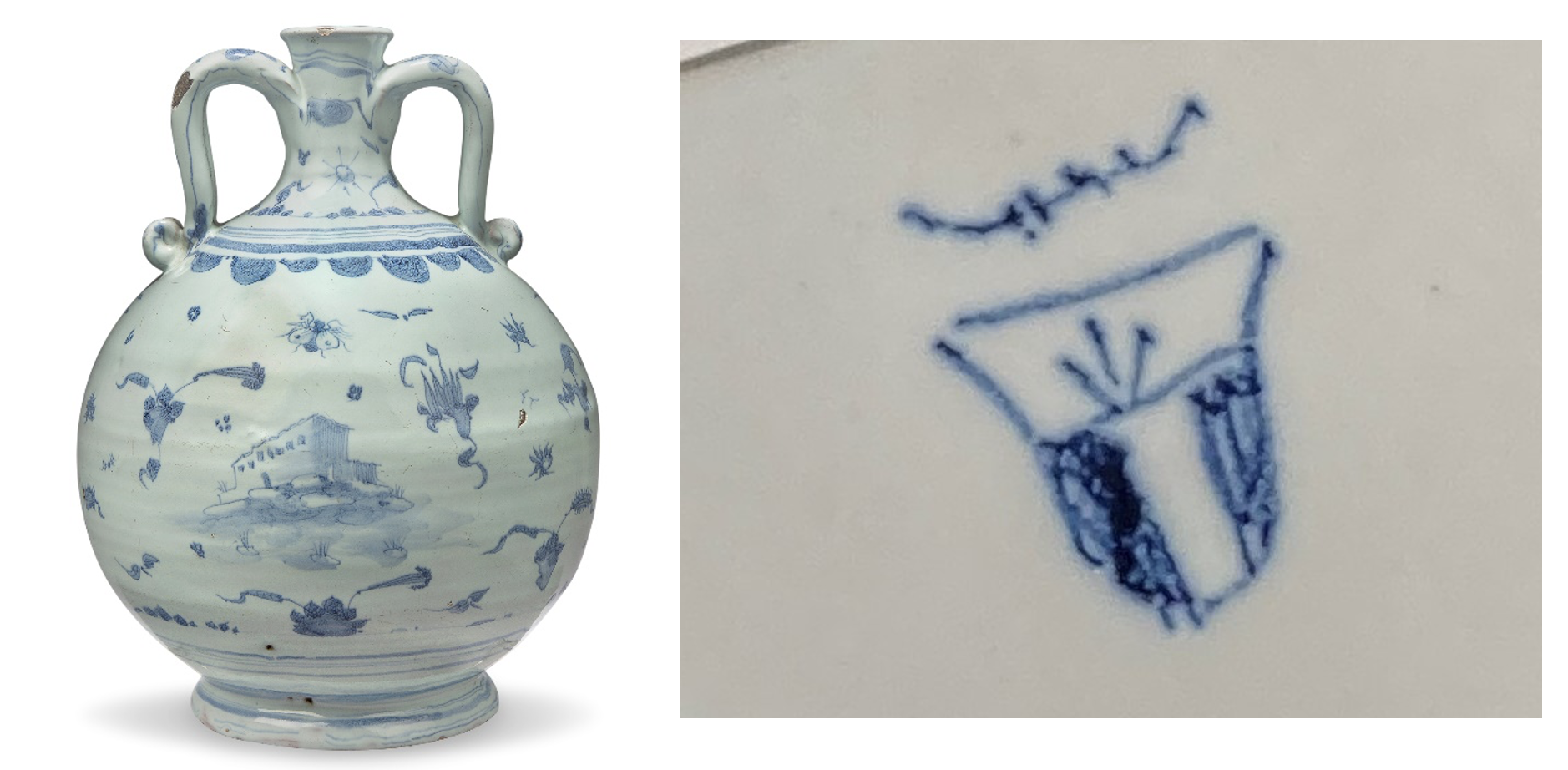 A Maiolica twin-handled bottle vase, Savona, c.1700, lot 609 in Roseberys' Fine & Decorative auction, 18/22/2021, and the mark to the underside 
It was not until the Meissen factory in Saxony adopted the letters 'K. P. M.' and the crossed swords mark in 1723 (both of the foot of an object, following Chinese methods), that marks on porcelain became a widespread practice in Europe and Britain. Soon followed the sanction of law: from 1766 in France porcelain makers were required to place on their wares a mark previously registered with police authorities. Faience makers in Delft in the Netherlands had agreed on registered marks two years prior. In Britain, the diamond-shaped Design Registration mark was used from 1842-83 to signify a form or decoration registered with the Patents Office and 'protected' for three years. And in 1890 the United States Congress, not wanting to miss out on the trend, ratified the McKinley Tariff Act, making necessary the addition of country-of-origin marks for exported wares to be sold in the USA, hence objects marked ENGLAND, GERMANY, or JAPAN are likely to be post-1891. After the Second World War 'studio pottery', the name for ceramics from independently owned potteries lacking the machinery, manpower, or desire to mass-produce, became increasingly popular – these pieces often bear marks as individual as the objects themselves.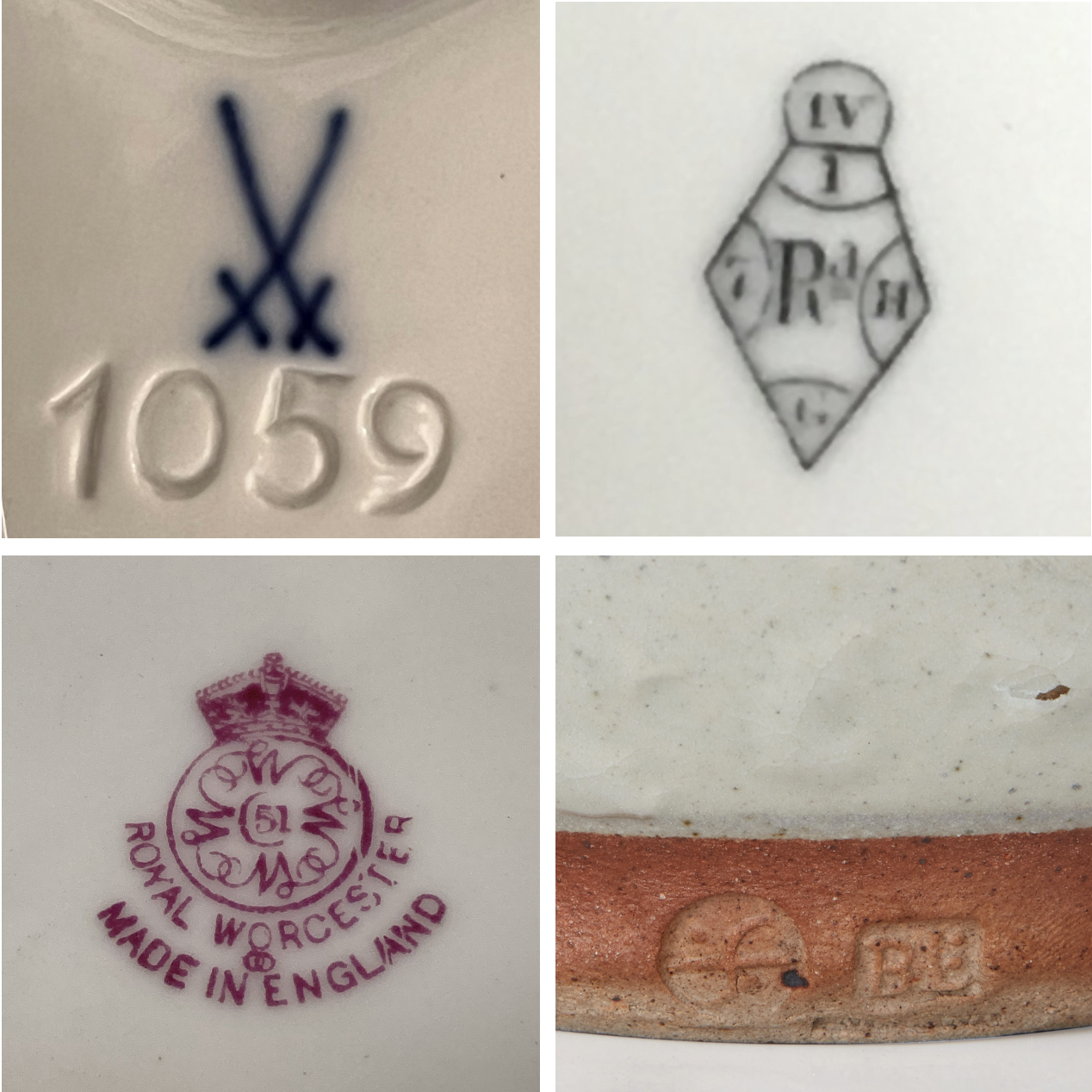 The Meissen crossed swords mark, an example of a diamond patent mark, an example of a post-1891 mark, and the mark of renowned studio potter Bernard Leach
What does a mark look like?
The continual joy and frustration of collectors of ceramics is that a mark can resemble almost anything legible, and its meaning can be varied or even misleading. It is important to remember that the uniformity of mark associated with mass-production is comparatively modern, and most marks visible on antique pottery and porcelain were applied by hand, often by unskilled factory workers, with no two marks exactly the same. Marks have been applied to porcelain in the following ways: by incision on soft (unfired) clay, one of the oldest methods of marking; by impressing a stamp in unfired paste, a common practice from the mid-18th century onwards; by painting or transfer-printing under the glaze, which was done exclusively in blue before 1850 in reference to Chinese porcelain, and in various colours after 1850, when chrome-green was used at the Sèvres and Minton factories; and by painting, transfer-printing, or stenciling over the glaze, commonly done after production is finished.
The design of a mark can range from complex coats of arms with multiple lines of text to simply a single graphic shape, letter, or combination of letters. Furthermore, in the 19th century prominent factories in Sèvres, Vienna, and Berlin began the practice of applying marks denoting the decorators alongside the marks of factory production. The practice of cancellation marks for outmoded and undecorated pieces, or spoilt pieces to be sold cheaply, also developed in the 19th century (see picture below). Forgers have been known to grind away these disclaimer marks, leaving a small cavity of unglazed ceramic behind. Marks scratched into the paste may also refer to its composition and might have been purely for the guidance of a manager or workman, for example to indicate which part of the kiln the object should be placed for effective firing.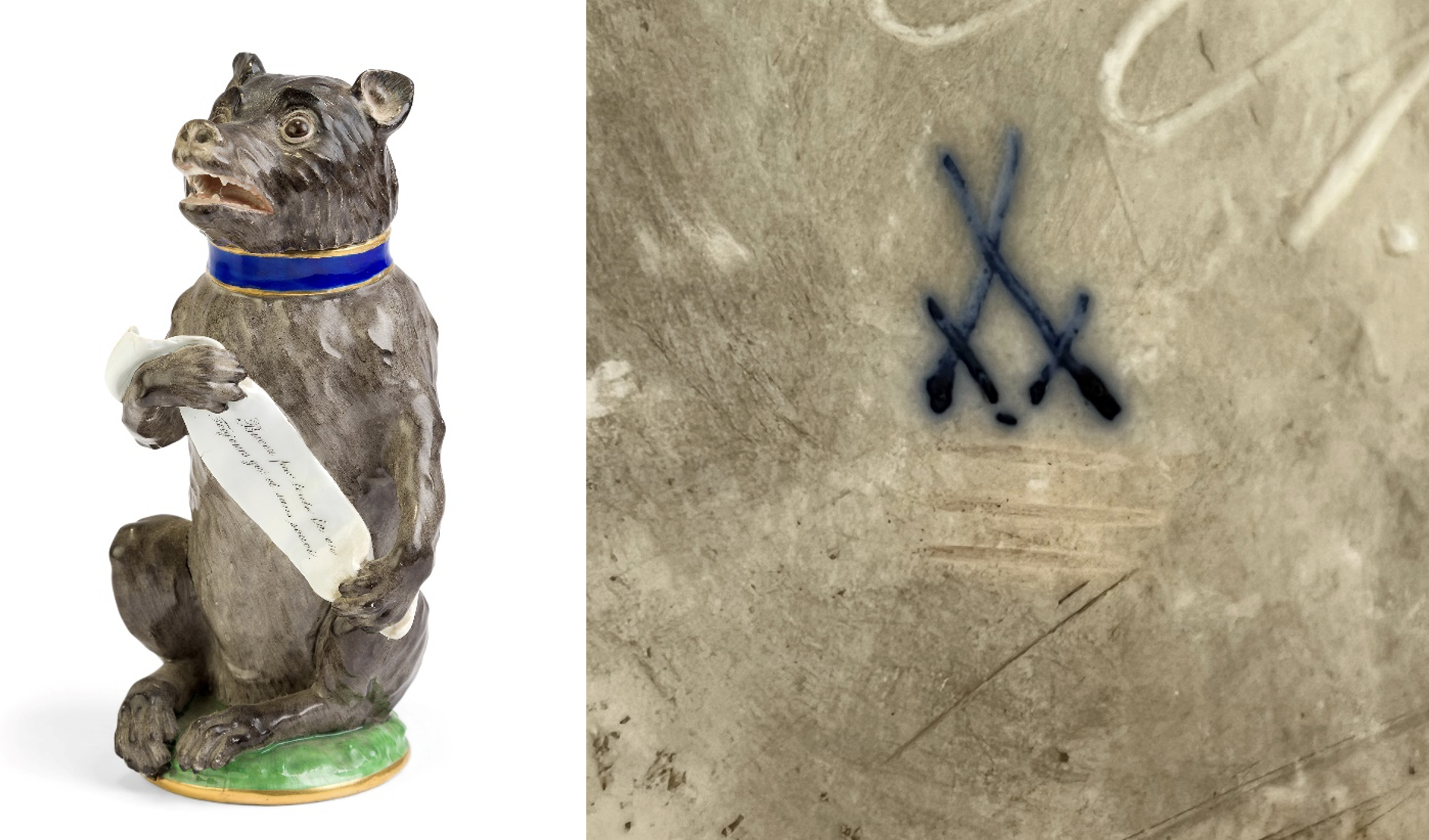 A Meissen porcelain flask and cover, second half 19th century, lot 169 in Roseberys' Fine & Decorative auction, 24/05/2023, and the mark to the underside with three cancellation lines
Forgeries and reproductions
The practice of marking pottery and porcelain in the 18th century in Europe and Britain was never regularised. The factories of note added marks to their work, and many imitators left theirs unmarked, or added marks that were likely to be mistaken for the famous factories. For example, the Meissen crossed swords have the largest number of imitators: European factories at Ansbach, Arnstadt, Berlin, Buschbad, Dresden, Charlottenbrunn, Choisy-le-Roy, Gera, Grossbreitenbach, Limbach, Nymphenburg, Paris, Potschappel, Rudolstadt, Strasbourg, Tournay, Vincennes, and Weesp, and British factories at Bristol, Caughley, Chelsea, Derby, Lowestoft, and Worcester, all had variations on the crossed swords mark. Likewise, the Sèvres interlaced Ls mark was frequently imitated, by British factories at Derby, Coalport, and Worcester, and also by factories at Limoges and in Paris.
While it is tempting to dismiss all imitation pieces as 'fakes' or 'forgeries', the majority of the factories listed above produced wares bearing imitation marks in addition to their own designs and decorations, and therefore did not simply ride the coattails of the fame of other popular factories. One exception that is worth mentioning is the factory of c (1810-91) established in Paris in 1845 with the expressed intention of making high-quality reproductions of ceramics on display in museums and in private collections. Samson & Co. produced wares inspired by Japanese Imari and Chinese famille rose and famille vert porcelain, Persian and Hispano-moresque ceramics, Italian maiolica, and the Meissen, Sèvres, Chelsea, Worcester, Derby, and other factories. From the outset, the pieces produced by Samson were distinctly marked with a variant of the factory and style imitated, so as not to deceive and cause confusion. Furthermore, Samson & Co. worked with hard-paste porcelain, while many of the pieces imitated would have been made in soft-paste porcelain, and would often produce works in a different size to the original, and with different colours. Samson are renowned as the most famous copyists of porcelain and pottery, but unfortunately certain pieces by Samson have been passed-off as originals, especially after the factory's distinctive marks had been removed. Pictured below are four Samson teacups and saucers decorated in 18th century Meissen style and bearing their own variation on the crossed swords mark – a good example of the attention to detail exemplary of 19th century Samson imitations.

Four Samson porcelain teacups and saucers, 19th century, and an example of Samson's imitation Meissen mark to the underside of each piece 
Beyond the Mark
A mark is often the most obvious place to start, but they are but one part of the many aspects that make an antique British or European piece of pottery desirable, collectable, and valuable. For example, lot 262 from Roseberys' 21/07/2022 Fine & Decorative auction, a Sèvres pink-ground broth-bowl with cover and stand, bore not only the iconic interlaced Ls mark but also beautiful and skilfully painted vignettes of pastoral farming, bee-keeping, bird-catching and a peepshow. This style of painting of pastoral scenes is traditionally associated with the factory artist André-Vincent Vielliard père, who was active at Vincennes and Sèvres from 1752 to 1790. With this knowledge we were able to date the lot to c.1760 in the absence of a date letter within the interlaced Ls. The lot subsequently sold for £12,350, more than doubling its high estimate.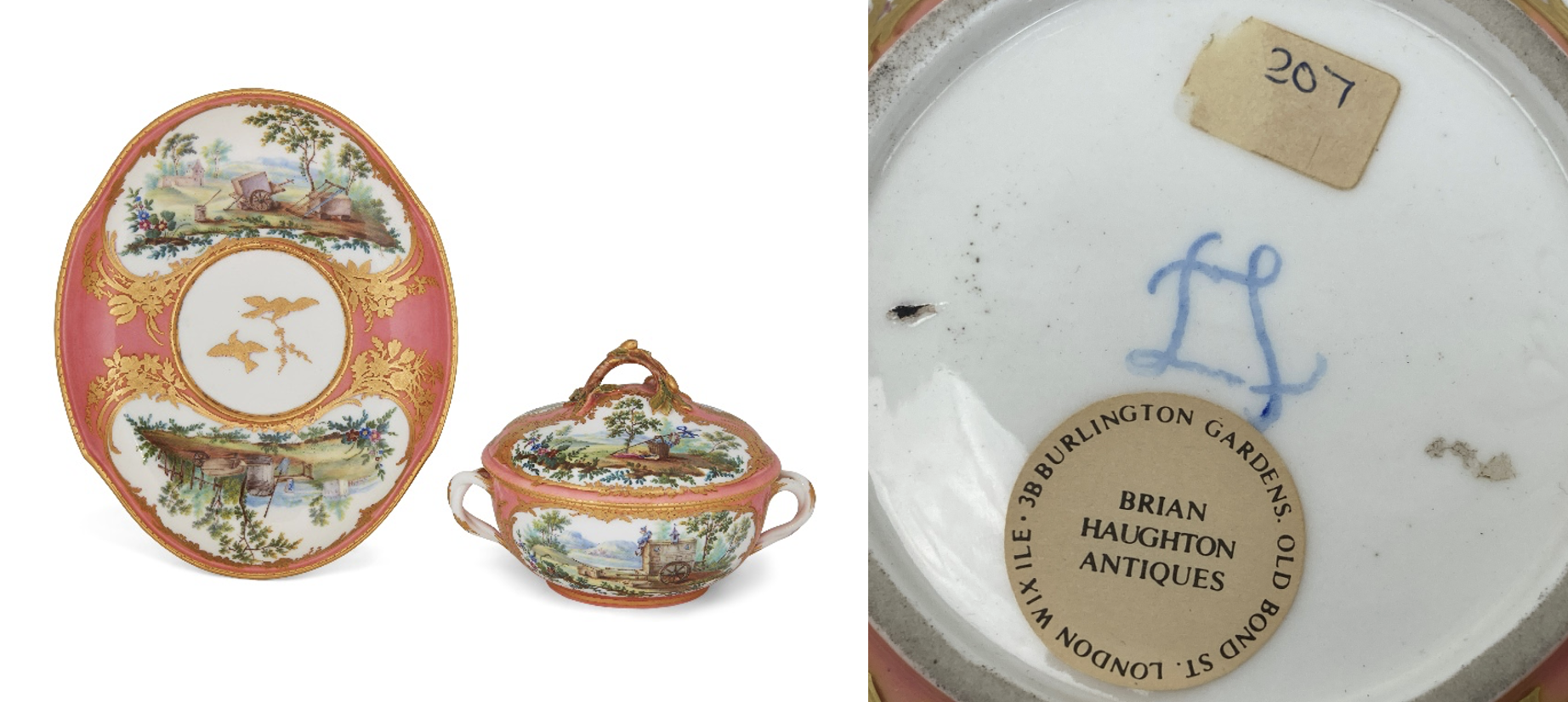 A Sèvres pink-ground broth-bowl, cover and stand, c.1760, and the interlaced Ls mark to the underside
As mentioned before, not all antique ceramics bear marks. English delft ware objects often bear no marks whatsoever, and therefore it is via the decorative scheme or specific colours that one can identify various styles. For example, a delft ware plate sold at Roseberys, (pictured) was decorated in a scheme and colour palette associated with production in Liverpool in the 18th century. Amidst various other examples of delft wares in more conventional blue and white decoration, this plate stood out, and despite its condition flaws it sold for £1,040, blowing away the conservative high estimate.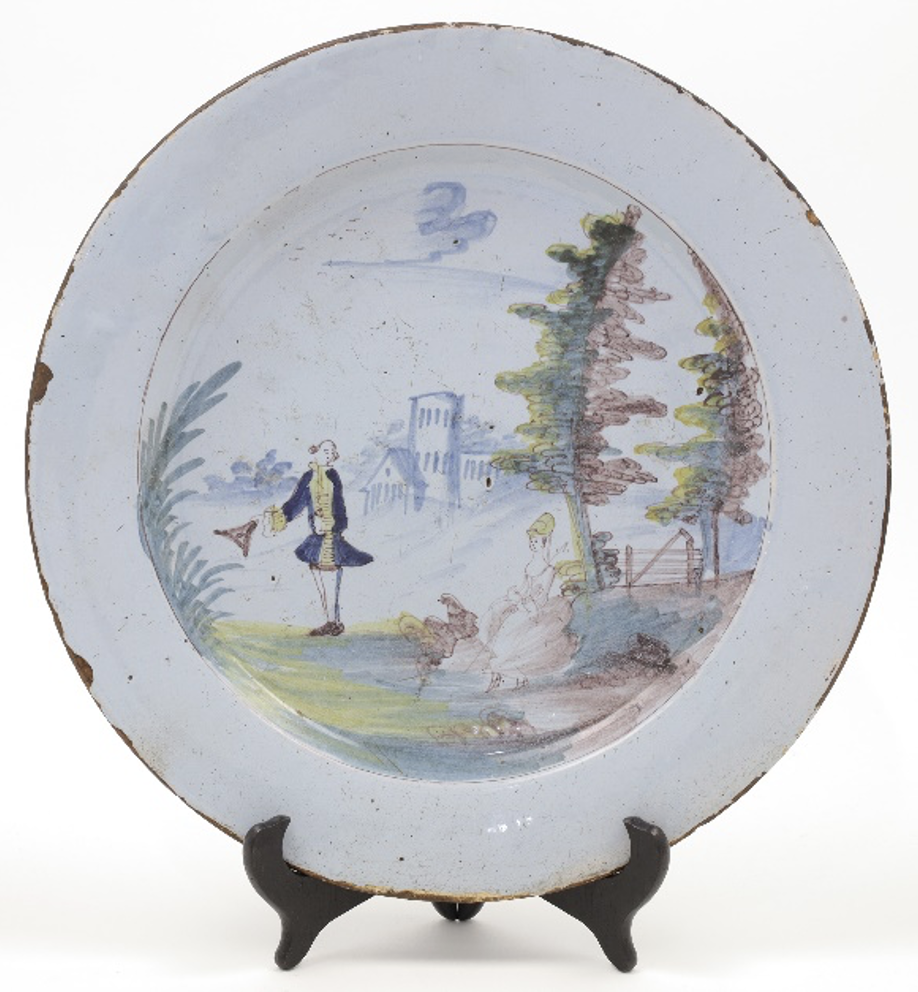 Studying other aspects of the porcelain such as the differences in texture between cold, flinty, glass-like hard-paste and granular, warmer soft-paste porcelain, the decorative style, hand-painted and transfer-printed, and quality of design and execution will all lead to a deeper understanding of the object in your hands. The best way to learn is via the experience of looking and handling, to visit museums and auction houses to see examples for yourself. If you are unsure about a piece of porcelain or pottery you own, you are always welcome to consult a specialist: at Roseberys we offer valuation services for British and European pottery and porcelain, as well as Asian, Islamic, and 20th century pottery. Do not hesitate to contact us, we would be delighted to assist with helping you understand the value of your antique pottery and porcelain.