This December Roseberys is delighted to be offering over two hundred lots of British, European, Asian, Scandinavian and American silver spanning four decades from the 16th to 21st century. This is Roseberys' first stand-alone Silver auction and we look forward to launching four dedicated silver sales in 2024. This sale features a wide array of novelty, decorative and historic pieces appealing to both collectors and Christmas shoppers alike! Represented among the many makers are some of the best silversmithing names of past and present, including Paul Storr, Thomas Farren, Solomon Royes, Gerald Benney, Georg Jensen, Stuart Devlin and Patrick Mavros, in addition to luxury houses such as Tiffany & Co., Theo Fennell, Cardeilhac and Christofle.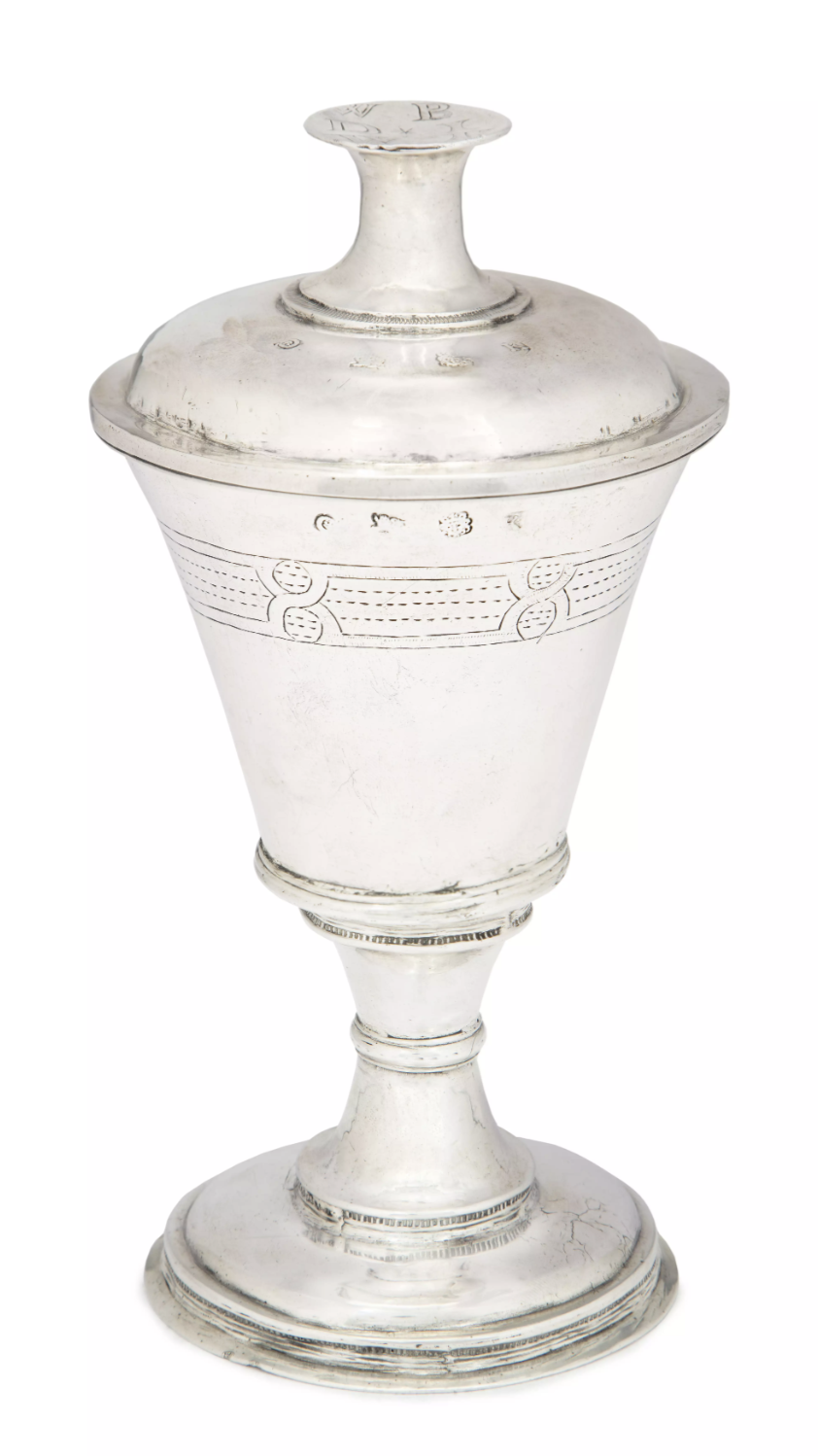 Lot 9: An Elizabeth I silver communion cup and paten, William Cawdell (probably), London, 1587
An historical highlight in this sale is Lot 9; an Elizabeth I silver communion cup and paten, hallmarked in London in 1587. It is a lovely and very typical example of its kind, with a design that reflects the history of the Reformation period. Remarkably, this cup has retained its original paten, a feat that sets it apart from many of the surviving Elizabethan communion cups which have become separated from their covers over the years. We are also delighted to be offering a second sixteenth century item: an Elizabeth I baluster seal top spoon by Nicholas Bartholomew. Hallmarked for London, 1578, it slightly predates the communion cup and is in remarkably good condition for its age.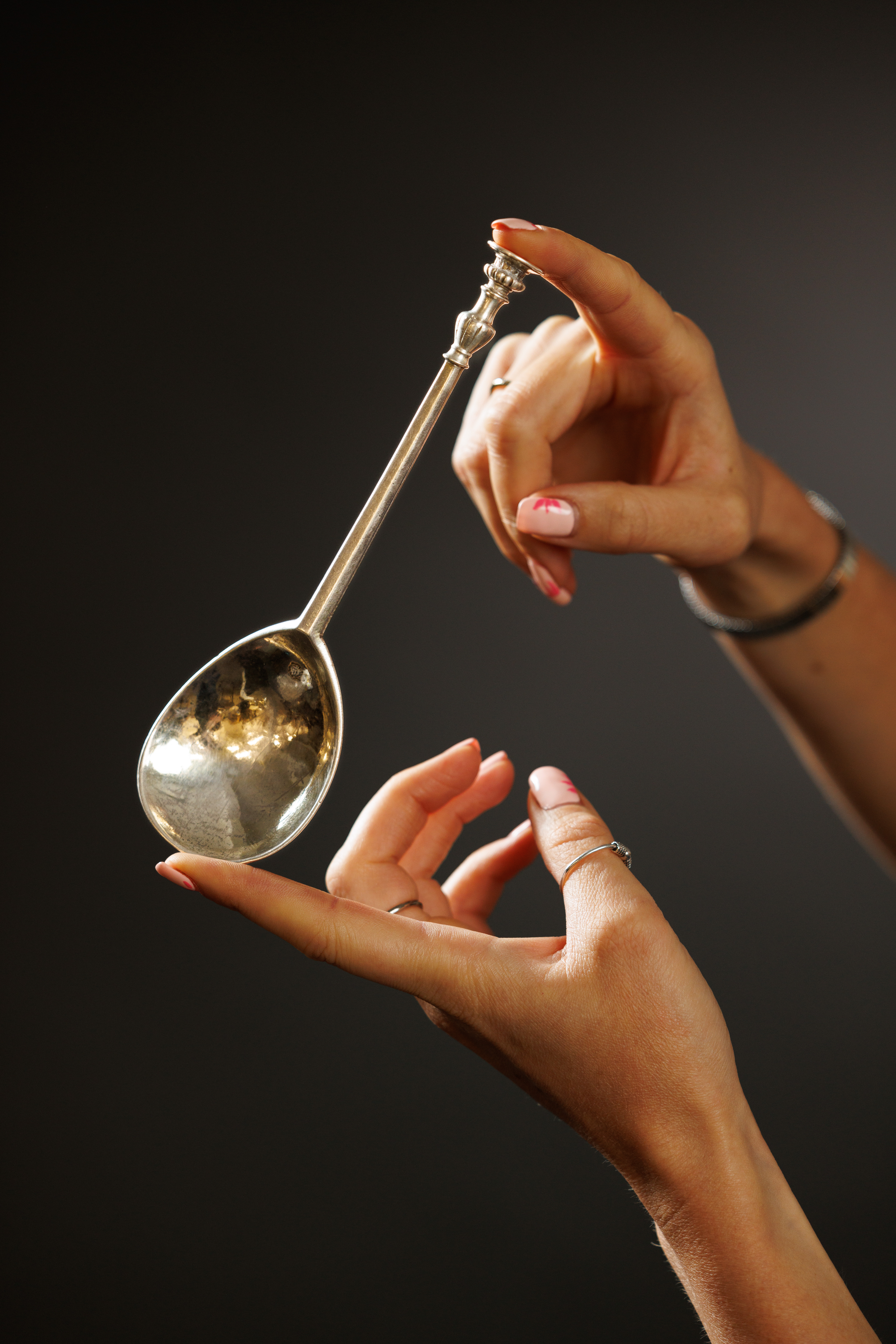 Lot 11: An Elizabeth I baluster seal top spoon, Nicholas Bartholomew, London, 1578
Among the highlights of the Georgian section of the sale is Lot 26; a George I silver caster by the highly regarded silversmith, Thomas Farren. Farren became subordinate goldsmith to the King in 1723 and is perhaps best known for the great silver wine cistern and fountain which he made in 1728 for Burghley House in Lincolnshire. This caster is a fine example and is engraved with an 18th century coat of arms for Kesser Vanderplank and Catherine Pembroke,who entered into a clandestine marriage in 1738. Other notable pieces of Georgian silverware in this sale include an impressive late 18th century tea urn by Henry Chawner and John Emes, and an attractive Regency four-piece tea set by Solomon Royes.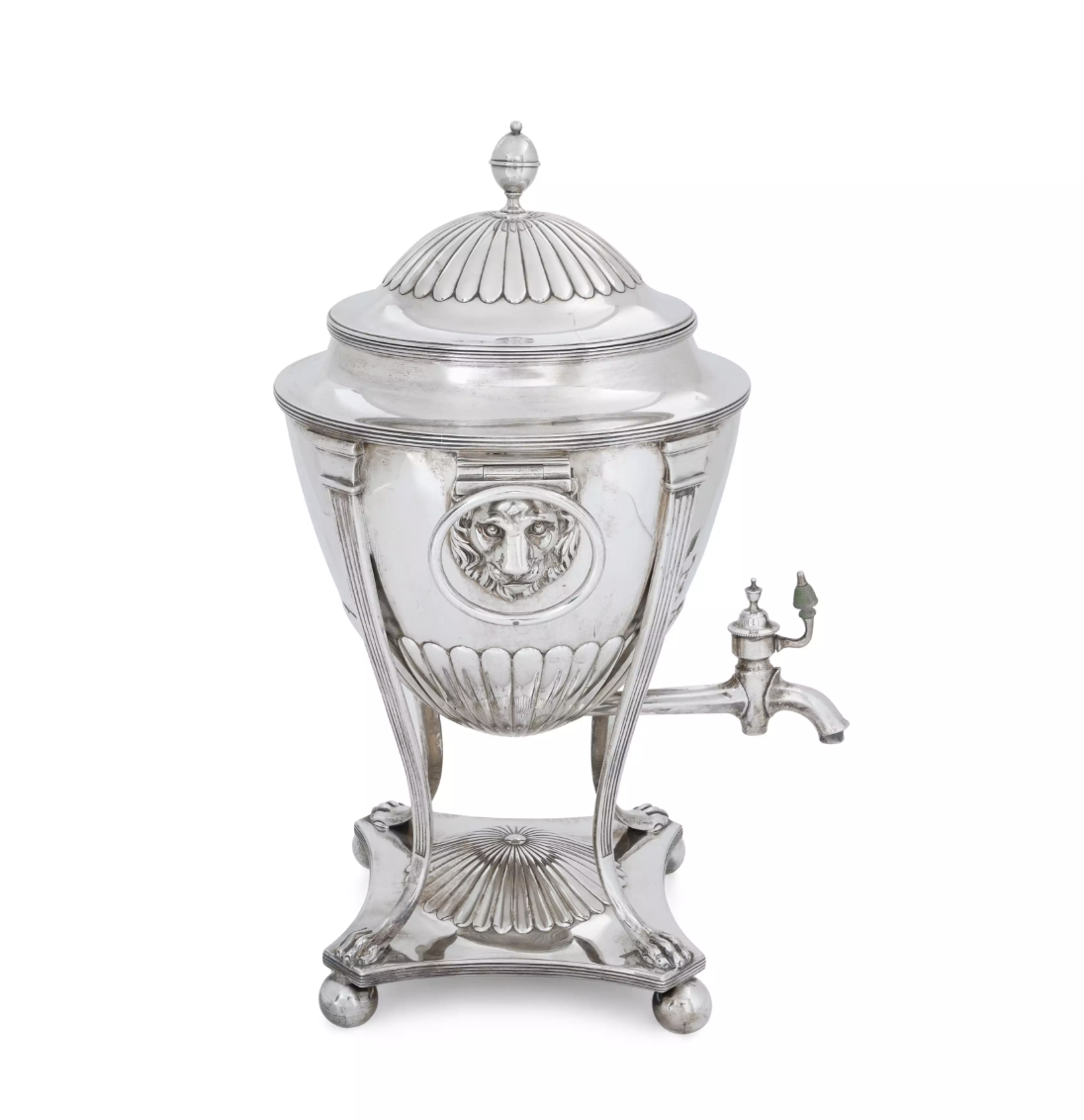 Lot 1: A George III silver tea urn, Henry Chawner and John Emes, London, 1797
Canteens of flatware by names synonymous with luxury such as Tiffany, Cardeilhac, Faberge and Christofle are always well-bid at auction, so we expect both a lovely group of the very popular Hampton pattern flatware by Tiffany and Co. and a French canteen by Ernest Cardeilhac (Lot 2) to generate interest. Also included in the sale is a selection of 18th and 19thcentury flatware, including a Queen Anne Britannia silver dog-nose tablespoon by William Scarlett, a George II silver picture back table spoon by Marmaduke Daintrey and a meat skewer by Paul Storr.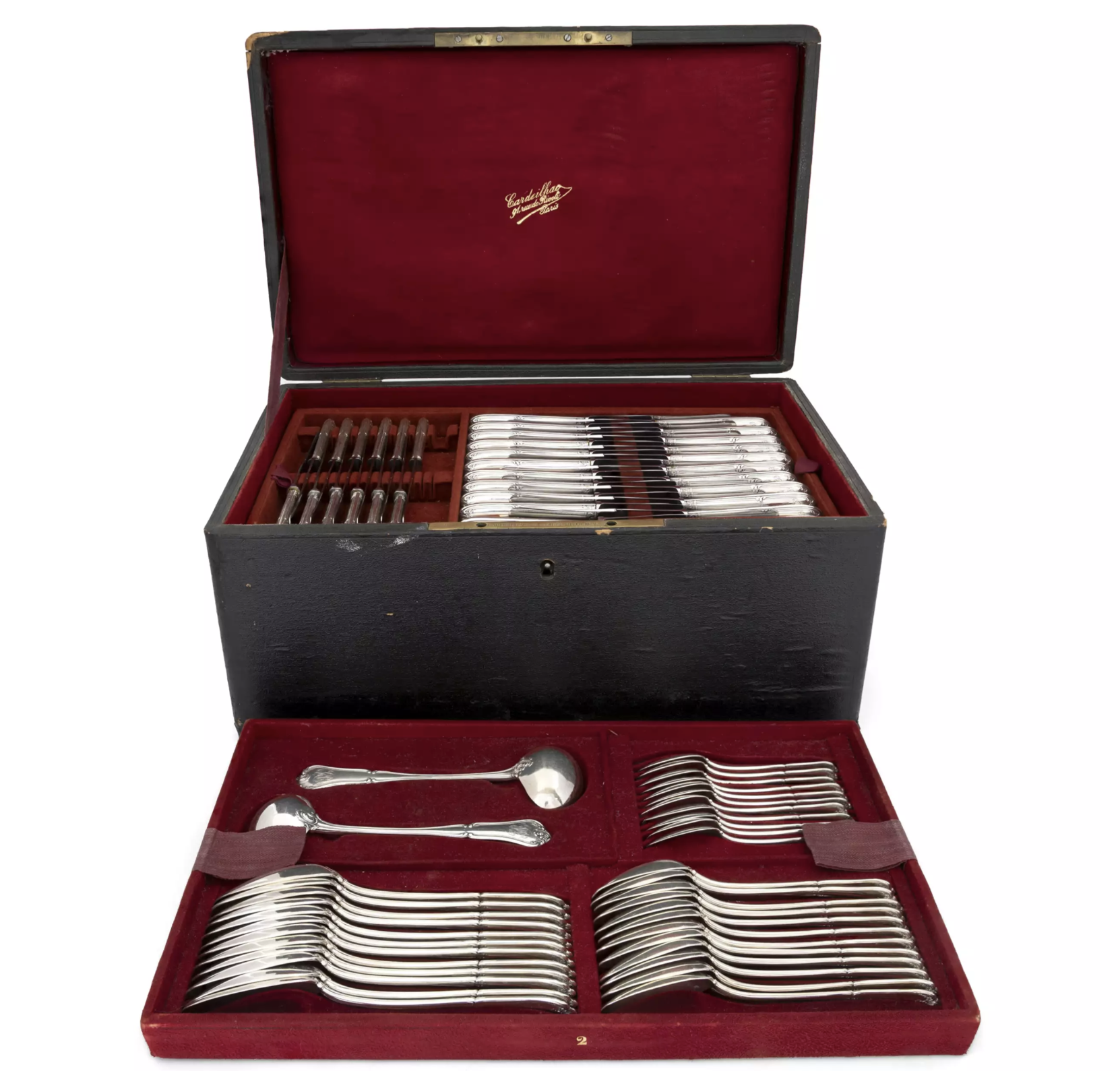 Lot 2: A canteen of French silver flatware, Late 19th/early 20th century
The animal kingdom is also well represented in this sale, with the largest individual - a realistically modelled African elephant by Edward Barnard & Sons - towering over a fellow resident of the African plains; a Zimbabwean silver sculpture of a warthog by Patrick Mavros. More diminutive in stature – but certainly not lacking in character - are two Victorian silver frog cruets by John Septimus Beresford and a festive silver model of a turkey.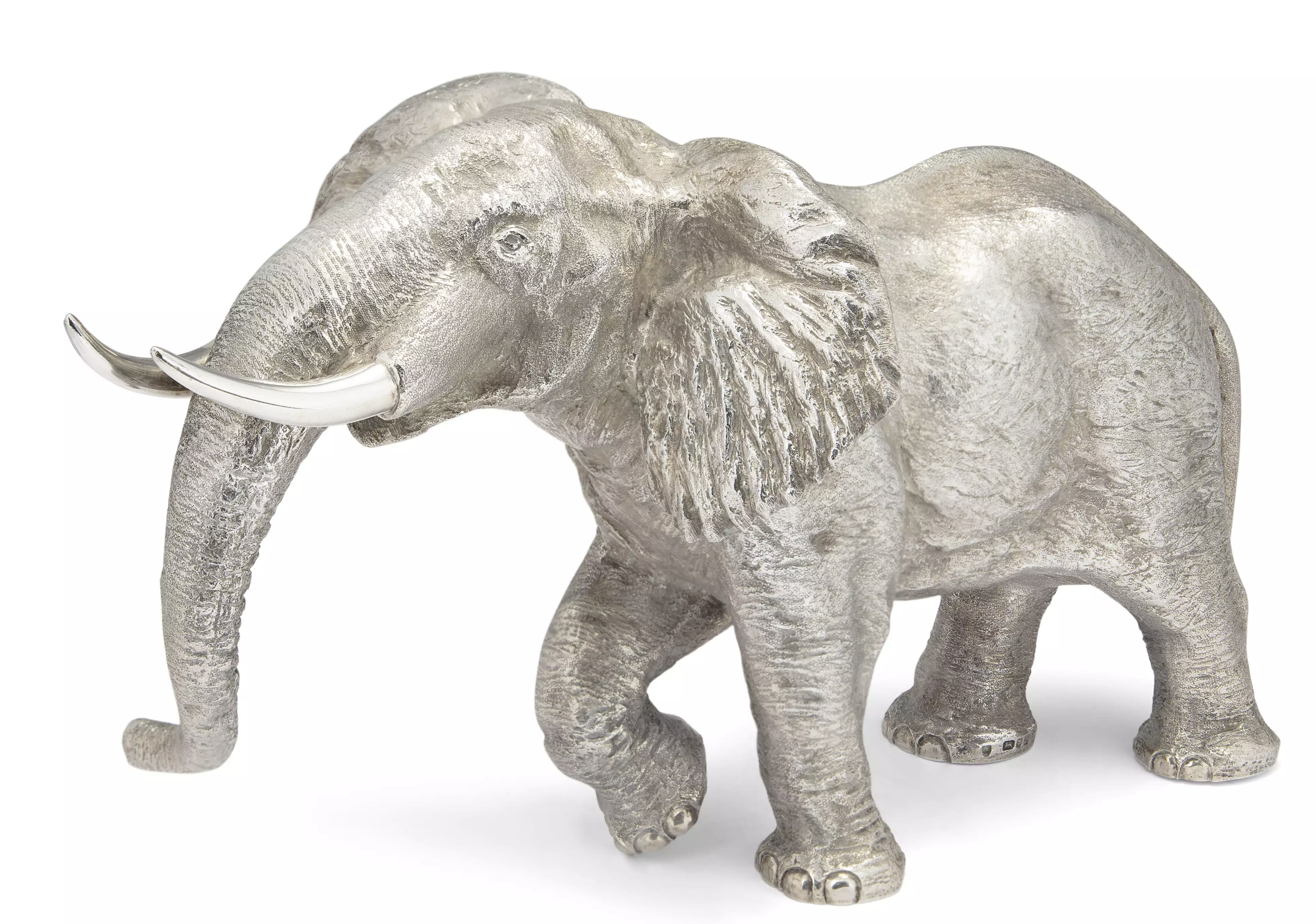 Lot 3: A silver model of an African elephant, Edward Barnard & Sons, London, 1975 
We look forward to welcoming collectors, Christmas shoppers and silver enthusiasts alike to our view, which opens on Friday 1st December. There's a silver something for every taste and budget, and our top picks for those looking for Christmas present inspiration include: a 1920s Japanese 'Bamboo' decorated cocktail shaker; a Gerald Benney paperweight designed with his signature 'bark effect' textured finish; a George II silver mug in a fitted case; a Tiffany & Co. christening set; a Stuart Devlin 'surprise' egg; and a Victorian silver watering can by Mappin & Webb.