Roseberys are delighted to present the autumn edition of the Old Master, British & European Pictures sale, which will go under the hammer on the 22nd November. This curated auction features 362 lots of quality pictures from British and international collections, ranging in date from the Renaissance to the early 20th century.
Among the star lots in the sale is a rare late work by the Impressionist painter Henri Fantin-Latour, as well as a large-scale, vibrant Venetian view by the Victorian artist William Wyld.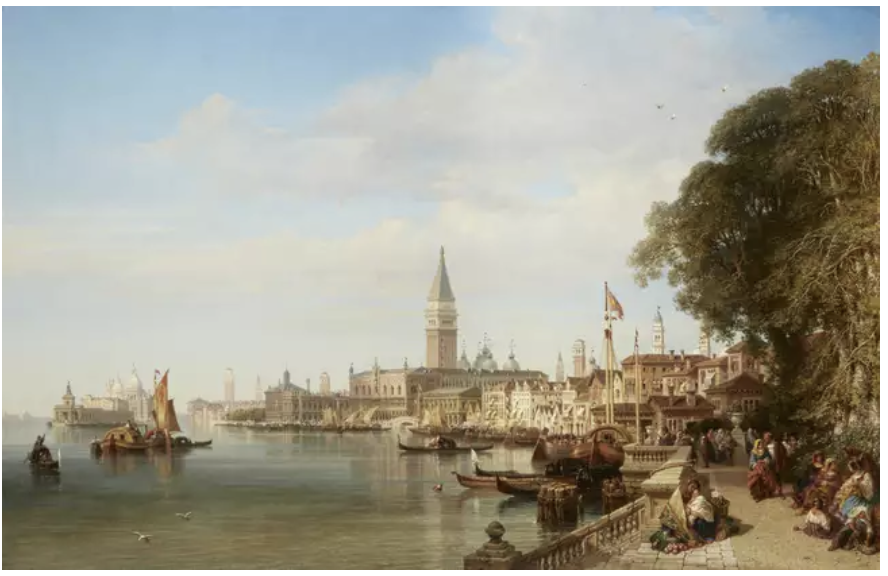 Lot 202: William Wyld, RI, A View of Venice from the Riva degli Schiavoni
The genre of portraiture is also very well-represented in the auction. A particularly handsome example is a portrait of a gentleman painted by the Georgian portraitist Thomas Hudson.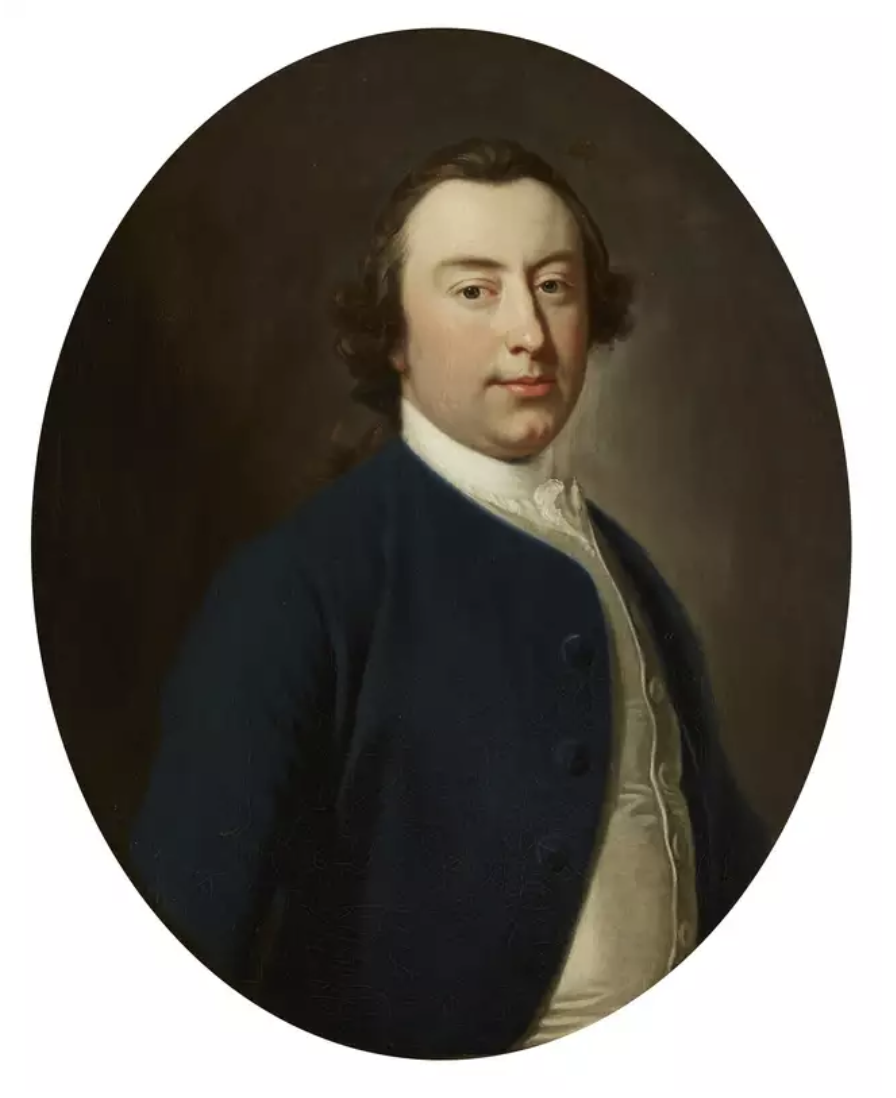 Lot 73: Thomas Hudson, Portrait of a gentleman
A portrait by Augustus Egg, which depicts the artist's good friend and fellow painter William Powell Frith, is another of our favourite highlights. It is a sensitive and quite personal portrait, a testament to the artists' closeness and friendship. It has been in the sitter's family since it was painted.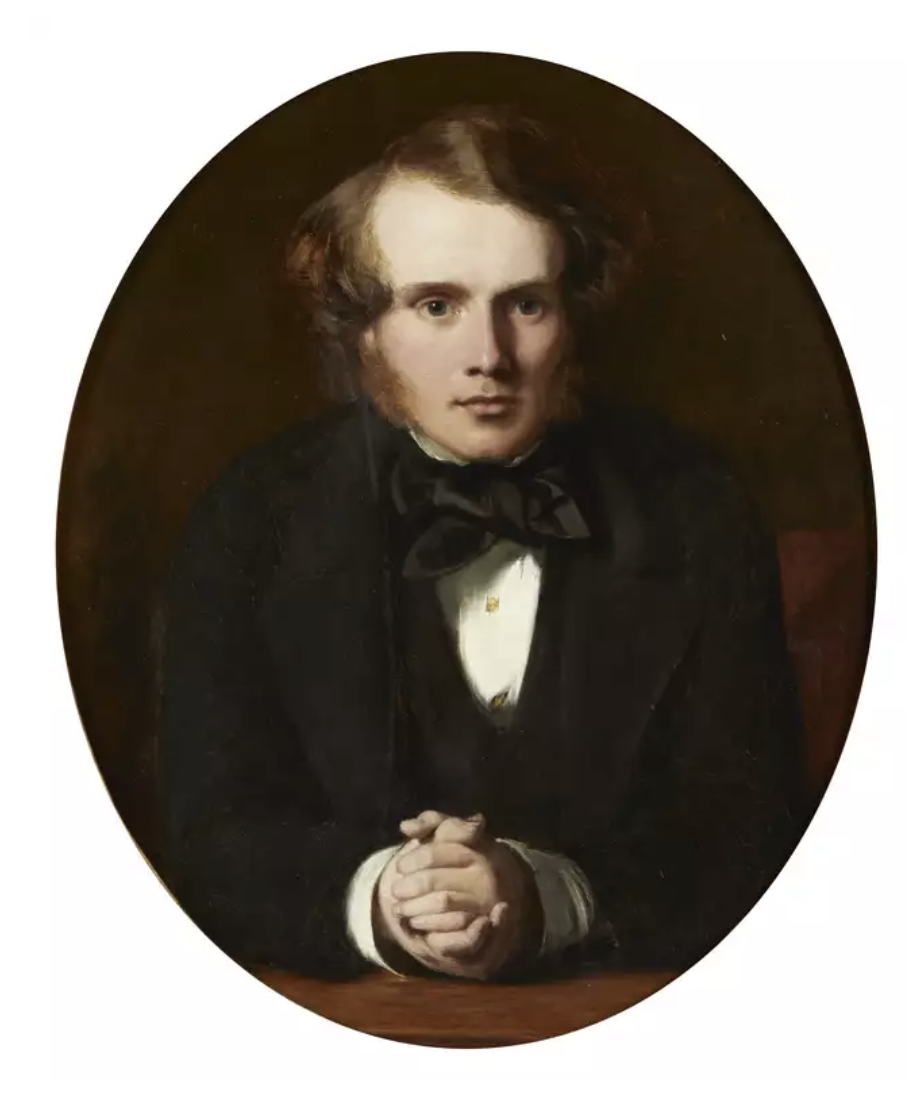 Lot 140: Augustus Leopold Egg, RA, Portrait of William Powell Frith
We are also pleased to present no fewer than nine striking works by the eminent Austro-Hungarian society portrait artist Philip Alexius de László.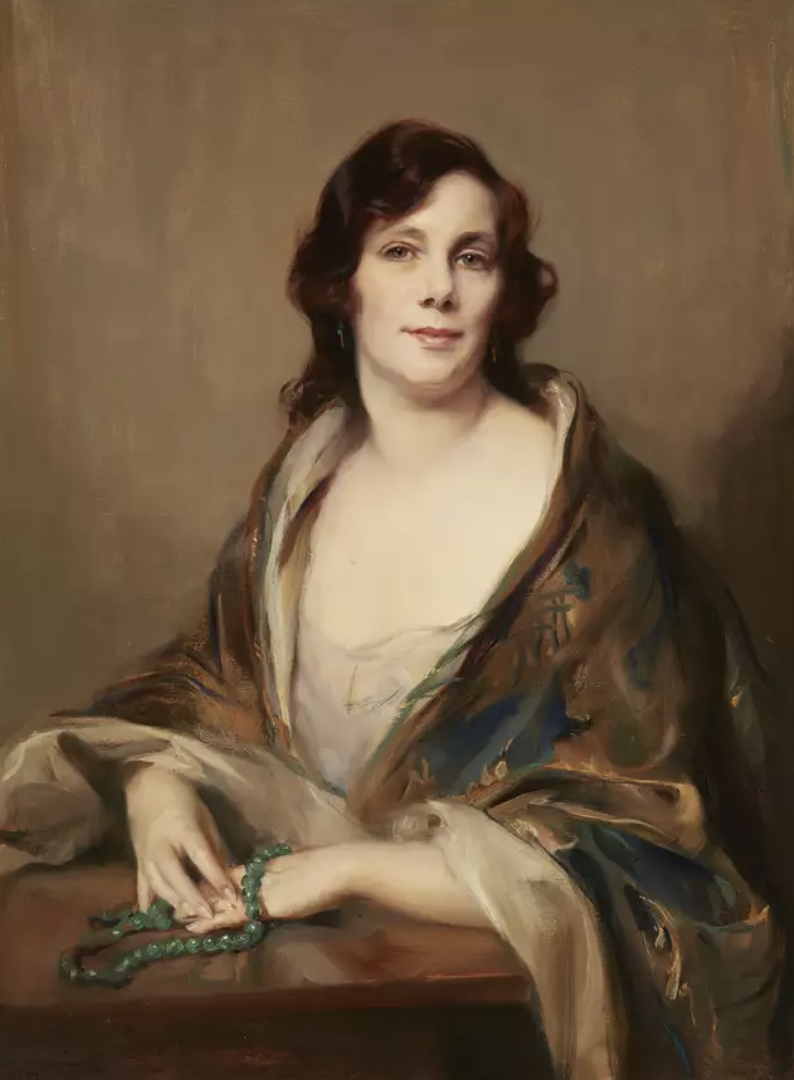 Lot 289: Philip Alexius de László, PRBA, Portrait of Mrs Frederick John
In addition to many fine oil paintings, this auction also includes a particularly strong selection of works on paper by British and European artists.
Among the earliest works in the sale are two fine Italian drawings in ink. The first is a delicately rendered study for an Altarpiece by the influential Florentine painter Santi di Tito, who is considered one of the earliest proponents of the Baroque movement, and the second is a lively drawing by Pietro Novelli, which was recently rediscovered. The reverse of this intriguing double-sided sketch by Novelli appears to relate to a known altarpiece by the artist, held at the National Museum of Fine Arts in Budapest.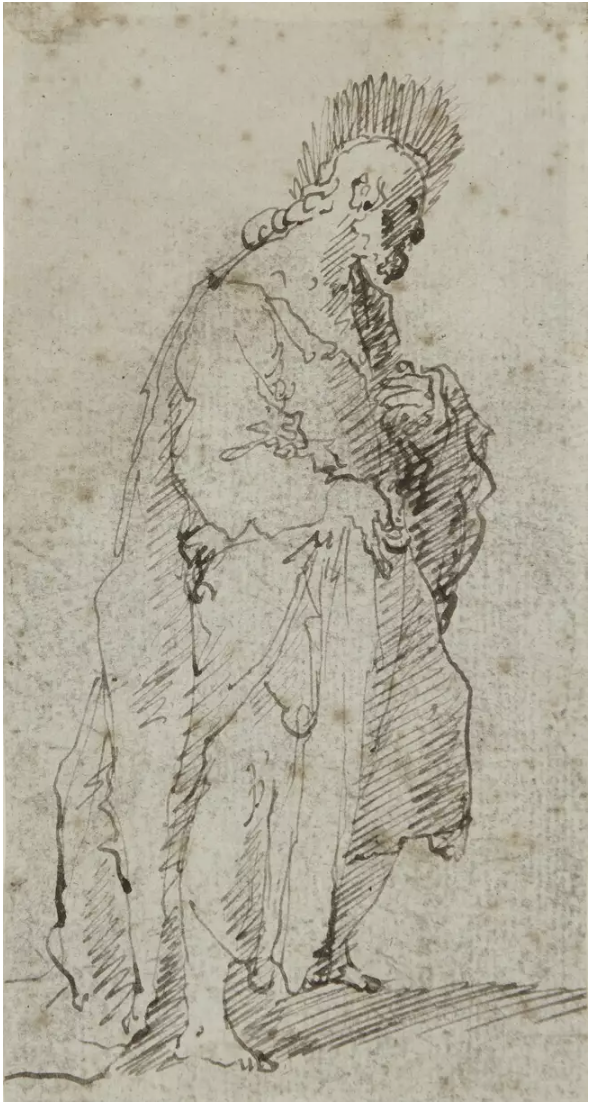 Lot 19: Pietro Novelli, called Il Monrealese,


Other early drawings include an arresting costume design by the French draughtsman Jean Berain, which shows a character from the opera Atys by Jean-Baptiste Lully, an opera that was known to be one of King Louis XIV's personal favourites. This fantastical and arresting design has been estimated at £600-900.
Lot 26: Jean Berain, Costume design for 'Un Songe Foneste'
Another unusual group of works on paper is a rare set of chromolithographs after the Dutch maritime painter Willem van de Velde the Younger. The prints depict two battles of the Anglo-Dutch War, namely the Battle of Solebay and the Battle of Texel.

Lot 100: Manner of Willem van de Velde the Younger
In addition to these works by European masters, the auction also features a wonderful selection of British drawings. One highlight in this category is an atmospheric landscape by John Martin, which has been dated to circa 1811-12 and is estimated at £4,000-6,000.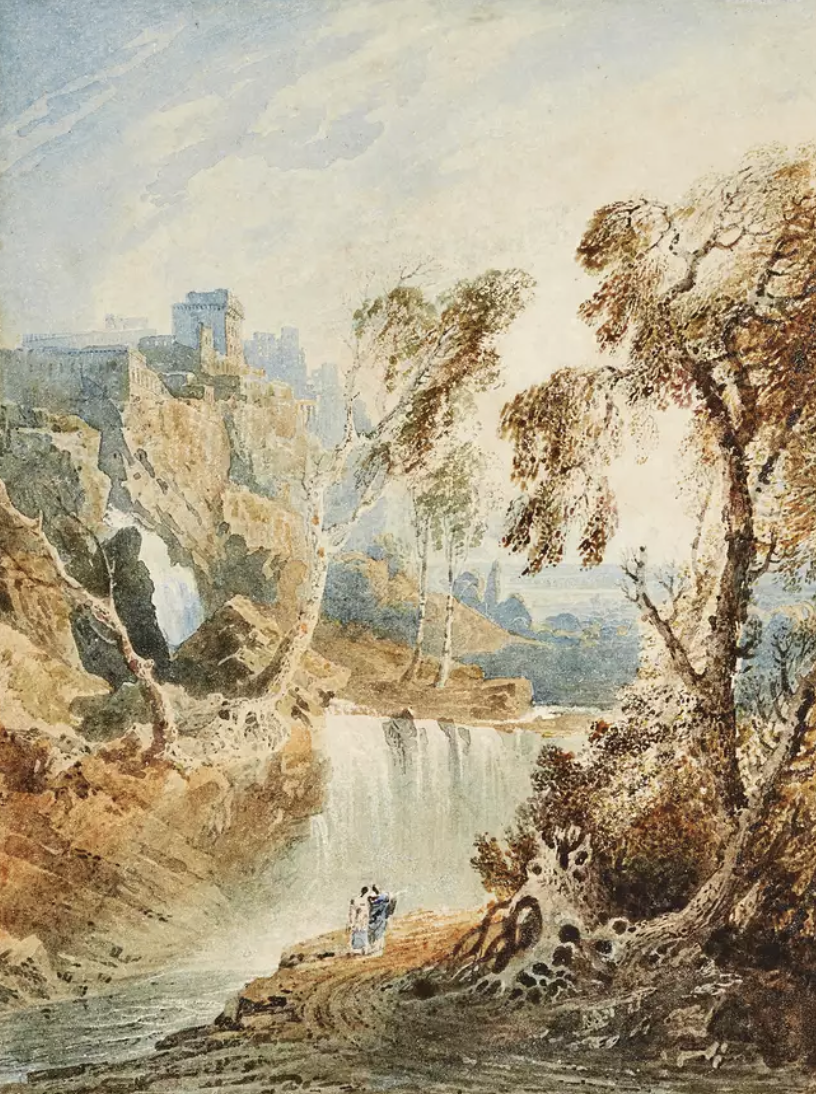 Lot 192: John Martin, Figures by a waterfall, with a town on a hill beyond
Another drawing to watch is a charming sketch of a farmstead by Edward Lear, which shows off the illustrator's confident hand, and ability to set an entire scene with only a handful of lines.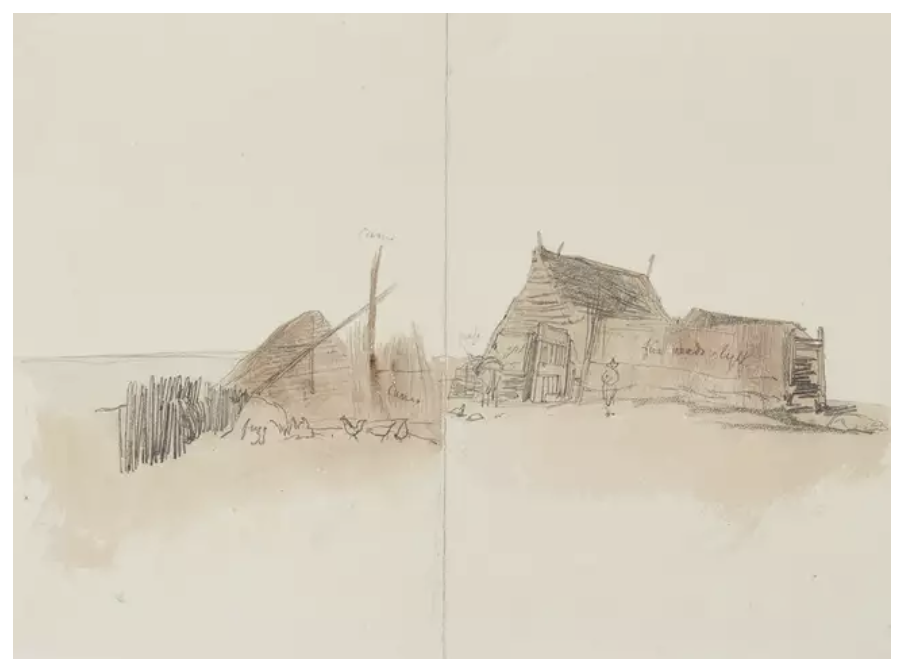 Lot 180: Edward Lear, A Farmstead
The auction also features a group of travel pictures, including two lovely sketches by George Chinnery, who is best known for his scenes of the daily lives of people in Canton and Macau.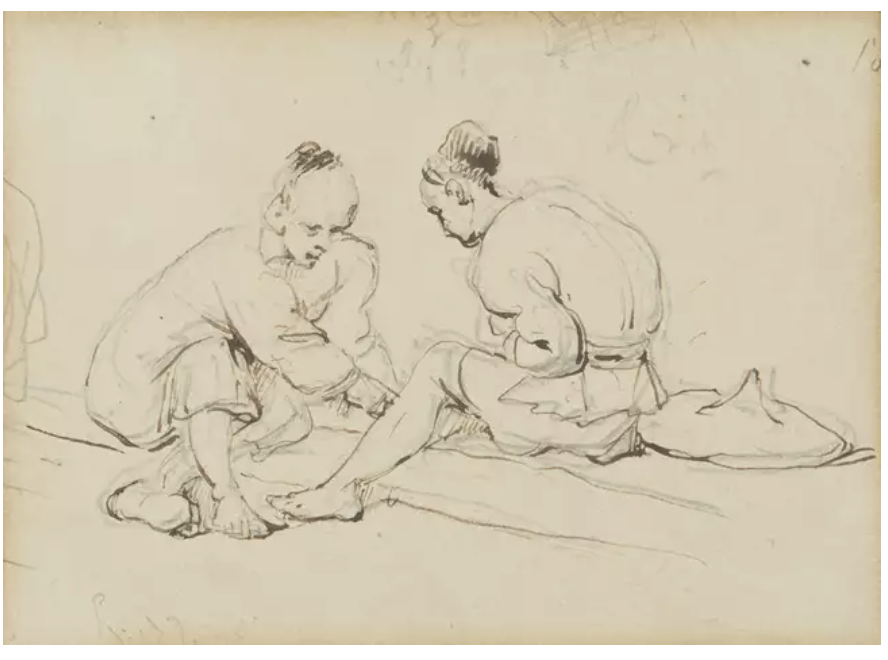 Lot 298: George Chinnery, Two Sketches: Study of two seated figures
We will also be offering three various works on paper by the Scottish painter Sir William Russell Flint. The drawings, all of which feature partially clad young women adorned with draperies, costumes and attributes, are characteristic of the Scottish artist's oeuvre. The image of a young woman with ribbons in her hair, rendered in red chalk, is particularly striking.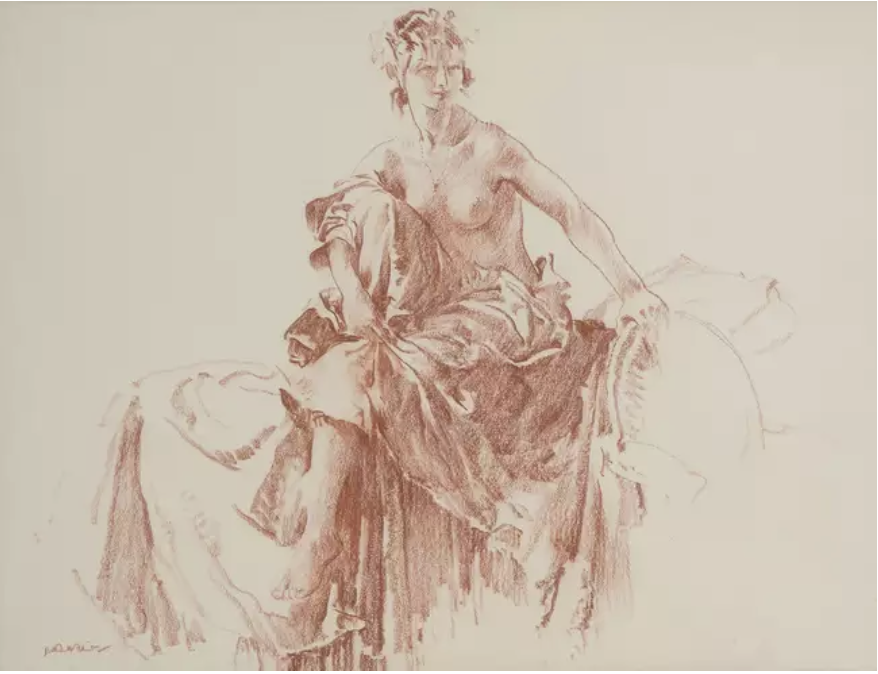 Lot 338: Sir William Russell Flint, RA PRWS, Study of a nude woman