There is a long and rich tradition of Revival jewellery, in which contemporary jewellers draw inspiration from ancient civilisations, reviving dormant goldsmithing techniques or incorporating the symbols and motifs of past eras into their work. One of the most popular forms of Revival jewellery in the market today is that of the Archaeological Revival style.
What is Archaeological Revival jewellery and when was it made?

Archaeological revival refers to the jewels of the 18th and 19th centuries that were inspired by antiquity, driven by the excavations and discoveries of Roman, Egyptian, Hellenistic and Etruscan sites. One example of this is the excavations, in the early 1830s, of Etruscan tombs in areas near Rome which brought to light, for the first time, large quantities of Etruscan gold work.
What are the characteristics of Archaeological Revival jewellery?

The Victorian examples were mostly of hollow construction and made in gold of moderate purity which were then given a wash of high carat gold using a mercury gilding process to give a deep buttery yellow look, imitating the rich yellow colour of the high carat gold that the antiquities would have been made in. Items appeared in the form of bangles, drop earrings, pendants, brooches and more elaborate necklaces. A typical look was the Etruscan style using a combination of applied wire and beadwork decoration, often set with cabochon garnets, turquoise and pearls.
Typical motifs include ram's heads, amphoras, micromosaics depicting a range of subjects, scarabs and hieroglyphs, and the jewellery was often also set with cameos, intaglios and ancient coins.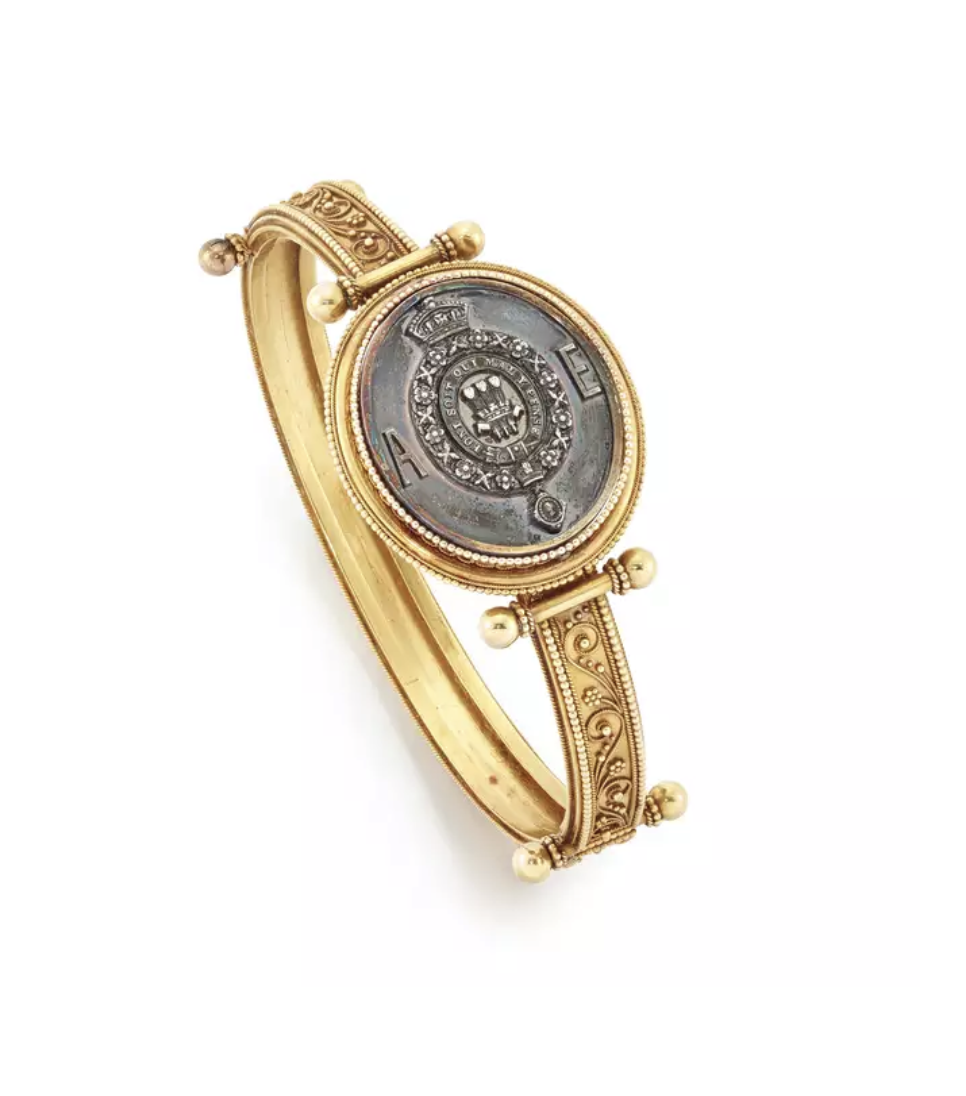 Lot 308: A Victorian royal presentation bangle
Were there particular jewellers and jewellery firms associated with the style?

One of the names most closely associated with Archaeological Revival jewellery of the 19th century is that of Fortunato Pio Castellani (1794 – 1865). Castellani founded his business in 1814 and was joined by his sons Alessandro and Augusto. Castellani was given the opportunity to closely study ancient jewellery when entrusted with the care of the Campana collection, allowing them to understand and perfect the ancient goldsmithing techniques. Other names to look out for include Carlo Guiliano, an Italian jeweller who emigrated to England and opened a shop in London, and who it is believed trained under Castellani, and John Brogden, a London based jeweller who held a Royal Warrant from Prince Leopold, son of Queen Victoria.
Is there anyone working in this style today?

Yes! The growing interest in Archaeological Revival jewels in recent years has driven an increase in the auction prices achieved for antique jewels of the style, but increasingly contemporary jewellers are also exploring these ancient goldsmithing techniques and motifs – jewellers such as Loren Nicole and Olithica are good examples.