Prints & Multiples Artist Feature : Harry Bertoia
9/10/2019 Prints & Multiples , News Stories & Press Release
Harry Bertoia, born in a small village in Italy, moved to America at 15 to undertake studies in painting and drawing at the School of the Detroit Society of Arts and Crafts. He went on to develop his own style at the Cranbrook Academy of Art where in 1939 he was asked to reopen the school's metalworking shop. He is now famous to be for being one of the most renowned American sculptors and furniture designers of the 20th century.
"I am rather silent, resolute and industrious. I can use any tool or machinery with dexterity."
- Harry Bertoia, aged 21, application to Cranbrook Academy of Art.

 
Bertoia started with jewellery then sculpture, he found a passion for monotype prints, a medium he came back to time and time again throughout his life. Bertoia would apply ink to a glass surface then place rice paper onto the glass, creating the images with his fingers and other pointed tools through the reverse of the paper, making each monotype a unique handcrafted piece. Bertoia loved the speed and spontaneity of the medium of his graphics. While sculptures took a long time to produce, monotypes came to life a lot quicker. Most, if not all, of Bertoia's designs, whether they are chairs or sculptures or tonals, were created on paper first. He started the monotypes in 1939 and continued throughout his life. Notably Bertoia did not work with other print makers and did not receive much formal training. Bertoia did not sign his works, as he believed his creativity derived from divine sources, or 'the great Oneness' claiming that his art should not be prescribed to one man's name.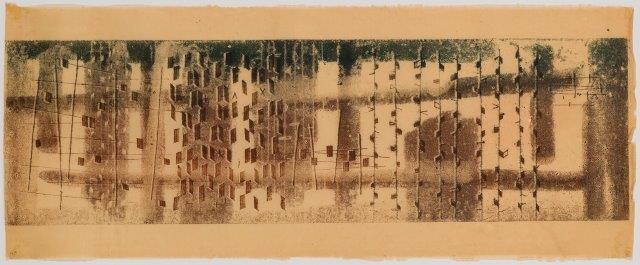 Lot  203 : Harry Bertoia, American 1915-1978- Untitled (n & H 21); monotype on rice paper, two, each inscribed and one initialled to recto in pencil, added later by Brigitta Bertoia, sheets 65.3 x 26cm and 24.2 x 35cm (framed)
When looking for critique and direction, Bertoia sent around 100 monotypes to Hilla Rebay at the Guggenheim Museum of Non-Objective Art in 1943. Hilla Rebay then went on to purchase the entire stock and exhibited 19 of those prints within the Guggenheim. Bertoia had the most works by a single artist in the show, which also included works of art by Moholy-Nagy, Werner Drewes and Charles Smith. The show allowed Bertoia to gain recognition worldwide. After this breakthrough supported by an income from the Karl Nierendorf Gallery in New York, Bertoia continued to hold exhibits of jewellery and drawings.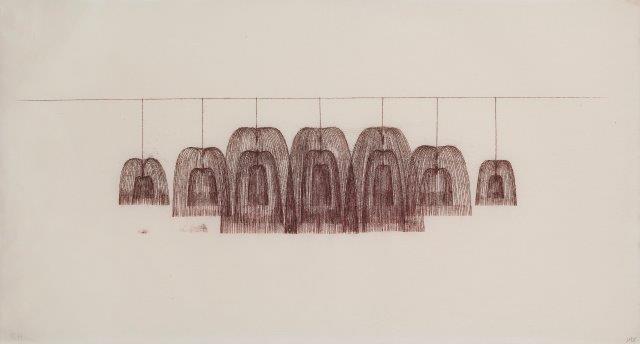 "The urge for good design is the same as the urge to go on living." - Harry Bertoia
Architectural Digest singled Bertoia alongside fellow artists such as Francois-Xavier Lalanne, as someone worth investing in. In a feature headlined Collectible Design Is Smashing Auction Records, the magazine highlighted the sale of Bertoia's Untitled (Dandelion) at Sotheby's, which went for $412,500 - more than doubling its low-range estimate of $200,000. 
You can find work by Harry Bertoia featured within Roseberys sales here.