Maker Spotlight: Chopard
1/06/2021 News Stories & Press Release, Jewellery & Watches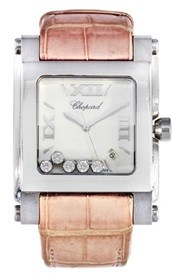 A stainless steel and diamond 'Happy Sport' quartz wristwatch which sold at Roseberys for £1,875
Chopard, also known as Le Petit-Fils de L.-U. Chopard & Cie S.A, is a swiss luxury watch manufacturer and retailer. While haute horlogerie may have created the foundation of the Chopard legacy, the brand also forayed into making fine jewellery and fashion accessories.  The Happy Diamonds collection in particular cemented the brand as a forerunner in the world of joaillerie expertise. Within Roseberys Jewellery & Watches auctions, we are proud to have sold many pieces created by Chopard, a brand whose savoir-fair is unrivalled in the worlds of watchmaking and fine jewellery. Here we become better acquainted with the luxury Swiss brand.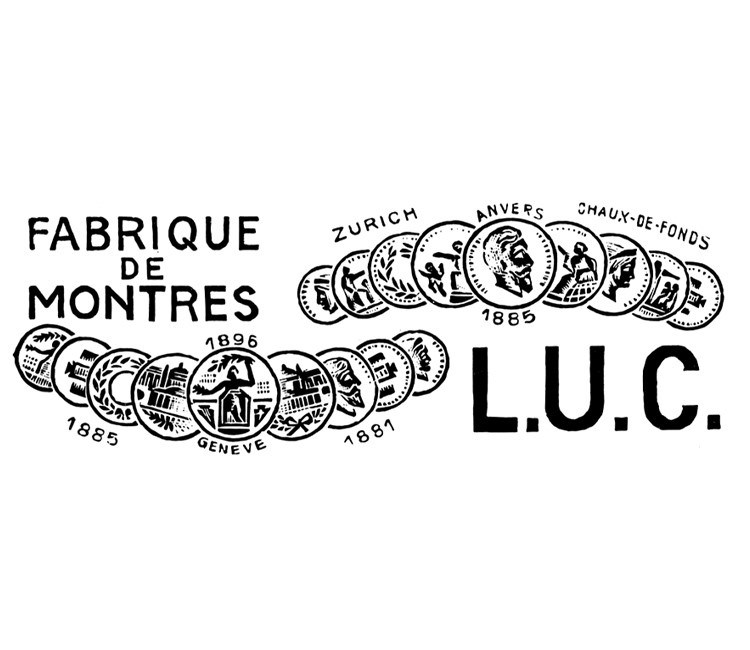 Chopard was founded in 1860 by Louis-Ulysse Chopard under the name L.U.C manufacturing company in Sonviller in the Jura Region of Switzerland. Louis-Ulysse established his L.U.C. manufacturing company, having observed that it was more profitable to market the finished watch, rather than to simply just make the mechanical movements.
Louis-Ulysse produced watches of such high quality that they made their way across Europe, including the court of Tsar Nicholar II of Russia. Watches that were reliable, accurately kept time and were finely crafted were highly sought after and Louis Ulysse Chopard managed to instil these desired qualities within his watches he created, making him widely renowned. The watches were adopted as official time keeping pieces by the Tir Fédéral (Swiss Shooting) and Swiss Railways. Through travel and striking deals along the way Louis-Ulysse Chopard had penetrated the international market.
A presentation compendium travelling quartz alarm clock and pen, by Chopard sold at Roseberys for £550
After Louis-Ulysse's death in 1915, the company was taken over by his son Paul-Louis and grandson Paul-André. The company specialised in making pocket watches and ladies' wristwatches. In 1921, Paul-Louis moved the company operations to a larger town, Chaux-de-Fonds, in the Canton of Neuchâtel. In 1937, at that time a company of 150 employees, the company relocated to Geneva. This enabled the movements made by the company to be certified with the Geneva Seal, a mark applied only to watch movements made in the Canton of Geneva. Louis-Ulysse's grandson, Paul-André, took over the company in 1943.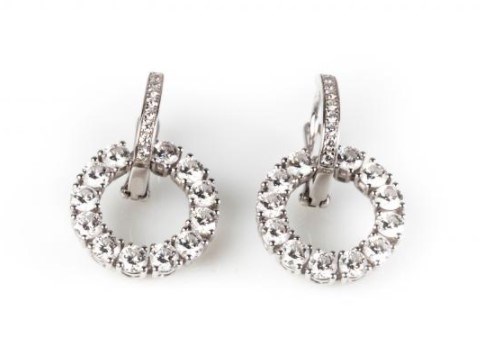 Chopard, a pair of diamond earrings sold at Roseberys for £3,000
Post-war the company began to struggle and decline. In 1963, having no children wishing to continue in the business, Paul-André Chopard sold it to Karl Scheufele III, a German goldsmith and watchmaker from Pforzheim, who was seeking to develop his already existing jewellery and watches company. He developed the company with his wife Karin for over 50 years. Chopard is to date is still owned by the Scheufele family of Germany.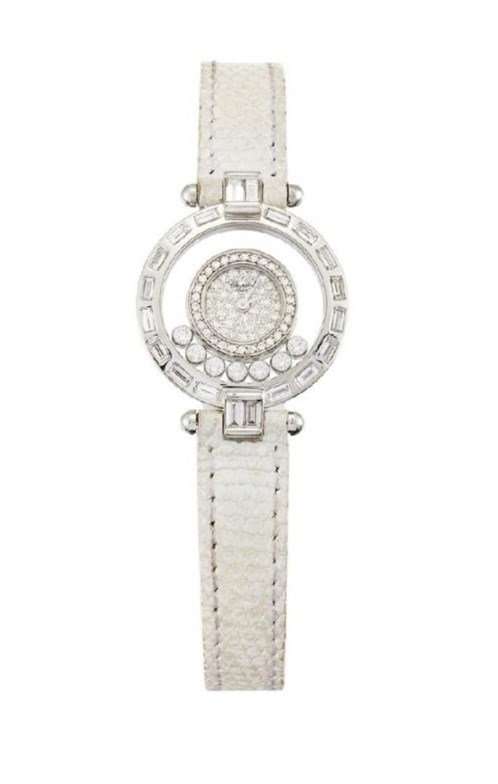 A Happy Diamonds Watch that sold at Roseberys for £2,625
After its acquisition in 1963, Chopard reached new heights establishing itself as a global luxury watch brand. In 1976 its famous 'Happy Diamonds' watch range was created. Happy Diamonds is a play on traditional diamond inset watches and a model that now represents the brand.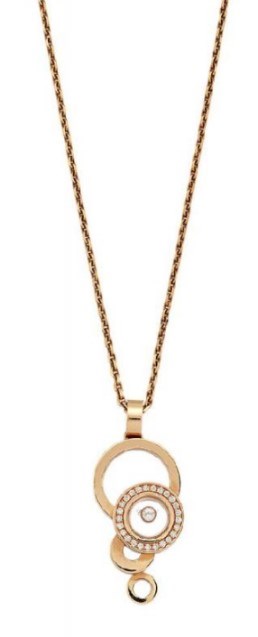 A 'Happy Bubbles' diamond pendant necklace, by Chopard sold at Roseberys for £1,500
Chopard continued to expand and establish itself as a luxury brand throughout the 80s with new lines of watches and the opening of boutique stores, the first of which was in Hong Kong. In the 1990s the 'Happy Sport' range of watches was introduced to the market and became an instant success.
Chopard continues to operate as a luxury watchmaker to this day and has continued to partner with other luxury brands and events such as the Cannes film festival and is the official timekeeper for the Monaco classic car Grand Prix. The company produces around 75,000 timepieces and 75,000 jewelleries each year, and is an active member of the Federation of the Swiss Watch Industry FH.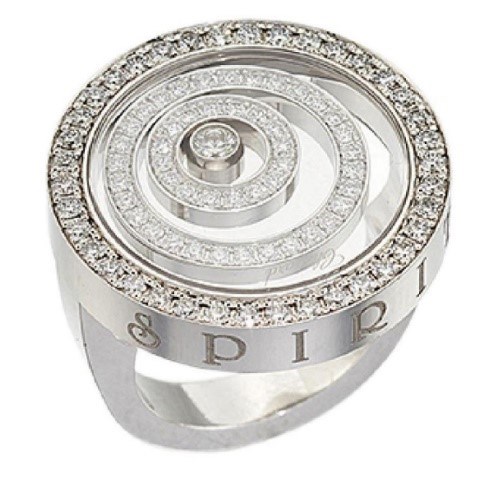 A 'Happy Spirit' diamond ring, by Chopard, sold at Roseberys for £1,750
Chopard's identity has been forged over time, and with the contribution of every member of the family who oversee it. Nowadays, it is this unique family spirit that differentiates Chopard in the world of high jewellery and watchmaking.  The brand's independence has guided its development strategy since its founding, an approach made possible by a family shareholding structure. This is expressed through the watch industry's highest level of vertical integration. Everything sold by Chopard is made in one of its three production sites, a unique phenomenon within the profession. This policy goes hand in hand with a culture of craftsmanship. Today, more than 50 skills are mastered within the workshops of the brand, including some of the rarest and the most complex. For Chopard, genuine luxury goes hand in hand with ethics as well as with environmental and social responsibility. 
A Chopard "Happy Diamond" wristwatch was sold in auction by Christie's for around US$1.67 million (CHF 1,685,000) in Geneva on November 10, 2015. The watch has quartz movement and carries a pink marquise-cut diamond, weighing approximately 2.62 carats, and a blue marquise-cut diamond, weighing approximately 1.48 carat.
In Roseberys up and coming Jewellery & Watches sale on June 8, an 18ct white gold and diamond 'Your Hour' quartz wristwatch by Chopard is offered at auction with an estimate of £4,000-£6,000.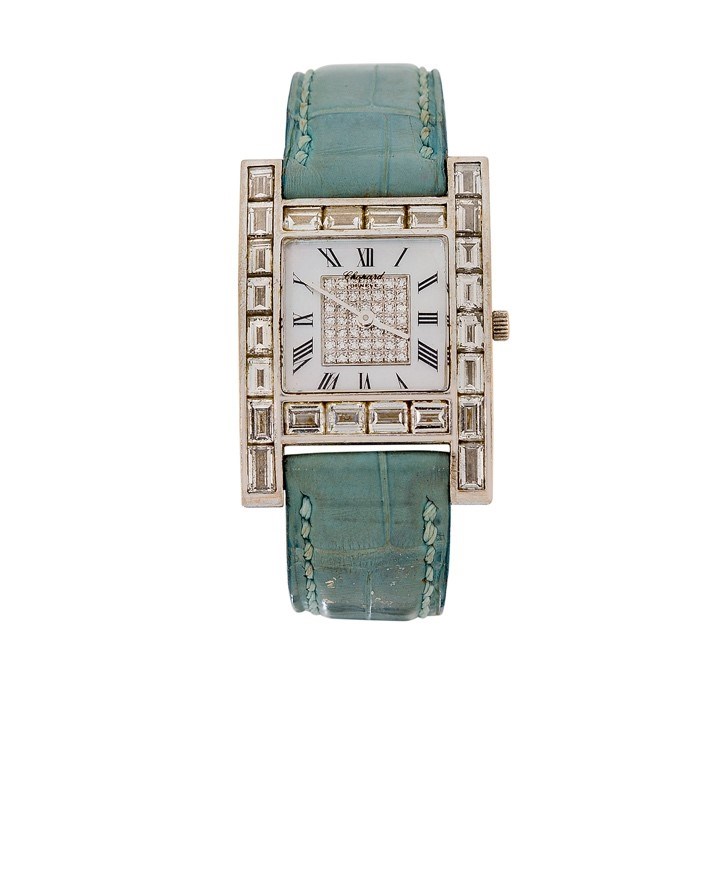 An 18ct white gold and diamond 'Your Hour' quartz wristwatch by Chopard
-Ends-
Jewellery & Watches 8 June, 11am
You can view the fully illustrated catalogue here.
Viewing Times



Friday 4 June   9.30am – 5.30pm (Last appointment slot is 4.30 pm)
Sunday 6 June 10.00am – 2.00pm (Last appointment slot is 1.00 pm) 
Monday 7 June 9.30am – 5.30pm (Last appointment slot is 4.30 pm)