Getting to know prominent Pop Artist Richard Smith better
19/02/2020 Modern & Contemporary British Art, Prints & Multiples , News Stories & Press Release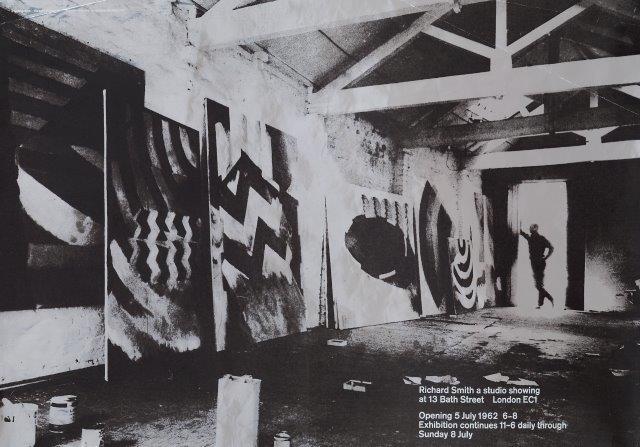 Gordon House, British 1932-2004- Richard Smith a Studio Showing Poster, 1962; screenprint on silver paper, poster for the Richard Smith studio showing at 13 Bath Street, London 5-8 July 1962, sheet 62.1 x 41.7cm 
Richard Smith , CBE (27 October 1931 – 15 April 2016) was an English painter and printmaker born in Letchworth, Hertfordshire. He produced work in a variety of styles, but was mainly associated with colour field painting and Pop Art.
"What intrigued me wasn't the nitty-gritty, down dirty popular culture," he once explained. "It was the high end. These beautiful ads for Smirnoff vodka and glamorous films and store windows and CinemaScope." – Richard Smith

Richard Smith CBE, British 1931-2016- Noplace; oil on board in two parts, signed and dated 58, inscribed verso with artist's name and address and 'Art Galler [sic] Portland Building University Park Nottingham', 125x184cm
He was a global artistic symbol who enjoyed enormous commercial and critical success in both America and Britain during the 1960s and 70s. Early on in his career, his art merged the themes of abstraction and pop art.  Later he gained critical acclaim for pushing the boundaries of painting into three dimensions, creating sculptural shaped canvases with monumental presence, which protruded into the space of the gallery. As his work matured it tended to be more minimal, often painted using one colour with a second only as an accent.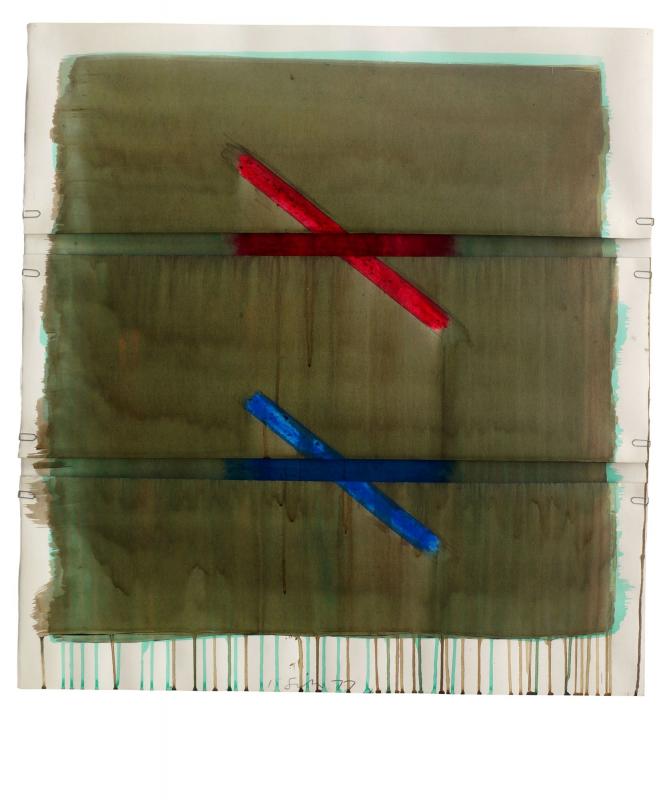 Richard Smith, British 1931-2016- ''San Sicario Series'', 1977; gouache with paperclips, 71x68.5cm, (ARR) Provenance: with Gimpel Fils, London, according to the label attached to the reverse of the frame
Smith attended Luton School of Art and served in the Royal Air Force in Hong Kong. Afterward he studied in the master's program at the Royal College of Art in London and was awarded a Harkness Fellowship which enabled his move to New York, where he had his first solo show at the Green Gallery. In his thirties Smith participated in some of the most important exhibitions of his time, such as Place at the ICA in 1959; Situation at RBA Galleries in 1960; and Painting and Sculpture of a Decade at Tate in 1964, and a retrospective exhibition at the Whitechapel Gallery in 1966. After being awarded the Grand Prize at the 9th São Paulo Biennial in 1967 and participating in Documenta IV, Kassel in 1968, Smith was one of the five artists who represented Britain at the Venice Biennale in 1966, he also had a solo show there in 1970. He was awarded the CBE in 1971. A major retrospective titled Seven Exhibitions 1961-75 was held at Tate in 1975. His work has also been exhibited at Nicosia Municipal Arts Centre, Cyprus; Hendendaagse Kunst Museum, Utrecht; the Walker Art Centre, Minneapolis, Kettle's Yard, Cambridge and the Jewish Museum, New York.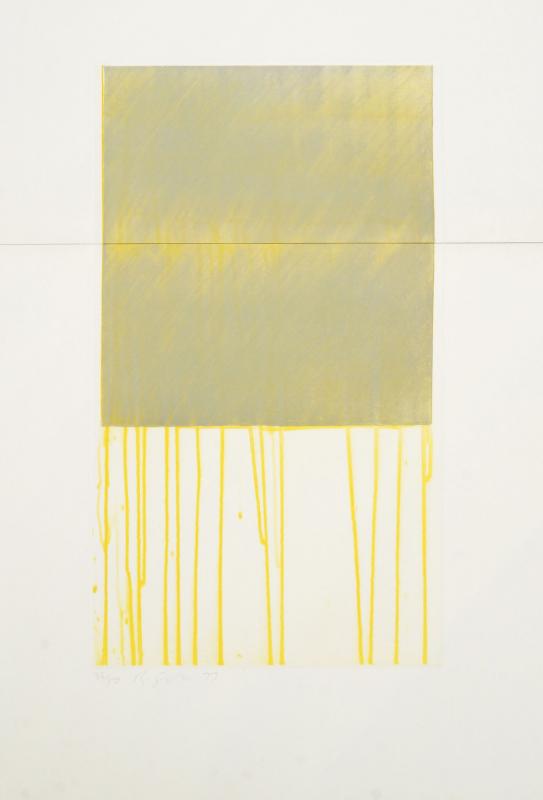 Richard Smith CBE, British 1930-2016- Small Yellow, 1977; etching with aquatint in colours, stapled, signed, numbered 33/50 and dated in pencil, blindstamp, 66x57cm (sheet) (unframed) (ARR) (VAT charged on hammer price)
In 2014, the art historian Marco Livingstone wrote how "Smith's joyful embrace of glamour and prismatic colour after the grey decade and a half of post-war austerity, brought him within the orbit of Pop Art at its very inception and assured him an important place in its early history."
Richard Smith, artist, born 27 October 1931; died 15 April 2016.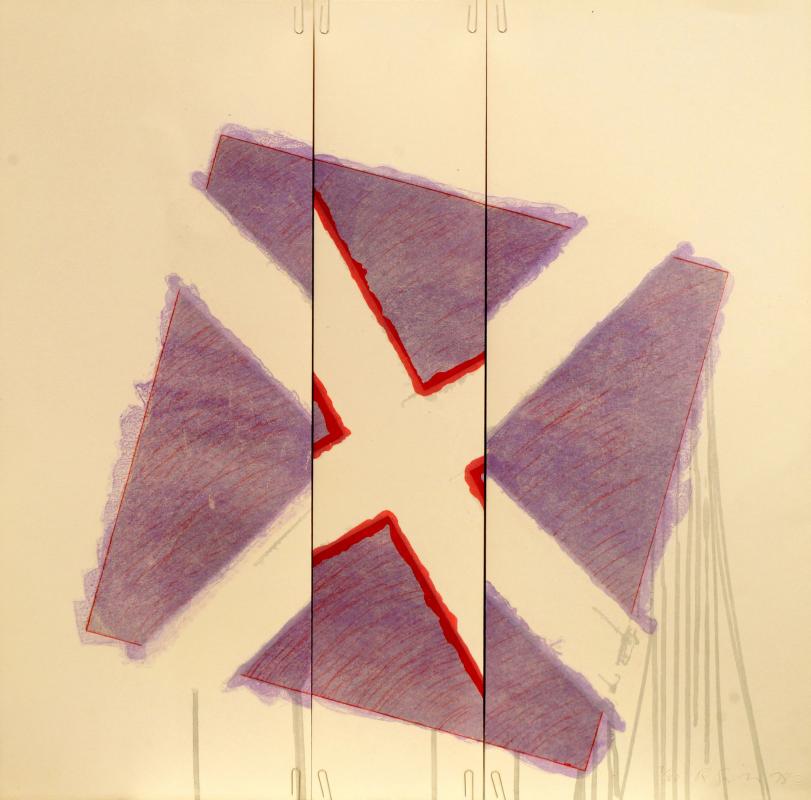 Richard Smith CBE, British 1931-2016- ''Two of a Kind lVb'', 1978; etching with paperclips on folded paper, signed, numbered 3/80 and dated '78 in pencil, published by Bernard Jacobson Gallery, London, 70.5x70.5cm 
Today, his works are held in the collections of of the Arts Council England; The British Museum, London; Metropolitan Museum of Art, New York; the Museum of Modern Art, New York; Tate, London; Victoria and Albert Museum, London; Walker Art Center, Minneapolis; the Whitney Museum of American Art, New York; MIT, Boston; Philadelphia Museum amongst others.
You can find more of Richard Smith's work in our Modern & Contemporary British Art & Prints & Multiples auctions. 
PREVIOUS RICHARD SMITH SALES RESULTS
CONSIGN RICHARD SMITH WORKS OF ART 
FIND OUT MORE ABOUT THE MODERN & CONTEMPORARY BRITISH ART DEPARTMENT