Getting to know artist duo Christo and Jean-Claude better
5/06/2020 Prints & Multiples , News Stories & Press Release, Impressionist, Modern & Post War Art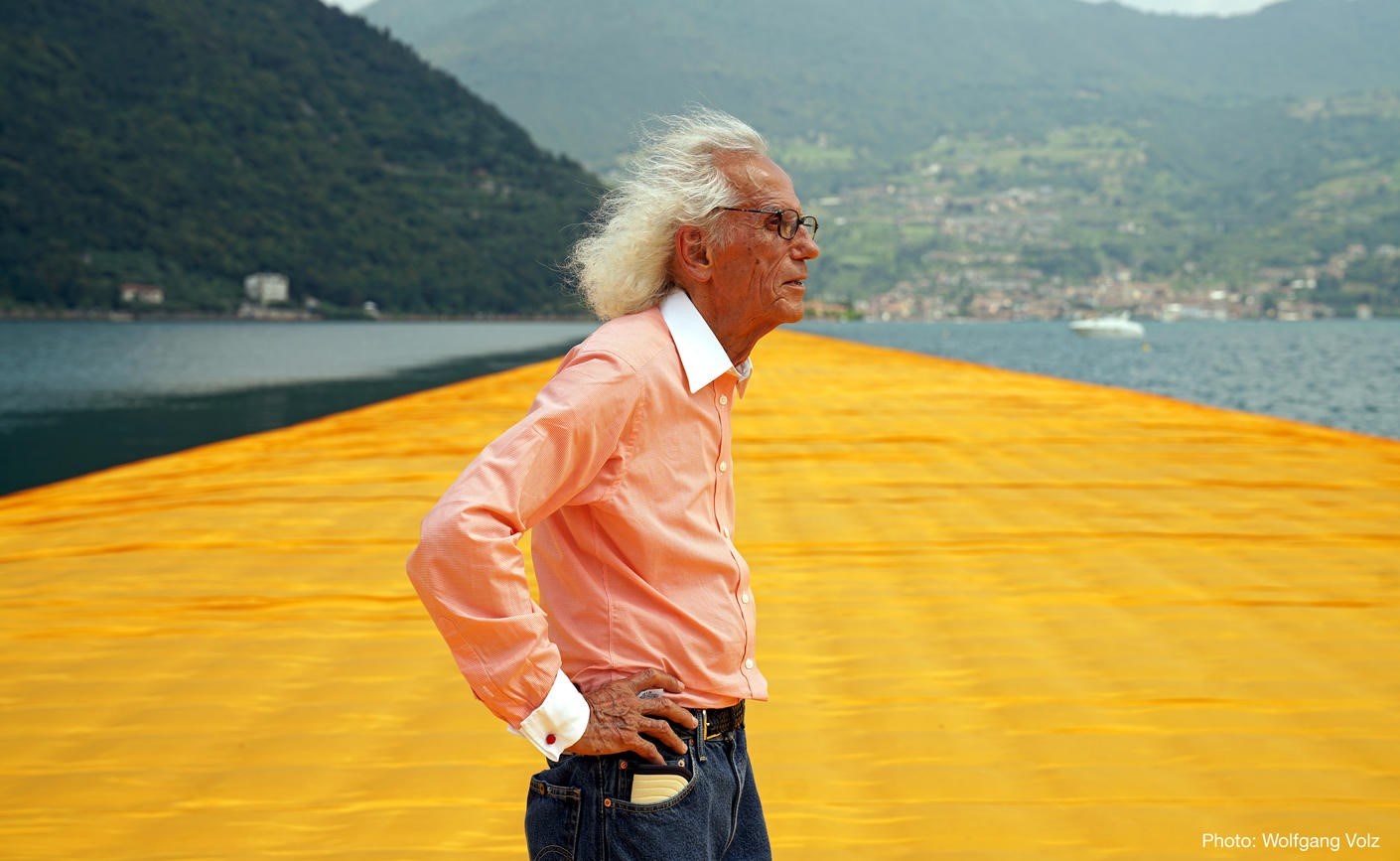 Image of Christo taken by Wolfgang Volz via the website : /christojeanneclaude.net/
The passing of Christo Vladimirov Javacheff, a few days before his 85th birthday recently has prompted the art world to revisit some of the monumental works of the artist's oeuvre.

Together with his wife Jeanne-Claude Denat de Guillebon, who passed away in 2009, they became world-renowned as the collaborative duo: Christo and Jean-Claude, the artists who wrapped the world. Since meeting, their legacy as artists has vitally shaped our experience with public land. Here we shine a spotlight on the duo who were famous for their large ephemeral environmental installations that involved wrapping landmark buildings and landscapes in fabric or creating temporary structures from colourful oil barrels.
"Christo lived his life to the fullest, not only dreaming up what seemed impossible but realizing it. Christo and Jeanne-Claude's artwork brought people together in shared experiences across the globe, and their work lives on in our hearts and memories."
Said his office in a statement on after his passing.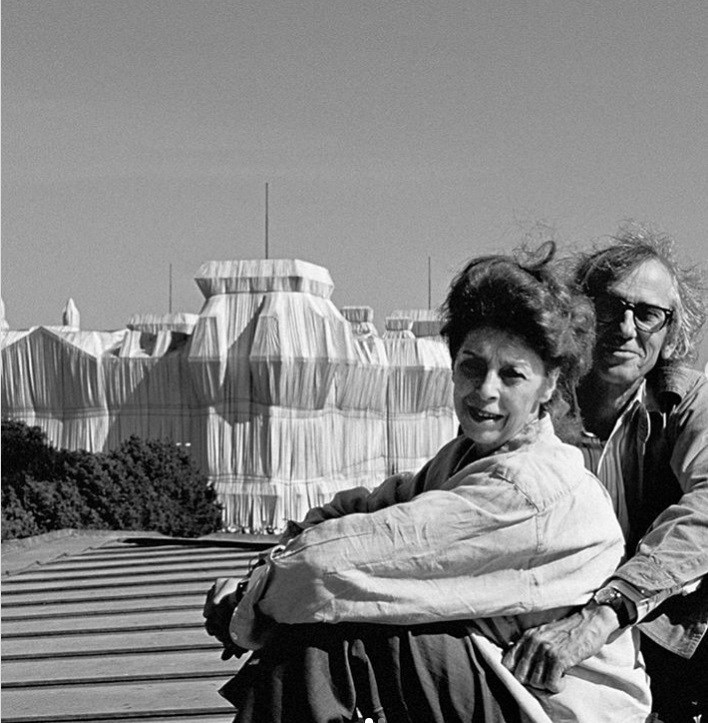 An image of Christo and Jean-Claude via their Instagram 
Christo was born Christo Vladimirov Javacheff in 1937 in Gabrovo, a small town in Bulgaria. From birth, Christo, as he is now solely more commonly known as, was destined to follow a path that seemed inevitable. His chemist father, Ivan Javacheff, ran a state fabric factory; his Macedonian mother, Tzveta, was a secretary at the Academy of Fine Arts in Sofia.

During his early years Christo became entwined with natural forms and his outdoor environment, while witnessing his country's invasion by the Nazis, later the Soviets and during his evacuation during World War Two . At 17, Christo began his studies at the Academy of Fine Arts in Sofia, where his mother worked. In 1977 Christo escaped the Stalinist regime of Bulgaria to Vienna. While in Vienna he surrendered his passport to seek political asylum and became stateless. There, he studied fleetingly at the Academy of Fine Arts, he then moved again to Geneva and later to Paris in 1958.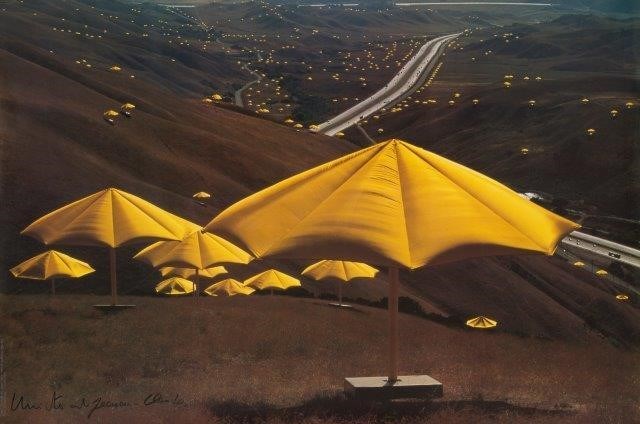 Christo and Jeanne-Claude, American b.1935- The Umbrellas, Japan-USA, 1984-91, 1991; offset lithograph in colours on cardstock paper sold at Roseberys Prints & Multiples auction for £500

After arrival to Paris in 1958, he wrapped his first object, an enamel paint can enveloped in a resin-soaked canvas. Wrapping would become his signature, inspired by the 20th-century fascination with packaging, and an examination of the three-dimensional qualities of objects. Much like his Nouveau Realisme contemporaries, Christo began experimenting with every day, found objects including beer cans and road signs within his artwork. 

In the same year, he met his future wife and collaborator Jeanne-Claude Denat de Guillebon, while painting her mother, the wife of an aristocratic French general. Although hailing from different countries, (Jeanne-Claude was born in Morocco, Casablanca) the pair shared many similarities, including the same birthday and their passion for art.  
In 1961, the pair worked on their first project together, a wrapped public building, alongside stacked oil barrels, in the Cologne Harbor.  In 1964, the pair moved to New York, spending their first three years there as illegal immigrants and where they eventually settled and lived for 50 years.
A big theme that would carry on throughout their work is recycling materials and returning the locations to their original states. They both valued transience and the raw physicality of their materials and subjects. With their ambitious ideas came massive costs however, but Christo and Jeanne-Claude were steadfast in refusing grants, scholarships, donations or public money for their projects.  Fiercely determined to retain complete artistic freedom, the pair self-funded their installations by selling original artworks.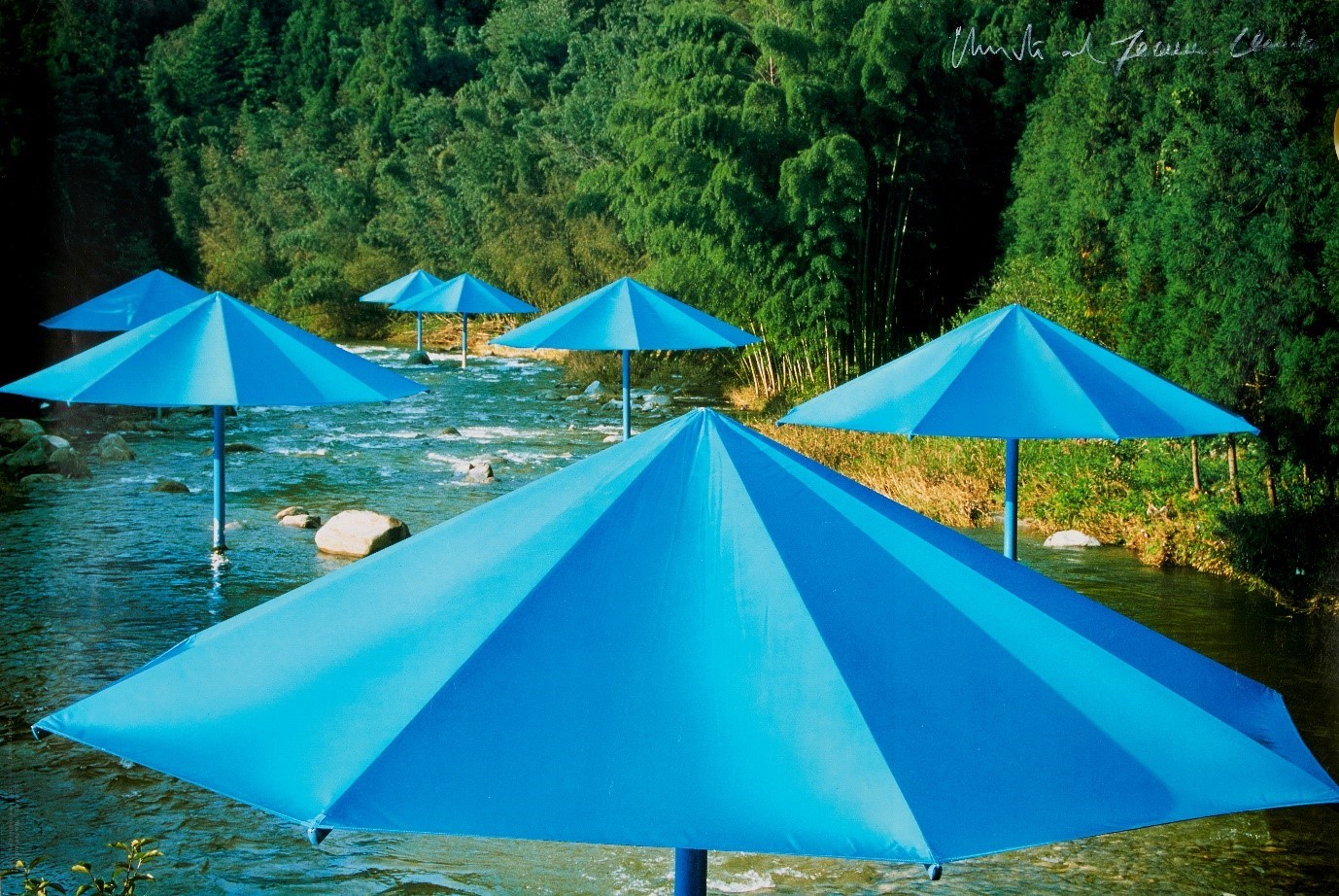 Lot 261 : Christo and Jeanne-Claude, American b.1935-The Umbrellas, Japan-USA, 1984-91, Ibaraki, Japan Site, 1991. This lot will be included in the upcoming Prints & Multiples auction on July 7

In more than five decades of their collaboration they would complete 22 projects; rather more – 37 – were still unrealised at the time of Jeanne-Claude's sudden death at the age of 74. Christo continued completing projects that were left unfinished at that time. This included The London Mastaba, installed on the Serpentine Lake in London, which marked their first major UK sculpture.  Their commitment to the ephemeral, vigorous perseverance and aptitude for negotiation brought astonishing art to the masses and festooned their world with a new way of seeing. Though equal partners, the pair originally worked under Christo's name, a deliberate creative decision made to increase their chances of success in a time of prejudice against female artists. In 1994, Jeanne-Claude was revealed as the other half of the process, and all installations were credited to Christo and Jeanne-Claude, even following Jeanne-Claude's death in 2009.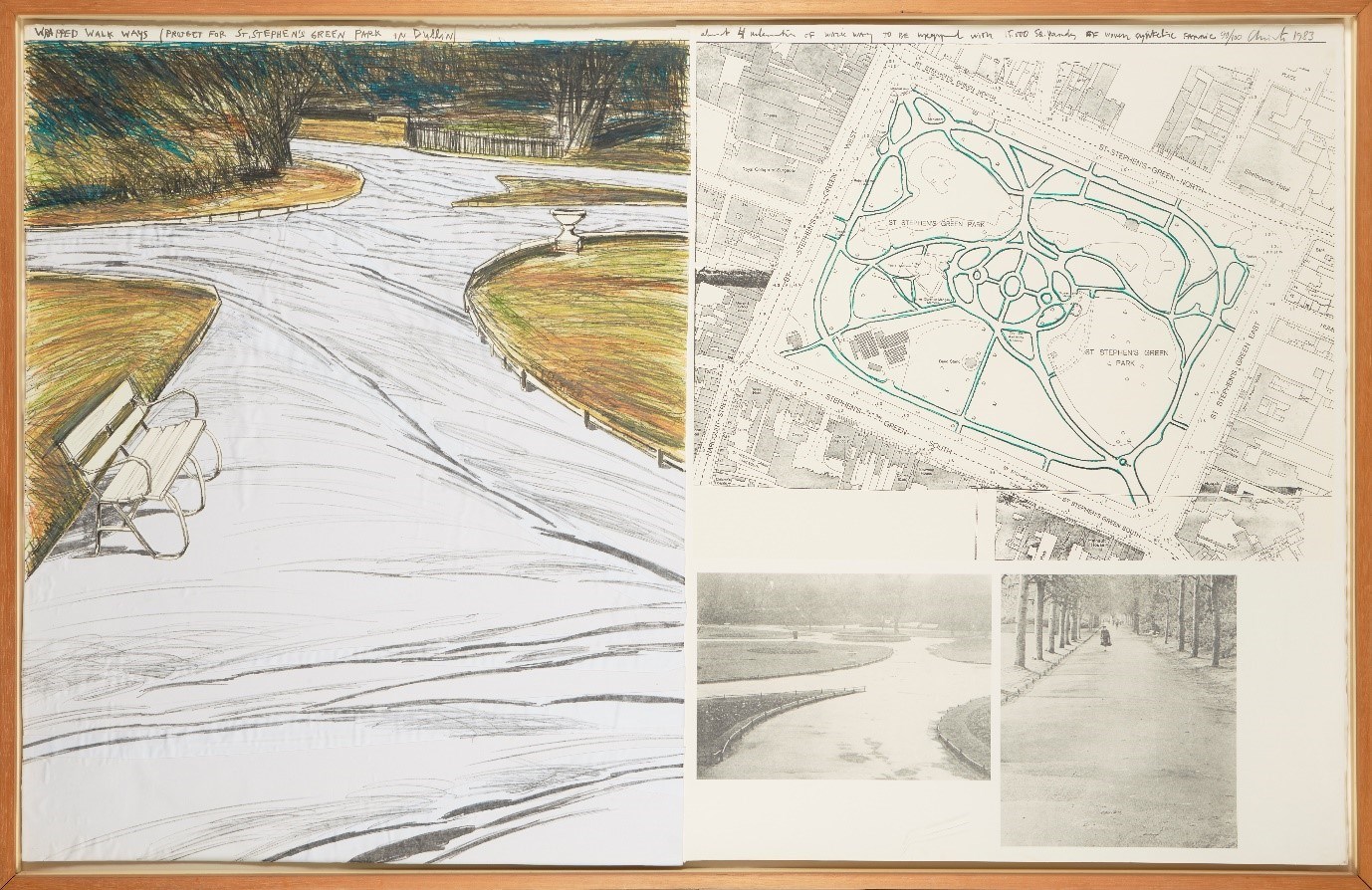 Lot 259 : Christo, American 1935-2020-Wrapped Walkways, Project for St. Stephen's Green Oark, Dublin 1983; lithograph with collage in colours on wove. This lot will be included in the upcoming Prints & Multiples auction on July 7 2020.
Despite their best efforts of critics to ascribe specific meaning to their work, the artists always insisted that their pieces are simply about experiencing the artwork in the moment, in the context of its environment and open for wide interpretation.  Their work defies categorisation, blending art, architecture and sculpture.  Christo once told Dezeen magazine. "In the end, Jeanne-Claude and myself would always say, we do not know what the project is," he said. "Every interpretation of the project is legitimate, even the most critical and the most positive." He added: "This is why I enjoy these projects. They have open dimensions that absorb everything."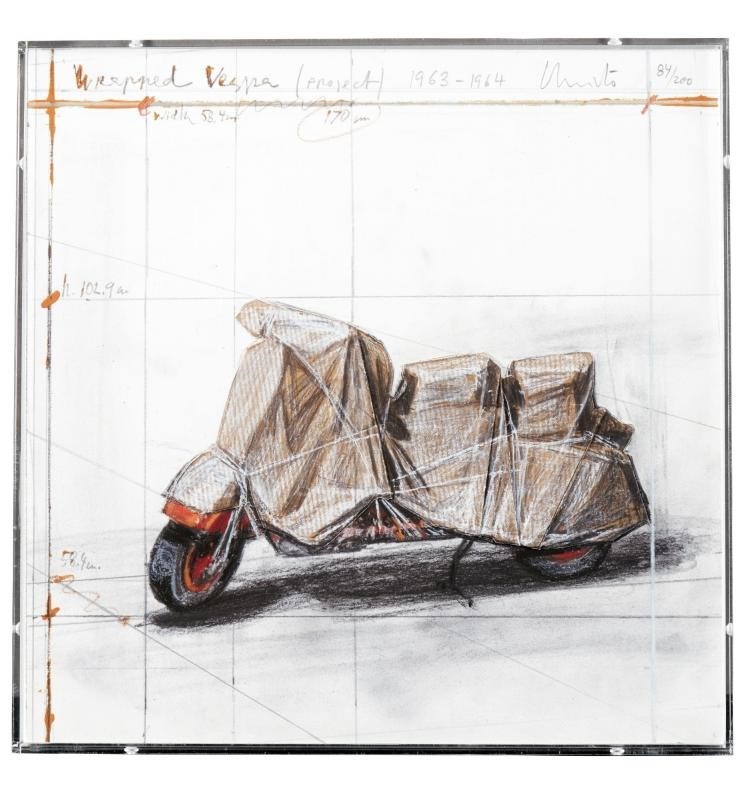 Christo & Jeanne-Claude, American b.1935- Wrapped Vespa, Project, 1963-64, 2009; paper collage and digital pigment print in colours with hand-colouring in crayon on Rag paper sold at Roseberys Modern & Contemporary Prints auction for £5,000
During their lives and after both Christo and Jeanne-Claude's work are and held by many major public collections. The artists received the 1995 Praemium Imperiale, the 2006 Vilcek Prize, and the 2004 International Sculpture Center's Lifetime Achievement in Contemporary Sculpture Award.   

Here we showcase their most renowned works from the 60s up until today.
1960's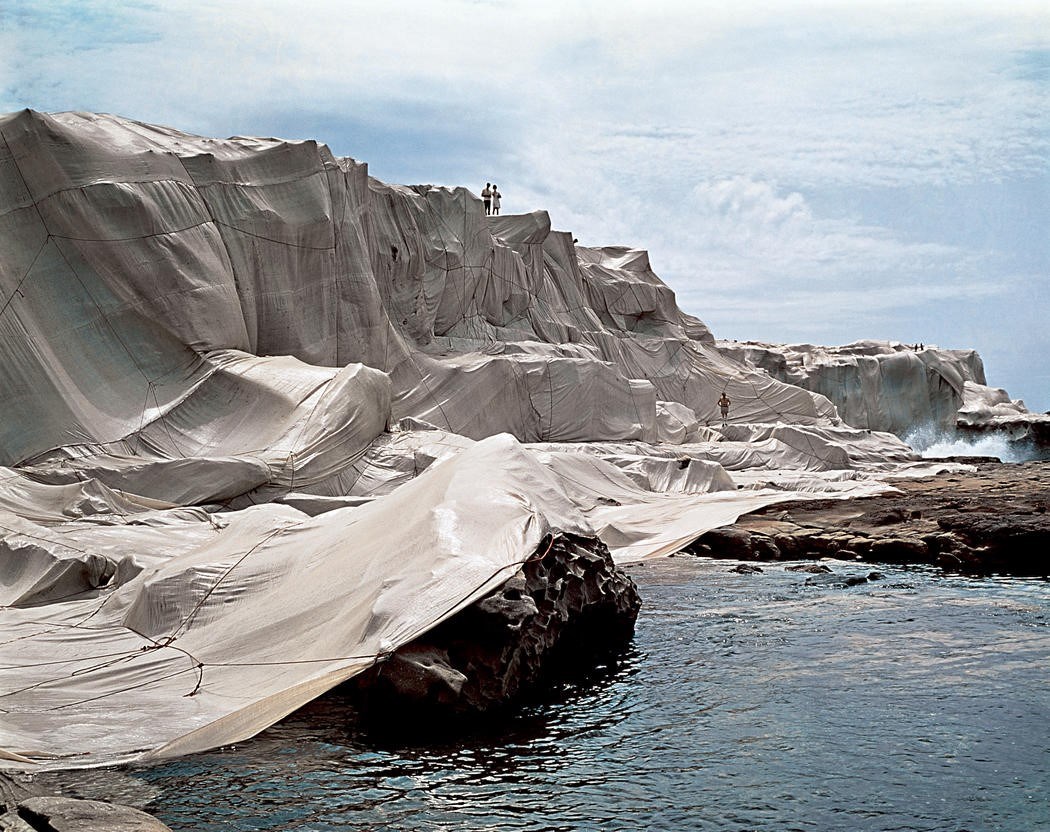 Christo and Jeanne-Claude, Wrapped Coast, One Million Square Feet, Little Bay, Sydney, Australia, 1968-69 Photo: Shunk-Kender © 1969 Christo
From their first collaboration, in 1961, which saw them wrap and stack barrels in an installation at Cologne Harbour, their projects swelled in ambition. Impossible feats became reality and the barrel remained a recurring motif while they solidified a unique manner of working.  Together, their risk-taking and tenacity allowed them to pull off elaborate installations that were controversial, often political, and endlessly ambitious.

In 1964, the couple moved to New York City, where Christo built storefronts to scale to fund larger projects. In the mid-1960s, they created Air Packages, inflated and wrapped research balloons. In 1969, they wrapped the Chicago Museum of Contemporary Art while it remained open. With the help of Australian collector John Kaldor in 1969, Christo and Jeanne-Claude and 100 volunteers, wrapped the coast of Sydney's Little Bay as Wrapped Coast, the first piece for Kaldor Public Art Projects. Wrapped Coast included one million square feet (92,900 square meters) of fabric and 35 miles (56.3 kilometers) of rope shrouding a 1.5 mile (2.4 kilometer) long section of the Australian coastline.
1970s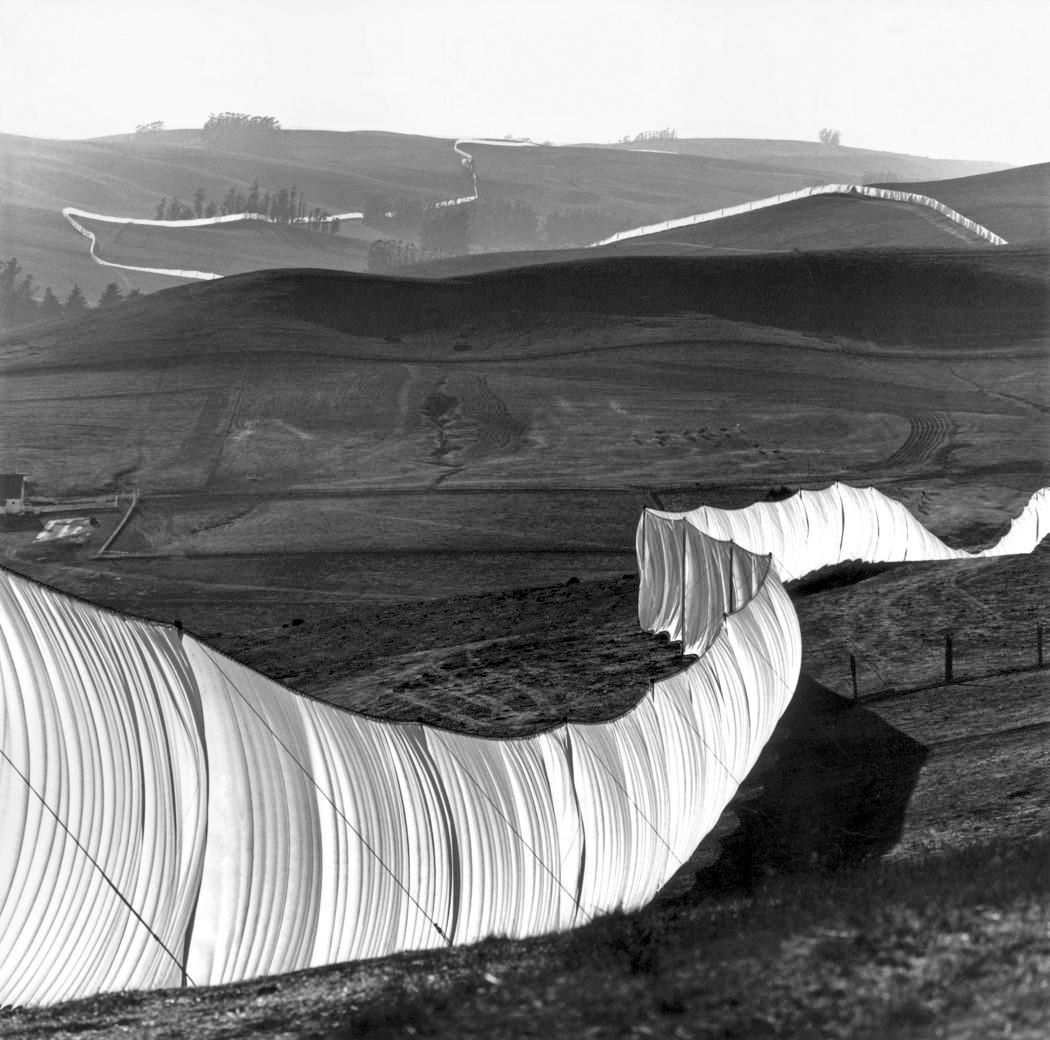 Christo and Jeanne-Claude, Running Fence, Sonoma and Marin Counties, California, 1972-76 Photo: Wolfgang Volz, © 1976 Christo
Within a year of Wrapped Coast, Christo began work on Valley Curtain: an orange curtain of fabric to be hung across the mountainous Colorado State Highway 325.
Inspired by a snow fence, in 1972, Christo and Jeanne-Claude began preparations for Running Fence: a 24.5-mile fence of white nylon, supported by steel posts and steel cables, running through the Californian landscape and into the ocean. The fence began construction in April 1976 and the project culminated in a two-week display in September, after which it was deconstructed.
1980s


Christo & Jeanne-Claude, American b.1935- Surrounded Islands 1980-83, 2009; digital pigment print sold at Roseberys Modern & Contemporary Prints for £ 697

During the 80s the duo's work involved over time intervening in urban and natural sites. In 1983, with a troop of 430 workers and 6,499,800 sq ft of floating pink polypropylene fabric, the duo surrounded 11 islands in Miami's Biscayne Bay, a work that was on view for only two weeks. They wrapped Berlin's Reichstag, the entire coast of Sydney's Little Bay (the largest single artwork of the time) and in 1984, obtained permission to wrap the Pont Neuf, which, completed in 1607, is the oldest bridge in Paris. Nine years of negotiations with the Major of Paris and 430,000 sq ft of sand-hued fabric later, the project was complete. In situ for just 13 days, The Pont Neuf Wrapped received more than three million visitors. 
1990s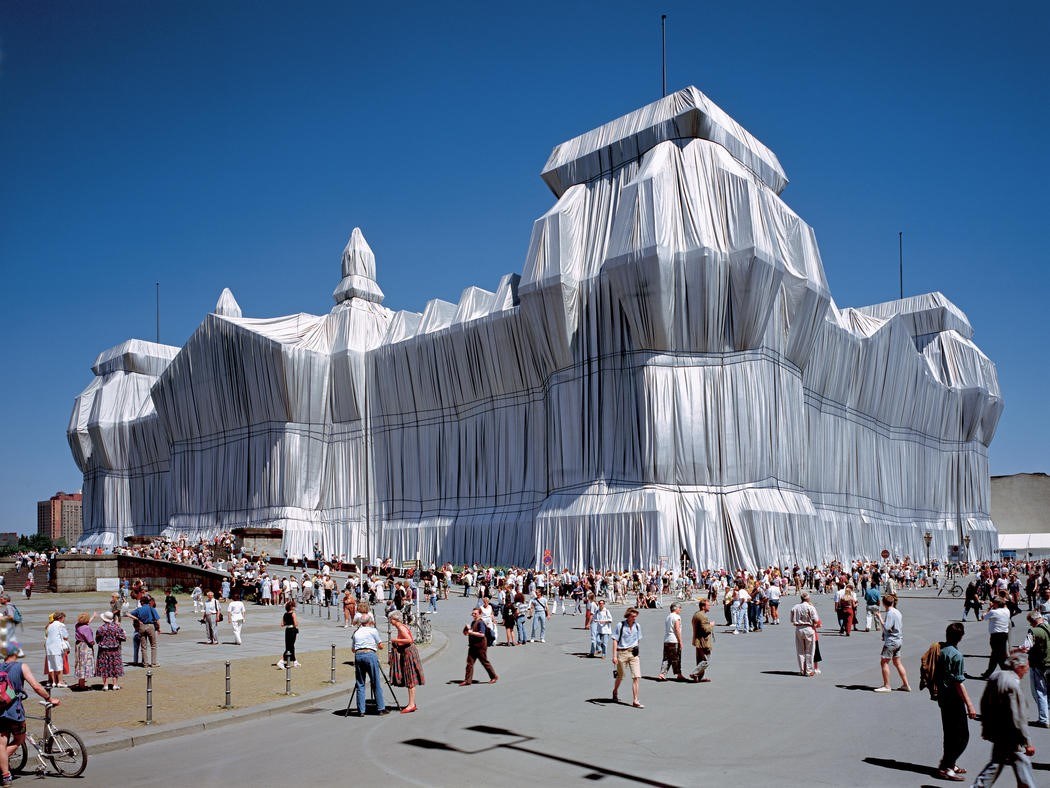 Christo and Jeanne-Claude Wrapped Reichstag, Berlin, 1971-95 Photo: Wolfgang Volz © 1995 Christo
Christo and Jeanne-Claude wrapped the Berlin Reichstag building in 1995. At the time Christo described the Reichstag wrapping titled Wrapped Reichstag's as autobiographical based on his Bulgarian upbringing. The wrapping became symbolic of unified Germany and marked Berlin's return as a world city. The Guardian later described the work as their "most spectacular achievement".
2000's
Work began on the installation of the couple's most protracted project, The Gates, in New York City's Central Park in January 2005. Its full title, The Gates, Central Park, New York, 1979–2005, was open to the public from February 12–27, 2005. A total of 7,503 gates made of saffron-coloured fabric were placed on paths in Central Park. A project to follow would be a series of walkways installed at Lake Iseo near Brescia, Italy. From June 18 to July 3, 2016, visitors were able to walk just above the surface of the water from the village of Sulzano on the mainland to the islands of Monte Isola and San Paolo. The floating walkways were made of around 200,000 polyethene cubes covered in bright yellow fabric. Like many of their other art works that had come before this, all components involved were removed and recycled.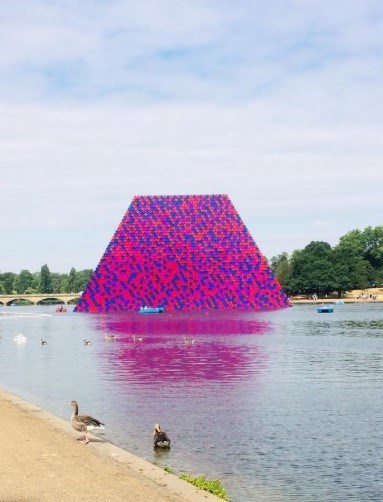 Image taken of The London Mastaba by Fiona Baker

The London Mastaba was a temporary floating installation exhibited from June to September 2018 on The Serpentine in London. The installation consisted of 7,506 oil barrels, in the shape of a mastaba, a form of an early bench in use in ancient Mesopotamia. It sat on a floating platform of high-density polyethene, held in place by 32 anchors. At The Same Time as the display of The London Mastaba, the Serpentine Gallery presented an exhibition of the artists' work, entitled Christo and Jeanne-Claude: Barrels and The Mastaba 1958–2018. The exhibition consisted of sculptures, drawings, collages, scale-models and photographs from the last 60 years of the artists' work.
Just before his death, Christo was working on plans to wrap the Arc de Triomphe in 269,097 square feet of fabric. It was a project first conceived by Christo and Jeanne-Claude in 1962. The installation had been set for fall 2020, but Christo's office said it will continue to produce the work with the ambition to complete it next year.

"Christo and Jeanne-Claude have always made clear that their artworks in progress be continued after their deaths," it explained. "Per Christo's wishes, 'L'Arc de Triomphe, Wrapped' in Paris, France, is still on track for September 18 – October 3, 2021."

 In 2021, additionally, Paris' Centre Pompidou will be opening a major exhibition on the work of Christo and Jeanne-Claude. The show, which will cover their work and time in Paris, is set to run from July 1 to October 19, 2020.