Getting to know Japanese artist Takashi Murakami better
15/05/2020 Modern & Contemporary British Art, Prints & Multiples , News Stories & Press Release
Takashi Murakami 村上 隆, is a Japanese contemporary artist, working in fine arts and commercial media, drawing inspiration from traditional Japanese painting, sci-fi, anime, manga and the global art market. Referencing the likes of Damien Hirst and Bill Gates as influences, his wide-ranging art embodies an intersection of pop culture, history and fine art and is highly profitable. One of the biggest names in the contemporary art world today, the Japanese artists work is immediately recognisable for its popping, candylike colours and anime-esque aesthetic. Although Murakami is often compared to Andy Warhol his art is not to be written off as just another Pop art movement, as his work is highly informed by the immense Japanese art-historical traditions.
Here we get to know the artist famous for blurring the line between high and low arts better.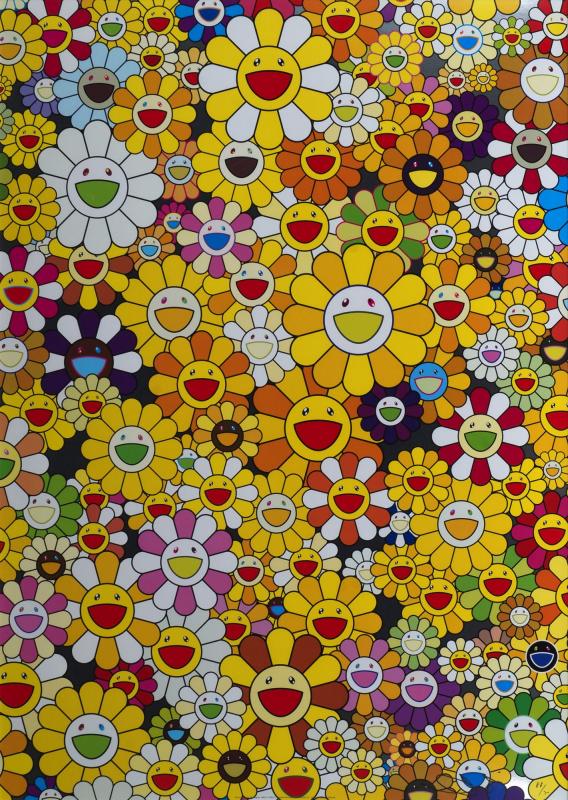 Takashi Murakami Japanese b.1962- ''An Homage to Monogold, 1960A'' 2012; offset lithograph printed in colours sold at Roseberys, Modern & Contemporary Prints & Multiples auction for £1000
Takashi Murakami was born (Born February 1, 1962) and raised in Tokyo, Japan. From early on, he was interested in anime and manga, and hoped to work in the animation industry.  Murakami earned a BA, MFA, and PhD from Tokyo University of the Arts, where he studied nihonga (traditional Japanese painting).  After witnessing the rise of anime and manga in Japanese culture during the '80s, he grew disenchanted with Nihonga, finding it irrelevant to daily Japanese life. He wanted to create something that would leave a lasting impression on his audience.
Murakami's early works reflected the realities in which he had grown up, exploring the complex post-WWII relationship between Japan and the U.S. His works during this time demonstrated his early development of a playful and seemingly light style that always referred to a more cynical stance. Themes he would carry throughout his career to this day.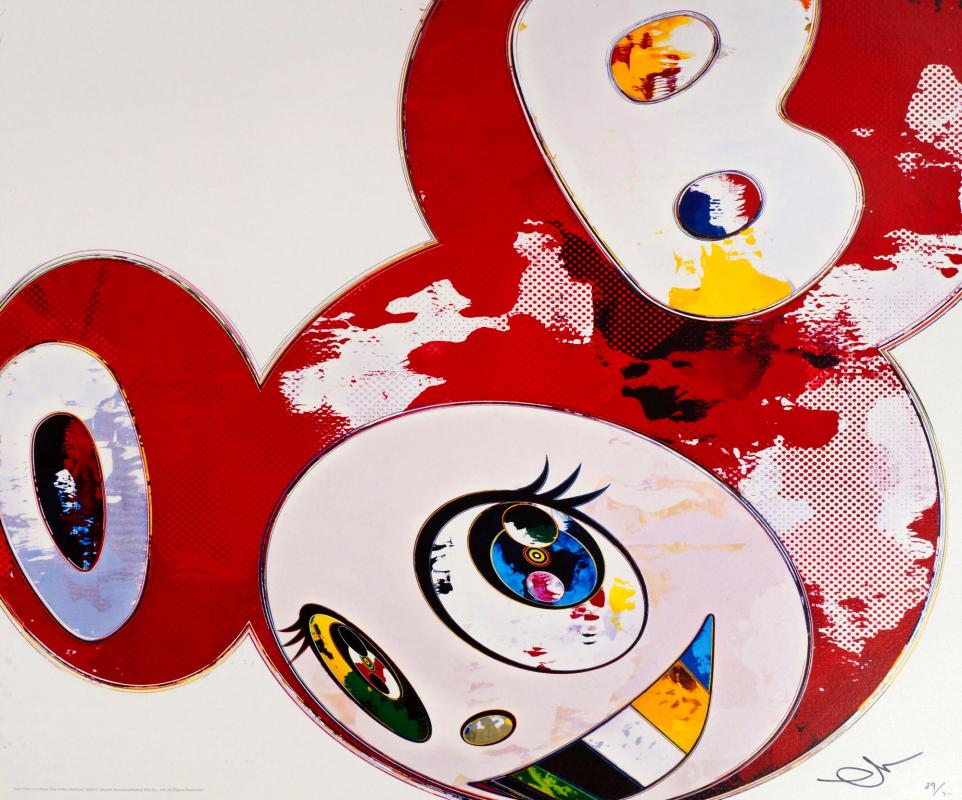 Takashi Murakami, Japanese b.1962- And Then x 6 (Red: The Polke Method), 2013; offset lithograph printed in colours sold at Roseberys Modern & Contemporary Prints & Multiples auction for £775
In 1994, Murakami travelled to New York City to participate in P.S.1 Contemporary Art Center's International Studio Program on a fellowship from the Asian Cultural Council. This time represented a radical breaking point for his career where he started to create a noticeable brand for himself. This included inventing characters that combined aspects of popular cartoons from Japan, Europe, and the US - from smiling flowers, bears and lions to technicolour mushrooms.
"I set out to investigate the secret of market survivability - the universality of characters such as Mickey Mouse, Sonic the Hedgehog, Doraemon, Miffy, Hello Kitty, and their knock-offs, produced in Hong Kong," Murakami wrote for a 2001 retrospective of his work. The result was Mr. DOB, Murakami's most global and enduring character - who sometimes serves as a stand-in for the artist himself. While Murakami's imagery may appear to present unprecedented characters and forms, many contain explicit art historical references, complex themes of violence, technology, and fantasy and some are even direct contemporary updates on traditional Japanese works of art.
In 1996, he was included in a group exhibition at the gallery Feature. This exhibition marked the beginning of his international acclaim and fame. In the same year, he established the Hiropon Factory, a studio/workshop that in subsequent years grew into an art production and artist management company, now known as Kaikai Kiki Co. Ltd. Like much of Murakami's works, his factory is modelled on both traditional Japanese art workshops, such as the ones that produced the colourful woodblock prints from the Edo period, as well as on Andy Warhol's Factory. At Hiropon assistants trained in various areas of expertise collaborate under the artist's supervision for large-scale, mass-marketed projects.
In 2000 out of defiance for the Western-dominated art world, Murakami created his own movement called Superflat. The term refers both to the flattened compositions that the perspective of historical Japanese artistic movements such as Nihonga, as well as to the flattening or merging of art and commerce. Superflat is Murakami's way of bringing together Japan's history with contemporary pop culture. Its bright and easy eye-candy aesthetic immediately lured a wide audience to Murakami's work. After its creation the Superflat theory soon swept across the contemporary art world, becoming a landmark movement in contemporary Japanese art to this day.
Due to his commercial appeal, his works have been translated onto various other media ranging from keychains and mugs. In 2002 he began a multiyear collaboration with Marc Jacobs on the redesign of the Louis Vuitton monogram.  In 2007, Murakami designed the Dropout Bear character for singer Kanye West's album Graduation and directed an animated video for West's song "Good Morning." This shift between fine art and commercial media revealed Murakami's ambition of redefining what a postmodern, international artist can be.
Takashi Murakami, Japanese b.1962- Hypha will cover the world, little by little. We should be able to get our hands on that door to the alien world soon. Wait till we get here!, 2009; offset lithograph on smooth wove paper sold at Roseberys Modern & Contemporary Prints & Multiples auction for £625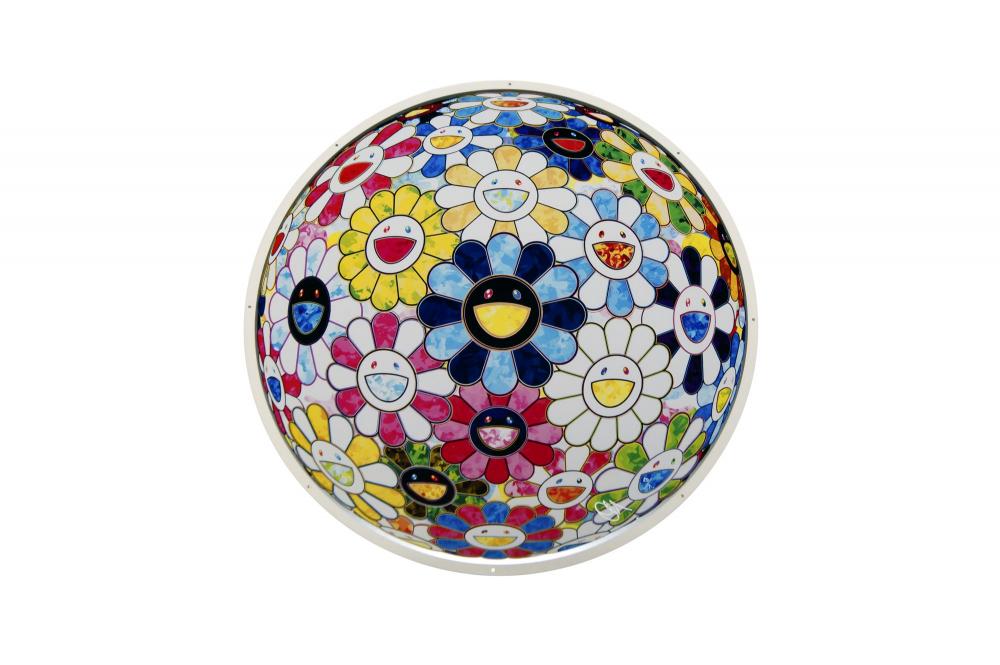 Takashi Murakami, Japanese b.1962- The Flowerball's Painterly Challenge, 2014 offset lithograph printed in colours with high gloss varnish on smooth wove sold at Roseberys Modern & Contemporary Prints & Multiples auction for £1,187
Murakami has achieved global recognition as one of the most prominent contemporary artists of his time, and his work has been featured in numerous solo exhibitions at museums and art institutions around the world. This includes those held at the Mori Art Museum in Tokyo, Gagosian Gallery in London, the Guggenheim and the Museum in Bilbao. One of his most memorable exhibitions to date being the exhibition which was held at the  Château de Versailles, France in 2010 'MURAKAMI VERSAILLES' . The exhibition included 22 pieces installed throughout the estate, involving 11 artworks created especially for the exhibition. The exhibition caused a stir throughout the art world with the bold juxtaposition of his contemporary, cartoon aesthetic against the grandiosity of French rococo. Along with creating paintings and sculptures, he has hosted art fairs for emerging artists, curated exhibitions, and made films featuring his many characters and motifs.
Murakami's work celebrates commerce, and commerce returns the favour. On November 11, 2003, ArtNews  described Murakami's work as being in great demand. Hiropon (1997), a life-sized satirical sculpture sold for $427,500 at Christie's auction house in May 2002. Miss ko2 (1996), a 6-foot-tall model of an anime-inspired blonde girl sold for $567,500 in 2003, and was put up for auction again in 2010, where it sold for 22.9 million HKD. In May 2008, My Lonesome Cowboy (1998), an anime-inspired sculpture created earlier in his career, sold for $15.2 million at Sotheby's. His collectors include various celebrities such as South Korean superstar musician G-Dragon, Leonardo DiCaprio, Kylie Jenner and Pharrell Williams.
Many of Takashi Murakami's works have been sold at Roseberys. If you would like to be notified about the Takashi Murakami lots coming up for auction register an account to set up key word alerts.
FIND OUT MORE ABOUT THE PRINTS & MULTIPLES DEPARTMENT 
CONSIGN A WORK OF ART BY TAKASHI MURAKAMI