Getting to know Indian painter and artist Jehangir Sabavala better
1/05/2020 News Stories & Press Release, Islamic & Indian Art , Artists & Makers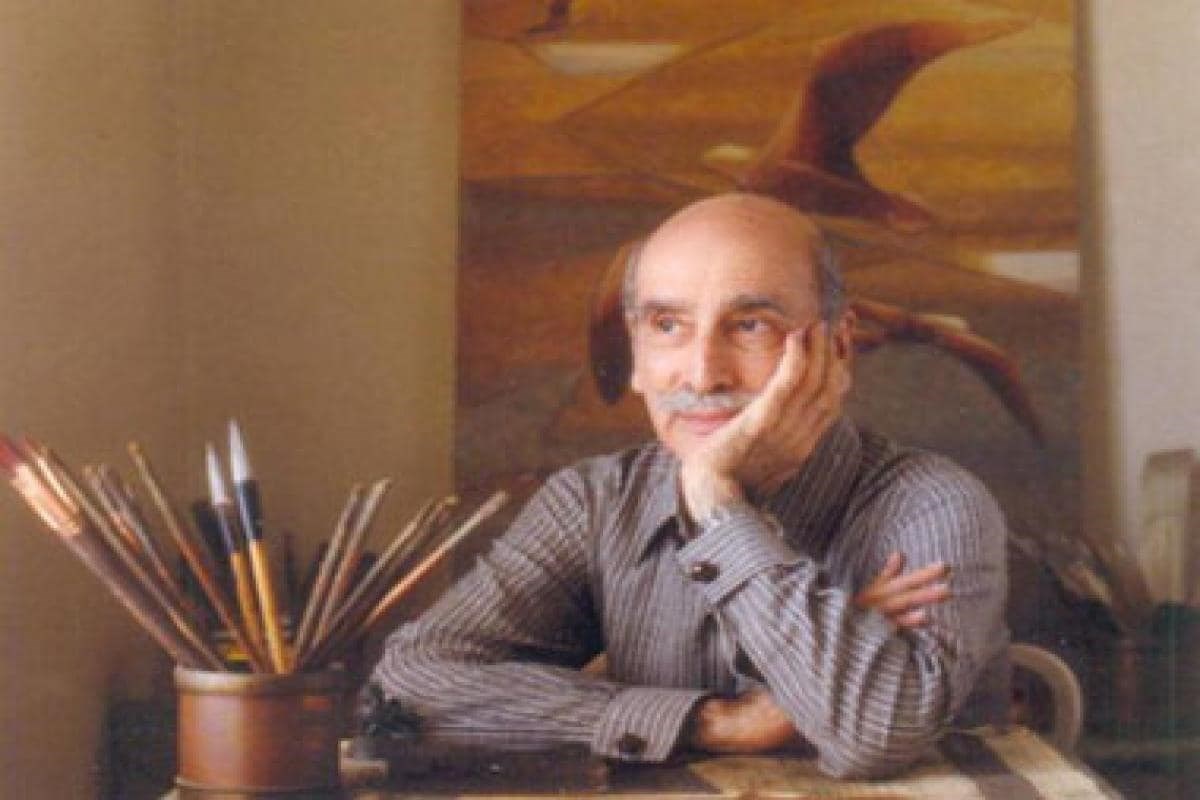 Screen grab from ibnlive.com
Renowned for his elegant moustache and refined dress sense, Jehangir Sabavala is one of India's most admired and respected artists. His illustrious career spanned six decades and his unique cubist impressionist style has become highly sought after, with most recently a large landscape work, The Hooded Day (1970) selling at Sotheby's auction in November 2019 for over £200,000.  Born in 1922, Sabavala hailed from an affluent Parsi aristocratic family in Mumbai, India and was trained at some of the best art colleges in the world, including the Sir J.J. School of Art in Mumbai, the Heatherley School of Art in London, and the Academie Andre Lhote, the Academie Julian, and the Academic de la Grande Chaumiere in Paris.
Sabavala began his career with a solo show in a hotel room at the Taj Mahal Hotel in Mumbai, which the celebrated Indian painter M.F. Husain (2015-2011) assisted in putting up. Despite being a contemporary of the Progressive Artists' Group, a movement consisting of now famous artists such as F. N. Souza, Akbar Padamsee, Tyeb Mehta, M.F. Husain and S.H. Raza who moved away from the restrained style of the Bengal School and gave Indian art an artistic identity post-Independence, Sabavala did not associate himself closely with any one group of artists as he felt it limited his expression.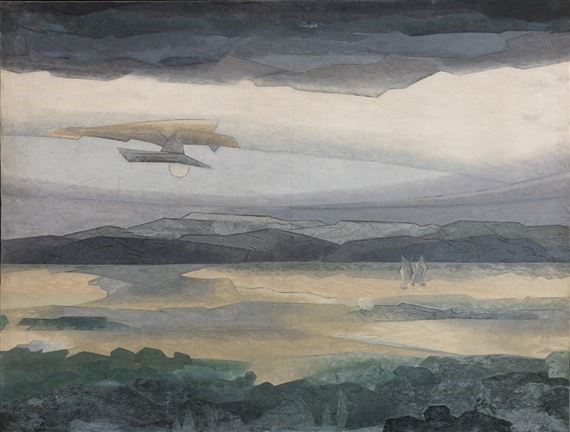 The Hooded Day, 1970, oil on canvas - image via Mutual Art
Sabavala's training in Europe was paramount in forming his style of painting. From 1947 to 1951 he studied with Andre Lhote, a French Cubist painter, who taught him the Cubist precepts of constructing objects not as they appeared to the eye, but in relation to other entities and certainly one can see in his paintings that serene images stand for fractured shards of reality. However, Sabavala was also interested in the portrayal of nature, of colour tonality and of the depiction of India's changeable and vibrant landscapes. On many of his canvases, geometric wedges merge to create vast, tranquil scenes displaying great skill at creating sense of depth and command over the elements of light, colour, and texture.
Before his death in 2011, Sabavala took part in over thirty solo shows in India and internationally including 'Ricorso', Sakshi, Mumbai; Aicon, New York (2008-09); a retrospective at National Gallery of Modern Aart, Mumbai & New Delhi (2005-06). In recognition of his achievements, he was honoured with the Padma Shri by the Government of India in 1977, and the Lalit Kala Ratna by the President of India in 2007. Noted filmmaker Arun Khopkar created a film based on his life titled 'Colours of Absence', which won the National Film Award in 1994 (the most prominent film awards in India) and three monographs have been dedicated to his works.   His work finds a place in distinguished public and private art collections worldwide such as the National Gallery of Modern Art, New Delhi; Birla Academy of Fine Arts, Calcutta; Parliament House, New Delhi; The Punjab Government Museum, Chandigarh, Air India Mumbai; Tata Institute of Fundamental Research, Mumbai, The National Gallery of South Australia, Adelaide. His contribution to Indian modern art is only just beginning to be celebrated.
CONSIGN WORK BY JEHANGIR SEBAVALA
REGISTER FOR KEY WORDS TO BE NOTIFIED ABOUT UPCOMING SALES