Getting to know Grayson Perry better
18/05/2020 Modern & Contemporary British Art, Prints & Multiples , News Stories & Press Release

Grayson Perry dressed as Claire via @minsterschoolart Instagram
Grayson Perry, CBE RA (born 24 March 1960 in in Chelmsford, Essex, England) is an English contemporary artist, writer and broadcaster. He is known for his ceramic vases, tapestries and cross-dressing alter-ego Claire, as well as his thoughts of the contemporary arts scene, and for analysing British "prejudices, fashions and foibles".

He has made documentary television programmes, curated exhibitions, published two autobiographies, Grayson Perry: Portrait of the Artist as a Young Girl (2007) and The Descent of Man (2016), written a book about art, Playing to the Gallery (2014), published his illustrated Sketchbooks (2016) and written and illustrated a graphic novel, Cycle of Violence (2012).
Here we get to know the renowned artist better, to find out what made him become the British National Art Treasure he is today.
Born into a working-class family, Grayson Perry had an unhappy childhood which led him to cultivate a rich imaginative life from a young age. Included within his fantasy world was his teddy Alan Measles, which later would become a prominent symbol within his artwork. Unwelcome at home after his family discovered his cross-dressing, Grayson Perry became involved in the local punk movement and spent time living in squat houses earlier in his life.
Following the encouragement of his art teacher, Grayson Perry decided to study art.  He did an art foundation course at Braintree College of Further Education from 1978 to 1979. He spent a short period of his school life at King Edward VI Grammar School, Chelmsford (KEGS), but mainly he studied for a BA in fine art at Portsmouth College of Art and Design, graduating in 1982. In the months following his graduation he joined The Neo Naturists. Together they put on events at galleries and other venues.
In 2002, Grayson Perry had his first major solo exhibition at the Stedelijk Museum Amsterdam; the following year, he became the first ceramicist to be awarded the Turner Prize. The Turner Prize in 2003 brought him to wider attention and a series of landmark exhibitions and awards followed: The Tomb of the Unknown Craftsman, in which he presented his own work alongside items from the collection in the British Museum in 2011; in 2013, he was named Commander of the Order of the British Empire, Provincial Punk at Margate's Turner Contemporary in 2015; and The Most Popular Art Exhibition Ever! at the Serpentine in 2017. But it's his wider media work that turned him into a national treasure: as well as five books and numerous TV series, he gave the Reith Lectures on Radio 4 in 2013, has guest edited the New Statesman, appeared on Desert Island Discs and developed a one-man stage show, initially for book tours, but which now has a life of its own.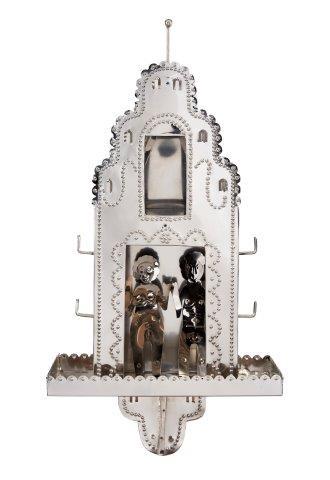 Grayson Perry is a great chronicler of contemporary life, drawing the spectator in with wit, affecting sentiment and nostalgia as well as, at times, fear and anger. He works with traditional media such as ceramics, cast iron, bronze, printmaking and tapestry, and is interested in how each historic category of object accrues intellectual and emotional baggage over time. In his work, common subjects he tackles are  universally human: identity, gender, social status, sexuality, religion. The seductive qualities within his art forms are what make the stealthy comments about society, its pleasures as well as its injustices and flaws. Grayson also explores a variety of historical and contemporary themes. Autobiographical references are punctuated throughout his work too from the artist's childhood, his family and the dichotomy between his transvestitism and his fascination with hyper-masculine emblems.  'I would regard myself as a kind of amateur anthropologist/sociologist nowadays; I'm interested in patterns in society'. Grayson Perry once commented on the philosophy behind his work. In tandem with these themes, questions about décor and decorum, class and taste, and the status of the artist versus that of the artisan is also a large undercurrent of the meaning behind his works of art.
 
Although his works vary in a variety of mediums, he is best known as a ceramicist. Some artists may use it as a playful side-line, but pottery is not a medium usually associated with contemporary or even fine art; that is precisely why it is so appealing to Grayson Perry. He describes himself as a 'self-confessed hater of contemporary ceramics, who only keeps on using clay because pottery is held in such low esteem in the art world.' His pots and vases both subvert and play off conventions of art and craft in order to launch a more general assault on British culture, class, sexuality and taste. In both form and content, Perry's pieces are designed to provoke, perplex and offend. From a distance they appear handsome, classically shaped vessels, richly patterned, interestingly textured, and glittering with coloured and metallic glazes. But up close, these impressive funerary urns, luxurious Oriental-style jars and giant vases teem with obscene scenes of perversion, mutilation and depravity – where no one, not even Grayson Perry himself is spared. There is a dissonance between the conventional forms of his vessels and the depictions that adorn them. He uses imagery and text to chronicle social concerns, his own formative experiences and to tell the story of his alter ego, Claire.  Grayson Perry once said he was using a "guerrilla tactic" as his message behind the vibrant ceramic vessels. The viewer is at first drawn to the artwork's decorative beauty, then confronted with the incongruously dark subject matter. The tone of his narratives is psychologically complex and often caustic. Although he uses traditional methods to make his pots, he employs a range of techniques, such as embossing and photographic transfers, to create intricate, animated surfaces. Grayson Perry learnt his ceramic skills at evening school and cherishes his amateur status as one of his most effective weapons. Although he has been creating pottery for years, he shuns the seasoned potter's wheel, instead taking on the simple approach of building his pots up coil by coil, or slab by slab. His pots may look showy from afar, but on close inspection their combination of elaborate decoration of childlike designs and clumsy wonkiness defies the potter's quest for perfection.

As well as being well known for his artwork, Grayson Perry is also well known for his colourful alter-ego Claire. Grayson Perry frequently appears in public dressed as a woman, and he has described his female alter-ego, "Claire", variously as "a 19th century reforming matriarch, a middle-England protester for No More Art, an aero-model-maker, or an Eastern European Freedom Fighter", and "a fortysomething woman living in a Barratt home, the kind of woman who eats ready meals and can just about sew on a button". Grayson Perry has designed many of Claire's outfits himself.
 
Over the course of his career Grayson Perry has mounted numerous solo exhibitions at major museums on several continents, including the Andy Warhol Museum in Pittsburgh (2006), the 21st Century Museum of Contemporary Art in Kanazawa, Japan (2007), and the MUDAM (Musée d'Art Moderne Grand-Duc Jean) in Luxembourg (2008). In 2007 Grayson Perry curated an exhibition of art by prisoners and ex-offenders entitled Insider Art at the Institute of Contemporary Arts presented by the Koestler Trust, a charity which promotes art as rehabilitation in prisons, young offenders institutions and secure psychiatric units. In 2008 he was ranked number 32 in The Daily Telegraph's list of the "100 most powerful people in British culture". In 2015 he was appointed to succeed Kwame Kwei-Armah as chancellor of University of the Arts London.

Today his work is in the collections of the Museum of Modern Art in New York, the Tate Modern and Victoria and Albert Museum in London, and the Stedelijk Museum Amsterdam. He currently lives and works in London, Islington with his wife, the author and psychotherapist Philippa Perry. They have one daughter, Florence, born in 1992. His most recent exhibition to date is The Pre-Therapy Years, reintroducing the explosive and creative works he made between 1982 and 1994 at The Holburne Museum, Bath, UK, 24 January–25 May 2020.
If you like to be notified about works of art by Grayson Perry coming up for auction, register an account with Roseberys to sign-up to our key words alerts. 
SET-UP AN ACCOUNT FOR KEY WORD ALERTS 
CONSIGN WORKS BY GRAYSON PERRY 
LEARN MORE ABOUT THE PRINTS & MULTIPLES DEPARTMENT 
LEARN MORE ABOUT THE MODERN & CONTEMPORARY BRITISH ART DEPARTMENT