Getting to know Frank Auerbach better
23/04/2020 Modern & Contemporary British Art, Prints & Multiples , News Stories & Press Release
Frank Auerbach is one of the most powerful painters of the 20th century. Renowned for his expressionistic portraits and cityscapes, Auerbach's work is characterised by a rough impasto technique.

Here we get to know the artist who features regularly in our sales a little better.
Frank Auerbach was born in Berlin, 29 April 1931 into an upper middle-class Jewish family descended from a line of rabbis, his father was a lawyer and his mother a former art student. In 1939 he was sent to England to escape Nazism. His parents, who remained behind, died in concentration camps before they could join their young son abroad. He spent his childhood at a progressive boarding school, Bunce Court, at Lenham near Faversham, Kent. Between 1948 to 1952 he attended St Martin's School of Art, London, and studied with David Bomberg in night classes at Borough Polytechnic, where he learnt to draw. It was during this period that he developed a friendship with fellow student Leon Kossoff. During his studies Auerbach also became a naturalised British citizen in 1947.  Auerbach then went to study at the Royal College of Art from 1952 to 1955.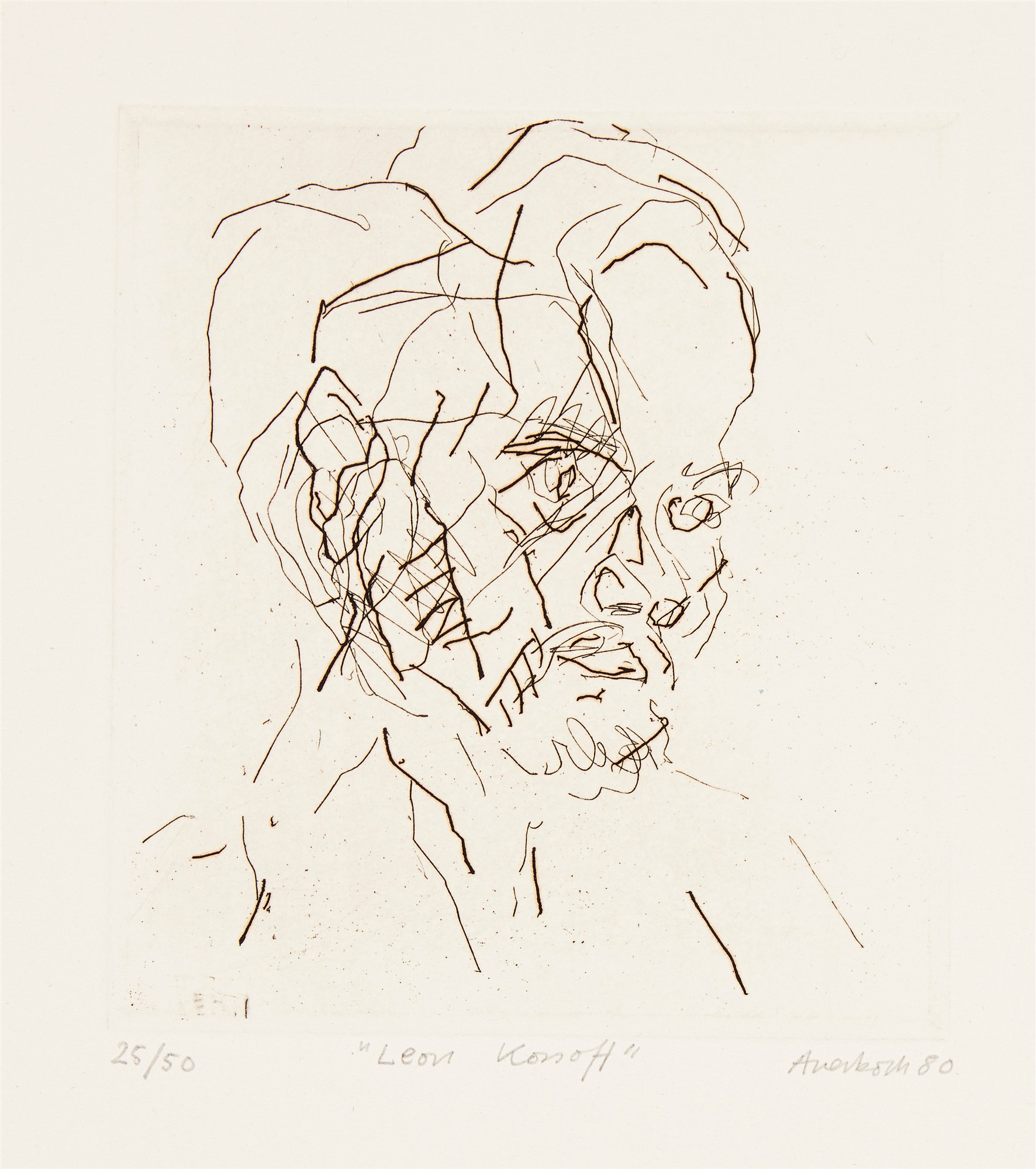 One of Six Etchings of Heads [Harley 10], 1980-81; by Frank Auerbach, the complete portfolio of six etchings on Arches wove coming up for sale the upcoming Prints & Multiples auction this year 
Auerbach is best known for his depictions of London's streets and for portraits of a regular cast of friends, family and lovers who have sat for him for decades. He has used three principal models throughout his career: his wife Julia, who first posed for him in 1959; Juliet Yardley Mills ('J.Y.M.'), a professional model whom he met in 1957; and his close friend Estella (Stella) West ('E.O.W.'), the model for most of his nudes and female heads prior to 1973.
 His artwork is usually made with paint so thick and heavy that there was sometimes a risk of it sliding off the canvas after the work has been completed. His method over the years has remained constant, laborious and ruthless: if he isn't happy with a work at the end of a day, he scrapes off all the paint into a bin and starts again, which means the final version of the painting is made comparatively rapidly.
 The dealer Helen Lessore at the Beaux-Arts Gallery, London, gave Auerbach his first solo show in 1956. Critic David Sylvester, wrote about the show 'the most exciting and impressive first one-man show by an English painter since Francis Bacon in 1949'.
 Auerbach exhibited regularly at the Beaux-Arts Gallery until 1963. From 1965 he exhibited at the Marlborough Gallery. He was given an Arts Council retrospective at the Hayward Gallery, London in 1978, and had solo exhibitions at the British Pavilion in the 1986 Venice Biennale (where he and his friend Sigmar Polke were jointly awarded the Gold Lion), and at the Rijksmuseum, Amsterdam, 1989.
Another strong emphasis in Auerbach's work is its relationship to the history of art. Showing at the National Gallery in London in 1994 he made direct reference to the gallery's collection of paintings by Rembrandt, Titian and Rubens. 
Group shows in which he has participated include Tooth and Sons, London, in 1958, Pittsburgh International Exhibition at the Carnegie Institute in 1958 and 1961, '54/64 Painting and Sculpture of a Decade at the Tate Gallery, 1964, British Painting in the Sixties organised by the Contemporary Arts Society in 1964, and The Human Clay, selected by R.B. Kitaj, held at the Hayward, 1976.
The artist's work has fetched large prices at auction worldwide including works sold through Roseberys.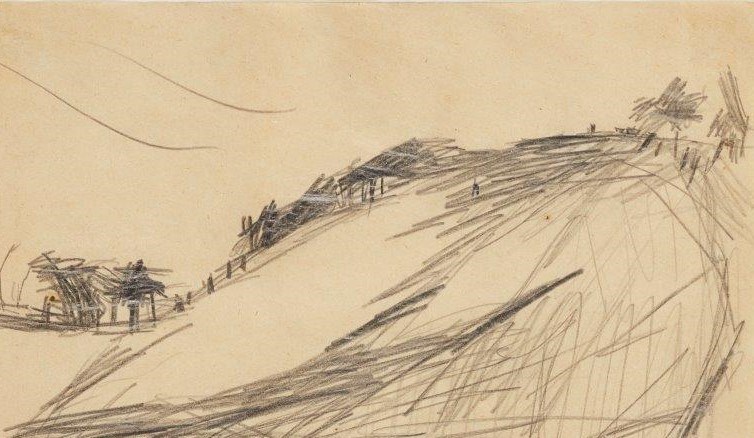 Frank Auerbach, British b.1931- Primrose Hill (study),1960; pencil and oil paint on brown paper sold for £6,000 in the Roseberys Modern & Contemporary British Art auction in February 2020.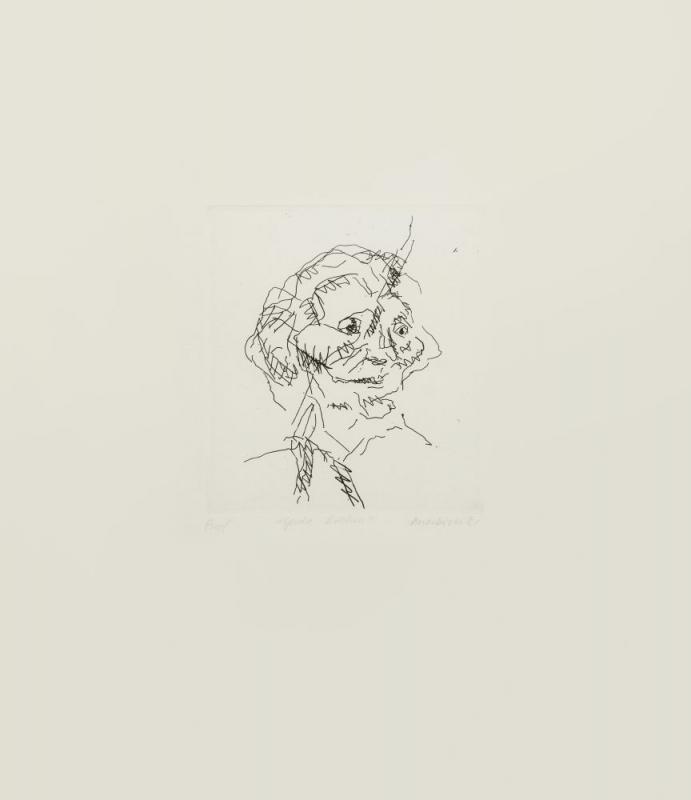 Frank Auerbach, German/British b. 1931- Julia, from Six Etchings of Heads, 1981; etching on wove sold for £2,125 in Roseberys Prints & Multiples auction April, 2019.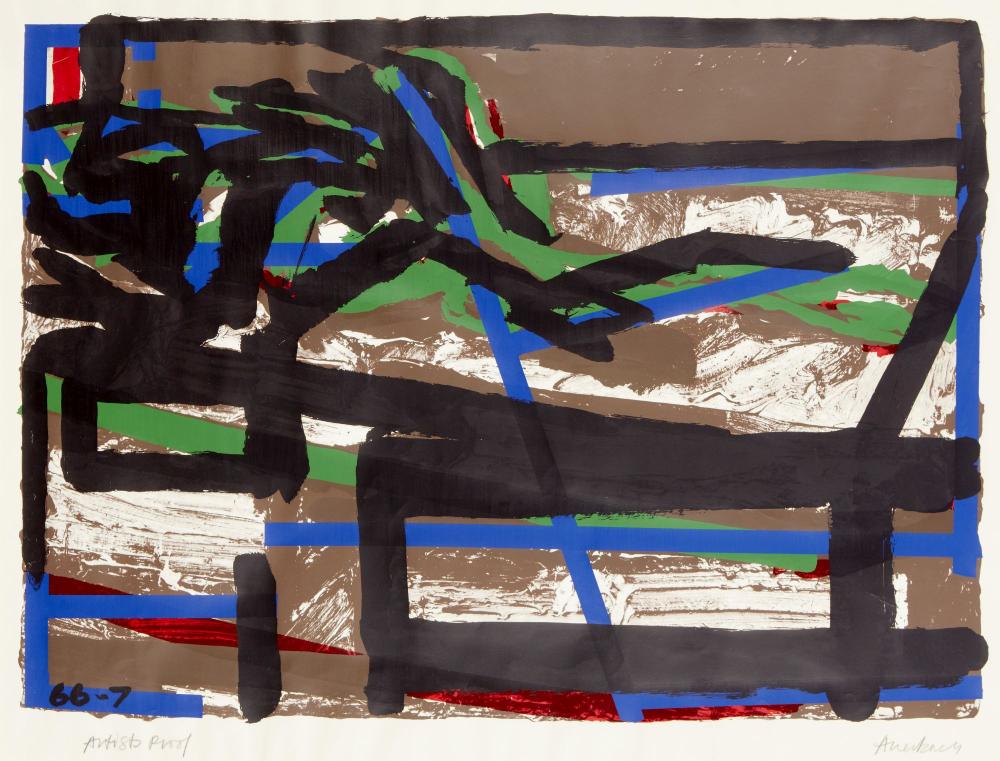 Frank Auerbach, German/British b.1931- Reclining Figure II, 1966; screenprint in colours on wove, sold for £1,560 in Roseberys Modern & Contemporary Prints & Multiples auction
The artist had many famous collectors including David Bowie. Bowie bought and owned Auerbach's "Head of Gerda Boehm" as part of his private collection. After Bowie's death in 2016, this piece was among many put up for auction at Sothebys in November 2016, where it was sold for 3,789,000 GBP.
Along with Francis Bacon, Lucien Freud was one of Auerbach's closest friends and another famous collector of his work. His works were collected by Lucian Freud throughout his life and hung in Freud's house in London until his death in 2011. The works on display in Freud's home spanned Auerbach's career from his student days in the late 1940s up to 2007. In 2014, in a development that neither man could have foreseen when they first met, 45 Auerbach paintings and drawings collected by Freud were accepted by the government in lieu of £16m inheritance tax after his death in 2011. They have since been acquired for the nation by Arts Council England, to be allocated to public museums and galleries. 
Rarely leaving Britain, he still lives and works in London and has had the same studio since the 1950s. As a popular and dedicated contemporary artist, he has several times been offered and refused knighthood.
CONSIGN WORKS OF ART BY FRANK AUERBACH 
SET-UP KEYWORD ALERTS FOR UPCOMING WORKS BY FRANK AUERBACH
LEARN MORE ABOUT THE MODERN & CONTEMPORARY BRITISH ART DEPARTMENT 
LEARN MORE ABOUT THE PRINTS & MULTIPLES DEPARTMENT