Getting to know British visual artist David Shrigley better
18/02/2020 Prints & Multiples , News Stories & Press Release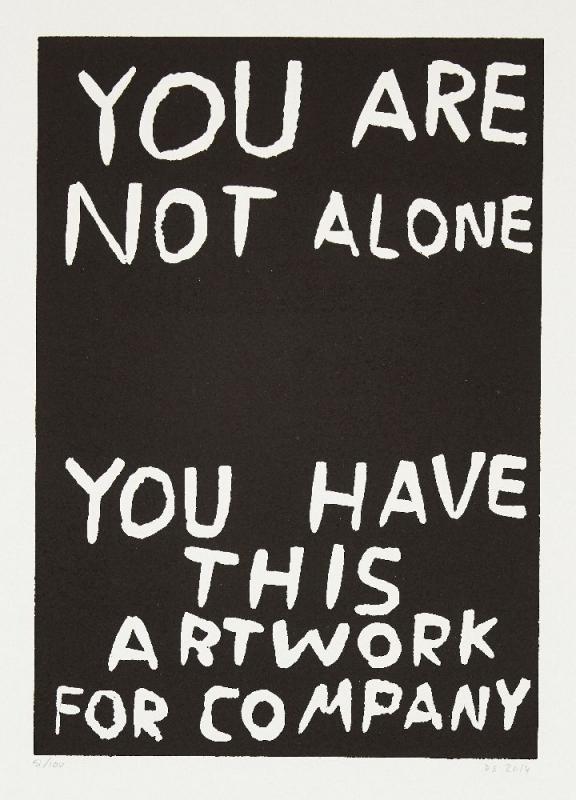 David Shrigley, British b. 1968- You Are Not Alone, 2014; linocut on Somerset wove, initialled, dated and numbered 51/100 in pencil, sheet 39 x 28.7cm (unframed) (ARR)
David John Shrigley OBE (Born: 17 September 1968. Macclesfield, England) is a British visual artist, best known for his sarcastically humorous childlike cartoons. The context behind his works is usually based on a satirical commentary on human interactions and everyday situations such as unemployment and child welfare, as well as more absurd subjects. Despite the sarcasm and darkness in the artist's work there is always undercurrents of optimism too. His work, blending simple text and imagery, usually warrants no explanation and is usually completely self-explanatory, which is a rarity within todays contemporary art world.  While drawing is at the centre of his practice, the artist also works across a wide range of media including sculpture, large-scale installation, animation, painting, photography, music and has authored many books.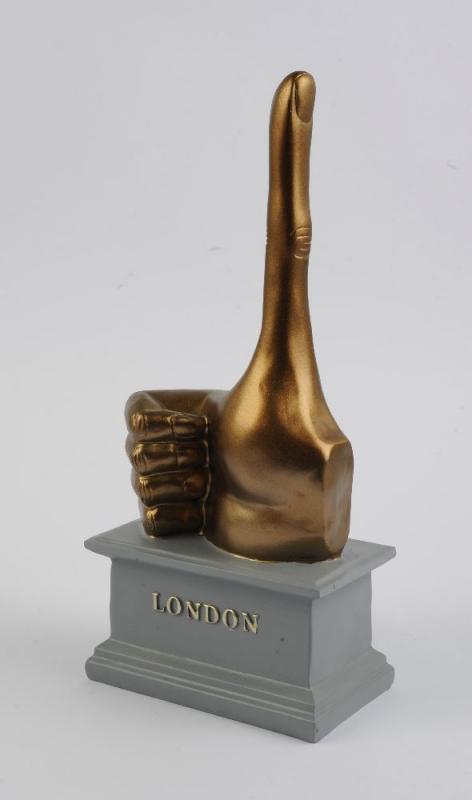 David Shrigley, British b.1968- Really Good, 2016; polystone multiple, signed in black and numbered 759/3000 with stamp to base, a miniature of the Fourth Plinth commission, with booklet and original packaging, overall 29 x 12.5 x 7.5cm (multiple) (ARR)
He lived and worked in Glasgow, Scotland for 27 years before moving to Brighton, England in 2015 where he still works and resides. He took the Art and Design Foundation course at Leicester Polytechnic in 1987, and then studied environmental art at Glasgow School of Art from 1988 to 1991. Before becoming a full-time artist, Shrigley worked as a gallery guide at the CCA in Glasgow.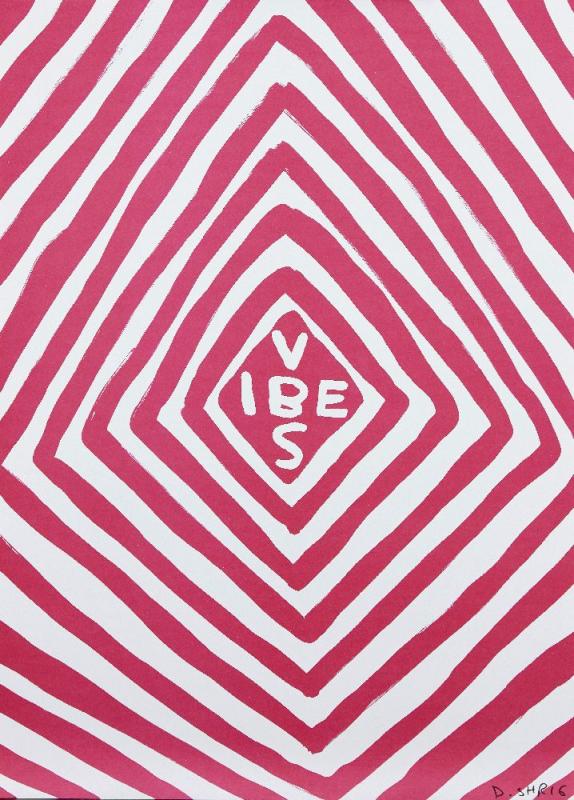 David Shrigley, British b.1968- Vibes, 2018; giclee print in colours on thin wove, signed in black marker, from the edition of 250, published by The Big Issue, London, sheet 70 x 50cm (unframed) (ARR)
Commenting on his final degree show to the The Guardian Shrigley said, "I thought my degree show was brilliant, but the people who were marking it didn't. I got a 2:2. They didn't appreciate my genius. […] I didn't sell anything at the show – it was 1991, before the YBAs. There wasn't a precedent for people selling work that wasn't figurative painting".
Sketch in London image via @peigicatriona Instagram 
Shrigley's work has been exhibited extensively around the world, including solo shows at the Sketch restaurant in London, Yerba Buena Center for the Arts in San Francisco, Statens Museum for Kunst in Copenhagen, the Kelvingrove Art Gallery, Power Station of Art & Design, Shanghai, Yumiko Chiba Associates, Tokyo, and Museum in Glasgow, and the Hammer Museum in Los Angeles.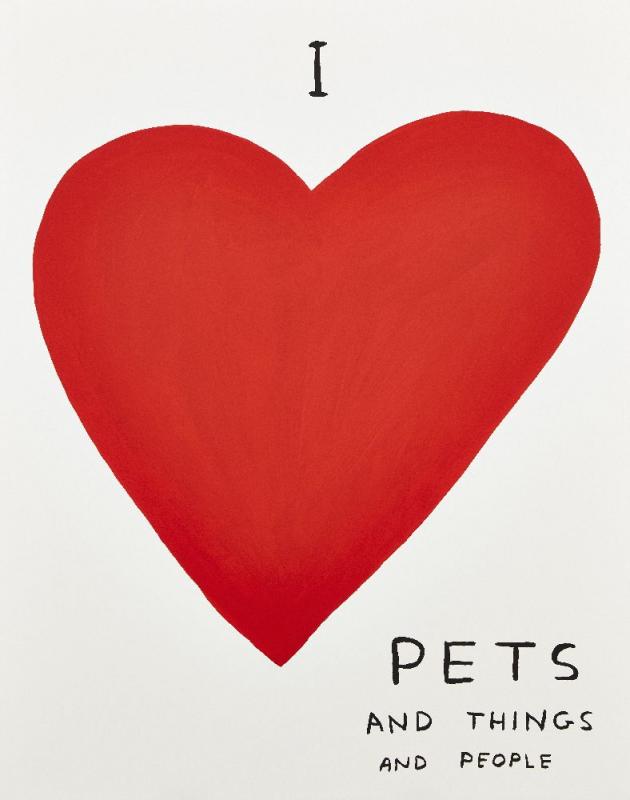 David Shrigley, British b.1968- I love..., 2019; srcreenprint in colours on 410gsm Somerset Tub Satin wove, signed, dated and numbered 71/125 in pencil verso, published by Counter Studio, Margate, sheet 76 x 60cm (unframed) (ARR)
Shrigley's works are also included in collections internationally, including Museum of Modern Art, New York, USA; Art Institute of Chicago, Illinois, USA; Museum Ludwig, Cologne, Germany; Pinakothek der Moderne, Munich, Germany; Statens Museum for Kunst, Copenhagen, Denmark; Thyssen-Bornemisza Contemporary Art Foundation, Vienna, Austria; Scottish National Gallery of Modern Art, Edinburgh, UK; Tate, London, UK; and The British Council, London, UK; National Gallery of Victoria, Melbourne, Australia.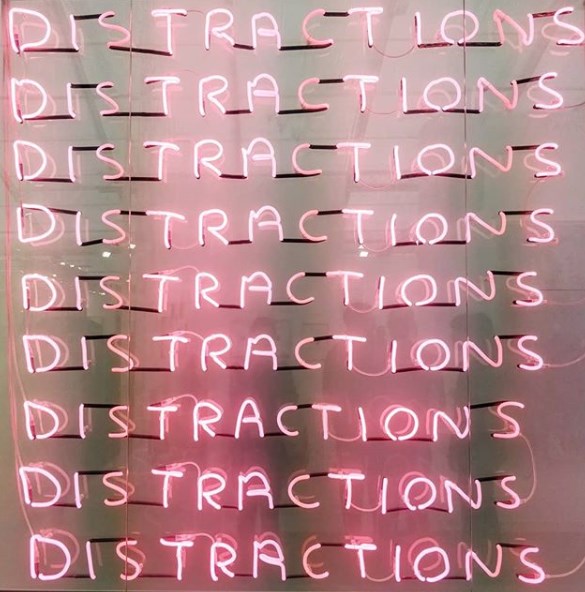 Neon sign for London frieze art fair via @catrionapeigi Instagram
In 2013, Shrigley was nominated for the prestigious Turner Prize for his solo show David Shrigley: Brain Activity at the Hayward Gallery in London. In 2019 Shrigley was awarded the decoration of Officer of the Most Excellent Order of the British Empire or OBE.
You can find many of David Shrigley's works of art within the Prints & Multiples and Urban & Contemporary Roseberys sales.
PREVIOUS DAVID SHRIGLEY SALE RESULTS AT ROSEBERYS
CONSIGN DAVID SHRIGLEY WORKS OF ART
CURRENT PRINTS & MULTIPLES SALE