Getting to know André Derain better
18/05/2020 News Stories & Press Release, Impressionist, Modern & Post War Art
André Derain (10 June 1880 – 8 September 1954) was a French artist, painter, sculptor, and co-founder of Fauvism with Henri Matisse.
Here we get to know the seminal French painter known for his landscapes, portraits, and still lifes better.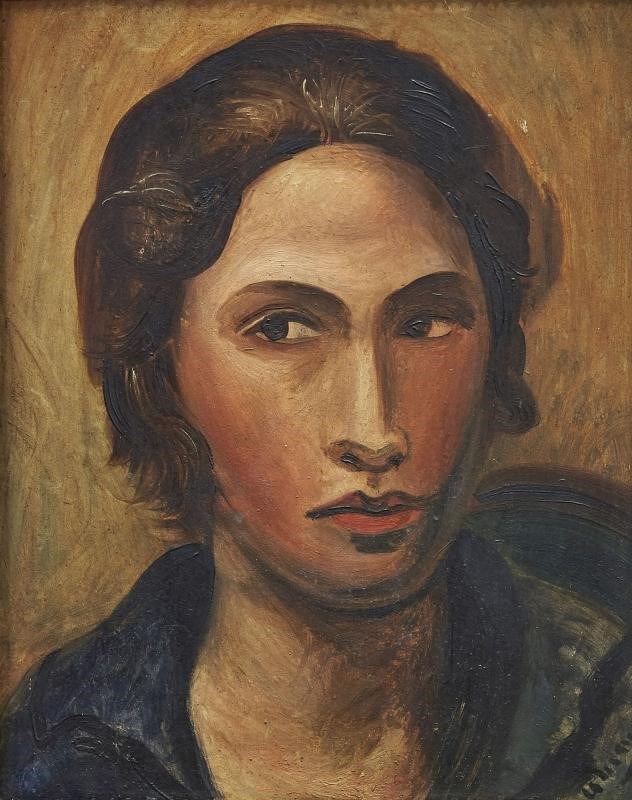 Andre Derain, French 1880-1954- Portrait de Femme (Portrait of a Woman), c. 1922; oil on board sold at Roseberys for £8,500
Born on June 10, 1880 in Chatou, France, Derain began painting at an early age. He maintained a dual education in his late teens, studying engineering at the Académie Camillo, and painting under Eugène Carrière, while sharing a studio with Maurice de Vlaminck. It was during his classes with the Symbolist painter Carrière that Derain met Mattise. This creative period was interrupted by military service at Commercy from September 1901 to 1904. Following his release from service, Matisse persuaded Derain's parents to allow him to abandon his engineering career and devote himself solely to painting.
Derain and Matisse spent the summer of 1905 together, painting around the Mediterranean French village of Collioure. Here, they developed an approach towards painting that highlighted the sun-soaked landscape in strokes of vivid and unnatural, bright colours.
André Derain, French 1880-1954- ''Nude'', 1935; oil on canvas sold at Roseberys for £5,625
Later that year, the pair exhibited their works at the annual Salon d'Automne, prompting the critic Louis Vauxcelles to describe the duos work as les fauves (meaning the wild beasts), marking the start of the Fauvist movement.
In March 1906, the renowned art dealer Ambroise Vollard sent Derain to London to produce a series of paintings with the city as subject. In 30 paintings Derain created a portrait of London that was drastically different from anything done by previous painters of the city such as Whistler or Monet. Using radiant colours and compositions, Derain painted numerous pictures of the city scenes including the Thames and Tower Bridge. These London paintings remain among his most popular work. Long after his death Derain's London paintings were the subject of a major exhibition at the Courtauld Institute from 27 October 2005 to 22 January 2006.
After dealer Daniel-Henry Kahnweiler purchased all the works held in Derain's studio in 1907, the artist became financially secure and was able to incorporate a contemporary interest in Primitivism while beginning to experiment with sculpture. He experimented with stone sculpture and moved to Montmartre to be near his friend Pablo Picasso and other famous artists. During his time in Montmartre, Derain began to shift from the brilliant Fauvist style to more subdued hues, showing the influence of Cubism and Paul Cézanne.
He exhibited with the Der Blaue Reiter group in Germany in 1912, and at the Armory Show in New York the following year. Derain's first solo exhibition took place at the Galerie Paul Guillaume in Paris in 1916 and was accompanied by a text by Guillaume Apollinaire. 
After World War I, with his Fauve years far behind, Derain was admired as an upholder of tradition. Derain approached his paintings with a renewed interest in classicism, exhibiting internationally and enjoying high profile commissions including a collaboration with Sergei Diaghilev for his 1919 La Boutique Fantasque. During his career he also produced numerous book illustrations, often in woodcut, for works by authors such as François Rabelais, Antonin Artaud, and André Breton.
The 1920s marked the height of his success, as he was awarded the Carnegie Prize in 1928 for his Still-life with Dead Game and began to exhibit extensively abroad—in London, Berlin, Frankfurt, Düsseldorf, New York City and Cincinnati, Ohio.
The artist died on September 8, 1954 in Garches, France.
Since his death Derain's work has been held in exhibtions around the world including Museum of Modern Art, New York (1952); Musée national d'art moderne, Paris (1954–44); Royal Scottish Academy, Edinburgh, and Royal Academy of Arts, London (1967); Musée d'art moderne de la Ville de Paris (1981); and Statens Museum for Kunst, Copenhagen (2007).
Today, Derain's works are held in the collections of the Hermitage Museum in St. Petersburg, the Musée d'Orsay in Paris, The Museum of Modern Art in New York, and the Tate Gallery in London, among others.
His legacy significantly impacted succeeding artists of the twentieth century.

His works sell at impressively high prices; Arbres à Collioure sold for $24 million at Sotheby's.
If you would like to be notified about the André Derain works of art that come up for auction register to sign-up for key word alerts.
LEARN MORE ABOUT THE IMPRESSIONIST, MODERN, POST WAR DEPARTMENT