Getting to know American furniture designer Paul Evans
13/02/2020 News Stories & Press Release, Furniture & Rugs
Get to know Paul Evans, furniture designer, sculptor, and artist, who is famed for his contributions to American furniture design and the 70s American craft Movement better.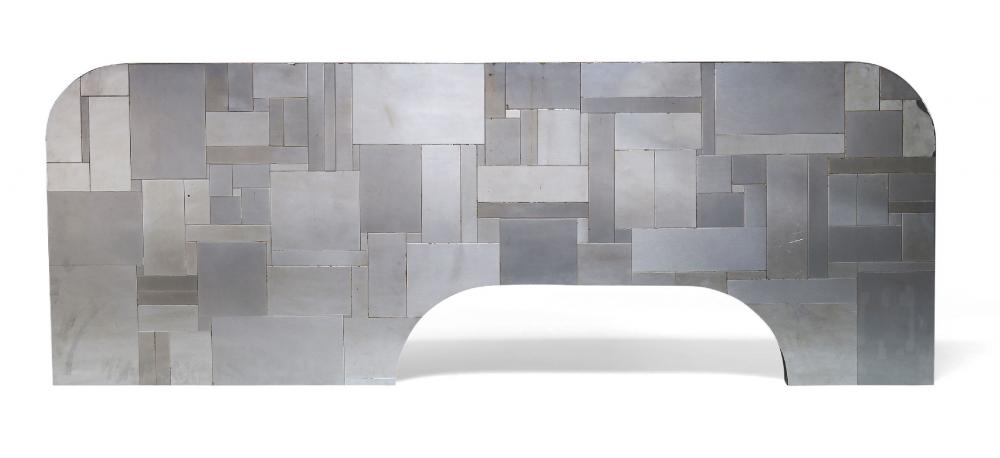 Paul Evans (1931-1987), a 'Cityscape' Panel 1970s Clad in brushed and polished steel panels, by repute a custom piece, believed to have originally been a door 200cm high, 76cm wide, 4cm deep
Paul R. Evans II was born in Newtown, Bucks County, Pennsylvania on the 20 May 1931 and died in March 1987. He studied sculpture, metal work, silver and goldsmithing at several institutions including the Philadelphia Textile Institute in Philadelphia, Pennsylvania (1950), Rochester Institute of Technology, School for American Craftsmen, Rochester, New York (1950), and Cranbrook Academy of Art, Bloomfield Hills, Michigan (1952).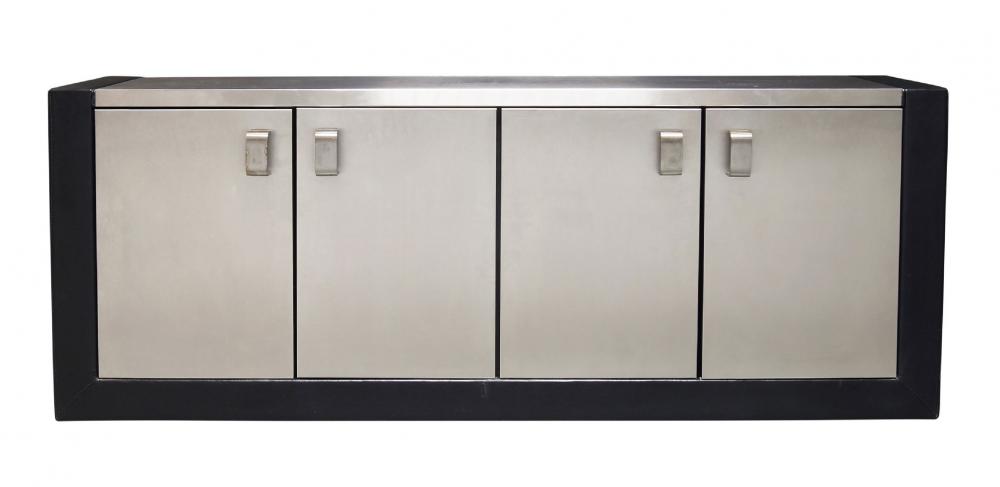 Attributed to Paul Evans (1931-1987), a steel and leather clad sideboard 1980s A custom sideboard, with brushed steel surface and four cupboard doors, enclosing two shelves, with black leather clad sides and base 214cm high, 81cm wide, 51.5cm deep Note - see similar example, Wright Modern Design sale, 20th March 2005, Lot 113
After his studies Evans began making copper chests and followed with sculpted steel-front cabinets. In the 50s, in quest of a change of scenery, Evans moved to Lambertville, New Jersey, a recognised haven for artists and craftsmen, and opened a workshop in a former chicken coop. In the 60s, Evans became a featured designer for furniture manufacturer Directional Furniture. The artist's relationship with Directional Furniture, an association significantly impacted the nature and scope of his production. It also set a high standard for the world of creative manufacturing during the period by insisting every piece is made by hand, finished by hand and overseen by the artist at each step of production. With Directional Furniture he introduced several furniture lines; the Argente series of one-off studio pieces, Sculptured Bronze series and the popular Cityscape series, which was inspired by the Manhattan skyline. Boasting sleek, elegant surfaces made of brass and chrome, the Cityscape series differed greatly from Evans' sculpted steel former works, which were painted and highly-textured. The Cityscape series reaped notable credit for Paul Evans furniture and established Directional Furniture as one of the most distinguished mid-century design companies of the twentieth century. During this time for extra money, Evans and his 70 person team installed upholstery in Studio 54.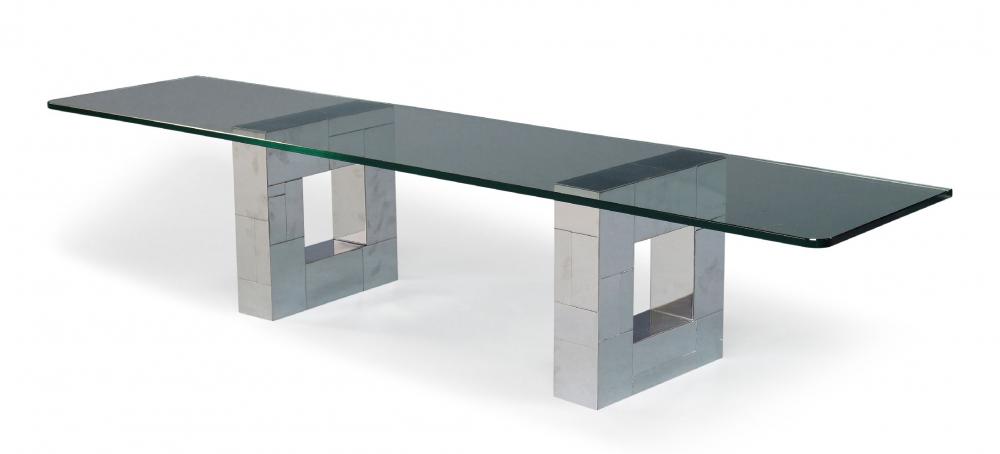 Paul Evans (1931-1987), a pair of 'Cityscape' brackets for a console c.1970, unsigned Each finished in chromed steel, together with a rectangular glass top Brackets 31.5cm high, 31.5cm wide, 8cm deep glass 153cm long, 36cm deep

Later in 1966, Evans relocated to Plumsteadville, Pennsylvania, where he opened a larger workshop. In the folksy '60s, Evans designed ornate welded steel-front cabinets that drew inspiration from the sculpture work of Picasso, Harry Bertoia and Julio González. His twist was repositioning those influences within his own beatnik framework. Independent of his work for Directional, Evans continued to create prototypes, create commissioned products, and craft his celebrated sculpture-front screens, sideboards, collages, chairs, and tables, which featured beautifully hand-forged decorative elements. The late 1950s and 1960s were an incredibly important period for Evans as his workshop operation continued to grow and he began producing some of his most celebrated forms. In the late 70s, Evans opened a second showroom in New York City. Evans died from a heart attack at the age of 55 on March 6, 1987, he shut the doors of his business in New York.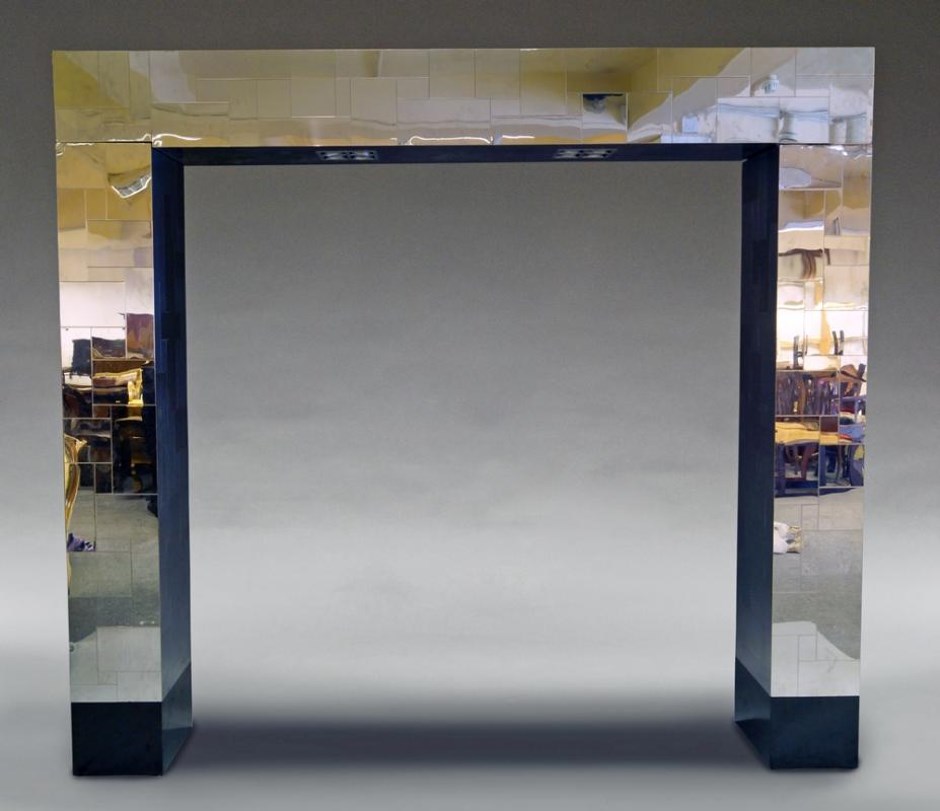 Paul Evans, American, 1931-1987 a Cityscape illuminated arch, the pillars with cupboard storage, chrome veneer patchwork, one signed An Original Paul Evans, 239.5cm high x 264cm wide x 45.7cm deep, (VAT charged on the hammer price) (It is the buyers responsibility to ensure that electrical items are professionally rewired for use). 
Evans' combination of handcraft and technology foretold the limited-edition art furniture of today. His Brutalist-inspired sculpted metal furnishings distinguish him from others in the world of design. Evans pieces were also almost always signed, and all of the custom items have a signature and a date.  His transcendent works, which defied what everyday objects looked like and how they were made, continue to reveal the captivating synergy between sculpture and design.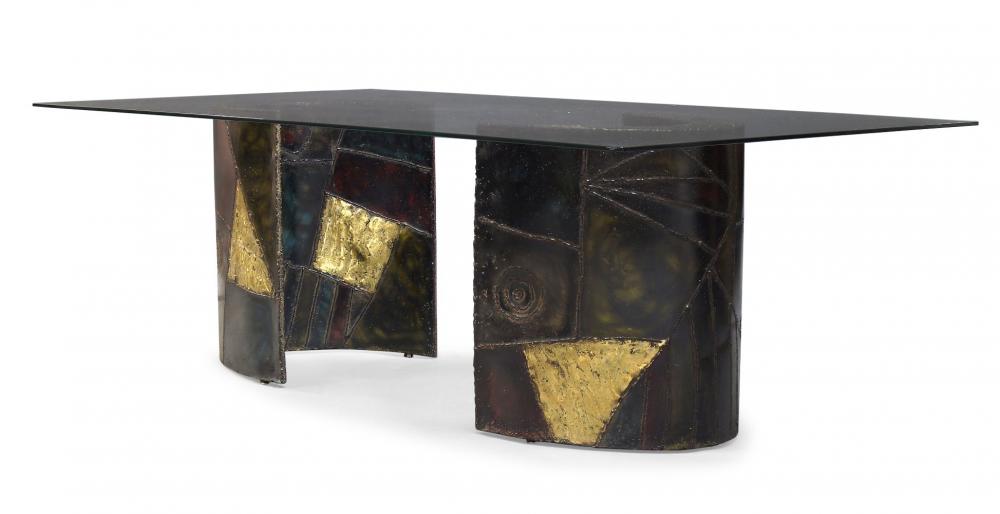 Paul Evans (1931-1987), a model 'PE-24' dining table, Paul Evans Studio for Directional c.1969, welded signature to one pedestal 'PE 69' With rectangular glass top above two welded steel, enamelled and gilt pedestal bases 72cm high, 215cm wide, 120cm deep
Today his designs are easily identifiable and highly collectable and he has fast become one of the most collectible American furniture designer of the late 20th century.  Performer Lenny Kravitz, a collector of Evans pieces, describes his distinctive work as "stunningly beautiful, stunningly ugly, stunningly tacky, [and] stunningly sophisticated." Besides Kravitz, his work has been collected by big names like Gwen Stefani, Diane von Furstenberg and Tommy Hilfiger. In 2015 a wavy-front cabinet designed by Evans in 1967 sold for $287,500 by auction house, Rago Arts.  Eight months later Wright Auctioneers beat that number when they sold one of Evans's silver aluminum and black paint cabinet pieces with dripping squiggle-like seams in Chicago for $293,000. Since his death, besides the popularity in auction of his pieces, three coffee table books focusing on Evans have been published in the last decade. Two mini-documentaries about Evans's life have been produced and in 2014, the James A. Michener Art Museum in Doylestown, Pa., staged a retrospective of Mr. Evans's work.
The upcoming Design: Decorative Arts 1860 to the Present-Day Auction will take place on Tuesday 3 March.
Contact our furniture specialist Nigel Dawson-Elis to sell your Paul Evans furniture.