Artist spotlight: The Mouseman
22/10/2019 News Stories & Press Release, Decorative Arts & Modern Design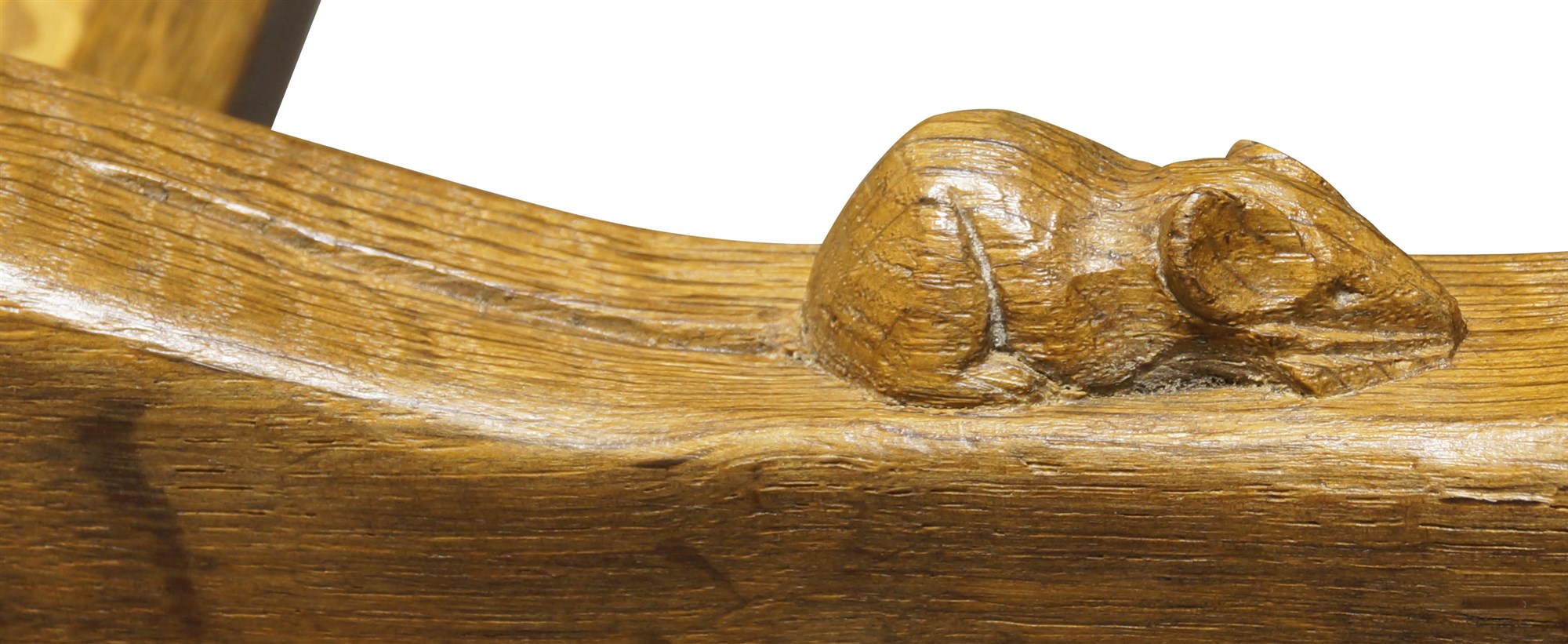 Robert Thompson (1876-1955), known as 'The Mouseman', signed his furniture with a distinctive carved mouse. He was born and worked in Kilburn in Yorkshire where his decedents continue to make furniture in the same tradition to this day.  Using English oak, and in the Arts & Crafts tradition, the furniture is robust and honest and built to last for generations.  Other than the carved mouse one of  the distinctive features of his work is the 'adzed' finish, which produces a soft, almost rippled effect and is used on the top of larger pieces such as tables and sideboards.  To create this effect the craftsman stands on the wood, and wielding an adze (looks a bit like a hoe), he cuts broad slithers out of the surface.  The skill in this is to do so evenly in depth but to have an almost organic ripple overall.  Some of the copyists of his work never quite get this right and usually their 'adzing' looks more regimented.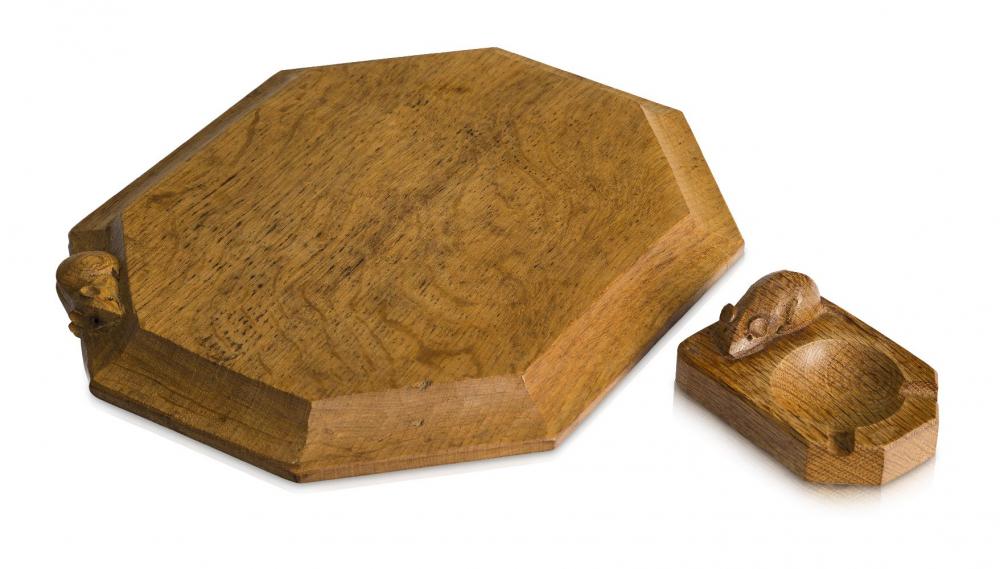 Robert Thompson (1876-1955), a 'Mouseman' English oak cheese board and an ashtray c.1970
English oak is good wood for carving and would have been favoured by medieval carvers in churches and cathedrals in England. By all accounts Robert Thompson spent many an hour in Rippon cathedral viewing and appreciating the carvers art and much of his early work was for church interiors. In a letter to the Revd. John Fisher in 1949 Robert Thompson wrote "The origin of the mouse as my mark was almost in the way of being an accident.  I and another carver were carving a huge cornice for a screen and he happened to say something about being as poor as a church mouse. I said I'll carve a mouse here and did so, then it struck me, what a lovely trade mark.  This is about 30 years ago."  When Robert was asked about the meaning of the mouse he said "It means industry in a quiet place".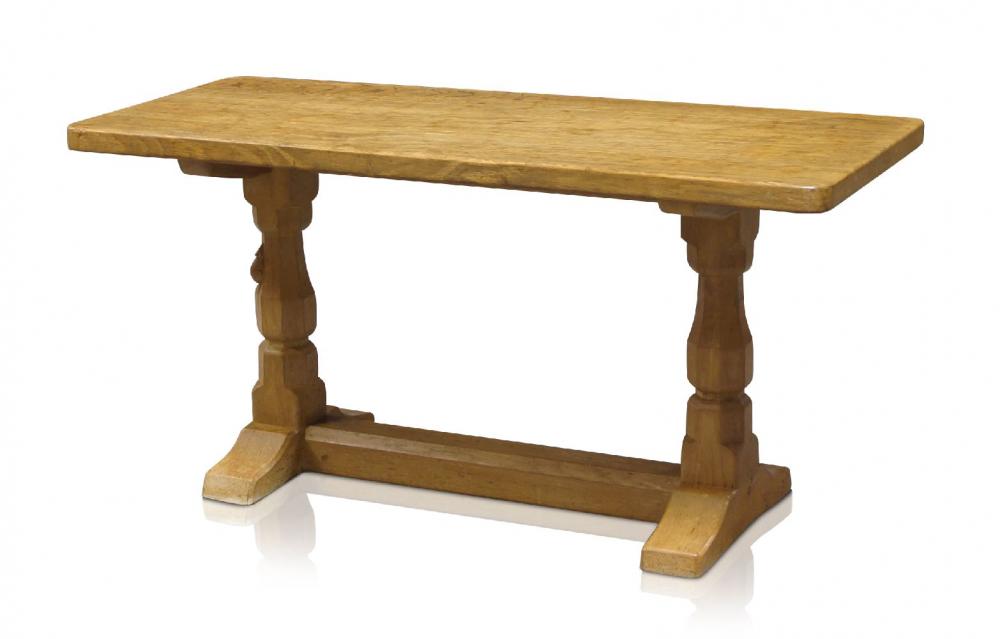 Robert Thompson (1876-1955), a 'Mouseman' English oak coffee table with rectangular top c.1970
The early works are generally the most prized by collectors, but condition and patina are important too. This patina isn't artificially made, it is built up over time through touching and waxing, being looked after and loved.
Robert Thompson's Craftsmen Ltd is still based in Kilburn in Yorkshire where new furniture can be bought and commissioned.  They have a Museum and visitor centre and sometimes also sell older Mouseman furniture that they have conserved. There has long been a strong local support witin the auction rooms of the UK and a growing fan base in North America and the Far East. 
Sotheby's New York hold the auction record for Mouseman furniture - $70,000 (£40,460) for a distinctive two-section cupboard c.1923.
You can find all designs for sale and that have been sold at Roseberys by James Thompson here.
Further Reading
Robert Thompson: The Tale of The Mouse by Patricia Lennon. ISBN-13: 978-0906899885
Mouseman: The Legacy of Robert Thompson of Kilburn by Patricia Lennon. ISBN-13: 978-1905080380
Reference for quotation: James Thompson, The Mouseman of Kilburn, Nelson, 1979, p.20
Written by Fiona Baker, Design Department, Roseberys, London