Artist Spotlight: David Kim Whittaker
1/02/2019 Modern & Contemporary British Art, News Stories & Press Release
Roseberys is proud to bring to the market 'London Bouncer' by British artist David Kim Whittaker, to be offered in the upcoming Modern & Contemporary British Art auction on February 12th. Lot 241 an oil on canvas titled London Bouncer, produced in 2004 has a pre-sale estimate of £20,000 – £30,000. The auction starting at 12 noon also includes pictures by established artists such as Sir George Clausen, Craigie Aitchison and Richard Eurich. You can read more about the other highlights here.

Here we shine a spotlight on the artist David Kim Whittaker.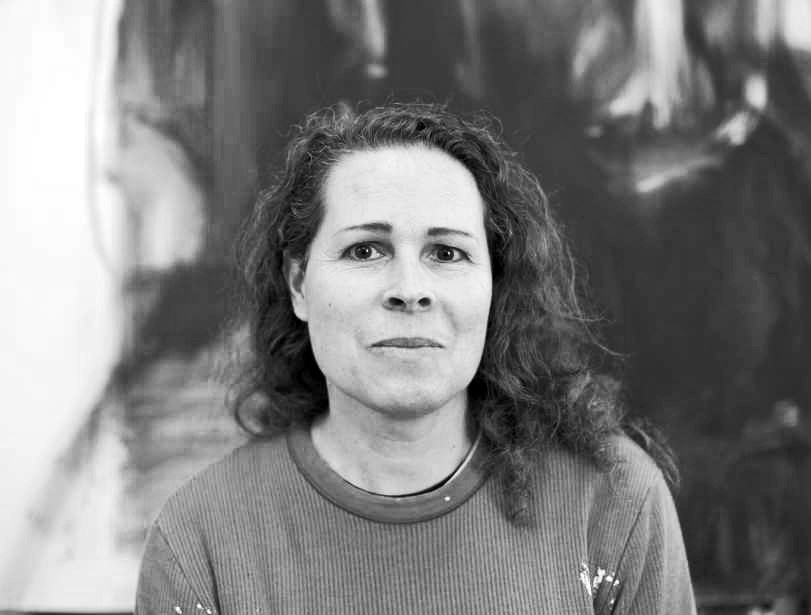 Image of David Kim Whittaker via blouinartinfo.com
David Kim Whittaker is a self-taught artist born in Cornwall, and is still based working out of a studio in Newquay. Whittaker's work often explores the psychological and the metaphysical, especially the duality inherent in the human brain, reflecting in some way the artist's own gender dysphoria. The self-taught artist who likes to be known artistically as David Whittaker but locally as Kim has been described as a mélange of John Constable and Francis Bacon. Whittaker's contemporaries include Alejandro Diaz-Ayala and Laura Lancaster.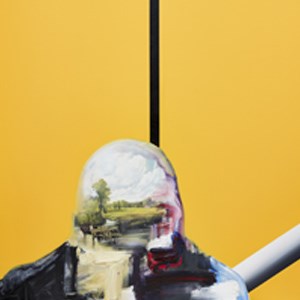 A large number of Whittaker's paintings are based upon an abstract interpretation of the human head. The works often walk a fine line between twofold states of inner and outer calm and conflict, offering a glimpse of strength and delicacy, the conscious and the subconscious, the masculine and the feminine. The work is also a juggle of harmonized conflict of delicate figurative and expressive abstract elements. Art historical references also appear frequently, including the present work, in which an 18th century English landscape painting materialises in the head of a London bouncer.  The artwork created by Whittaker mainly consist of mixed media paintings on canvas or panel, painted studies incorporating collage and the occasional assemblage 'still life / portrait' sculptures. Back in 2011 Whittaker won the Towry Award (First Prize) at the National Open Art Competition and has exhibited nationally and internationally, including at the Mall Galleries, the Opera Gallery, and the St Ives Society of Artists, Hyde Park Gallery, and the Royal Academy Summer Exhibition.
Other works previously to have come on to the auction market have included "Self Portrait Four, Jewel Box (The Broads, Thunder Showers, Late Afernoon, A Young Girl in Refection, Poetics of the Past Never Forgotten)", 2011 Oil, acrylic on canvas that sold for £ 81,250 at Phillips, in March 2018. Furthermore, "Boys Ascends", 2013 a work in mixed media sold for £ 46,761 in December 2018 at Christie's in Paris.
Auction information

Modern & Contemporary British Art Tuesday 12th February starting at 12noon
View the full catalogue here
Viewing times
Viewing Times at Roseberys:
Friday 8 February: 1pm-5pm
Sunday 10 February: 10am-2pm
Monday 11 February: 9.30am-5.30pm
Tuesday 12 February: 9.30am-11.30am

Please note the conditions of sale that relate to this catalogue.
Buyer's Premium: The buyer shall pay the hammer price together with a premium thereon of 25% up to £250,000 (30% inclusive of VAT), 20% from £250,000-500,000 (24% inclusive of VAT), 12% from £500,000 onwards (14.4% inclusive of VAT) The premium price is subject to VAT at the standard rate.

For more information please contact our picture specialist Helena Anderson helenaanderson@roseberys.co.uk