Artist Spotlight: David Heathcote
19/05/2021 Modern & Contemporary British Art, News Stories & Press Release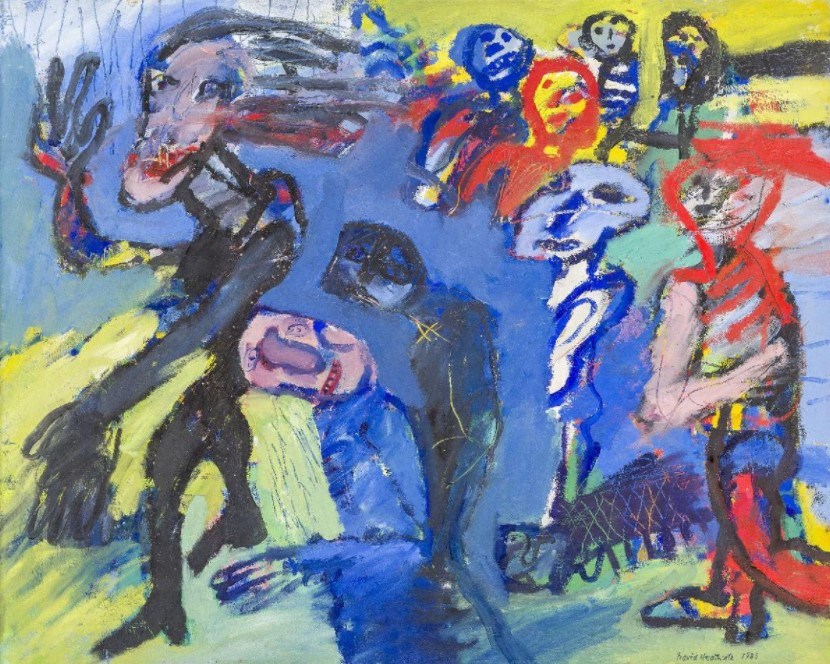 David Heathcote, British b.1931 - Witch, 1983; oil on canvas up for auction within Roseberys Modern & Contemporary British Art sale on Tuesday 25 May, 2021
British artist, David Heathcote has had an art career that has spanned over sixty years, producing a vibrant body of paintings, sculpture, etchings and drawings in various medias, inspired by both his native landscapes and time spent in Africa. At Roseberys we are delighted to be selling a number of his works in the upcoming Modern & Contemporary British Art auction on Tuesday 25 May. Here we get to know the artist better.
Contemporary artist David Heathcote was born in 1931. He is well known for his ever-evolving style of work. Throughout his career he has used a wide range of medias, including oil and acrylic paint, collage, printing techniques, assemblage, clay, bronze and stone. Now he concentrates on oil paintings and small preliminary drawings for them.  Not only has David explored the use of different medias, but he has also produced a great range of work of form, style, and of ambition and reach.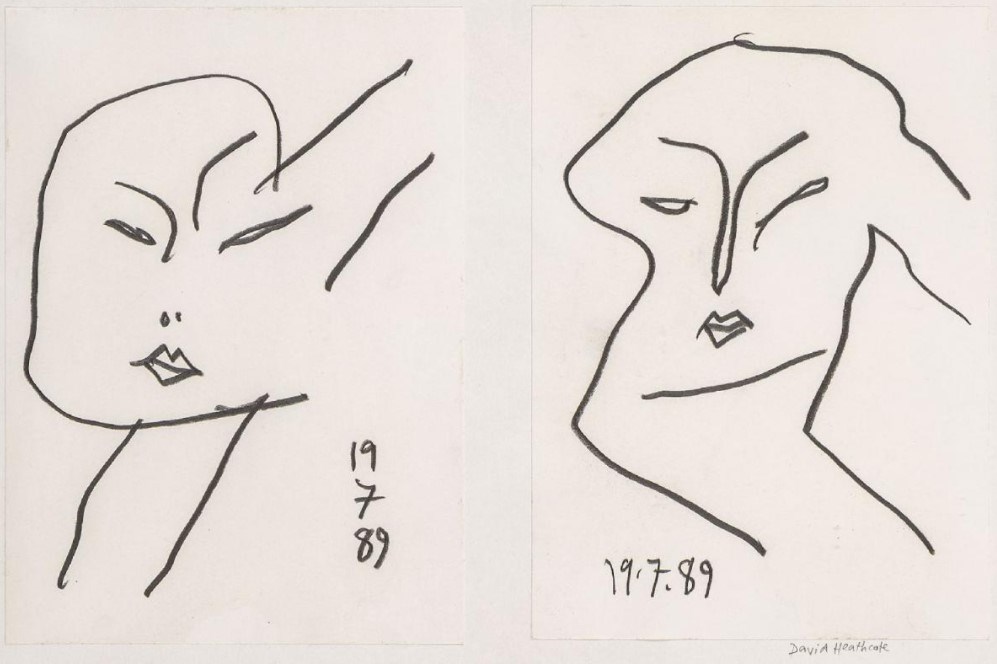 David Heathcote, British b.1931 - Metamorphosis, 1989; two pencil on paper drawings mounted on card up for auction within Roseberys Modern & Contemporary British Art sale on Tuesday 25 May, 2021
David started his creative exploration as an art student in Canterbury and later at the Slade, under Claude Rogers and Keith Vaughan. A crucial moment for David as an artist was his first awareness of cubism while he was a student at the Slade. As David commented, 'Its architectural structure affected me at a time when I was very uncertain, and it appeared to give me a really clear path for the future.' National Service in the RAF was followed by a move to Africa in 1959 to teach, first in Southern Rhodesia (now Zimbabwe) and then in Nigeria. His move to Africa was an experience that would contribute significantly to his creative vision, affecting David's sensibility and forms of expression within his work to date. By increasing the intensity of his palette, David took on motifs and emblematic ideas. The strength of his African landscape memories has encouraged the use of vivid colour, structural clarity, and dynamic motif, mark making, gesture and texture across his varied breadth of work. David returned to Kent in the late 70s.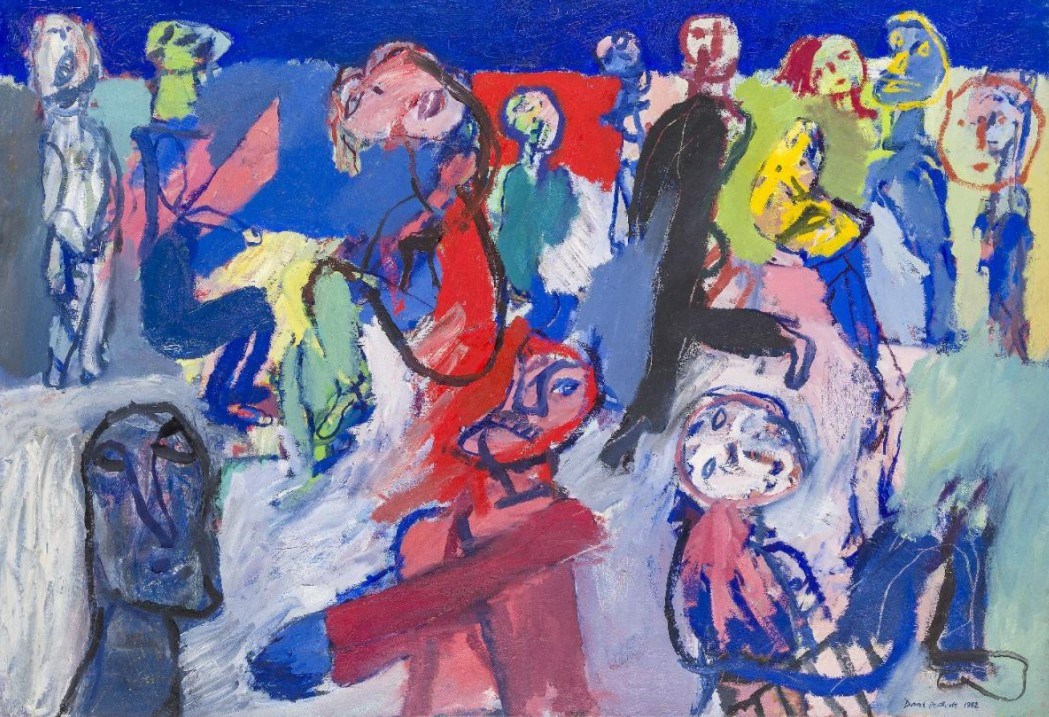 David Heathcote, British b.1931 - Black Dancer, 1982; oil on canvas up for auction within Roseberys Modern & Contemporary British Art sale on Tuesday 25 May, 2021
David's vivid, often highly abstracted, paintings explore themes of colour, construction and space. His paintings have always been fundamentally imaginative, although in the past, he has regularly undertaken parallel, objective studies, particularly of the human figure, landscape, and sculpture and paintings.
When trying to sum up his work, when speaking to GV Art Gallery, alongside his solo exhibition in the Spring of 2011, David said, 'for me, creativity is a journey where one is constantly meeting the unexpected. If things go well the composition attains a life and vitality of its own.'
David was shown in the 1958 Young Contemporaries exhibition at the R.B.A Gallery, London, and his work has been featured in solo exhibitions at the GV Art London and at Galerie Beckel-Odille-Boïcos in Paris, amongst other venues. Jackie Wullschager reviewed his work in 'Critic's Choice', 'Life and Arts'. Financial Times, 19 – 20 April 2014, where she referred to David Heathcote as a 'constantly thoughtful artist.
His work has been offered at auction multiple times, with realised prices ranging from $52 USD to $1,795 USD, depending on the size and medium of the artwork. Since 2019 the record price for this artist at auction is $1,795 USD for Blue Opening, sold at Christie's London in 2019.
You can find out more about the Modern & Contemporary British Art auction, which includes David Heathcote's work here. 
Modern & Contemporary British Art
Tuesday 25 May, 11am
We will be facilitating time slot appointments of one hour each.
When making your booking please provide a contact telephone number and the number in your party up to a maximum of 2 people.
Viewing Times
Sunday 23rd May 10am – 2pm(1pm last appointment)
Monday 24th May 9.30am – 5pm(4pm last appointment)  
Tuesday 25th May 9.30am – 10.30am