Artist Spotlight: Benedict Enwonwu MBE
24/05/2021 News Stories & Press Release, Impressionist, Modern & Post War Art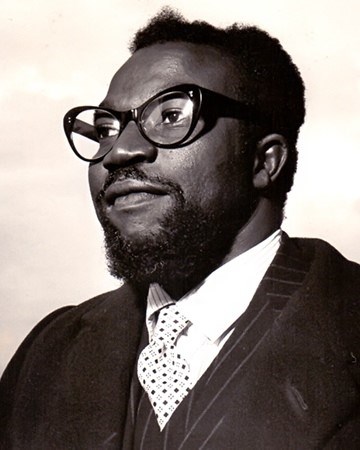 Image via The Ben Enwonwu Foundation
Benedict Enwonwu MBE was a Nigerian painter, sculptor, writer and art critic. Renowned for his unique style fusing Western techniques with indigenous aesthetics, Enwonwu pioneered African Modernism throughout the 20th century. His work is at the forefront of a recent surge of interest in African modern and contemporary art.
Here we get to know the father of African modernism a little better, whose work is included within Roseberys upcoming Post War & Contemporary Art auction that will take place on Wednesday 26 May.

Benedict Chukwukadibia Enwonwu MBE, Nigerian/ British 1917-1994- Female Form I; ebony
Enwonwu was born in Onitsha, Nigeria in 1917 to his mother, Chinyelugo Iyom Nweze, a  successful cloth merchant, and his father, Omenka Odigwe Emeka Enwonwu, an established sculptor in his own right, who fostered Benedict's talents from an early age, leaving his son his sculpting tools upon his death in 1917.
Enwonwu studied at the Government colleges in Ibadan and Umuahia before enrolling via a British Council Scholarship at the Slade School of Fine Art in 1944, from which he received a first-class degree before going on to postgraduate study of anthropology, which he completed in 1948.
Benedict Chukwukadibia Enwonwu MBE, Nigerian/ British 1917-1994- Untitled; ebony
That same year Enwonwu begun his position for the Colonial Office as Art Supervisor. Throughout the 1950s Enwonwu lectured all over the United States, as well as continuing his practice, completing many commissions as a freelance artist. This decade saw exhibitions of his work in London, New York City, Milan, Lagos and Boston. Upon her visit to Nigeria in 1955, Queen Elizabeth II awarded Enwonwu with an MBE for his contribution to the arts. Such recognition continued the following year, when Enwonwu became the first African Artist to receive a commission to create a sculpture of the Queen as she visited his studio to sit for him.
In 1974, Enwonwu completed what is now perhaps his most famous painting, entitled 'Tutu' a portrait of Adetutu Ademiluyi, a Nigerian princess. The painting, that had been assumed lost for decades, had become something of a Nigerian icon, nicknamed by some as the 'African Mona Lisa', with poster reproductions found in households all over Nigeria. But in 2018, 'Tutu' was discovered in a flat in North London, belonging to a family that had inherited the painting. Following its discovery, the painting was sold for £1.2 million, making it the most expensive Nigerian modernist artwork ever sold at auction.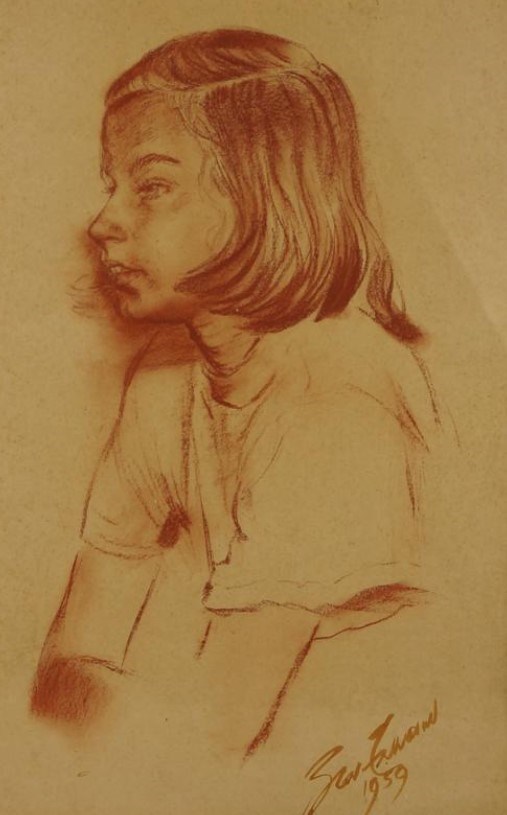 Benedict Chukwukadibia Enwonwu MBE, Nigerian/British 1917-1994- Portrait of a young girl, head and shoulders, 1950; red chalk on coloured paper. Sold in Roseberys Impressionist, Modern, Post War & Contemporary Art auction on 4.12.19 for £6,500
Benedict Enwonwu's career spanned the period in which his country of origin gained independence from the British Empire. By his death in 1994, Enwonwu had played a significant role in fostering and advocating a new perspective on Nigerian national culture, both through his artistic career as well as his work for government. In 1980 Enwonwu's contribution to Nigerian arts received further recognition as he was awarded the National Order of Merit by the Nigerian Government.
Aside from having the Enwonwu crater on the planet Mercury named in his honour, Enwonwu was named Africa's Greatest Artist by Time Magazine in 1949. The novelist Chimamanda Ngozi Adichie says that Enwonwu's art is part of Nigeria's national identity. The current interest in Enwonwu's art has reaffirmed his status as one of the most essential African artists of the 20th century.
The sculptures for sale at Roseberys are a wonderful example of Enwonwu's style, focusing on the exploration and representation of the human body. Through his carving, Enwonwu masterfully emphasises the qualities of the wood to create smooth and sinuous abstract forms which exude a sense of motion and grace. This lot is accompanied with a certificate of authenticity from the Ben Enwonwu Foundation.
-ENDS-
Post War & Contemporary Art
View Roseberys fully illustrated Post War & Contemporary Art catalogue
here
Wednesday 26 May, 2pm
Viewing by appointment only contact  pictures@roseberys.co.uk to book a time slot 
We will be facilitating time slot appointments of one hour each.
When making your booking please provide a contact telephone number and the number in your party up to a maximum of 2 people.
Viewing Times
Sunday 23 May 10.00 am – 2.00 pm (Last appointment slot is 1.00 pm) 
Monday 24 May 9.30 am – 5.00 pm (Last appointment slot is 4.00 pm)
Tuesday 25 May 10.00 am – 5.00 pm (Last appointment slot is 4.00 pm)