Artist Spotlight : David Bomberg
15/02/2021 Modern & Contemporary British Art, News Stories & Press Release, Impressionist, Modern & Post War Art, Artists & Makers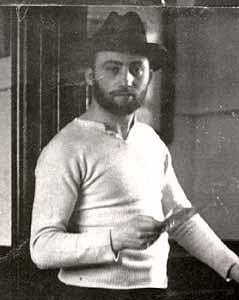 David Bomberg, photographed by Henny Handler, c.1912-1914, ©️ Tate, London 2017
David Bomberg was a British painter, and one of the Whitechapel Boys. Bomberg was one of the most audacious of the exceptional generation of artists who attended the Slade, where he eventually got expelled from due to his radical approach to art.  Here we explore the life of David Bomberg, the renowned artist who became most famous posthumously.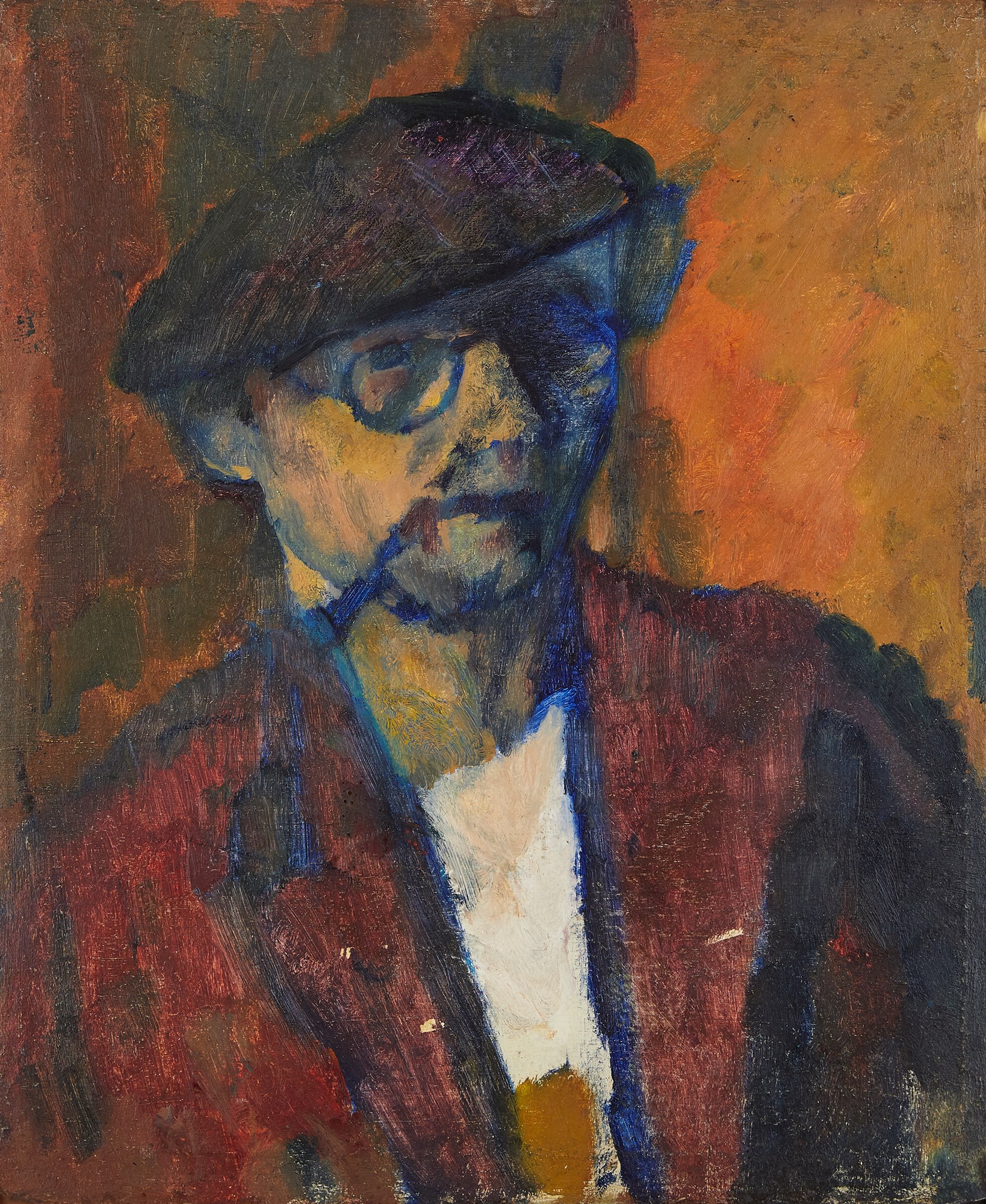 David Bomberg, British 1890-1957- Portrait of artist, 1937; oil on board for sale at Roseberys upcoming Modern & Contemporary British Art auction on Tuesday 23 February
David Bomberg was born in Birmingham in 1980 into a family of Polish-Jewish immigrants. Although being from a family Orthodox Jews, his mother was less Orthodox and supported his painting career. In 1895 his family moved to Whitechapel in London. Bomberg was part of the Whitechapel boys a group of Anglo Jewish artists and writers who mainly resided within the Whitechapel area of London a large Jewish settlement at the time.
Bomberg began his studies in art at the Westminster School of Art from 1908 -1910. He studied under Walter Sacker who helped form his early influences of form and representation. Bomberg's study of art dealt a hard financial blow but he won funding from the Jewish Education Society with the help of John Singer Sergeant and the Jewish education aid society. Bomberg went on to study at the Slade School Of Art. Bomberg was one of the most audacious of the exceptional generation of artists who studied at the Slade School of Art under Henry Tonks Other students at the time included Mark Gertler, Stanley Spencer, C.R.W. Nevinson and Dora Carrington. Bomberg painted a series of complex geometric compositions combining the influences of cubism and futurism in the years immediately preceding World War I; typically using a limited number of striking colours, turning humans into simple, angular shapes, and sometimes overlaying the whole painting a strong grid-work colouring scheme. He was eventually expelled in 1913 due to his radical approach to art which did not conform to the style of the school at the time.
After his expulsion from the Slade School, Bomberg travelled to France where he brushed shoulders with some of the great artists of the time such as Pablo Picasso and Amedeo Modigliani. He went on to form a series of loose relationships with groups involved in the contemporary English Avant Garde style of the time. He then met his wife Alice Mayes in 1914. She was involved with the Russian ballet something Bomberg was interested in and this brought the two closer together. She supported him in his work and often financially. He was later married to landscape painter Lilian Holt who is also said to have been a great supporter of Bomberg at some detriment to her own career as an artist. In 1914 Bomberg presented his work at the Chenil Gallery in Chelsea which attracted a lot of attention to Bomberg and his work by artists and critics within Britain and internationally. "The Mud Bath" (1914) was the highlight piece of this show and one of Bomberg's most famous works.
The Mud Bath focused on the subject of the Jewish bath houses close to his home in East London used by the local Jewish population. Bomberg belonged to a group of artists known as the Vortists and they wanted to portray subjects and the modern world through imagery derived from machines and the urban environment. In "The Mud Bath' the human figures are reduced to striking geometric shapes.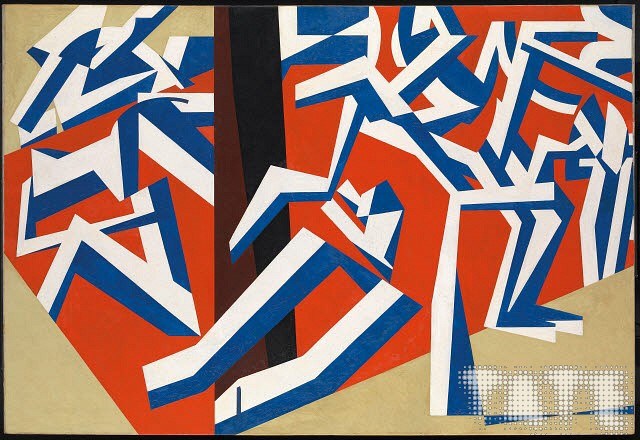 ( The Mud Bath by David Bomberg 1914 Via the Tate)
Although his gallery showing was successful Bomberg was still plagued by financial difficulties and he enlisted with the Royal Engineers in 1915 and in 1916 joined the Kings Royal Rifle corps. In March 1916 he was sent to the western front to fight in World War 1.
World War 1 greatly influenced Bomberg as a man and an artist due to the slaughter, pain and suffering that he witnessed in the trenches. During the war both his brother and his close friend and fellow Slade student Isaac Rosenberg died, this caused him to lose faith and belief in the machinal age and the mechanized system. He produced a piece for the Canadian government called "Sappers At Work"(1918) which reflected the conditions and his experience in the trenches.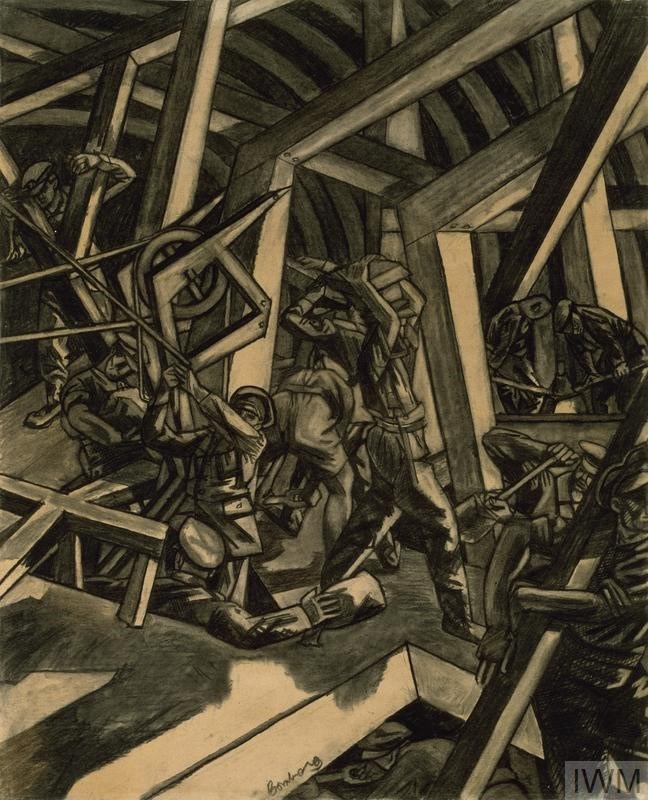 Sappers in the trenches by David Bomberg 1918 via The Imperial War Museum
After the war Bomberg travelled to Palestine between 1923 and 1927 to paint and draw. There he focused on his English Cubist style that he had adopted pre-war and incorporated into his work. 
From this point on Bomberg began producing a number of works that were landscape focused. He travelled all over the world painting and drawing landscapes in places including Spain, Cyprus and the Soviet Union. Once Hitler seized power in 1933 Bomberg returned to the England. During World War 2 he painted the famous work 'Evening In The City of London'.  After the second world war he was unable to get a teaching position at any of the prestigious schools in London, he instead taught at the Borough Polytechnic. During his years teaching at the Borough Polytechnic attracted pupils from far and wide who admired his work and his teachings in post war Britain his pupils included Frank Auerbach, Leon Kossoff, Philip Holmes, Cliff Holden, Edna Mann, Dorothy Mead, Gustav Metzger, Dennis Creffield, Cecil Bailey and Miles Richmond. David Bomberg House, one of the student halls of residences at London South Bank University, is named in his honour
Bomberg died in 1957, after his death he became more popular than he ever had been during his living years. A major retrospective of Bomberg's work took place in 1988 at the Tate. His works are currently held at MoMA in New York, the Art Institute in Chicago, the Tate in London and National Galleries of Scotland, Edinburgh. Thirty years after his death a major retrospective was held at the Tate.
In 2017 the Pallant House Gallery in Chichester mounted a major exhibition of Bomberg's work curated in partnership with the Ben Uri Gallery & Museum of St John's Wood, London.
Other famous works by Bomberg include "Vision of Ezekiel' (1912) and Ju jitsu (1913) and Church of the Holy Sepulchre, Jerusalem (1925) which sold at auction for £1,224,900 in 2015 at Christie's in London.
Roseberys are proud to have sold many works by David Bomberg.

Some highlights of the works sold at Roseberys include.
David Bomberg LG, British 1890-1957- The Tent Family; watercolour and gouache on paper sold at Roseberys London for £7,250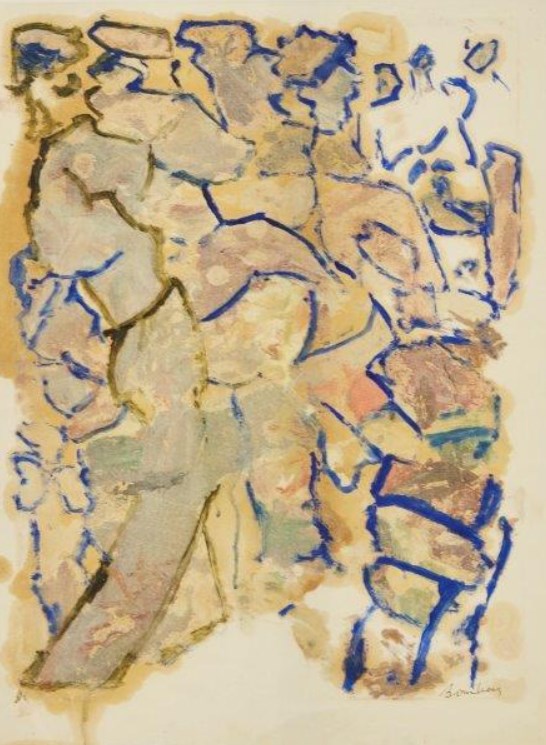 David Bomberg LG, British 1890-1957- Festivity; oil on paper, signed, with further painting verso, sold at Roseberys London for £8500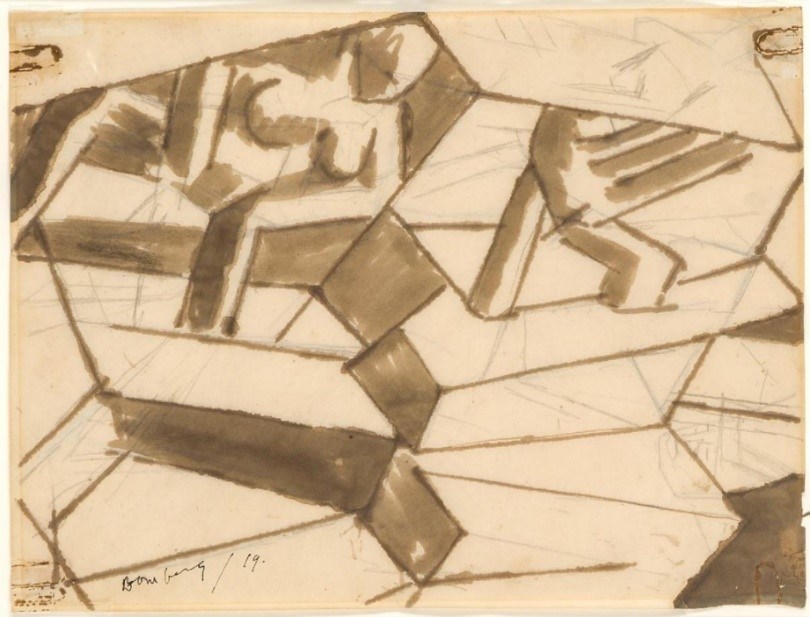 David Bomberg, British 1890-1957- Stairs, (the Theatre Trap Door), 1919; ink and wash. -Sold at Roseberys London for £6250
Find out more about the Modern & Contemporary British Art department