Artist Spotlight : Alexander Archipenko 
18/11/2019 News Stories & Press Release, Impressionist, Modern & Post War Art
Alexander Porfyrovych Archipenko was an American-Ukrainian artist. Born on May 30, 1887 in Kiev, Ukraine. Archipenko (also referred to as Olexandr, Oleksandr, or Aleksandr; Ukrainian: Олександр Порфирович Архипенко, Romanized: Olexandr Porfyrovych Arkhypenko) died on February 25, 1964 in New York, NY.
Moving to Paris in 1908, Archipenko attended the Ecole des Beaux-Arts for a short period, before continuing his studies independently at the Musee du Louvre, where he drew inspiration from Egyptian, Assyrian, archaic Greek, and early Gothic sculpture. In 1910, he began exhibiting at the Salon des Independants and the following year exhibited at the Salon d'Automne. During this period Archipenko became increasingly acquainted with the radical Cubist movement that was taking over Paris.
In 1912 he joined the Section d'Or group, exhibiting alongside artists such as Georges Braque, Marcel Duchamp, Sonia Delaunay, Fernand Léger and Pablo Picasso. His revolutionary interpretation of this new found style saw his exploration of the human figure through concave and convex forms, developing unique and innovative sculptures which in turn have earnt him the status as one of the leading sculptors of the movement. At the same time, he joined the Section d'Or group, he began producing the first of his carved and painted reliefs; the 'Sculpto-Peintures'. The works played with colour and form to create the illusion of depth and concavity, with the difference between sculpture and painting being bridged by this new art form. The present work offered at evidently aspires to achieve this idea and shows his careful consideration of colour to create the concave and three-dimensional aspect inherent of this style.
"I did not take from Cubism, but added to it."


The lot (25) pictured below that was sold at Roseberys Impressionist, Modern, Post War and Contemporary auction closely resembles a relief construction in wood, copper, brass, and new silver, titled 'Woman' executed in 1923 in the Yale University Gallery's collection.  This lot is accompanied with a letter of authenticity from Frances Archipenko Gray, and will be included in her forthcoming catalogue raisonne. This piece made £19,000 hammer price.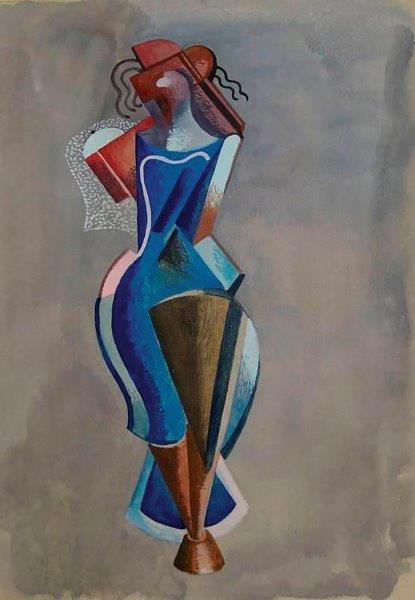 Alexander Archipenko, Russian/ American 1887-1969- Untitled (Stylised Standing Figure) circa 1925; gouache on paper, stuck down on board, 31.5 x 20cm

Provenance: Sotheby's, London 27 June 1984, lot 410; Rosebery's, London 10th December 2013 lot 587, where it was purchased by the present owner Exhibition: Kunstausstellung Der Sturm, Leitung: Herwarth Walden, Berlin, WG, Potsdamer Strasse, 114, no.65 When Alexander Archipenko began his studies at the Kiev Art School in 1902, the exposure to the local Byzantine icons, frescoes, and mosaics would evidently go on to inspire many of his future works. 
Having achieved considerable notoriety throughout his life, Archipenko was included in the notorious 1913 Armory Show in New York, participated in the 12th Venice Biennale, and founded art schools in both Paris and Berlin. Today, his works can be found in the collections of numerous renown institutions, such as the Tel Aviv Museum of Art in Israel, the Walker Art Center in Minneapolis, and the Tate Modern in London.
In past auctions, Archipenko's, Woman Combing Her Hair sold for USD 2,045,000 at Christie's and similar works of art by the artist have sold over their estimates at Roseberys.