Getting to know Piero Fornasetti better
23/04/2020 News Stories & Press Release, Decorative Arts & Modern Design
Piero Fornasetti (Milan, 10 November 1913 - 15 October 1988) was an Italian wide-ranging and eclectic designer, known for his unique creative flair that made him one of the most fruitful design figures of the 20th century. Today is still is a key player in Italy's vibrant homeware and design scene. Known best for his art motifs and tongue-in-cheek references that decorate plates, candles and other homewares for a creative and avant-garde aesthetic.  
Here we get to know the Italian designer better.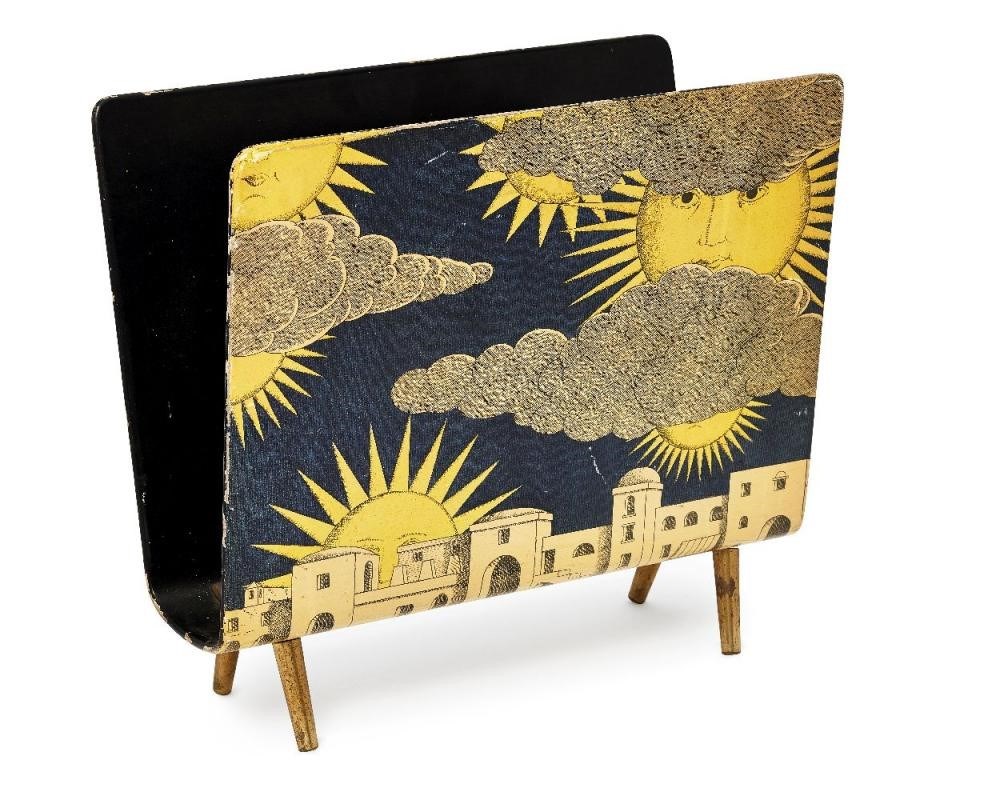 Piero Fornasetti (1913-1988), a "Sole di Capri" pattern magazine stand c.1950s sold for £1000
Like his designs, Fornasetti was known for not following the rules. His formative years studying in Milan did not run smoothly. 1934, Piero was expelled from Accademia di Brera, where he had only spent two years attending for rebelliousness. He later enrolled in the Scuola Superiore of Arts Applied to Industry at Castello Sforzesco. From the early 30's, Fornasetti started to study engraving and printing techniques and created the Fornasetti Art Printshop. Due to his remarkable skills, he was able to work with the greatest artists of the time, printing artist books and lithographs for them including, Fabrizio Clerici, Alberto Savinio, Massimo Campigli, Lucio Fontana, Giorgio de Chirico, Cascella, Berman, Raffaele Carrieri and Carlo Bo.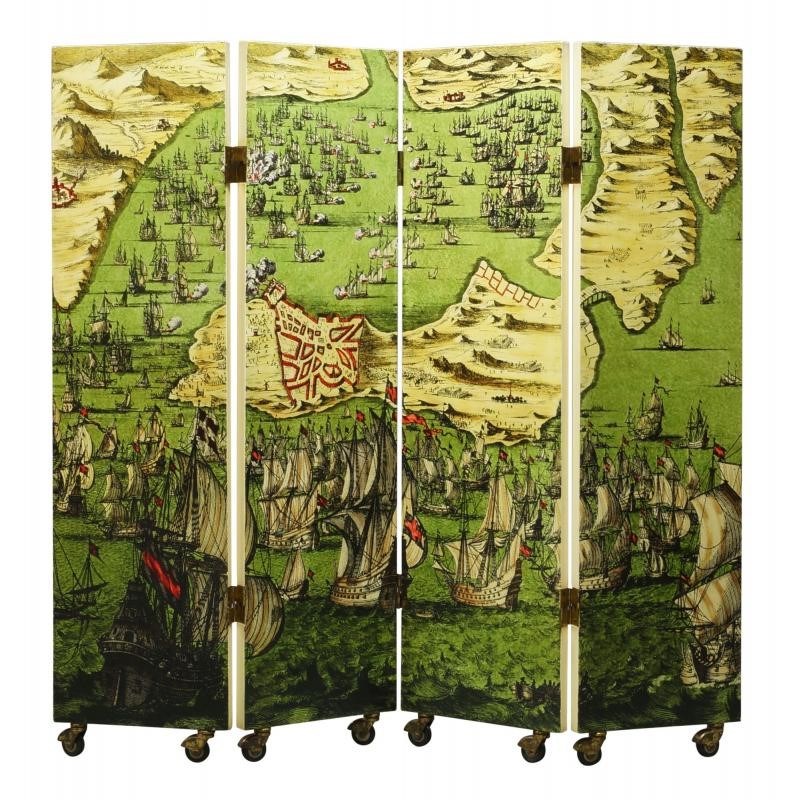 Piero Fornasetti (1913-1988), a four fold screen c.1954 sold for £6,000 at Roseberys 
From the early 40's onwards Fornasetti created an immense series of limited-edition graphic works, with a refined and very precise style, from theatre programs, posters to magazine covers.  During these years alongside artists Filiberto Sbardella, Aligi Sassu, amongst others, he produced various sketches and drawings for the Esino Lario School of Tapestry. In 1940 he began to publish his own work in the design and architecture magazine Domus, edited at the time by Gio Ponti (Italian architect, industrial designer, furniture designer, artist, teacher, writer and publisher). Called up on the outbreak of war, Fornasetti originally managed to remain in Milan by getting the job of decorating the Sant'Ambrogio barracks. Later, in 1943, he took refuge in Switzerland, where he continued his artistic research and produced posters and lithographs for theatrical events and magazines. Fornasetti made the most of his time in Switzerland. He created oil portraits, watercolours, and drawings in ink, Indian ink and ballpoint pen, devoting himself to investigate and research new creative outlets and intriguing points of view, mostly of the human body, on which he would later draw in his production of decorative graphic arts. During this period, he also created the sets for Albert Camus's Caligula directed by Giorgio Strehler.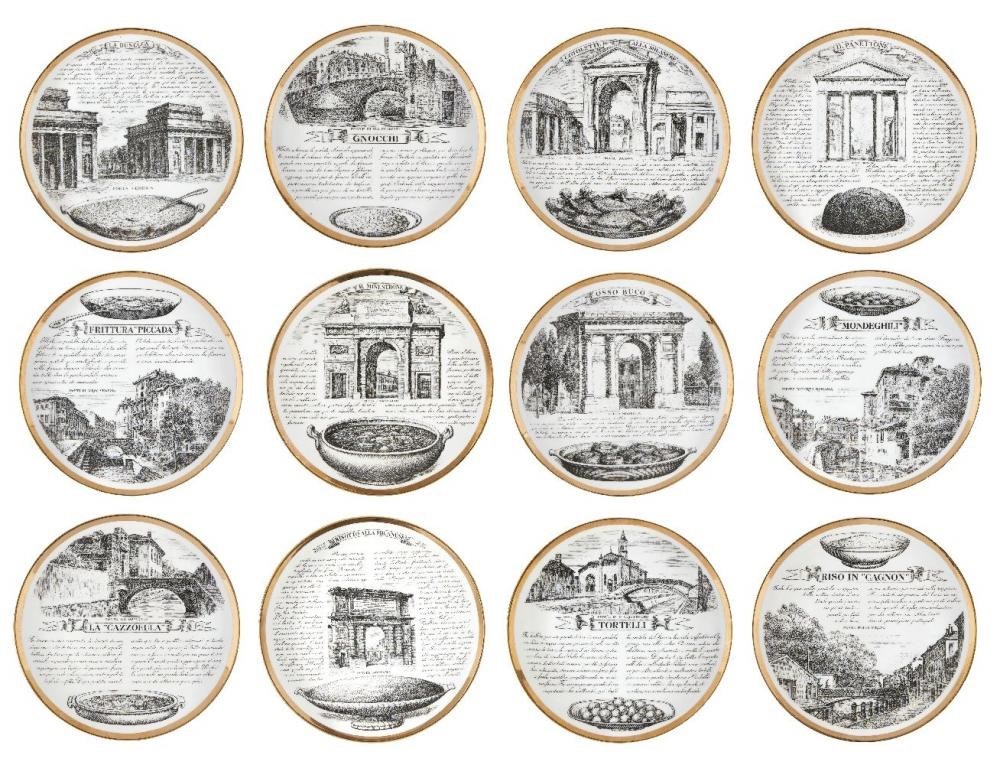 Piero Fornasetti (1913-1988), a set of twelve plates c.1960-70 sold for £900 at Roseberys 
At the start of the 50's, the creative duo of Gio Ponti and Fornasetti designed and decorated the "Architettura" trumeau,  A wood-and-metal cabinet with lithographic and transfer-printed decoration; opens to reveal six glass shelves, which was then exhibited at the Triennale IX in 1951 and which in 1998, over thirty years after its original conception, recently auctioned at Christie's Thinking Italian Design sale for GBP 212,500. A blend of modern and ancient, rationalism and the Renaissance, architecture and furniture, structure and decoration, this piece of furniture has certainly become an icon of Italy's design brilliance in the interwar years of economic boom. The two designers also decorated the Casino of Sanremo (1950), an entire apartment that became famous as a representation of their style, Casa Lucano (1951), and the first-class cabins and lounges of transatlantic liners including the Andrea Doria (1952).
In 1952 Fornasetti began work on what would later become his most famous and iconic series: "Tema e Variazioni" ("Theme and Variations"). Starting from the portrait of a woman, he began a pictorial quest that was to accompany him throughout his life. The timeless face is that of Lina Cavalieri, an opera singer who lived at the turn of the 19th and 20th centuries and who was renowned at the time as "the most beautiful woman in the world": a true archetype of enigmatic, classical beauty. He saw her as the perfect archetype – classically beautiful like a Greek statue or the Mona Lisa. Her face adorns hundreds of items of the Fornasetti collection, most famously on ceramic plates.
"What inspired me to create more than 500 variations on the face of a woman?" asks Italian designer, Piero Fornasetti of himself. "I don't know," he admits, "I began to make them and I never stopped"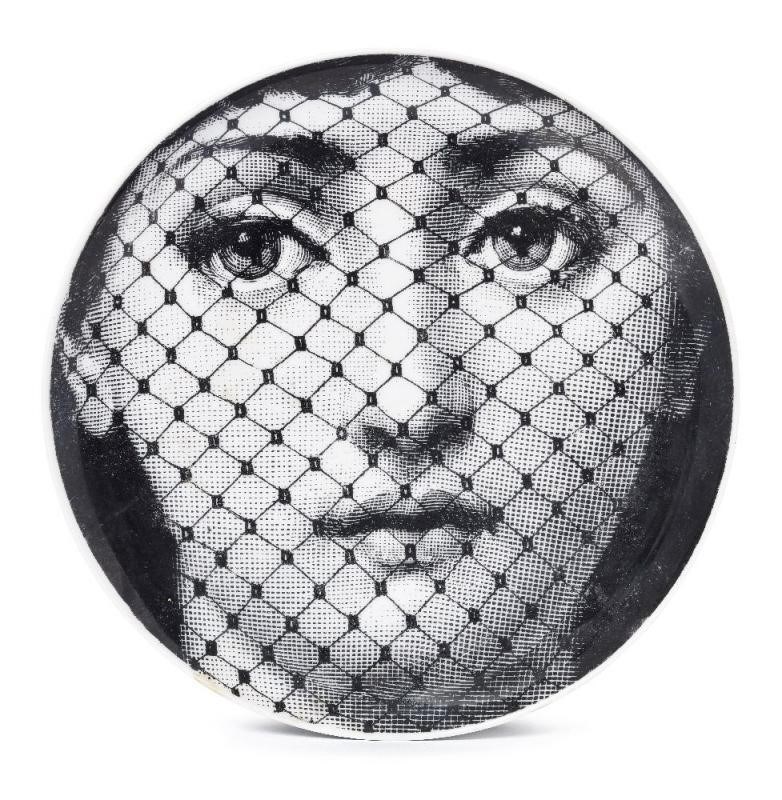 Piero Fornasetti (1913-1988), a 'Tema e Variazioni' series Fornasetti plate Early 1950s sold at Roseberys for £140
In the 70s, together with a group of friends, he ran the Galleria dei Bibliofili, where he exhibited both his own work and that of contemporary artists and Fornasetti began painting again.
After the death of his friend and collaborative design partner Gio Ponti (in 1979), in 1980 the "Themes & Variations" gallery opened in London. This revived interest in his work overseas again and his works began to be rediscovered beyond the ideological contrast of form/function and ornament/pointlessness, and in 1987 Fornasetti collaborated with Patrick Mauriés on the first monograph on his work, along with an introduction by Ettore Sottsass.
Fornasetti died in 1988 during a minor operation in hospital.
Today Fornasetti's unconventional aesthetic style is stronger and more alive than ever before and still never ceases to surprise us.  Today the custodian of his inheritance, which comprises more than 11,000 different motifs, is his son, Barnaba, with whom he worked in the 1980s. Having sifted through the archive with passion and persistence, Barnaba has revived some of his father's most important works and now recreates them in his own workshop. He also makes his own pieces there, likewise in keeping with the crafting traditions of his father.
SET UP KEY WORDS TO BE NOTIFIED ABOUT FUTURE PIERO FORNASETTI LOTS IN UPCOMING AUCTIONS
CONSIGN WORK BY PIERO FORNASETTI
LEARN MORE ABOUT THE DESIGN DEPARTMENT
FIND OUT MORE ABOUT PIERO FORNASETTI VIA THE OFFICIAL WEBSITE HERE