Zhang Ruitu scroll proves auspicious
8/12/2017 News Stories & Press Release, Chinese, Japanese & South East Asian Art
ZHANG RUITU scroll proves auspicious for Asian Art Sale.
Roseberys London presented the final Asian Art sale of the year on Tuesday 5 December, the 340 lot sale curated by Head of Department Bill Forrest comprised an impressive array of works.
"With such a broad range of Chinese and Japanese Works of Art offered in the December Asian Art auction, it was difficult for me to pick any one stand-out lot, however the buyers on the day made their minds up fairly quickly, with fantastic results."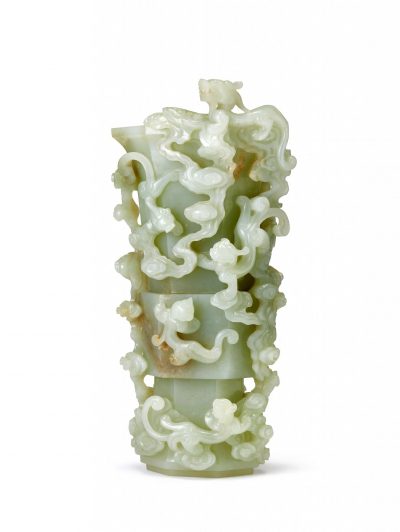 Silence fell in the sale room as (lot 141) raced ahead online opening with bids in the region of £30,000. The Chinese pale celadon jade beaker vase, Gu from the 17 century, six-sided compressed archaic form, finely carved with nine dragons amid meandering clouds, the pale celadon stone of even tone with light brown inclusion to raised mid-section measures 24.5 cm high and presented on a later wooden stand.
Whilst the number nine is auspicious in Chine folk beliefs, the depiction here probably refers to the nine sons of the Dragon King, who was an important figure in Chinese mythology, and regarded as the dispenser of rain. As seen in the June 2017 Asian Art auction, Jade continues to be an ever popular material within Chinese art, although the market is becoming even more selective, because there is a lot of jade on the market the stone needs to be of impeccable quality, the final aesthetic of the stone needs to precisely matched to the carving and the craftsmanship of the carving are all major factors for buyers. Fortunately for buyers this December lot 141 encompassed all these qualities.
The hammer finally came down at £59,000*
But the real heart racing moment came when bidding opened for (lot 236); ZHANG RUITU (follower of Chinese 1570-1644), landscape, ink on silk, hanging scroll. Inscribed with part of the poem by Tang Dynasty poet Wang Wei, signed and with artists seal.
Offers started in the region of £2000 but, figures continued to climb in a battle between telephone bidders and a buyer in the room, there seemed no signed of slowing as the hammer finally came down after ten minutes for £123,000*
Consigned from a private collection in South Wales, this was the highest-selling item in a sale populated by a plethora of fine objects in a variety of media. Other scroll paintings from the same collection sold in the range of £5000-10000.
Porcelain too, has always excited the connoisseur. (Lots 106) and (107), from the same collection, sold for £17,200* and 12,300* respectively. These represented the masterful porcelain producers of the Yongzheng era (1722-1735), and were exquisitely painted in the newly discovered famille rose enamels with various symbolic flowers. Interest for these two lots came from all over the world, with the eventual buyers bidding from China over the phone.
Roseberys London are currently consigning for 2018 Asian Art auction with the next on the 21 May. Please contact Bill Forrest for a complimentary valuation
~Ends~
*Prices include Buyers Premium of 23%.
For further information please contact Charlotte Meddings charlottemeddings@roseberys.co.uk  +44 (0) 20 8761 2522
Roseberys is a privately owned auction house operating at the heart of the fine art market for 30 years.
With offices in London's Mayfair and Lambeth Roseberys offer a calendar of more than twelve specialist fine art, antiques and collectibles auctions each year.
Specialist sales include a wide range of Asian and Islamic Arts, Modern and Contemporary Art and Design, Decorative Art, Fine Silver and Jewellery, Ceramics, Paintings, Prints, Photography, Antique Textiles, Vintage Fashion and Fine Wine and Whisky.
Roseberys team of world-renowned specialists also provide a wide range of art market services to professional clients, including valuations for insurance and probate.
Roseberys is a member of SOFAA – The Society of Fine Art Auctioneers.