Yongzheng bowls reign supreme
24/05/2018 News Stories & Press Release, Chinese, Japanese & South East Asian Art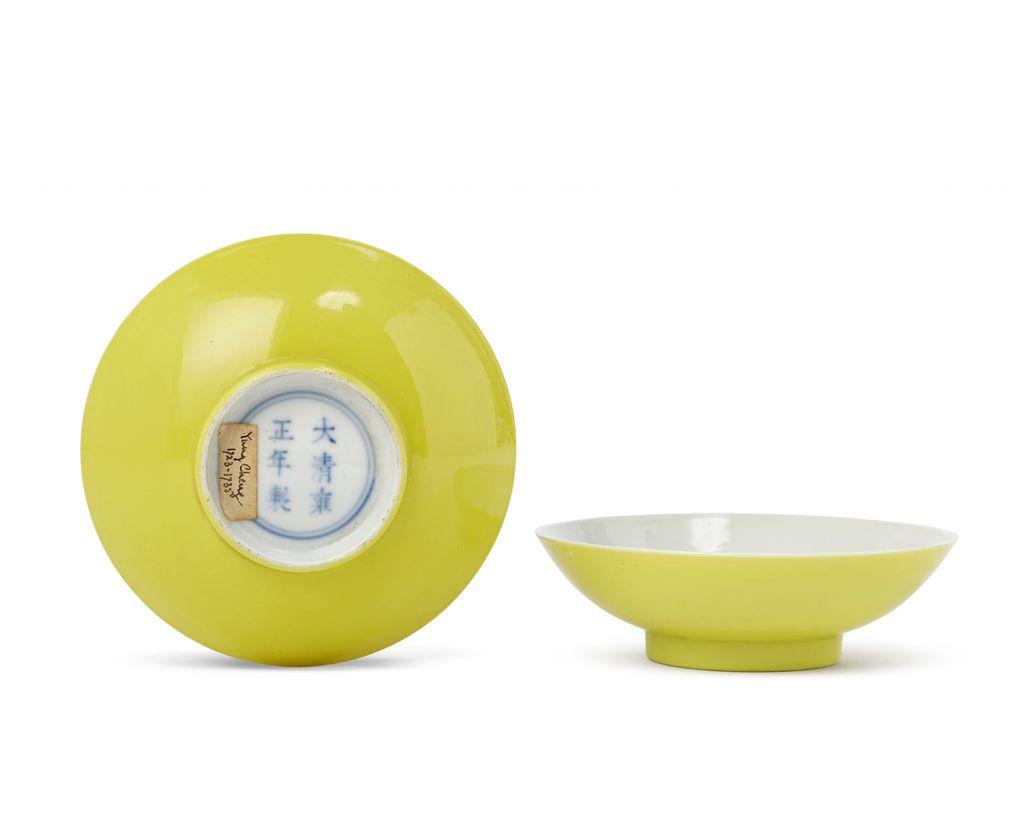 The sale saw an array of spectacular results across all media of Chinese, Japanese, and South East Asian Art, clearly illustrating the continued depth of strength in the market for Asian art.
But, the colour of summer reigned supreme as (Lot 91) was no doubt the star lot of the day; a pair of extremely rare and of exceptional quality, lemon yellow glazed bowls selling for £80,000. Bearing the Yongzheng mark and period, the shallow bowls with gently rounded sides and slightly everted rims, with straight footrim and recessed slightly convex base with underglaze blue six-character mark within a double ring, 10.7cm diameter, 3.1cm high. Provenance for this pair is with a Private South of England collection of a man of nobility.
Head of Department, Bill Forrest commented: "Emperor Yongzheng's reign (1722-1732) saw important developments in porcelain decorating and manufacture. Some of the very finest Chinese porcelain was produced during this time, so it came as no surprise that the highest selling lot in Roseberys Asian Art sale was a pair of lemon-yellow glazed saucers, mark and period of Yongzheng (£80,000*, despite damage to one). Lemon-yellow glazes were achieved when the antimoniate of iron was combined with tin oxide, though it was extremely difficult to perfect, so relatively few examples are known to exist".
Elsewhere in the sale, a private collection of Chinese paintings excited buyers from across the world. A 17th century scroll painting by an unknown artist sold for £29,500. Finely painted on silk, it depicted a traveller riding on horseback through a wooded landscape (lot 271). From the same collection came a wonderful album of twelve watercolours by Ming dynasty artist and scholar Wei Zhike. This sold to a phone bidder for £24,600. (lot 291). The previous lot was another album, this time comprising twenty fine paintings on silk, each depicting five butterflies amidst the auspicious lingzhi fungus. This sold for £15,400 to a bidder in the room. (lot 290).
Chinese 'later bronzes' (bronze objects dating from the Song-Qing dynasties) are becoming increasingly desirable. A Qianlong period cloisonné and gilt bronze stem cup and cover sold to a phone bidder for £9,900. (lot 181)
Chinese objects with symbolic motifs frequently command a premium, so it was not entirely surprising when a good quality huali wood two-door cupboard carved with auspicious objects soared to £12,100. Selling to a determined internet bidder. (lot 173).
Japanese art proved extremely strong on the day, too as three Edo period woodblock prints by the famed artist Katsushika Hokusai (lot 292) from the series Views of Mount Fuji, were hotly contested, and sold to a phone bidder for £22,000.
(lot 305) A 17th century Japanese painted tortoiseshell table top cabinet sold for £16,000 after a vigorous bidding war between a phone bidder and a live internet bidder.
Finally a large Tibetan thangka of Green Tara, 19th century, distemper on cloth, Tara seated in lalitasana on a lotus throne, with Yamantaka at her feet, surrounded by emanations of Tara, 148cm x 104cm, unmounted topped the high lots selling for an impressive £19,700. (lot 341)
Roseberys are delighted to be taking part in the international event – Asian Art in London for the first time, this coming November.
The next Asian Art auction takes place on Monday 12 November, the consignment deadline is the 1 October.
If you would like a complimentary valuation or further details of the Asian Art sales please contact Head of Department: Bill Forrest
~Ends~
*Prices include Buyers Premium of 23%.
For further information please contact Charlotte Meddings charlottemeddings@roseberys.co.uk  +44 (0) 20 8761 2522
Roseberys is a privately owned auction house operating at the heart of the fine art market for 30 years.
With offices in London's Mayfair and Lambeth Roseberys offer a calendar of more than twelve specialist fine art, antiques and collectibles auctions each year.
Specialist sales include a wide range of Asian and Islamic Arts, Modern and Contemporary Art and Design, Decorative Art, Fine Silver and Jewellery, Ceramics, Paintings, Prints, Photography, Antique Textiles, Vintage Fashion and Fine Wine and Whisky.
Roseberys team of world-renowned specialists also provide a wide range of art market services to professional clients, including valuations for insurance and probate.
Roseberys is a member of SOFAA – The Society of Fine Art Auctioneers.