Women in Art Take 5 from our Modern & Contemporary British Art Sale
30/01/2020 Modern & Contemporary British Art, News Stories & Press Release
For this edition of Roseberys #roseberystake5 we asked three female art professionals based in the UK to pick five of their favourite works of art in the upcoming Tuesday 11 February Modern & Contemporary British Art auction. Read on to find out their varied chosen lots.

Saskia Jiggens is a Courtauld-educated art historian based in London, producing articles and creative content.  Recently writing for Art Fund and interviewing for Thames & Hudson, she curates her @saskiajiggens Instagram, dedicated to all aspects of art, architecture, design, history, music and theatre.  She is also a classically-trained singer & double-bassist and has previously been an actress and radio presenter.  She can either be found in Ronnie Scott's, or at the Royal Academy's 'Pleasure Garden' in full Georgian costume!
Find out which five lots Saskia picked below and why.

Colin Hayes was quietly one of the most pivotal artistic figures of his generation and served as a tutor at the Royal College of Art from 1949-84.  During that period, he taught and had an influential impact on, many artists including David Hockney, Peter Blake, Patrick Caulfield, Bridget Riley, John Bratby, Frank Auerbach and Ron Kitaj.  The fragmented shapes, crude organic tones and indistinct muddiness of Hayes' abstraction in this work renders this mountain-top view of a Spanish village flat and two-dimensional.  To me these bold, Cubist elements are evocative of the works of an earlier British artist, David Bomberg and highlight Hayes' technical expertise in manipulating oils.

Adrian Allinson was most famous for his London Transport posters and European landscapes, so this portrait offers a rare chance to buy a very different example of his work.  There's even a subtle visual hint of Kahlo in the features of the lady depicted here.  Allinson was a member of the Post-Impressionist Camden Town Group which eventually merged with the English Vorticists to form The London Group, and the sharp angularity of the lady's limbs paired with the coarse chiaroscuro echo the structure and geometrical-focus of his later artistic endeavours.  Her disposition intrigues me: her black silk shawl is casually draped over her arms as she nonchalantly clasps a cigarette between her slender fingers.  Her pursed lips, direct stare at the viewer and censorious stance make this a particularly alluring, characterful work. This lady will wait, but not for long.
Peter Haigh trained as a textile sample dyer and his intrinsic understanding of colour harmony that he must have learnt is on display in this abstract piece.  I was drawn to this work because of its unusual combination of both linear and spherical forms, whereas Haigh usually chose to portray the repetition of analogous shapes.  The striking three-dimensionality of the work is produced by effective compositional shape-placement and layering of colour gradients, resulting in a translucent, overlapping quality and an impressive deception of depth.  To me, the piercing, bold colours and forms are reminiscent of earlier twentieth-century Soviet propaganda posters.
Sophie Dickens is a well-known sculptress and her innate awareness of movement, shape and form shine through in this charming work.  Her figurative sculptures are in major collections and she admits to a fascination with the photographer Eadweard Muybridge.  She studied anatomy which is evident through her accurate representation of muscle contortion.  There is an acute translation and delivery of movement and sensory-perception in her pieces that I adore.  This pair of delightful dog bronzes emphasises Dickens' understanding of the dynamism and energy of canine motion, coupled with the playful interaction between the dogs.
Trevor Grimshaw was fascinated by Northern English industry, steam and mist.  Although he is more famous for his locomotive studies, this monochrome work portrays a powerfully-murky graphite vista.  His work was in L.S. Lowry's personal collection and he exemplifies that similar Northern realism and atmospheric grittiness.  I love the crisp, imposing building silhouettes accented against the backdrop of a hazy, smoke-intoxicated sky.  The juxtaposition between the turrets of modern manufacturing and the historic church spires veiled in factory fog is compelling.  The viewer is floating above humanity, yet in the thick of the smoke and cloud.
---
 
Meet Sonja Teszler, a writer, curator and singer based between London, New York and Budapest. She is currently working with the charity Migrate Art to organize auctions and a related program with top contemporary artists to support refugee aid organisations. She directs the non-profit space Wells Projects in South London, works as an Associate Curator at Kunstraum London and contributes to various Arts publications. She is released an album 'Earth from Space' in 2018 with Dylan Manna and is now working on her first solo EP. She completed her Master's at the Sotheby's Institute London with a research focus on the virtual Avatar. 
---
Lara Wardle (@larawardle_art)
 
Meet Lara Wardle (@larawardle_art) Director of Jerwood, a family of philanthropic organisations dedicated to supporting the arts in the UK, and also Director of Jerwood Collection (@Jerwoodcollection). Lara has over 20 years experience in the field of 20th century British art, having previously worked at Christie's (Head of Day Sale and Associate Director) and Phillips (Senior Specialist). She joined Jerwood Foundation as Director in 2010 and her current role includes: advising on acquisitions for the Jerwood Collection; developing national loan partnerships; and curating Jerwood Collection exhibitions and displays. She also works as a freelance curator and recently co-curated Harold Gilman: Beyond Camden Town at Djanogly Gallery, Nottingham and Pallant House Gallery, Chichester (2018-19).
Fine out Lara's picks below.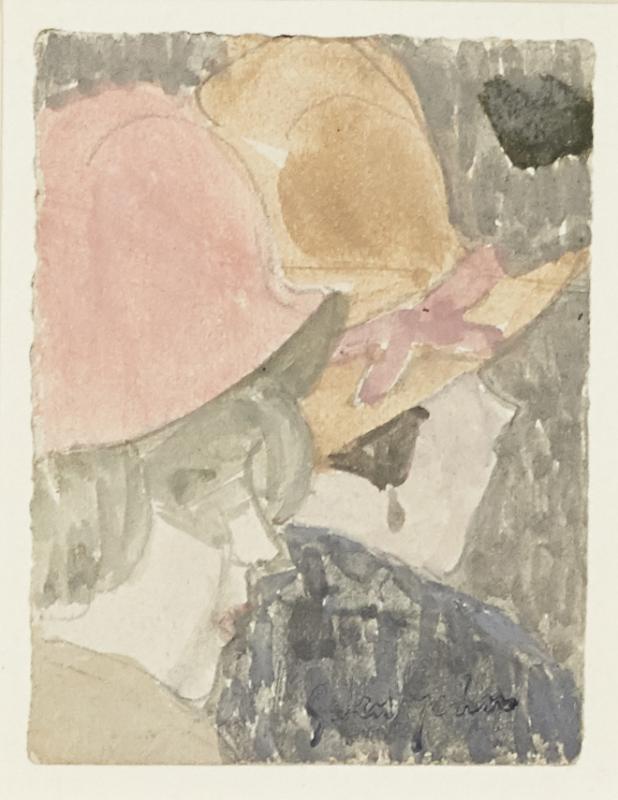 ---
Maya Asha McDonald ( @artmayasha ) 
Meet our final tastemaker Maya. Editorial Director of Arteviste and London art critic, Maya Asha McDonald, has worked in antiquities as well as contemporary art sales since graduating from The University of St Andrews. While earning her MA in Byzantine Christian and Islamic Art at The Courtauld Institute of Art, Maya interned at Christie's. Having traveled to over forty-two countries and speaking four languages, Maya is interested in analysing cross-cultural exchange in both Art History and contemporary art. 
Find Maya's picks below.


---
Modern & Contemporary British Art 
Tuesday 11 February, 11 am 
Viewing times 

Friday 7 February 9:30am-5:30pm
Sunday 9 February 10am-2pm
Monday 10 February 9:30am-5:30pm
Tuesday 11 February 9:30am-10:30am
You can find the full catalogue for the Modern & Contemporary Art auction here.
Contact Peigi Mackillop if you want to take part in the next #take5 
*For more information about the auction contact Head Specalist Helena Anderson : helenaanderson@rosebery.co.uk