Women artists lead charge
12/07/2019 News Stories & Press Release, Impressionist, Modern & Post War Art
LONDON: Women were leading the charge and making waves in Roseberys London's summer auction of Impressionist, Modern, Post War & Contemporary Art.  In every field of the July 3 sale they shone, from painting to sculpture, with hammer price highs for Alicia Perez Penalba, Yvette Achkar and Alice Halicka in particular. There were also excellent results for avant-garde artists such as Andre Lanskoy and George Mathieu, Greek Realist Pericles Pantazis and South African sculptors Brighton Sango and Dylan Lewis. As this sale demonstrated, the market continues to show a voracious appetite for high quality works that are rare, fresh to market and privately sourced.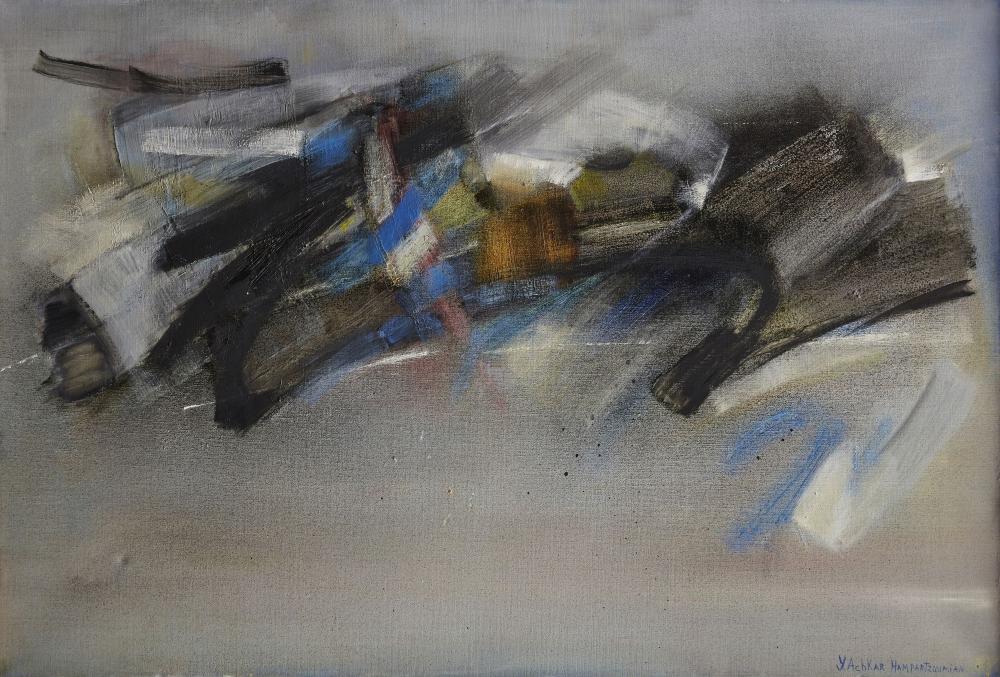 Yvette Achkar, Brazilian/Lebanese b.1928- 'Untitled composition VI', 1969; oil on canvas, signed 'Y Achkar Hampartzoumian'
Furious bidding between five telephone lines and international online bidders resulted in one tenacious buyer walking away with a unique work from 1969 by Yvette Achkar (b.1928). Not seen before in circulation in recent memory, the privately-consigned Untitled Composition VI was secured by the winning bidder at £27,000, well above the £12,000-18,000 guide. Regarded as a significant artist of the Paris School, Achkar was born in Sao Paulo in Brazil and grew up in Lebanon. She graduated in 1957 from the Académie Libanaise des Beaux-Arts in Beirut, where she was under the influence of the Italian painter Fernando Manetti and the French painter Georges Cyr. But it was during her stay in Paris, on a scholarship from the French government, that her artistic career took hold. Most of the artist's works are signed Y Achkar, however the work offered here was signed with the addition of Hampartzoumian – her second husband's name. Ashkar signed her name in this manner only for a short duration during the late 50s and early 60s. (Lot 63)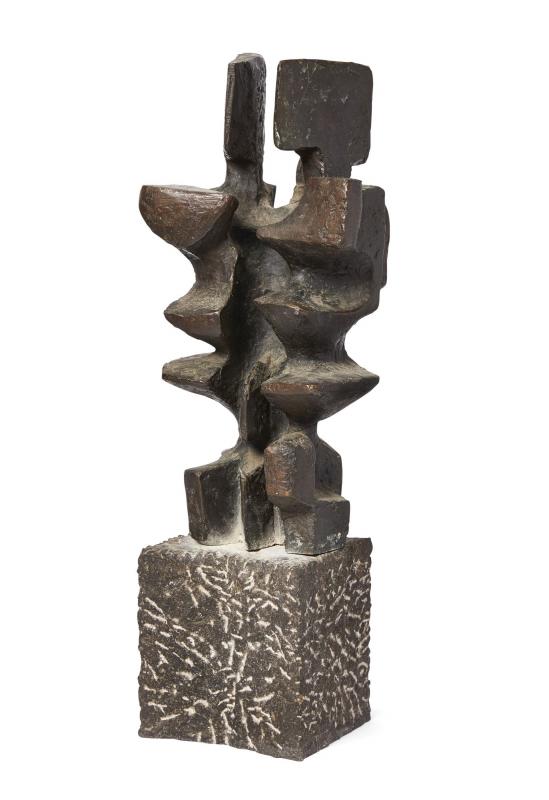 Alicia Perez Penalba, Argentinean 1913-1982- 'Esquisse du Double' (Sketch of Double), 1959; bronze

Alicia Perez Penalba's (1913-1982) Esquisse du Double (1959), a bronze made in a small edition of just nine from her so-called 'Doubles' series, achieved £27,000 against at 12,000-15,000 estimate. The result reflects the strong demand for this Argentinian doyenne of the art world. Penalba moved to Paris in 1948 where she enrolled in engravings at the School of Fine Arts, and from 1950 she worked in the studio of the prominent Russian sculptor, Ossip Zadkine. Penalba created her 'Doubles' series in the late 1950s. The rigidity of vertical rhythms split into distinct elements, which allows light to emerge between them, is a typical theme of the group. (Lot 62)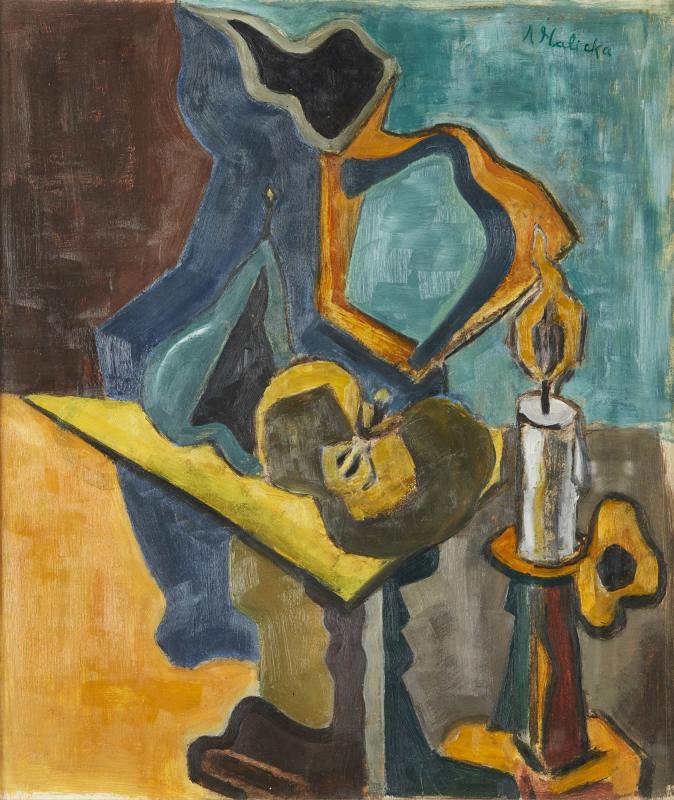 Alice Halicka (Alicja Halicka), Polish 1894-1975- 'Nature morte avec pichet, pomme, bougie', (Still life with pitcher, apple, candle) c.1912; oil on paper
Polish Cubist painter Alice Halicka (Alicja Halicka) (1894-1975) is another woman artist from the Paris School whose work was included in the sale. On offer was Nature morte avec pichet, pomme, bougie (c.1912), a rare Cubist period still life. The signed oil of a pitcher, apple and candle came from a private collection and was exhibited in London in 2005 at the Ben Uri Gallery show, Chagall and his Circle. The painting sold for £5,500. Halicka moved to Paris around the time this picture was created and studied at l'Académie Ranson under Paul Sérusier and Maurice Denis. It was here where she also met her husband, the renowned Cubist painter Louis Marcoussis (1878-1941). Halicka exhibited at the Salon des Indépendants and began to work under the influence of art dealer Léopold Zborowski (1889-1932), who was a strong proponent of Cubism. He represented her work though her husband strongly discouraged it. As a result, Halicka destroyed much of her Cubist work and from 1919 focused on collage and fabric design. (Lot 53)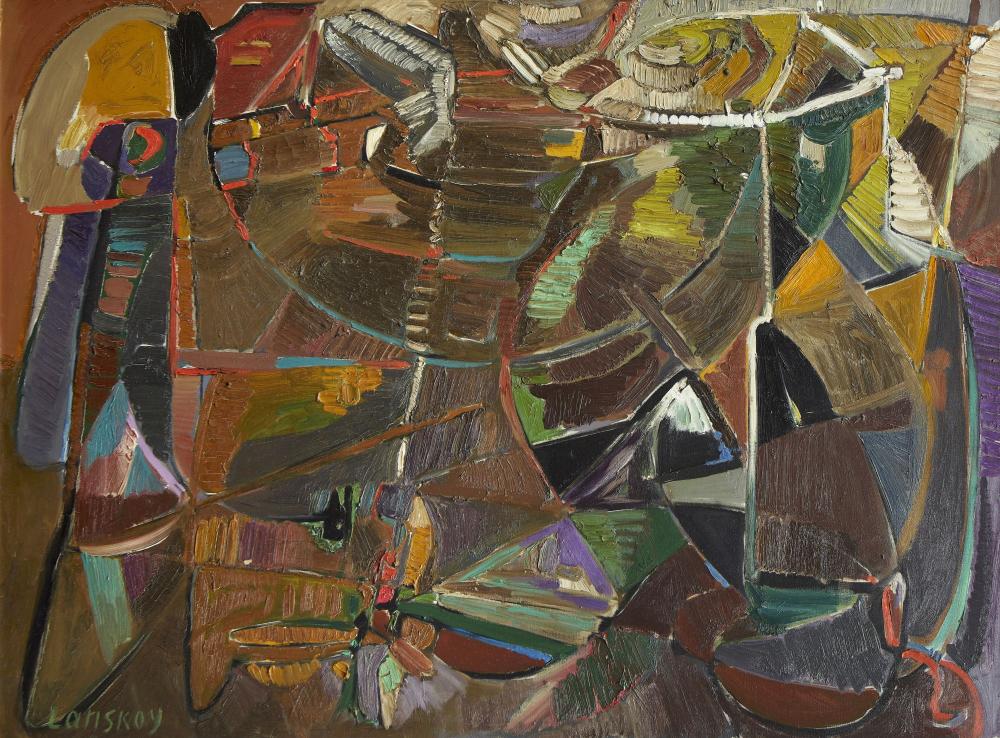 Andre Lanskoy, Russian, 1902-1976- 'Terrain precis' (Precise ground), 1953; oil on canvas
Terrain précis (1953), the title of a dynamic period abstract work painted by the Russian artist André Lanskoy (1902-76) sold for £26,000. It dates to the 1950s – a high point in the artist's career when he was achieving international recognition and had developed his abstract depictions, abandoning his earlier figurative pieces. Lanskoy worked alongside other artists of the School of Paris, such as Hans Hartung, Wols and Serge Polikaoff, developing the discourse of Tachisme. Similar in aims to the American Abstract Expressionists, this form of non-geometric abstract art developed in Europe in the 1940s and 1950s and is characterised by abstract shapes and splashes of paint. (Lot 54)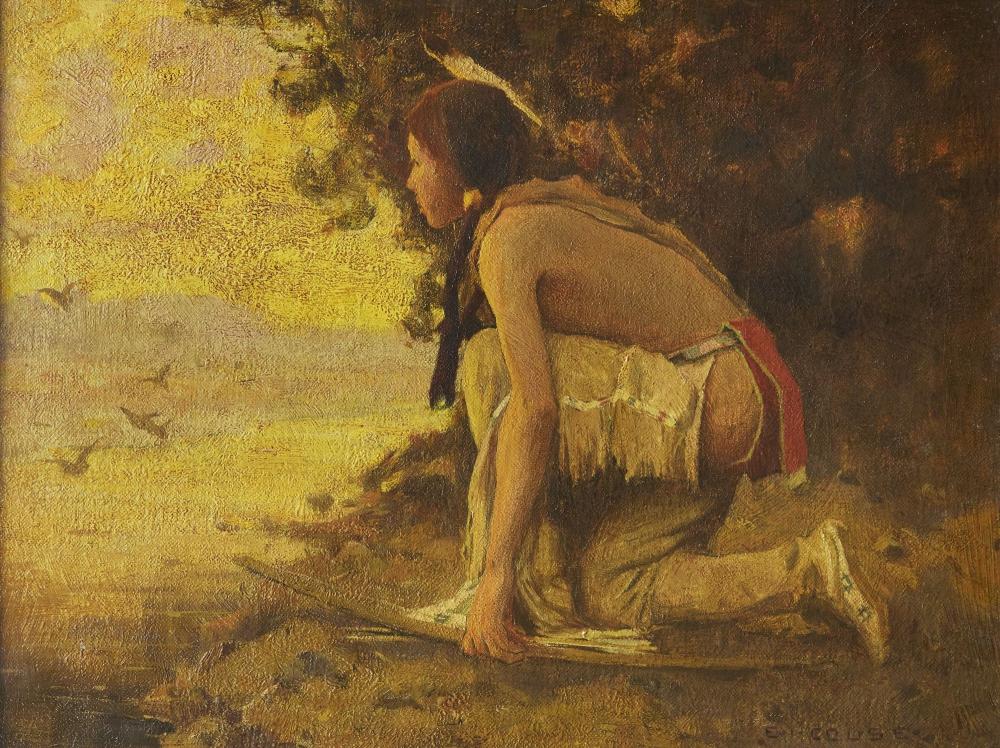 Eanger Irving Couse, American, 1866-1936; 'Watching Game' c.1906; oil on canvas
This intriguing painting of a crouching Native American by Eanger Irving Couse (1866-1936) drew intense competition before it was knocked down for £27,000, double the estimate. Couse was president and a founding member of the Taos Society of Artists who held true to his formal academic training throughout his career. His depictions of Native Americans and landscapes of the Southwestern United States, such as this painting, are among Couse's most celebrated images. Watching Game (c.1906) has never been offered before and marks the first time a work like this is being sold in the UK. A comparable work, Indian at Sacred Lake, is held in the El Paso Museum of Art in Texas. The signed oil on canvas was purchased in 1906 for $150 from the artist by L. Lehamier, believed to have been an art dealer. Subsequently, it entered the collection of Bion Hall Barnett (1857-1958), an American banker who founded the Bank of Florida, and passed by descent. This work will be included in the artist's forthcoming catalogue raisonné by Virginia Leavitt, the artist's granddaughter. Tess O'Brien Specialist Impressionist, Modern, Post-War & Contemporary Art said: "It was with great pleasure to see a work, so long admired by one family, be appreciated by the cognoscenti and sell so well; and to ensure future generations of its new owner will be entitled to the same enjoyment, which comes from owning a picture like this in the years to come." (Lot 9)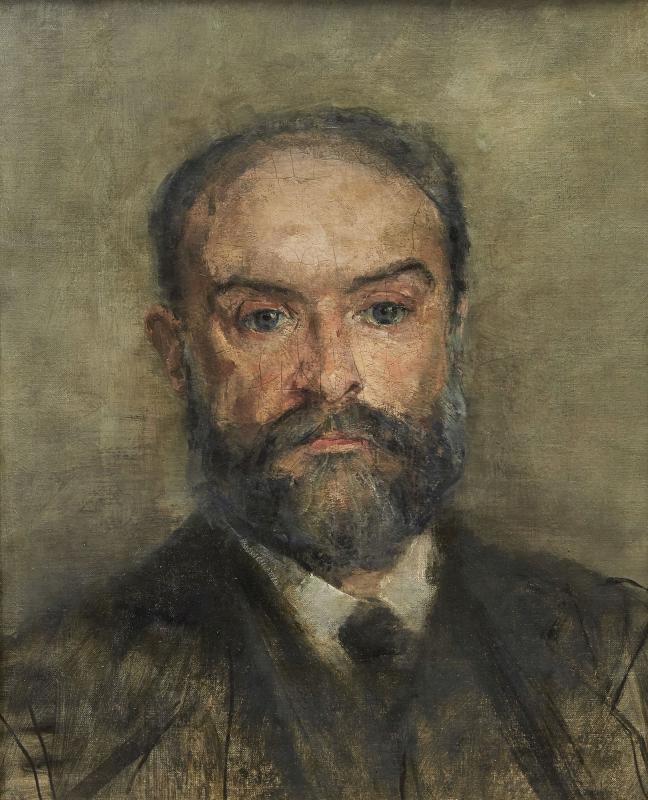 Pericles Pantazis, Greek, 1849-1884- Self Portrait of the Artist; oil on canvas

Two works by Greek artist Pericles Pantazis (1849-1884) were fought over on the phone, online and in the room. In the end both were knocked down to the same buyer, who did not waiver in their commitment to win them. Barques sur l'Escaut (Boats on the Scheldt River) sold for £11,000 (£2,000-3,000 estimate) while a self-portrait of the artist made £10,000 (£1500-2000 estimate).  Pantazis was one of the first Greek painters to explore the new discourse suggested by French Realism and Impressionism. Significantly, each artist began his training in Nikiforos Lytras' Athens studio during the early 1870s, before establishing a vision and career in a foreign city. In 1872 he moved to Paris and it was there that he met Gustave Courbet, whose approach to painting became the cornerstone of Pantaszis style. (Lot 6) (Lot 7)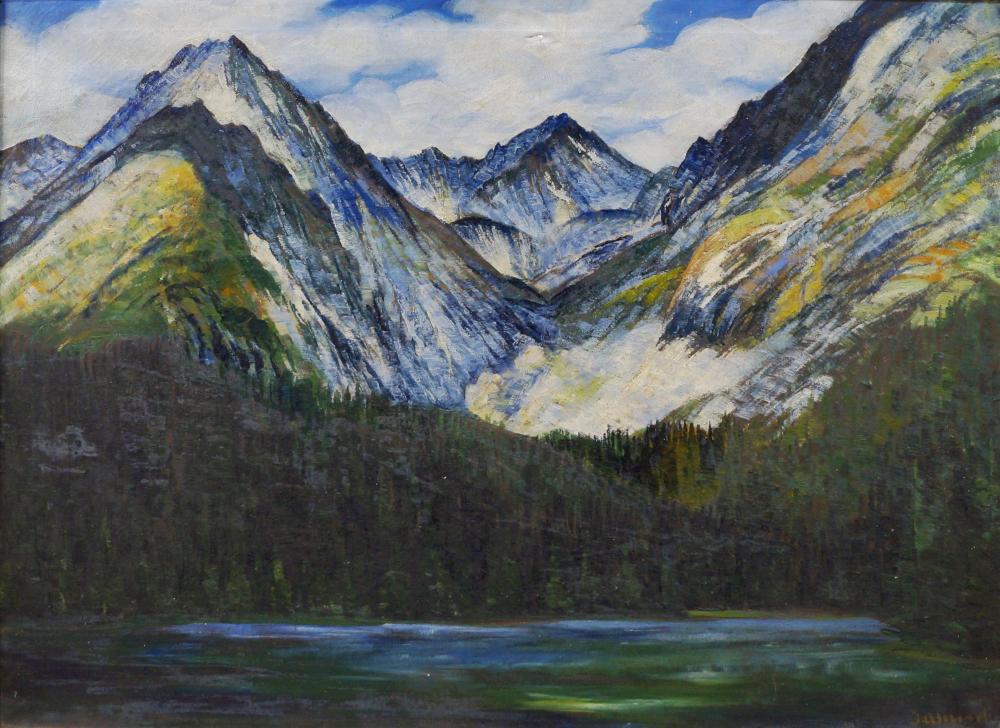 Anton Jasusch, Hungarian/Slovakian 1882-1965- Tatras Mountain Range in Slovakia, c.1950s; oil on canvas
There was a good result for Anton Jasuch's (1882-1925) Tetras Mountain Range in Slovakia (c.1950s), a fresh to market oil on canvas. It had slight condition issues, but this was overcome due to the strength and successful rendering of the Tetras mountain range by an artist known for this particular theme. It sold over top estimate for £1500. Jasusch was a prominent representative of the 'Kosice Modernism'. His early works were founded in this Art Nouveau school, however towards the end of the artist's life there was a dramatic change in the artist's aesthetic. This later period was dictated by a large number of paintings featuring countryside and Second World War themes, such as concentration camps and partisans. It is believed this painting is from this later period. (Lot 80)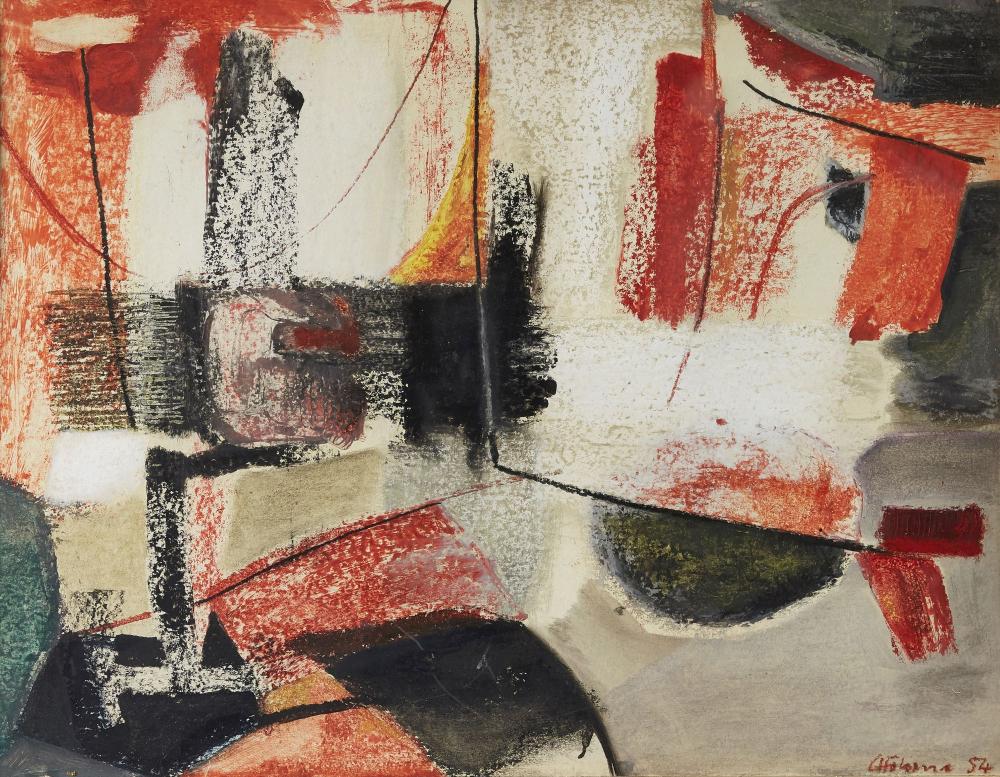 Gerhard Hoehme, German 1920-1989- Untitled, 1954; oil, acrylic and collage on board
There was a strong showing for two 1954 mixed-media works by German artist Gerhard Hoehme (1920-1989), consolidating the growing demand for work of this texture and design from this period by the artist. Both untitled, they sold for £4,000 and £2,900. (Lot 64) (Lot 65) 
Born in Greppin near Dessau in Germany, Hoehme was a pilot during the Second World War before beginning his career as a painter and only began studying after the war in 1948 at the age of 28. His enthusiasm for flying had a considerable influence on his art, particularly the viewpoint from above. This exceptionally rare self-portrait by the Israeli artist Mordecai Ardron (1896-1992), which gives an insight into the inner workings of how he viewed himself, tipped over top estimate to sell for £8,500. The c.1938 oil on canvas had passed by descent from the Swiss collection of Judith and Florian Adler. (Lot 44)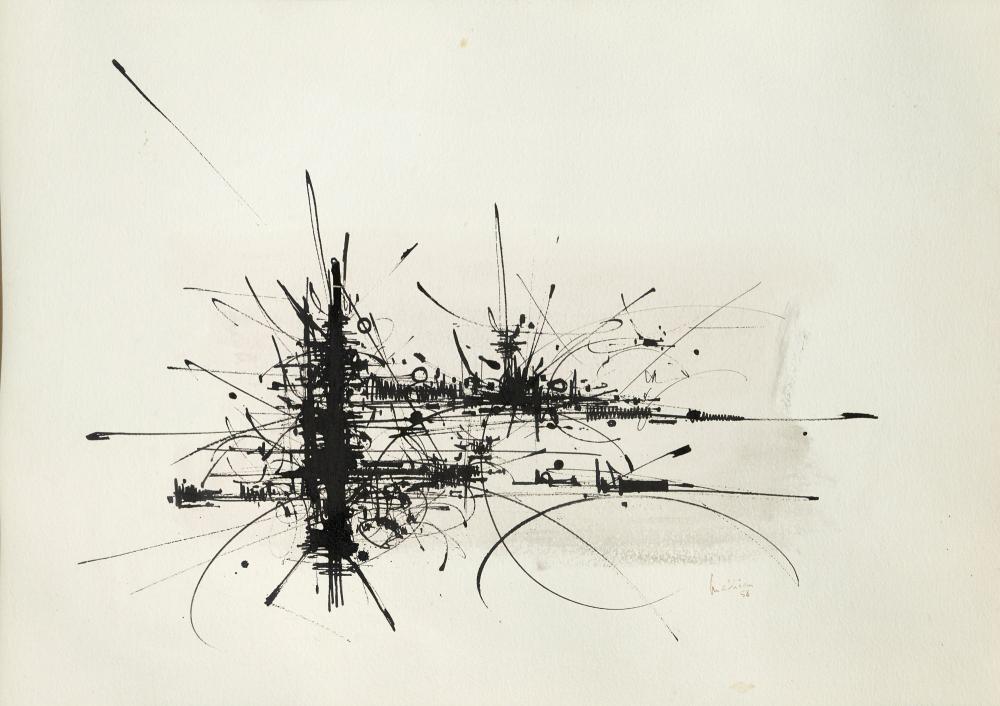 Georges Mathieu, French 1921 -2012 Composition 1958; Chinese ink on Arches paper

A stunning work on paper example by George Mathieu (1921-2012), resulted in an above estimate hammer price for the piece at £7,200. Composition 1958 in Chinese ink on Arches paper had formerly been in the collection of Sir Clifford Norton and was consigned from a private collection in London.The French painter and theorist is credited with launching the Lyrical Abstraction movement and the greater trend of Informalism in post-Second World War Paris. Mathieu was known for his distinctive calligraphic and rhythmic pictures, notably resembling Jackson Pollock's drip paintings, evident in this work from 1958. His work can be found in several noted collections including the Solomon R. Guggenheim Museum in New York and the Art Institute of Chicago. (Lot 56)  
Exemplary pieces by two South African sculptors and one Nigerian painter made significant contributions to the sale, making the continent one worth watching as it rises up the ranks.
~Ends~ 
For further information please contact Peigi Mackillop peigimackillop@roseberys.co.uk +44 (0) 20 8761 2522