Winter in June Fine Art Auction Highlights
30/06/2017 Modern & Contemporary British Art, News Stories & Press Release, Antiquities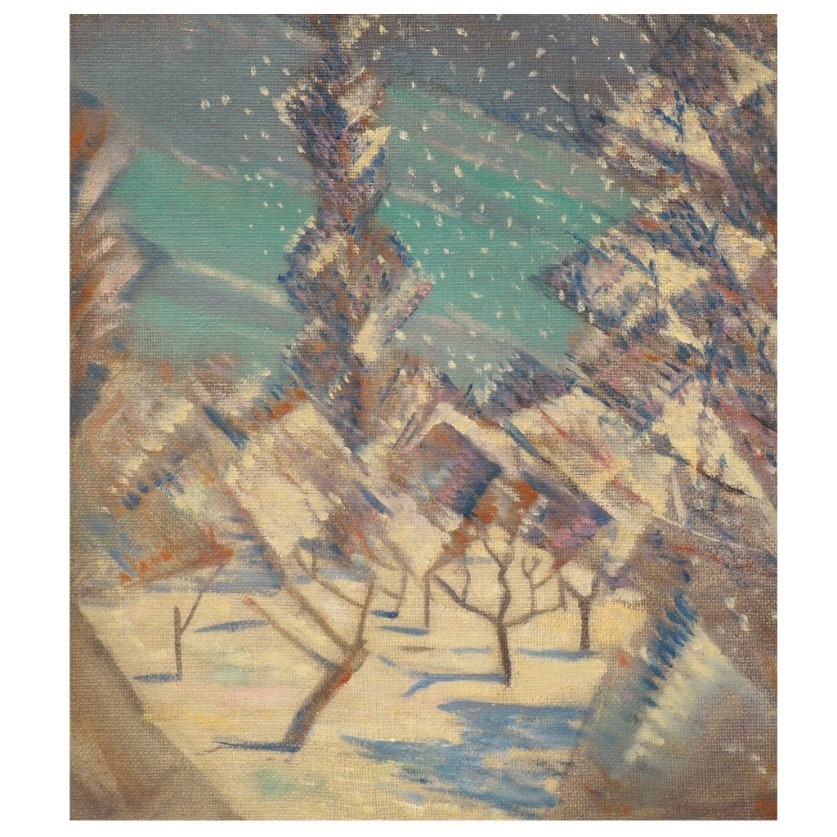 Roseberys London Fine Art auction, 28 June of 730 lots featured a myriad of beautiful items, from delicate 18 century porcelain to a Tribal hardwood paddle, with the last section of the auction dealing with exquisite antique furniture and rugs. The variety of artwork and antiquities for sale led to a busy and exciting day, with bidders in the room, on multiple phone lines and across internet platforms.
The Fine European Ceramics and Glass collection began the bidding, with a continental porcelain snuff box (lot 539) selling for £3,200 – a stunning piece in the form of a lion's head, the interior being decorated with dramatic scenes of a lion hunt.

The Jewellery section (lots 651-729) brought plenty of floor bidders and presented a beautiful selection of gold, diamond, silver and pearl pieces. Specific lots to note were numbers 651 and 652, a gorgeous gold band ring and abstract textured brooch, both from esteemed designer Andrew Grima, whose pieces have been seen on both the Queen and Marc Jacobs at multiple events. Being completely self-taught, Grima certainly showcased his individual creative flair with these two lots, and (lot 652) amazed the bidders with its spiked bars of 18ct white gold set with circular cut diamonds, eventually selling for £2,585. The unusual band ring with applied 18ct white gold panels sold for £1,475 to a lucky bidder who is sure to turn heads (lot 651)

A stunning Van Cleef & Arpels bangle caught the eye of many bidders, finally hammering at £10,085. Featuring rubies and emeralds mounted in yellow metal, it's no surprise that this French brand was so popular amongst buyers. Further highlight (lot 713), a pair of Van Cleef & Arpels pearl and diamond set ear pendants had many bidders competing against each other, selling finally for £16,605.
Paintings, Photography and Modern Sculpture lots (1082-1355) were the main event of the day. The much anticipated (lot 1244) was a fine oil on canvas painting by Christopher Richard Wynne Nevinson entitled, "The Four Seasons; Winter". Nevinson is one of the most famous artists of the First World War, however in contrast to his usual dark subject matter and monochrome colour scheme, this landscape painting is dynamic and full of vibrancy, and eventually hammered at £33,210.

(Lot 1134) – An enormous collection of nearly two hundred designs for ecclesiastical stained glass windows – sparked interest for bidders as the designs were for churches across the world; the USA, New Zealand, South Africa, Chile, Canada and the UK. This collection from James Powell & Sons, Whitefriars Glassworks, drew international interest, and bidding ceased at an impressive £6,390.

A further highlight was John Randall Bratby's oil on canvas, depicting a Venetian canal scene through a window. This charming and colourful painting was estimated to sell at £1500-2500, but the Royal Academian's quaint style along with the popular subject matter of Venice compelled buyers to continue bidding until the hammer came down at £7,380. (lot 1253)
Continuing the Venetian theme (lot 1148) ''Palazzo Ducale, Venezia''; an oil on board by Antonietta Brandeis a Czech/Italian artist (1848-1926) came with good provenance from MacConnal-Mason & Son Ltd., Fine Paintings, London, according to label attached to the reverse of the frame; proved another popular scene, with bids climbing high and eventually settling under the hammer at £8610.

Lots 1395-1541 in the Antiquities and Tribal Arts category, with phone and online bidders specifically being interested in the tribal items. The first lot of the collection (lot 1395) was a long Tribal hardwood paddle, with intricate carvings of geometric patterns and with figures to the wider end wielding weapons, this paddle sparked interest with phone bidders and was incredibly popular, surprising the floor as the bidding crept up past £3000, with the final sale being £7,135. Other related Tribal lots proved popular; a second hardwood paddle with a broad leaf shaped end and geometric patterning (lot 1397) sold for £2,705.

Moving into the European market, a pair of French figural bronze and marble candelabra bases (lot 1452) were unique in that each were mounted with female winged figures in classical attire standing on balls. Carrying pendent bunches of grapes and mounted on top of a shaped red marble base, it was hard to deny the character and distinctive manner of these candelabra bases. The successful bidder was on the phone at £4,430.

The auction drew to a close with the antique furniture and rugs section. The highlight (lot 1664) – an impressive George III mahogany architects table which sold for £2,460 and a silk Qum rug (lot 1712) with a light blue and beige pole medallion in the centre, selling at £2,830.
Roseberys London next Fine Art auction 5 & 6 September
~Ends~
Prices include Buyers Premium of 23%.
For further information please contact our Press Office pressoffice@roseberys.co.uk +44 (0) 20 8761 2522
Roseberys is a privately owned auction house operating at the heart of the fine art market for 30 years.
With offices in London's Mayfair and Lambeth Roseberys offer a calendar of more than twelve specialist fine art, antiques and collectibles auctions each year.
Specialist sales include a wide range of Asian and Islamic Arts, Modern and Contemporary Art and Design, Decorative Art, Fine Silver and Jewellery, Ceramics, Paintings, Prints, Photography, Antique Textiles, Vintage Fashion and Fine Wine and Whisky.
Roseberys team of world-renowned specialists also provide a wide range of art market services to professional clients, including valuations for insurance and probate.