Wide variety of jewellery dating from the 18th to the 21st century
11/11/2021 News Stories & Press Release, Jewellery & Watches
Roseberys presents the Jewellery & Watches auction, that will take place on Tuesday 30 November, starting at 11am.
Mark Bowis, Head of department commented: 'The sale comprises 256 lots and features a wide variety of jewellery dating from the 18th to the 21st century. It includes a good selection of diamond and gem jewellery and complimenting the sale is a collection of jewellery by the well-known jeweller Kutchinsky. This includes a fine pair of marquise diamond earclips, lot 241 estimate £800-£1,200, a suite of diamond jewellery comprising: a brooch and earclips, lot 244 estimate £1,000-£1,500, and two diamond bracelet watches with diamond hinged covers, lot 243, estimate £2,000-£3,000 and lot 245, estimate £2,500-£3,000. The sale also includes a good collection of wristwatches and pocket watches including a classic Rolex 18ct gold Oyster Perpetual Date-just wristwatch reference 16238, produced circa 1990, estimate £5,000-£7,000.'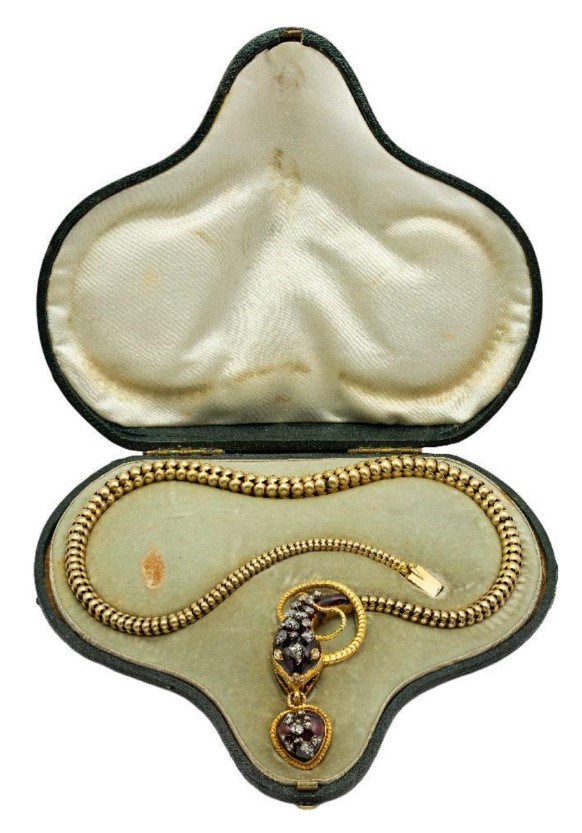 A Victorian gold, diamond and enamel serpent necklace
Leading the antique section is lot 235, a fine example of a Victorian snake or serpent necklace. The articulated gold necklace with the head set with a shaped cabochon garnet with diamond detail, suspending a matching heart locket drop. Produced during the 1840s snake related jewellery was extremely popular with the Victorians and reflected their interest in natural phenomena as well as the accepted symbolism of a snake with its tail in its mouth representing eternity. The necklace is complete with its original fitted case that has a printed label stating 'Carbuncles & Diamonds'. It comes with eestimate of £2,000-£3,000.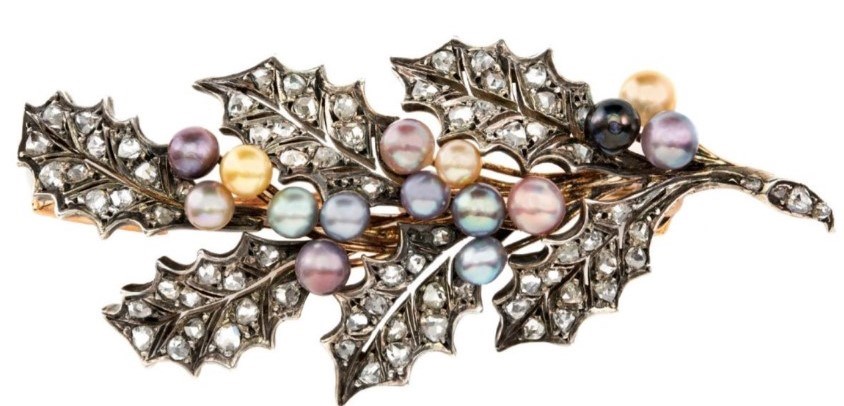 A late 19th century diamond and pearl brooch
(Lot 234) Something in time for Christmas is a charming late 19th century brooch modelled as a spray of holly, the leaves set with rose-cut diamonds and embellished with vari-toned pearl berries. The perfect Christmas present, this lot has a guided price of £3,000-£5,000.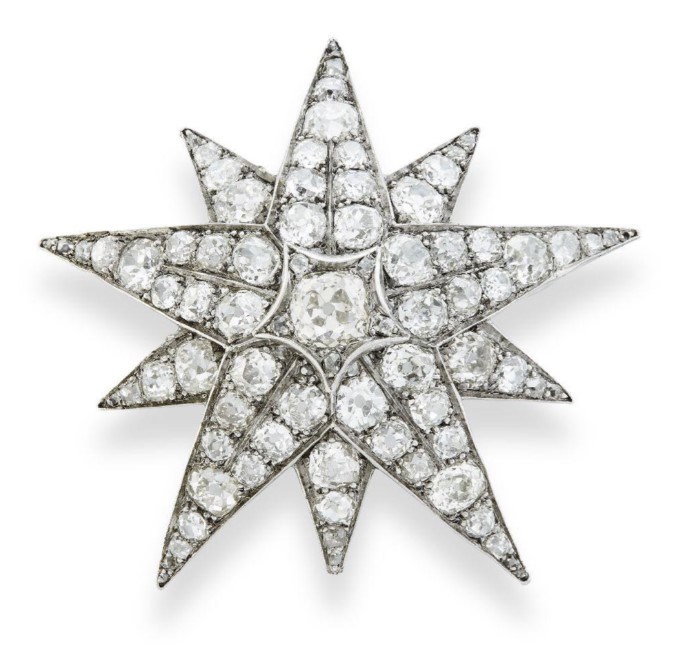 Continuing with a Christmas theme is lot 233, a late 19th century diamond brooch. The brooch estimated at £1,500-£2,000 is designed as a ten-pointed star set with graduated old-mine and cushion-shaped diamonds, accented with rose-cut diamond points, mounted in silver and gold, c.1890.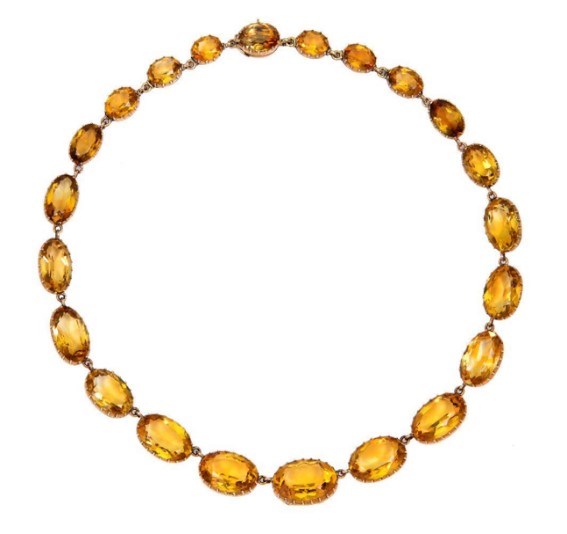 Entered onto the market with an estimate of £800-£1,200, also featured in the selection of antique jewellery, is lot 231. The gold and citrine riviere, composed of a graduated series of oval citrines mounted in pinched collet settings, measures 39cm in length and was created in c.1850. The magnificent riviere necklace is in condition is very crisp and necklaces of this type are becoming scarce.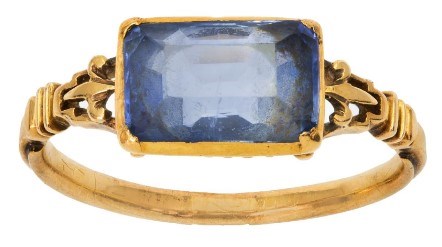 An early 19th century gold and sapphire ring
Another piece that is extremely elegant is lot 10, an early 19th century sapphire ring. The rectangular sapphire is mounted in a rub over setting typical of the period, with fleur-de-lys shoulders. The neatness and charm of the ring, as well as its rarity gives it a particular appeal. This ring, size j, comes with an estimate of £400 - £600.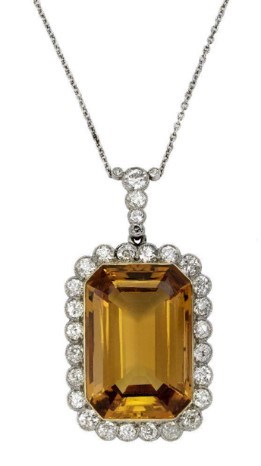 An Edwardian citrine and diamond pendant/brooch
Another nice example of Edwardian jewellery is a stunning orange coloured citrine and diamond pendant, lot 226. The citrine is very clean and extremely lively with good quality old-brilliant-cut diamond surround, to a platinum neckchain. The pendant is in its original fitted case and comes with a pre-sale price guide of £1,200-£1,600.
An early 20th century French gold and amethyst, pectoral cross pendant by Mellerio
Estimated to make between £2,000-£3,000, representing the more recent examples of jewellery in the sale is an impressive gold pectoral cross pendant by the French jeweller Mellerio. This Latin cross (lot 21) is set in the centre with a heart shaped amethyst, with pierced foliate decoration, engraved and dated 1936. The cross is signed Mellerio, Rue de la Paix, Paris, Madrid, with French assay marks. The length including pendant loop is 11.5cm and the gross weight is approximately 84.8 grams.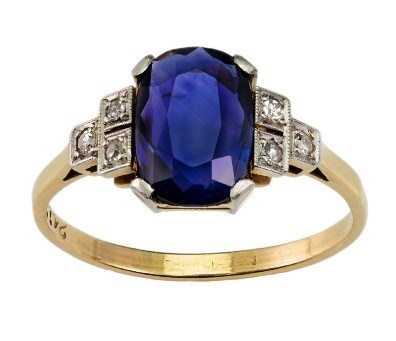 The principal highlights of the sale include a more recent oval cut sapphire single stone ring with diamond shoulders, the sapphire weighing 2.50 carats and accompanied by a laboratory report stating that the sapphire showed no signs of heating, origin Myanmar (Burma). Unheated sapphires are rare and the stone is a deep well saturated colour blue. This beautiful ring (lot 254) comes with an estimate of £7,000-£9,000.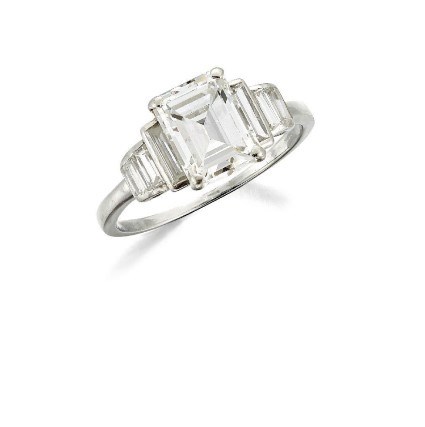 The last lot in the sale is and exceptional rectangular-cut diamond single stone ring, lot 256. Weighing 2.31 carats the diamond is accompanied by a laboratory report stating the diamond to be E colour and VVS1 clarity.  A perfect Christmas engagement ring, this lot comes with an estimate of £8,000-£12,000.
Ends 

You can view the fully illustrated catalogue online here
Jewellery & Watches
Tuesday 30 November, 11am
Viewing Times
Friday 26th November 9.30am – 5.30pm
Sunday 28th November 10.00am – 2.00pm
Monday 29th November 9.30am – 5.30pm
Please contact jewellery@roseberys.co.uk for condition reports and further information.