When Art & Music Collide
22/06/2022 Prints & Multiples , News Stories & Press Release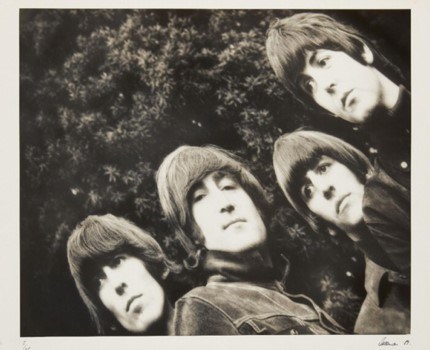 Robert Freeman, British, 1936-2019- The Beatles, Rubber Soul; sepia toned print on paper, 1989
The merging of music and art is a recurring theme in the upcoming Modern & Contemporary Prints & Multiples auction that will take place across two days, Tuesday 5 and Wednesday 6 July at Roseberys.
This sale totals an impressive 736 lots and offers avid collectors and expert connoisseurs the opportunity to buy important works by renowned artists. Offered in this sale is a wide range of modern and contemporary editions from traditional engravings, lithographs and screen-prints to contemporary photos and special edition sculptures. Artists include modern masters such as Picasso, Miro, and Matisse to YBAs Tracey Emin and Damien Hirst and Urban artists including Banksy and KAWS.
Art comes in many forms, but what happens when music and art collide? In this article, we will explore the different artworks created by musical icons or those that inhabit the theme of music.
Music and art have long shared a close symbiotic relationship. Kandinsky was inspired by his experience of synaesthesia and created captivating pieces connecting visual art and music.  Mondrian drew on his love of jazz to ´free rhythm from form´. Warhol's seismic presence in the music industry is memorialised in the iconic album covers of groups such as the Velvet Underground and The Rolling Stones. Artists and musicians create artworks that unlock hidden emotions, trigger memories, and feed the imaginative and inspirative process of artists. The common themes across music and art could be encapsulated in three words: rhythm, balance, and uniqueness.

Damien Hirst, British, b.1965- Spot Fender Telecaster, 2012; unique acrylic on metal electric guitar
Damien Hirst once said: "The Beatles have had a bigger influence on me than Picasso"- which connotates how close these two worlds are in the mind of the renowned artist. In the late 1990s, there was a burst of creativity in British pop, art, film, and everyone involved seemed to share an attitude and energy that brought them together to co-create and inspire each other. For instance, Hirst funded the recording of the first album of 'The Hours', an Indie Rock group led by Antony Genn and Martin Slattery, both previous members of Los Mescaleros alongside Joe Strummer (co-founder of The Clash), who all shared a close relationship with Hirst. In 2012, 10 years after the death of the late great Joe Strummer, Damien Hirst painted a 1965 Spot Fender Telecaster guitar in honour of his dear friend. Hirst produced this iconic design for a raffle raising funds for Strummerville, organised by the Joe Strummer Foundation. Lot 483 is a unique and functional art piece that not only commemorates Strummer but epitomises the synergy between art and music.  The unique acrylic on metal electric guitar has been entered onto the market with a pre-sale estimate of £50,000- £70,000.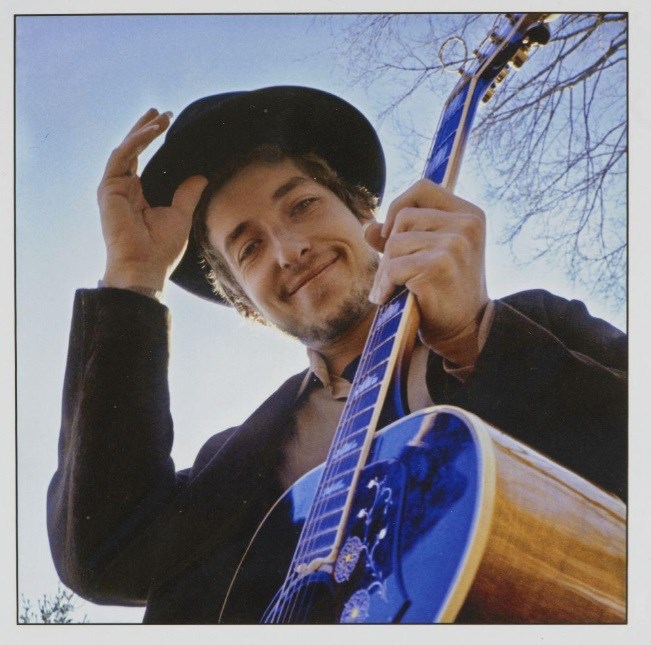 William Wegman and Elliott Landy, American b.1943 and b.1942- On base, 2007 and Bob Dylan, Woodstock, 1969


The creative talent of many musicians extends far beyond the audible, with many notable pieces on the art on the market curated by those who are better known for their music. Bob Dylan is a prime example of a musical artist who also works within the art world. Since 2007, he has been creating an extensive variety of visual art including works on paper, sculpture, and large-scale installations.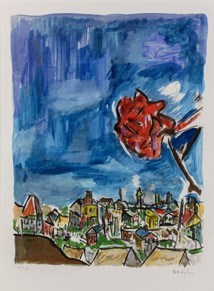 Bob Dylan, American b.1941- Rose on a Hillside, 2009; giclée print in colours on 350gsm Hahnemühle Museum Etching wove 
On offer within Roseberys upcoming auction are 11 giclée's prints in colour produced by Bob Dylan, recollecting memories of his tours through America, Europe, and Asia. Lot 489 by Bob Dylan titled "Rose on a Hill" was published in 1994 as part of the 'Drawn Blank' series – a selection of drawings later re-produced as a series of giclée prints. Lot 489 encapsulates the distinctive qualities that enabled Bob Dylan to become the successful visual artist that he undoubtedly is. Bob Dylan is a celebrated polyvalent artist. Bob Dylan has also been the subject of fine art photography; for instance, Lot 631 is a charming photo of Bob Dylan with his guitar at the height of his success taken in 1969 by photographers William Wegman and Elliott Landy.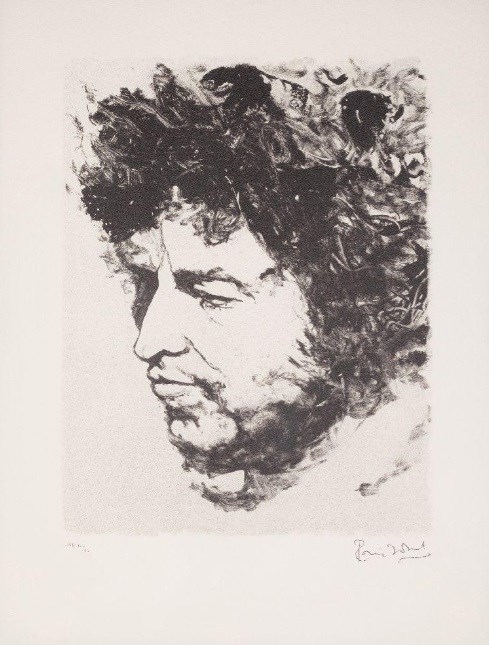 Ronnie Wood, British b.1947- Bob Dylan, 2014; giclée print on Arches Aquarelle wove


Furthermore, he has been the sitter for artists and fellow musicians alike within artworks. Ronnie Wood, an English rock musician, best known as a member of the Rolling Stones, drew this charming portrait of Dylan. Offered at Roseberys is the giclée print on Arches Aquarelle wove of the drawing, lot 485. The work published in 2014 is an aesthetic tribute from one denizen of rock royalty to another.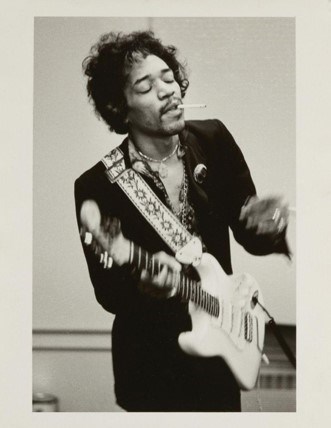 Linda McCartney, British 1941-1998- Jimi Hendrix; silver gelatin print on Agfa paper


Photographs offer a powerful insight into the character of musicians adored worldwide. Lot 499 is a print entitled 'John Lennon with a flower' taken by British photographer Robert Whitaker in 1965, which captures the joyous and charming essence of the Beatles icon. A younger Lennon appears along with his fellow band members in Lot 500, a print of a photograph of The Beatles taken by Robert Freeman. This young group would go on to change not only the world of music but pop culture more broadly. While Lot 508 shows a similarly iconic artist in Jimi Hendrix, a Beatles connection exists with the photograph taken by the talented photographer Linda McCartney, the late wife of Paul. As demonstrated by lot 508, Linda McCartney was able to capture icons in a state of pure, natural expression, often inaccessible to the those outside the world she inhabited.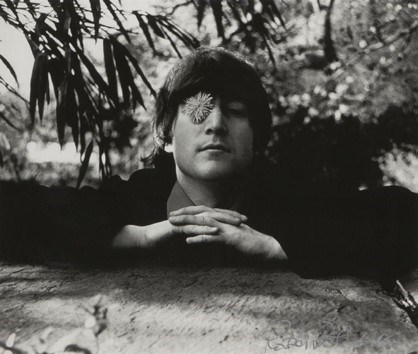 Robert Whitaker, British, 1939-2011- John Lennon with flower, Weybridge, 1965; photographic print in black and white on smooth wove
Artists from different creative fields often turn to one another for inspiration and develop new forms of expression, where two worlds converge into one. As Jean Michel Basquiat said: "Art is how we decorate space, music is how we decorate time" – and one cannot be experienced without the other.
Ends
Day One: Modern & Contemporary Prints & Multiples
Tuesday 5 July, 10.00 am

View Catalogue Here 

Day Two: Modern & Contemporary Prints & Multiples
Wednesday 6 July, 10am

View Catalogue Here 
Viewing times at Roseberys Showroom 
Thursday 30 June 9.30am – 5.00pm
Friday 1 July 9.30am – 5.00pm
Sunday 3 July 10.00am – 2.00pm
Monday 4 July 9.30am – 5.00pm
Please contact prints@roseberys.co.uk for more information