What is the difference between Art Nouveau and Art Deco?
9/04/2020 News Stories & Press Release, Decorative Arts & Modern Design , Furniture & Rugs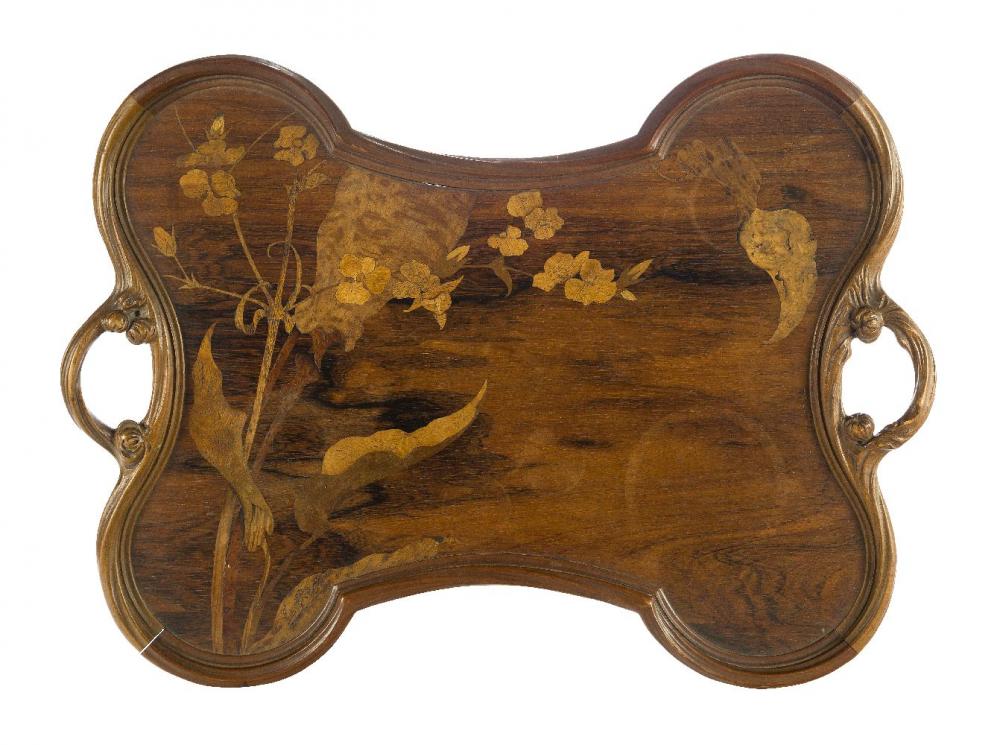 Emile Gallé (1846-1904), an Art Nouveau walnut and marquetry Tray, c.1900. Sold at Roseberys for £375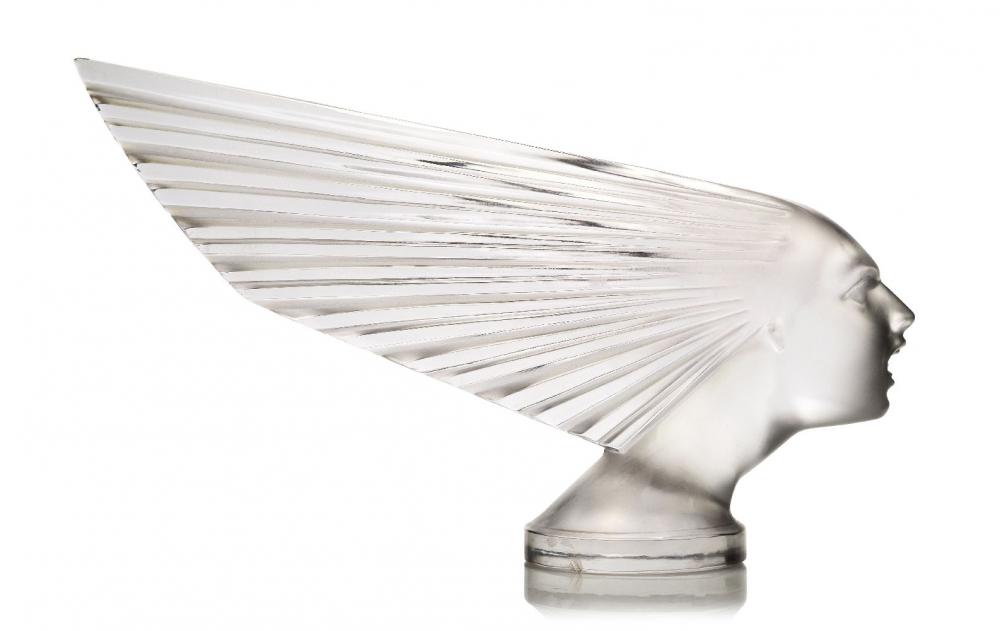 René Lalique (1860-1945), a clear and frosted glass mascot, designed in 1928, sold at Roseberys for £7,250
Here Fiona Baker, Roseberys Head of Department for Design: Decorative Arts 1860 to the Present Day talks us through the differences between the two movements.
Art Nouveau and Art Deco were both International movements of the Decorative Arts and Architecture.  The Art Nouveau movement, in terms of dates, covers the period 1890-1910 approximately, or late 19th century to pre-First World War. The Art Deco Movement encompasses the 1920s and 30's, or the period between the wars.  There was an overlap and transition from one movement to another and, in general, had it not been for the First World War, the Art Deco period would have begun earlier. The Exposition Internationale Des Art Decoratifs et Industriels et Modernes that finally took place in Paris in 1925 was being planned as early as 1912. The apotheosis of Art Nouveau is considered to be 1900 and 1925 for Art Deco.
The term 'Art Nouveau' was taken from the Gallery in Paris owned by Samuel Bing (had originally imported works and items from Japan from 1875) which was re-launched in 1895 as the Maison de L'Art Nouveau.  The term 'Art Deco' is derived from the Exposition Internationale des Art Decoratifs et Industriels et Modernes that took place in Paris in 1925, but the term itself was coined at a later date.
To be called either Art Nouveau or Art Deco, the works will have to have been made within the correct timelines and also exhibit the characteristics of the movement. If you see a catalogue description "in the Art Nouveau style" or "in the Art Deco style", it means the item shows the design characteristics but was made at a later date and is therefore not a period example.
What are the characteristics of these design movements?
Art Nouveau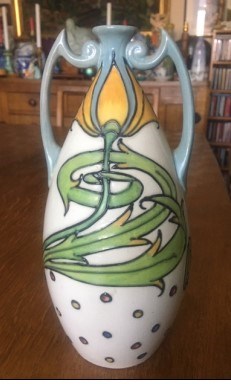 Art Nouveau, a Mintons Secessionist vase, c.1905 (private collection)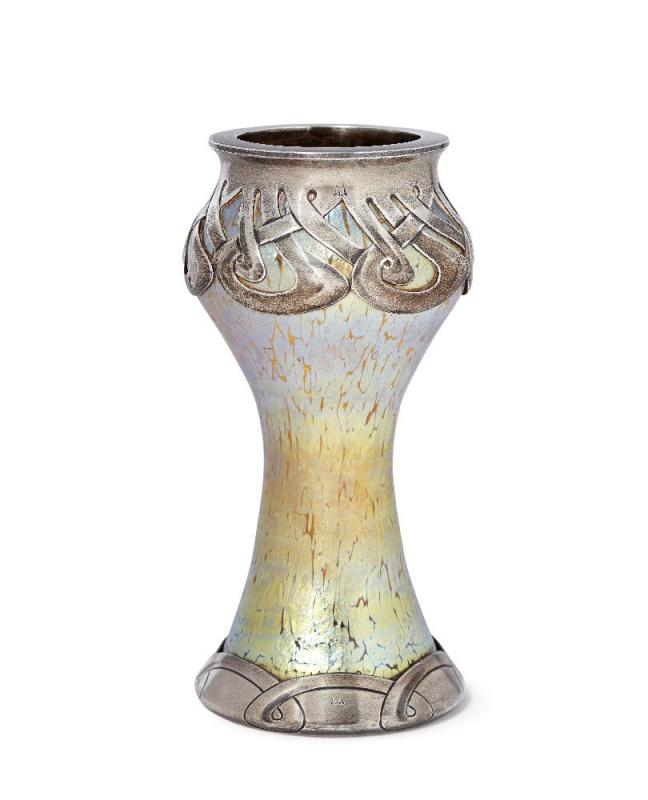 Loetz, an iridescent glass vase with Art Nouveau with silver mounts by Henri van de Velde, c.1898. Sold at Roseberys for £2,750
Art Nouveau is sinuous and sensual, linear and often vigorous, with organic forms and nature at its heart - but not sanitized nature, rather nature as it is, with imperfections; death, decay and regeneration were all used as themes. Words like sinuous, tendrils, entwined, and flowing are commonly used when describing the style.  The female form was frequently used and the 'Art Nouveau Maiden', with long flowing hair and robes are a popular motif.  Art Nouveau was influenced by the Arts and Crafts Movement, Symbolism and Japanese Art.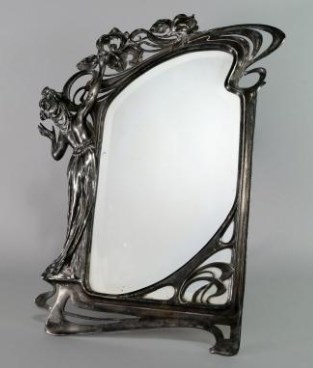 WMF, a German silvered-metal mirror with easel support showing the Art Noveau Maiden and sinuous decoration - Roseberys sold £420 hammer price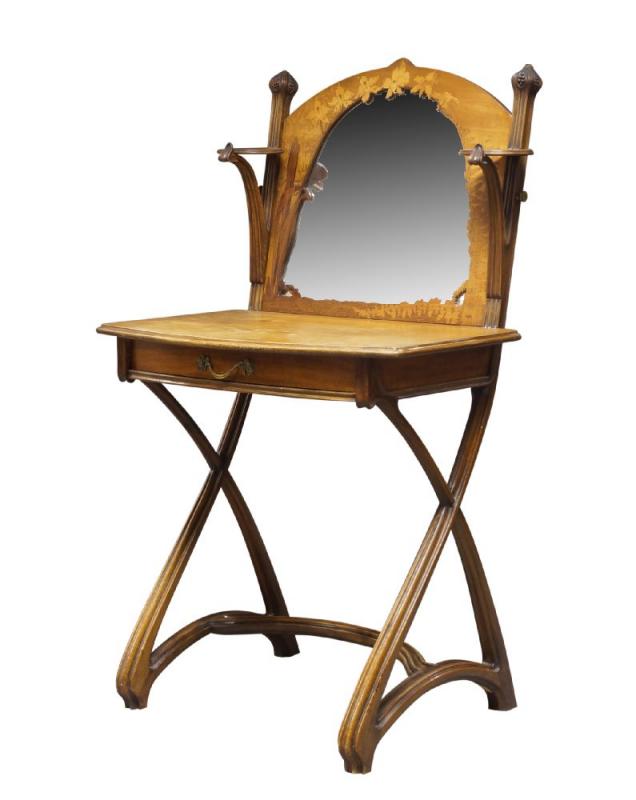 Louis Majorelle ( 1859 - 1926), an Art Nouveau marquerty and carved Coiffeuse, c. 1990 - Roseberys sold 2,700 (hammer price)
Art Deco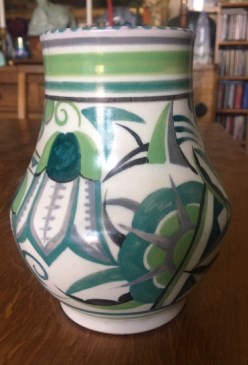 Art Deco, a Poole Pottery vase, c.1930 (private collection)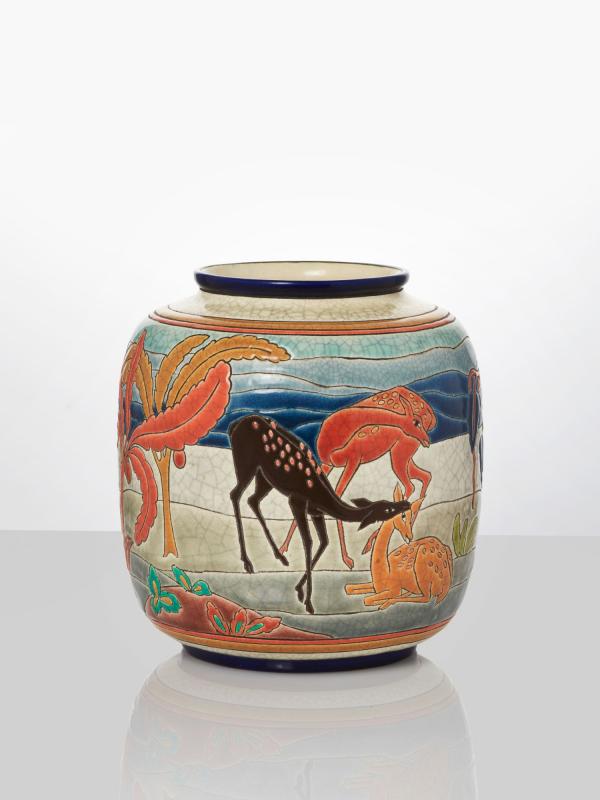 Longwy, an Art Deco French crackle-glazed vase, c.1930. Sold at Roseberys for £525
Art Deco is geometric, designs are stylised, paired down and streamlined. It has more of a machine aesthetic of speed and skyscrapers and at the time the style could be seen in everything from architecture, applied arts, and fashion to film, and photography.  With exotic influences from African Art and stepped Mayan temples.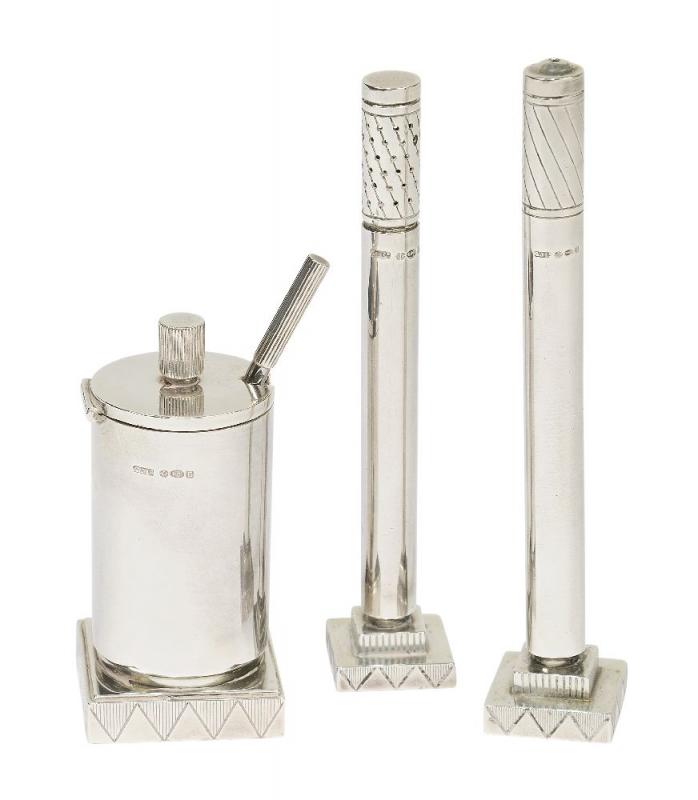 Jorgen Jensen for Georg Jensen, an Art Deco silver cruet set, London import marks from 1937. Sold at Roseberys for £1,180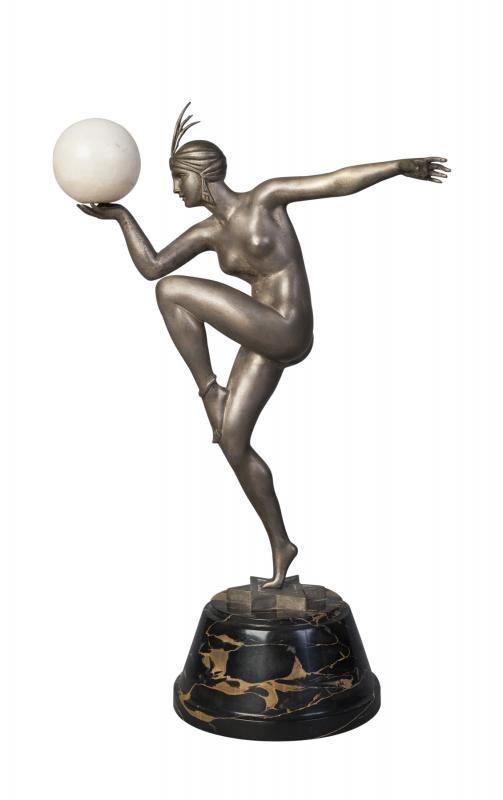 Maurice Guiraud-Riviere (1891-1947) an Art Deco cold-painted bronze, 'Stella', c.1925. Sold at Roseberys for £4,000
Art Nouveau pendant contrasting with an Art Deco bar brooch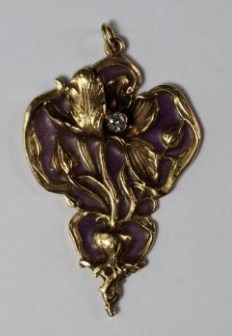 A 14ct gold and lilac plique-a-jour enamel Art Nouveau pendant, c.1900, of floral form depicting an iris, set with single diamond, approx 4.5cm long, approx 7.4g. Sold at Roseberys for £437

An Art Deco diamond and sapphire brooch, 1930s, of geometric openwork design, the central brilliant cut diamond, approx 0.45ct, set in a square mount borders by four triangular cut sapphires. Sold at Roseberys for £1,025
Written by Fiona Baker, Head of Department – Design: Decorative Arts 1860 to the Present Day