What defines the Belle Epoque
1/06/2021 News Stories & Press Release, Jewellery & Watches
Roseberys have had the privilege of selling multiple Belle Epoque items of Jewellery at auction. Here Senior Jewellery Consultant at Roseberys, Geoff Young, delves deeper into the story behind the period of French history termed Belle Epoque.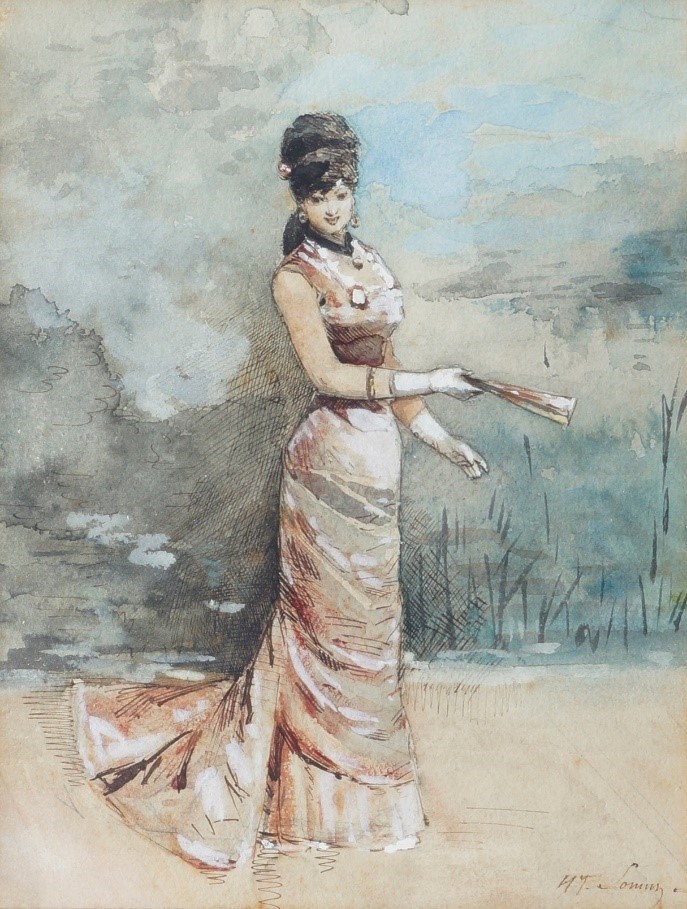 Lot 288 : Henry Somm, French 1844-1907- Belle Époque portrait of a lady, standing full length holding a fan; pen and brown ink, watercolour. Provenance: Harrods Ltd, Picture Department, Knightsbridge, London, according to the label attached to the reverse of the frame. This picture sold for £175 in the Pictures 1500 – 1900 auction on 21st November 20.18
The period of French history, from around 1880 to the outbreak of the Great War in 1914, was retrospectively termed The Belle Epoque. This was a period of optimism, regional peace, prosperity, colonial expansion and technological, scientific and cultural innovation, in stark contrast to the horrors of the war it preceded. Jewellery design also benefitted from this innovative spirit, with Art Nouveau jewels and those of the Art and Crafts movement. Perhaps the jewels most closely identified with the term Belle Epoque are the light and delicate designs of the late 19th and early 20th century, similarly embodied by Edwardian jewellery; garlands, ribbons, wreaths, bows, hearts and lace were to the fore. These jewels are often considered the epitome of the jeweller's art.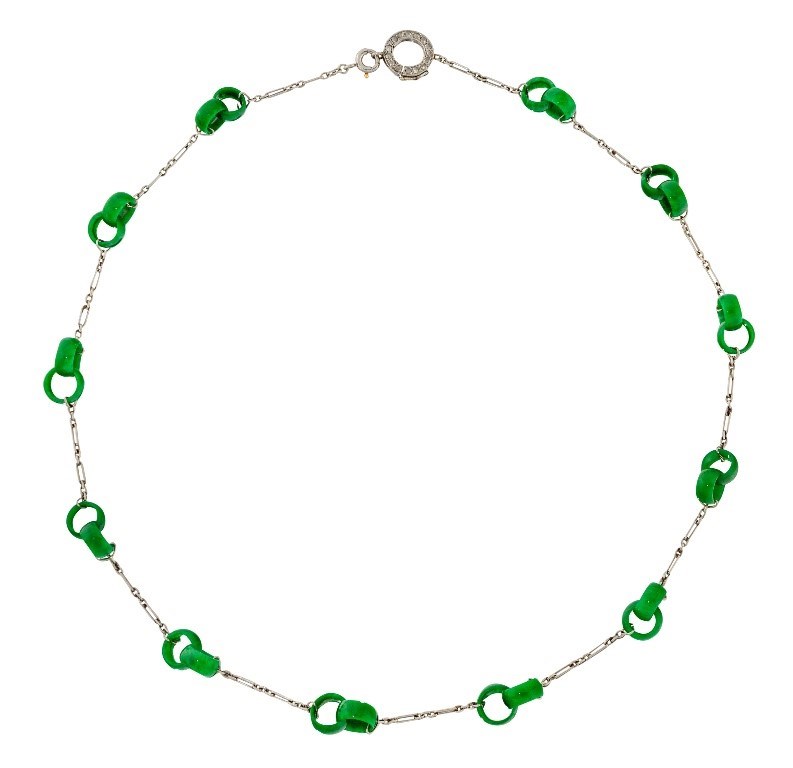 A Belle Epoque platinum and jadeite jade necklace, designed as a platinum fine link neckchain with intervals of twelve carved jadeite interlocking twin hoops to a platinum and rose-cut diamond circular hoop clasp, c.1915. Up for sale in Roseberys Jewellery & Watches auction on 8 June 2021.
While not necessarily revolutionary in design, their antecedents were in the 18th century, innovation played its part with the use of platinum. Prior to 1900, platinum was little used due to its high melting point and the lack of the necessary technology. Jewellery was traditionally mounted in silver with gold backs to avoid tarnish marks, such mounts were relatively soft and therefore had the potential for damage.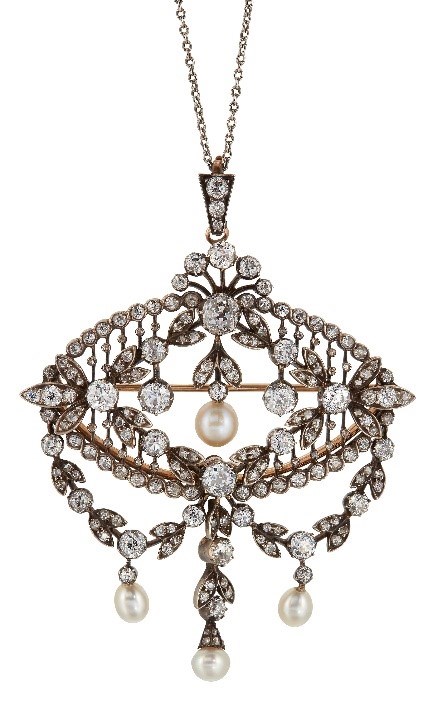 Lot 223 : A late 19th century Belle Epoque, pearl and diamond brooch / pendant, of openwork plaque design, the single pearl drop suspended within an old-brilliant and old-cut diamond foliate design frame suspending old-brilliant and old-cut diamond twin festoons with triple pearl drops, with detachable graduated old-cut diamond three stone pendant loop, c. 1890. This brooch / pendant sold for £5,750 in Roseberys Jewellery & Watches auction on 16th March, 2021
As a strong and malleable metal, platinum was perfectly suited to the creation of pierced trellis work sections that could be hinged to mimic the best quality fabrics. The strength of platinum meant that less metal was needed so that mounts had a lightness of form that contrasted with the relative heaviness of traditional late 19th jewels, while the 'whiteness' of the metal was also the perfect accompaniment to the use of diamonds. So popular were these delicate designs that many earlier jewels were recycled so that you would often see an early 20th piece of jewellery, whether it be a pair of pendent earrings, a pierced bracelet or a tiara, utilising typical 19th century old-brilliant-cut diamonds.
Lot 235 A Belle Epoque platinum, emerald and diamond brooch, the central rectangular-cut cornered emerald weighing approximately 5.5 carats, in diamond single stone four claw setting to old-brilliant-cut diamond palmette cluster shoulders and flowing border, c. 1915. This brooch sold for £6,000 in Roseberys Jewellery & Watches auction on 19.3.19
At the forefront of this period was the French jewellery house, Cartier, that perfected the 'garland style' that dominated this era. The style took inspiration from the architectural, decorative and artistic themes of pre-revolutionary France, particularly those associated with the reign of Louis XVI.

Lot 287 : An important antique natural pearl, diamond pendant and Belle Epoque platinum and diamond necklace
The most impressive Belle Epoque item of jewellery sold at Roseberys to date was lot 187, an important antique natural pearl, diamond pendant and Belle Epoque platinum and diamond necklace, the drop shaped pearl weighing approximately 128 grains (32 carats). Mounted in a rose-cut diamond cap with old-brilliant-cut diamond single stone surmount, suspended from a Belle Epoque platinum and diamond necklace of double row articulated panel design, the necklace c. 1915, 42cm long came accompanied by report number 78167-34, dated 23rd July 2018, from the Gemmological Certification Services, GCS, London. The report stated the pearl is natural pearl, Saltwater, with no indications of treatment, and report number 16117 dated 17th August, 2018, from the Gem & Pearl Laboratory, London, stating that the pearl is natural pearl, saltwater.  This drop shaped pearl was extremely rare; very few gem quality saltwater pearls of more than 120 grains appear on the open market, that have an even symmetrical shape, very good lustre and no treatment. Against an estimate of £70,000 - £100,000, the necklace made £187,500 in Roseberys Jewellery & Watches auction on 20th November 2018.
-Ends-
To find out more about the Jewellery & Watches department click here.