Victorian diamond necklace sparkles sale
30/03/2021 News Stories & Press Release, Jewellery & Watches
The first Jewellery & Watches auction of the year on Tuesday 16th March, yielded plentiful highlight sales, despite taking place behind closed-doors. Mark Bowis, head of the department commented: 'We were very pleased with the strong participation in this sale given the difficult times. With a huge amount of pre-sale interest, buyers took part from around the globe with bidders from Europe, America, Australia and the Far East.'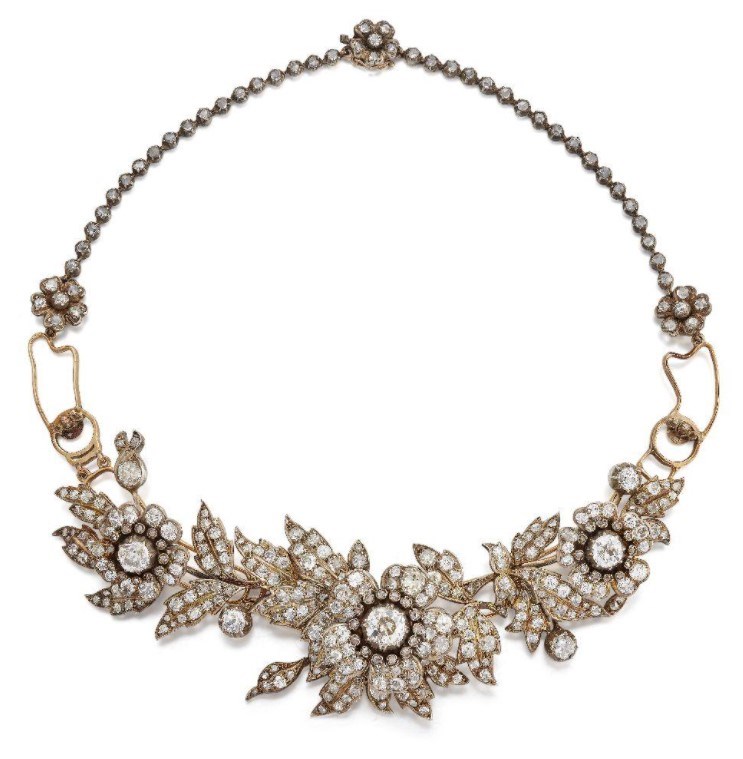 A late 19th century diamond necklace
The top lot of the day, estimated at £5,000 - £8,000 was this highly desirable Victorian diamond necklace, lot 244, that came complete with tools for detaching the diamond clusters for alternative use for wear, as several brooches or tiara.  The multi-wearable lot also came consigned with its original fitted case. The stunning Victorian diamond necklace, circa 1890, received an abundance of bids on the sale day, finally selling to a buyer who outbid strong trade interest for £20,000 – over double its pre-sale high estimate.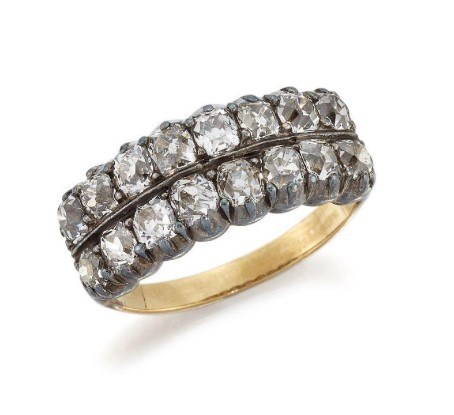 A late Victorian diamond half-hoop ring
Lot 97, a late Victorian diamond half-hoop ring, set with two rows of old-cut diamonds mounted in gold and silver, made over three times its top estimate realising the price of £2,750. Initially coming with a modest estimate of £200 - £300, catalogued as late 19th century, on review the jewellery specialists at Roseberys considered the ring to be earlier, furthermore the good condition of the ring also contributed to the solid result.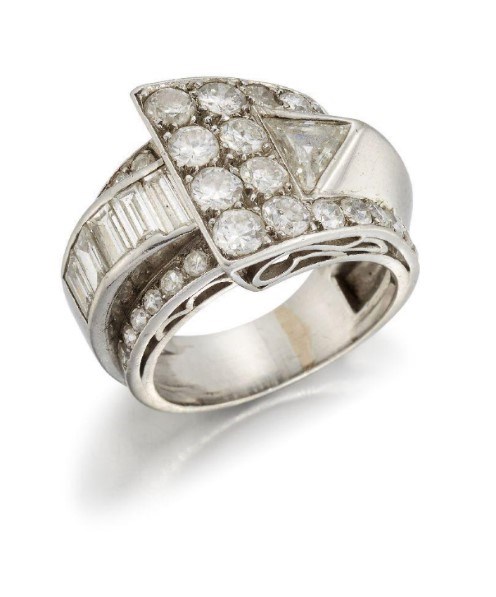 An Art Deco platinum and diamond cocktail ring
Another ring within the sale, that far exceeded its estimate, was lot 147. Symbolic of the Art Deco taste for striking geometric forms, the iconic 'Retro' diamond ring, which radiated quality, was bid up to £2,375, from an estimate of £1,000 - £1500.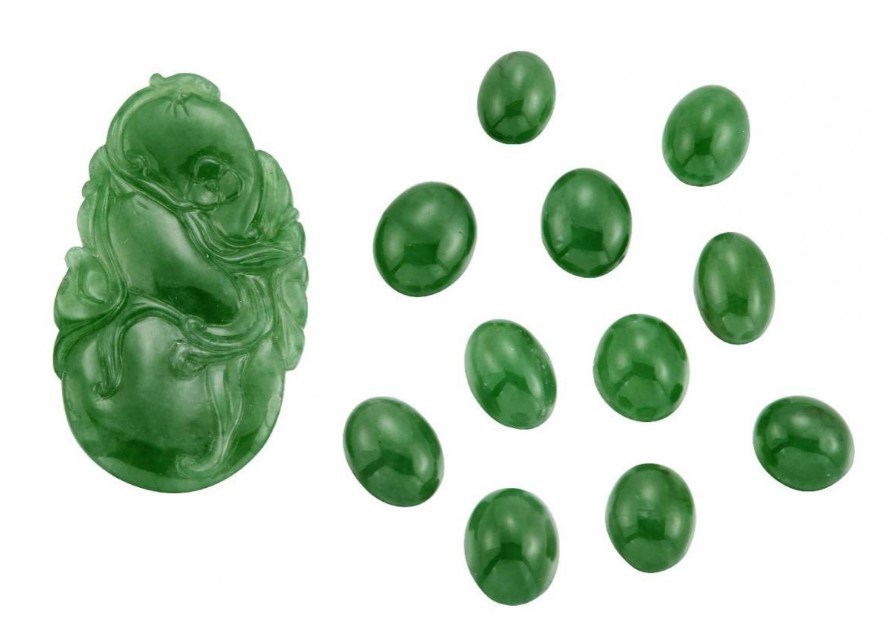 A jadeite jade plaque and eleven unmounted jadeite jade cabochons
Further highlights included lot 133, a jadeite jade plaque and eleven unmounted jadeite jade cabochons, all untreated, that came accompanied with a report from the Gem & Pearl Laboratory. Entered onto the market with an estimate of £800 - £1,200, the jadeite attracted strong interest, selling for £7,500 on the sale day. The outstanding result is a testament to the fact that good, untreated jadeite is hard to find on the market.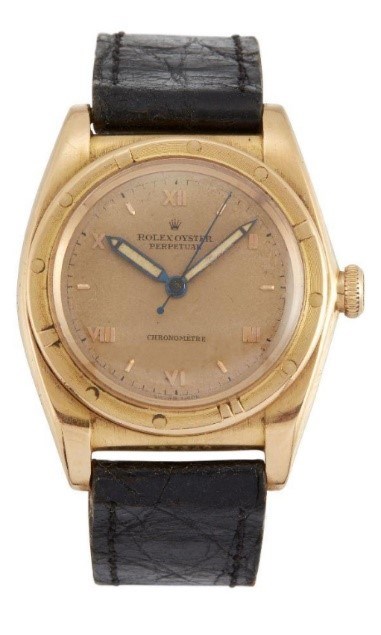 A rose gold 'Oyster Perpetual' 'Bubble back' wristwatch by Rolex Ref. 3372

Among the standout watch lots on offer, was a stylish rose gold 'Oyster Perpetual' 'Bubbleback' wristwatch by Rolex Ref. 3372, c. 1940 (lot 124).  The Rolex Bubbleback is a rare timepiece in the history of watchmaking. Nicknamed for its unmistakable protruding case, this watch captures the style and imagination of the 1940s, a decade when Rolex introduced some of its most daring innovations in horology. The Bubbleback model by Rolex is rare to come by on the market due to its short production time, making the intact models seen today as evidence of the high manufacturing standards that established the company as industry leaders to date. The watch on offer at Roseberys was in a very nice condition, coming with an estimate of £2,000 - £3,000, it made a price of £3,125.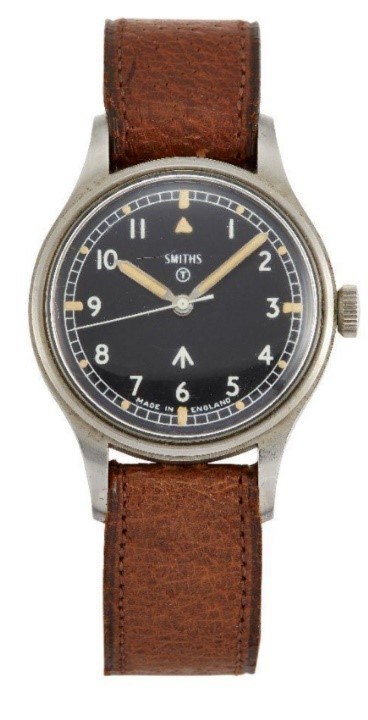 A stainless steel, British military issue W10 wristwatch by Smiths
Elsewhere among the other watches on offer within the sale, the collection of Military wristwatches was enthusiastically received demonstrating the popularity of this category two British W10 wristwatches. Both lots 115 and 116, stainless steel, British military issue W10 wristwatches by Smiths that came with a mutual estimate of £600 - £800 jointly realised the price of £1,187 each.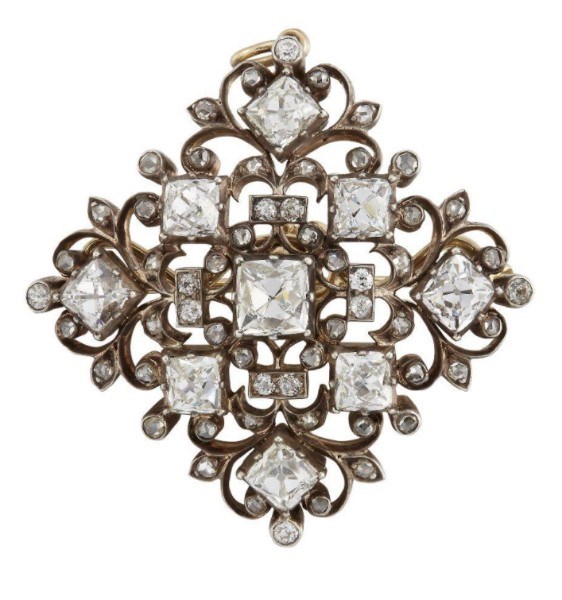 A late 19th century diamond brooch / pendant
Lot 216, a classic 19th century old-cut diamond brooch, that came in its original case, which had great appeal as well as historic presence was very popular during the sale. The diamond encrusted brooch, mounted in silver and gold, c. 1880, realised £6,000, against an estimate of £3000-£5000.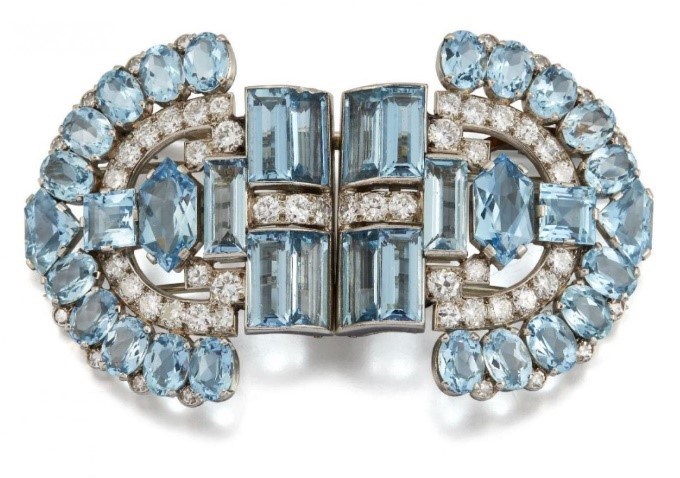 An Art Deco aquamarine and diamond double clip brooch
Lot 246, a distinctive Art Deco double clip brooch, set with aquamarines, was the final lot in the sale ending the auction on a high. The brooch, of good strong colour, was an impressive 6.5cm wide. It was entered onto the market with a price of £2000-£3000, and far exceeded its top estimate to make £9,000 on the sale day.
-ENDS-
 View all the results from the Jewellery & Watches auction here
 The next Jewellery & Watches auction will take place on Tuesday 8 June
Contact jewellery@roseberys.co.uk for further information
www.roseberys.co.uk