Upcoming Jewellery & Watches Auction has an extensive variety of items by celebrated makers
26/05/2022 News Stories & Press Release, Jewellery & Watches
Roseberys are delighted to offer 292 lots of jewellery and watches to the market on Wednesday 15 June.
Mark Bowis Head of the department comments: 'The sale includes an extensive variety of rings, necklaces, brooches and earrings, and other interesting items, with estimates ranging from £150 to £40,000. The sale also features a selection of jewellery by the eminent British jewellery Elizabeth Gage including a rare wristwatch. Other makers offered in the sale include examples by Cartier, Boucheron, Van Cleef & Arpels, Bulgari, Stern, Mauboussin, Tiffany & Co, Mouwad, Hermes, Verakis, Lalaounis, Ralph Lauren, and Robinson Pelham.'

One of the main highlights of the sale is an important diamond and coloured diamond brooch/pendant, attributed to Oscar Massin, which comes with an estimate of £15,000-£20,000. Designed as a single pansy flower, the petals are set with cushion-shaped, circular- and old mine-cut diamonds of various hues from colourless to pale blue, yellow, green, orange and brown, with detachable brooch pin to reverse, with two additional suspension loups, fitted case by O. Massin. The brooch was later re-blocked, two petals later detached and converted into a pair of earrings with post fittings, c.1880. Oscar Massin is a name synonymous with some of the most important and stylistically influential jewels of the 19th century.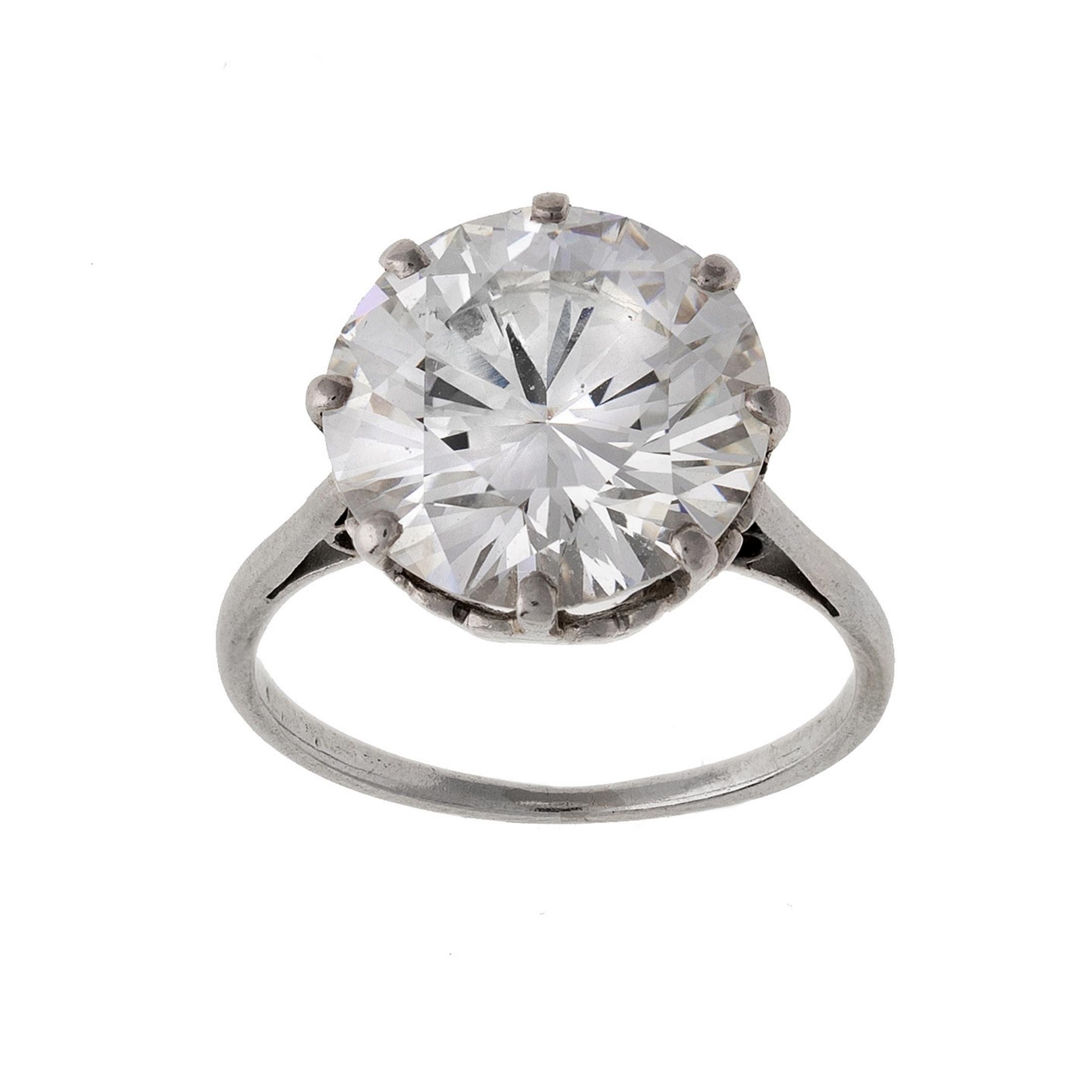 The premium highlight in the sale is a magnificent diamond solitaire ring (lot 292) which has been entered onto the market with an estimate of £35,000-£55,000. The round brilliant cut diamond weighs 6.96 carats and is sympathetically mounted in a plain eight claw mount.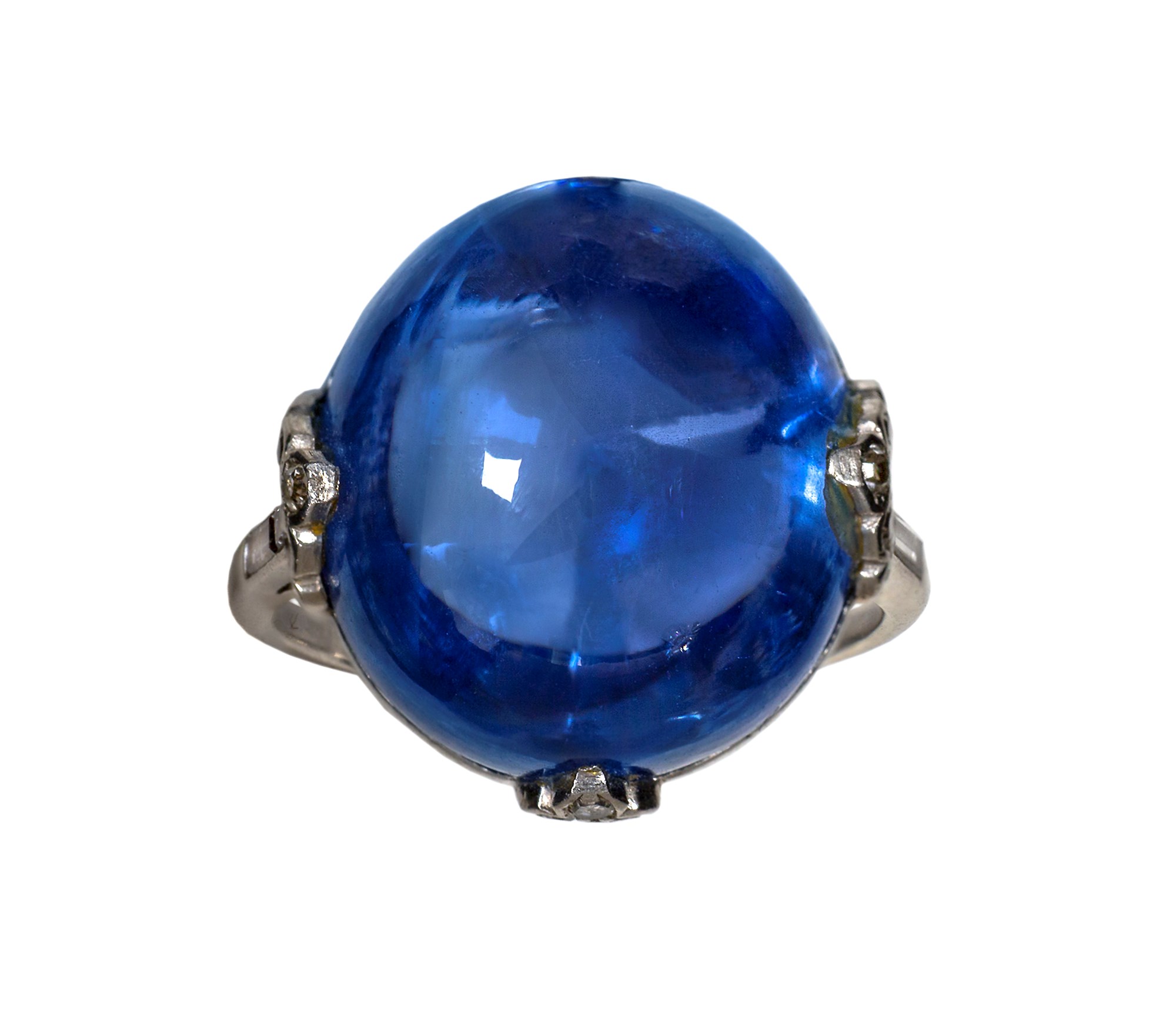 An early 1920s sapphire and diamond ring is also very eye catching, set with a large cabochon sapphire weighing approximately 32.0 carats (lot 289). The ring which comes with an pre-sale guided price of  £8,000- £12,000 is a very attractive typical Ceylon colour and has a pool like quality. It is accompanied by a laboratory report stating that the sapphire showed no evidence of heating and is of Ceylon origin. The ring is set in a very elegant four claw mount, each claw set with baguette and single cut diamonds.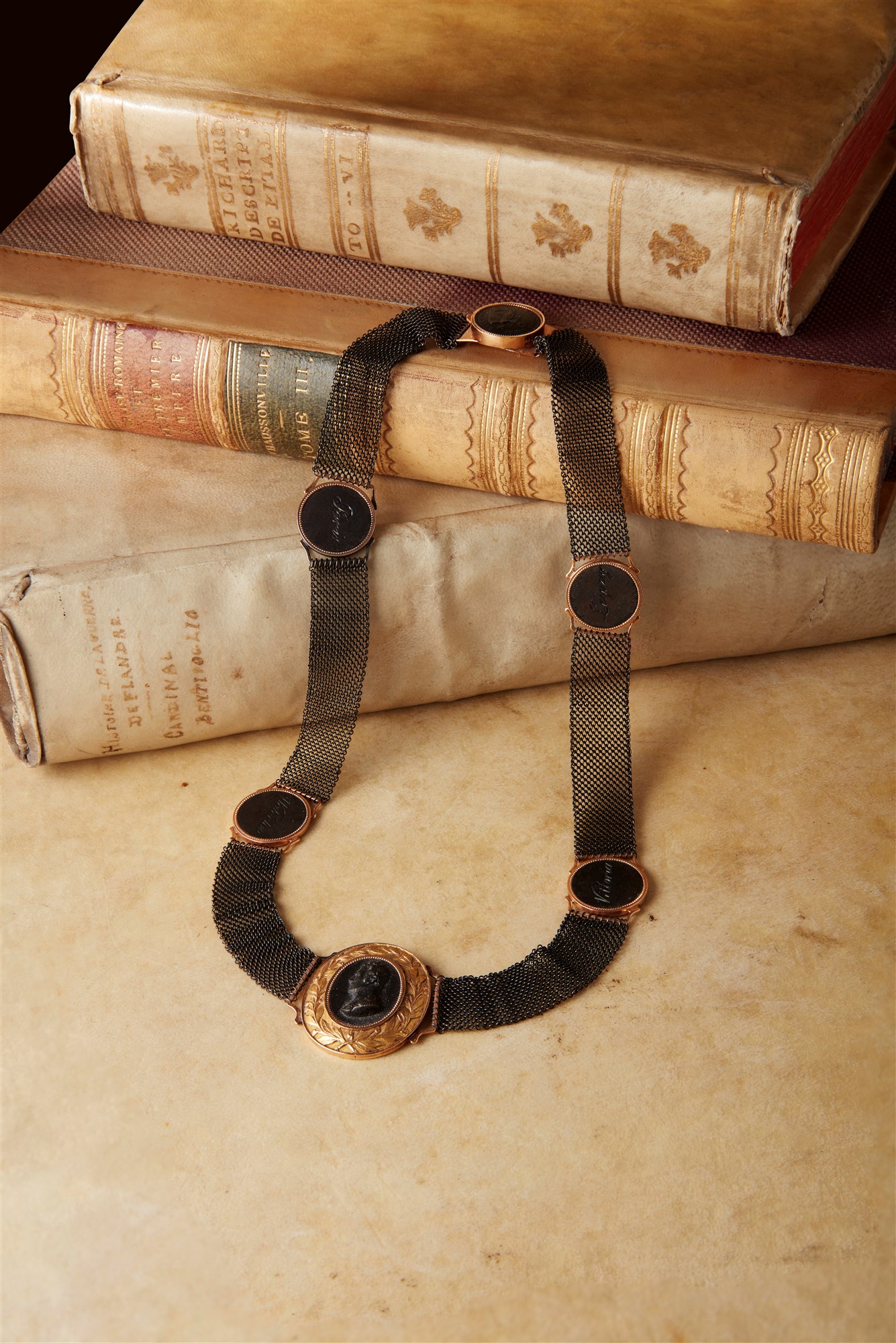 One of the highlights in the antique section of the sale is lot 239 , a rare early 19th century gold-mounted Berlin ironwork necklace commemorating the Duke of Wellington's victories in the Peninsular War, the Battle of Waterloo, 1815, and other allied victories. This important piece of antique Jewellery comes with an estimate of £2,000-£3,000.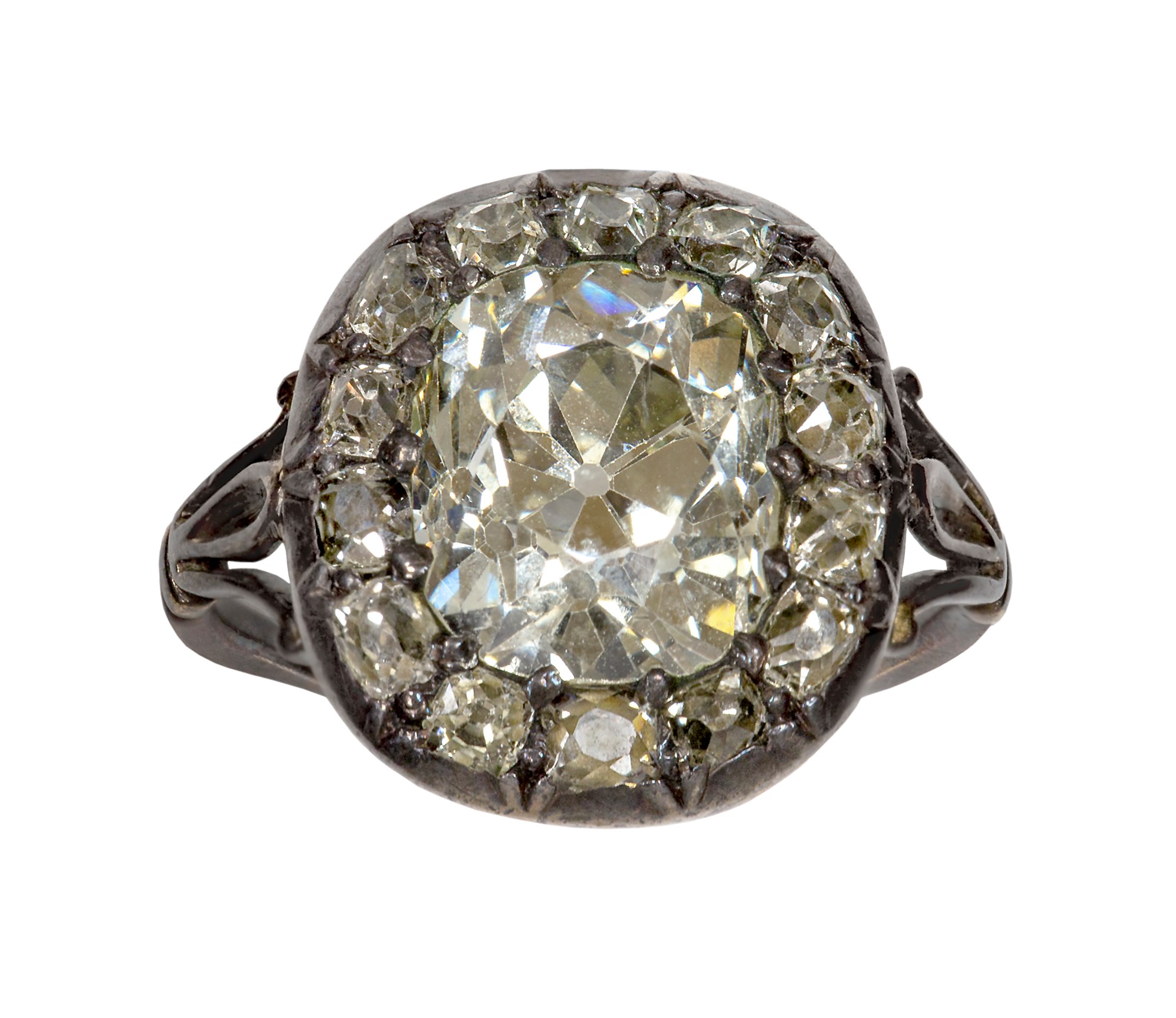 Another premium period item featured in the sale is an impressive Georgian diamond cluster ring dating from the early 1800s (lot 290) which is estimated to make £16,000-£20,000. The ring is set in the centre with an old cushion-cut diamond weighing approximately 3.5 carats, within a surround of old-mine-cut diamonds in typical silver and gold setting. This is a rare example of an untouched ring that has had no repairs and has remained unaltered since the day it was sold.
Estimated to make £25,000-£30,000 is lot 285, an emerald ring, collet set with a cabochon emerald weighing approximate 10.00 carats. It is accompanied by a laboratory report stating that the emerald is of Columbian origin and with moderate clarity enhancement. Emeralds from Columbia are the most sought after and a large majority of them are heavily enhanced by cedar oil and other materials to improve their colour. Even with moderate enhancement, this emerald is of beautiful well-saturated bottle green with medium typical inclusions.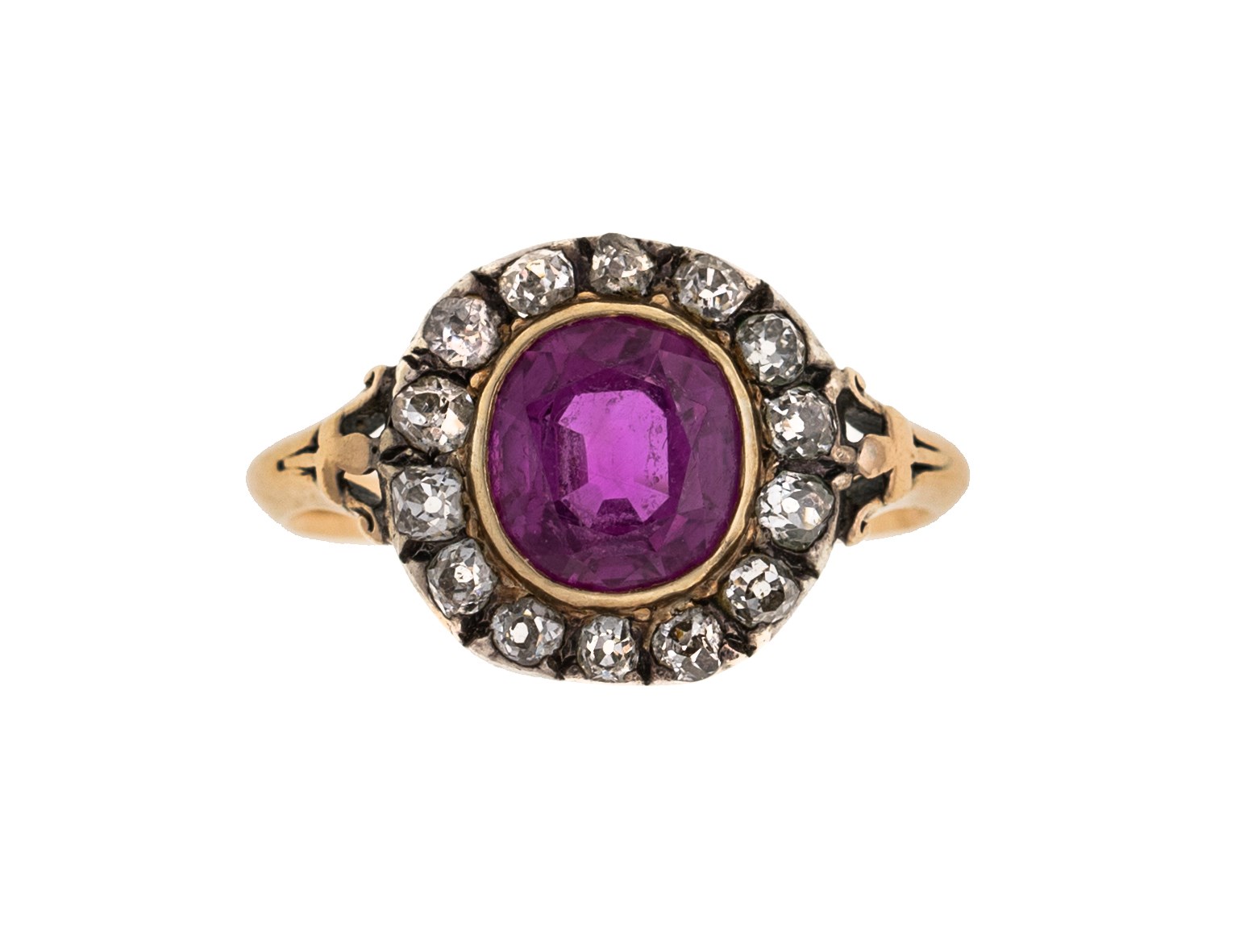 This sale is particularly strong in rings and also of note is a very pretty early 19th-century ruby and diamond cluster ring, lot 243. A laboratory report states that the stone is a natural ruby, origin in Burma and with no evidence of heat treatment. The ruby is a particularly vibrant pinkish-red and the ring is also in overall untouched condition and has been entered onto the market with an estimate of £1,500-£2,000.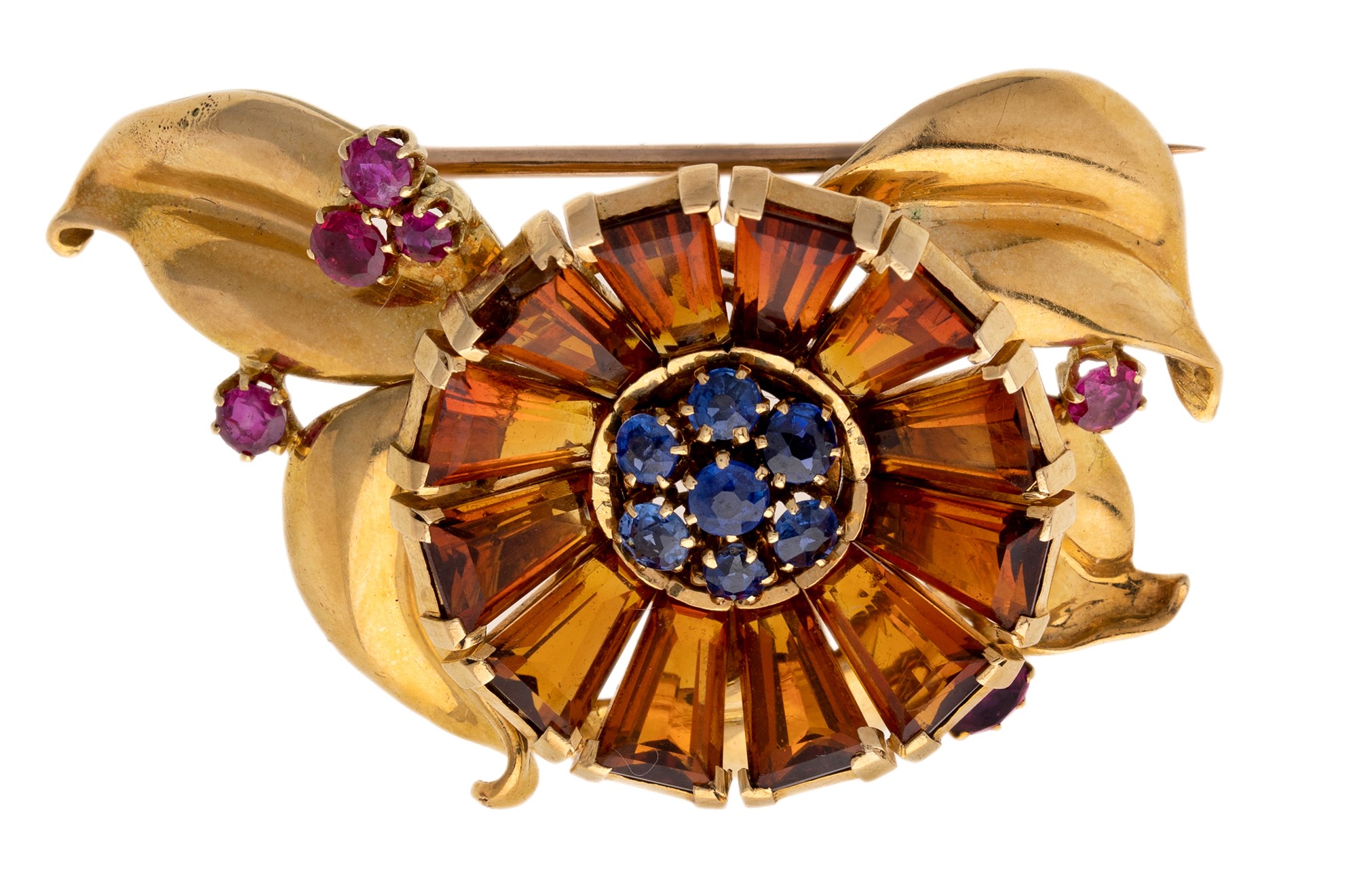 Among the many jewel house signed pieces is a very collectable gold, ruby, sapphire and calibre citrine brooch by Van Cleef & Arpels. Dating from the 1940s the brooch is still in excellent condition and signed jewels of this period are now becoming scarce. This beautiful brooch is estimated to make £5,000-£8,000.
Ends 
Jewellery & Watches
Wednesday 15 June, 11.00 am
View the fully illustrated catalogue here 
Central London viewing 
Tuesday 7 June 11.00 am - 6.00 pm
Location: Library Room 12 Hay Hill, Mayfair Berkeley Square, W1J 8NR.
RSVP to jewellery@roseberys.co.uk

Viewing times at Roseberys Showroom 
Friday 10 June 9.30am – 5.00pm
Sunday 12 June 10.00am – 2.00pm
Monday 13 June 9.30am – 5.00pm
Tuesday 14 June 9.30am – 5.00pm
Please contact jewellery@roseberys.co.uk for more information