Unmissable Highlights from the Arts of India Auction (June 2022)
6/07/2022 News Stories & Press Release, Islamic & Indian Art
The sale featured selective bidding on paintings and works of art from bidders in the US, Europe, and the UK. We were delighted to sell a group of F.N. Souza works from the collection of the widow of K.B. Goel; a wonderful group of botanical works; and rare early-Mughal paintings. An important textile from Masulipatam southeast India was fiercely fought over by telephone and internet bidders alike, realising £11,000 hammer.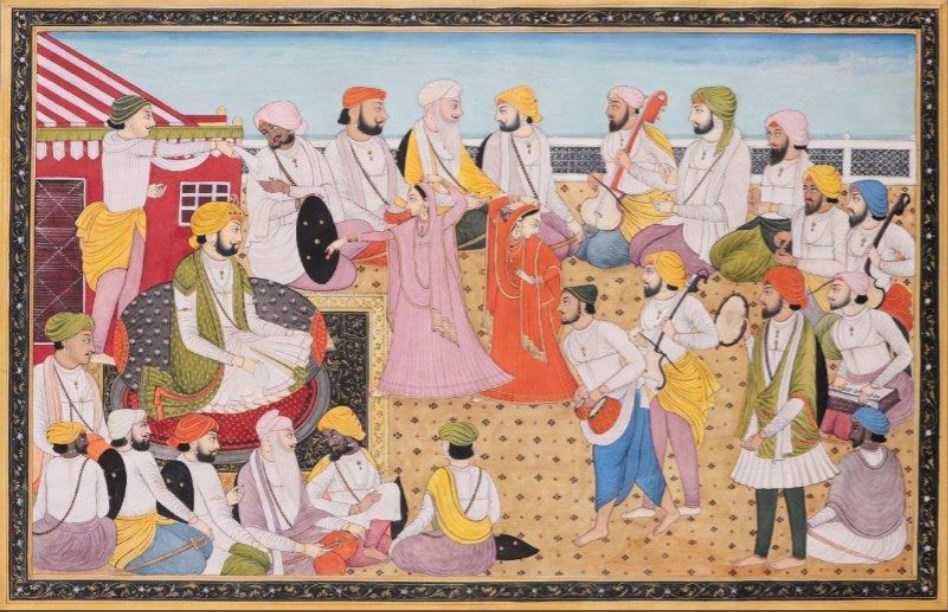 Lot 230, A Sikh painting of a Nautch and musical performance being watched by various Sikh noblemen outside a royal tent , India, 20th century
A standout lot of the sale was lot 230, a Sikh painting of a Nautch and musical performance being watched by various Sikh noblemen outside a royal tent. The piece was made in the 20th Century using opaque pigments on paper with an outer border and cartouches. It was part of a collection of works belonging to H.C. Cleghorn. The collection of 22 works, including a diary entry in Cleghorn's own hand is an important addition to the archive of material held in the Royal Botanic Garden, Edinburgh. This work on paper made £1,000.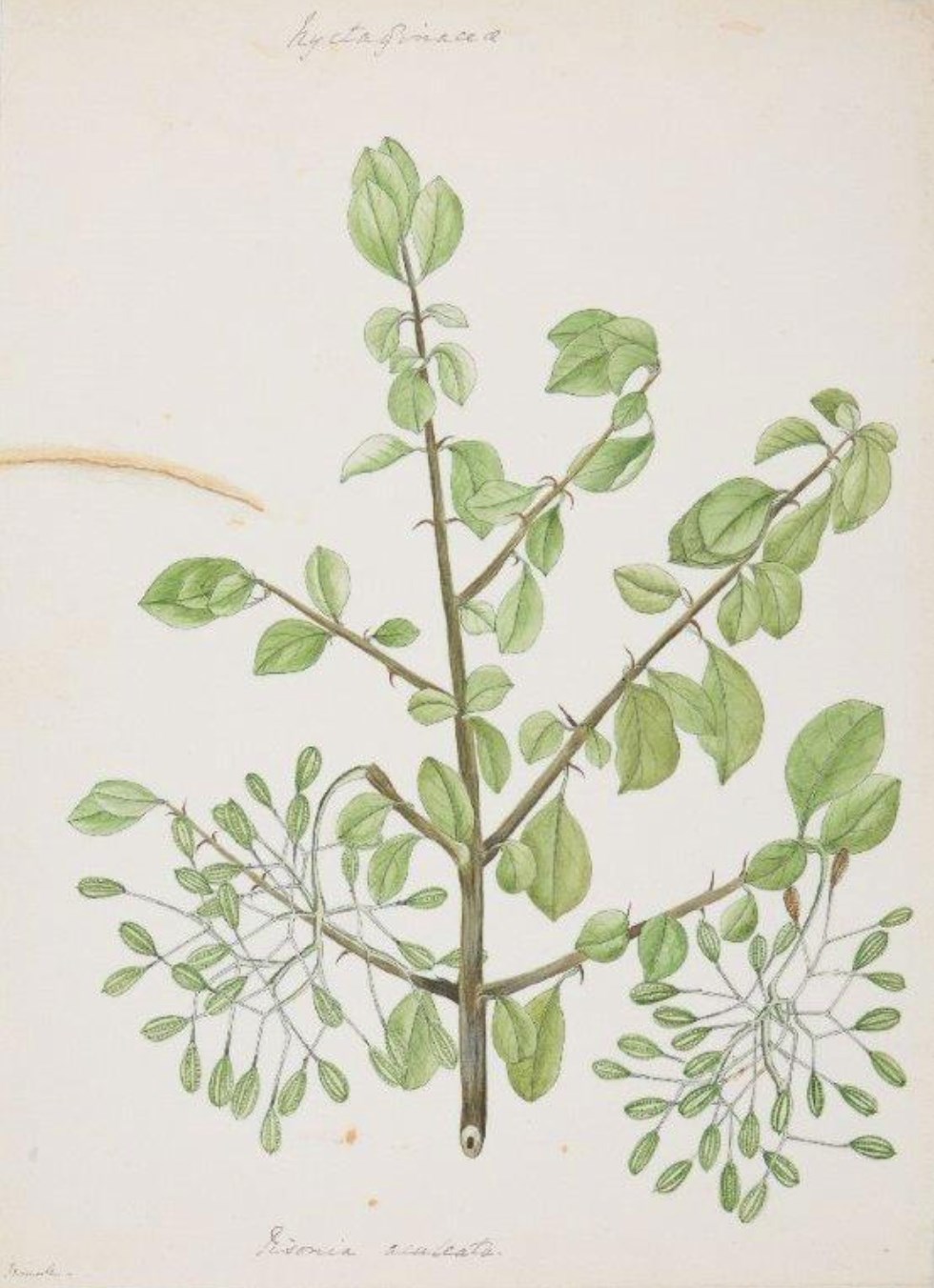 Lot 236, Indian botanical watercolours, drawings, letters and notes of and regarding botanist Hugh F.C. Cleghorn (1820-1895)
Lot 236 - an important archive of Indian botanical watercolours, drawings, letters, and notes of and regarding the botanist Hugh F.C. Cleghorn (1820-1895), Major General Alexander Cunningham (1814-1893), and Colonel Heber Drury (1819-1905) – flew at auction and realised a price over 5 times its higher estimate, selling for a final price of £32,500.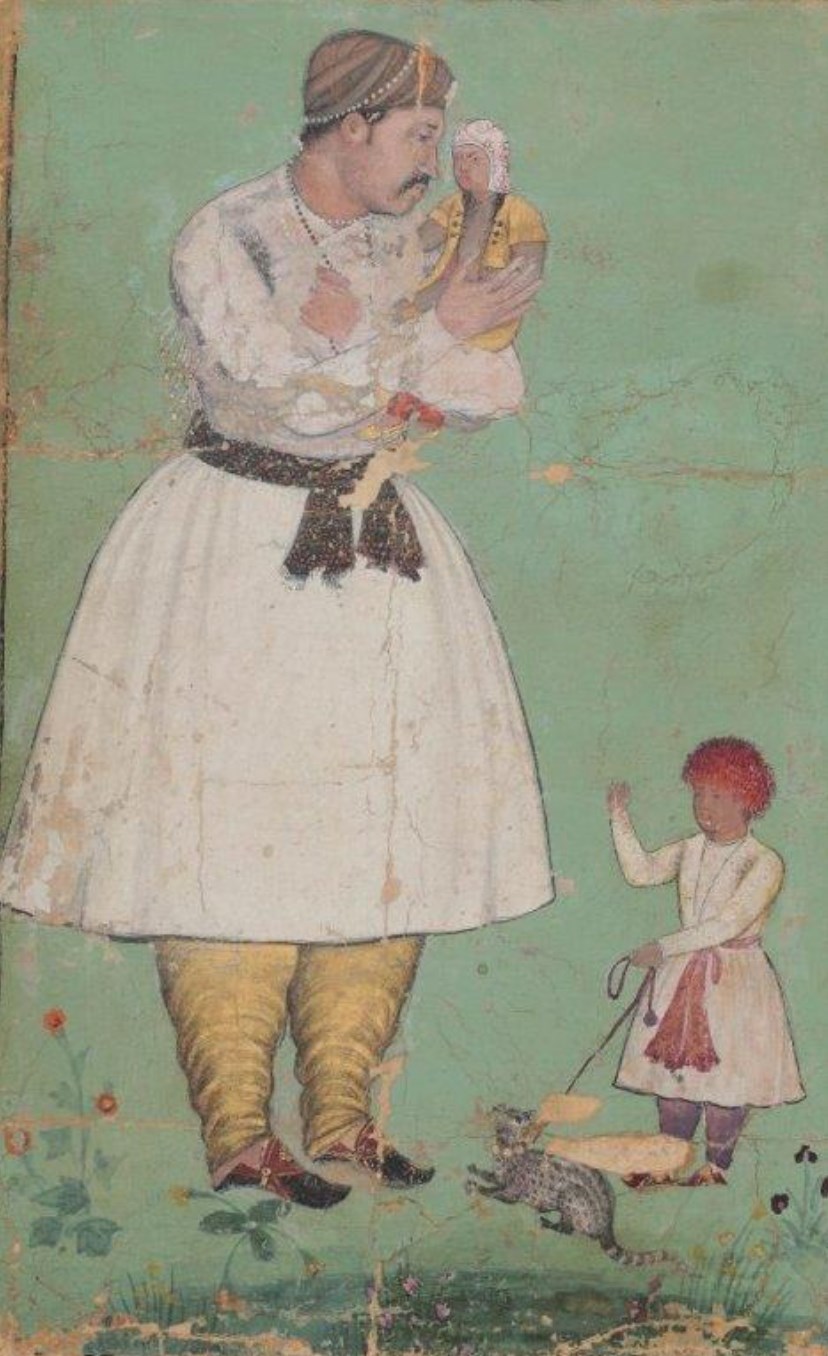 Lot 159, a Mughal portrait of the Emperor Akbar the Great (r. 1556-1605) with his children Jahangir and Prince Murad, Mughal India, late 16th century
The Indian paintings from the Estate of three-time Academy Award-winning costume designer Anthony Powell (1935-2021) were well received, in particular two paintings of the 16th century Mughal emperor Akbar the Great painted during his lifetime. A charming portrait of Akbar (Lot 159) with his children and their pet snow leopard flew and realised £21,250. Another highlight from Powell's collection, was Lot 315, a portrait of Nawab Barbalad Khan, which realised £6,250.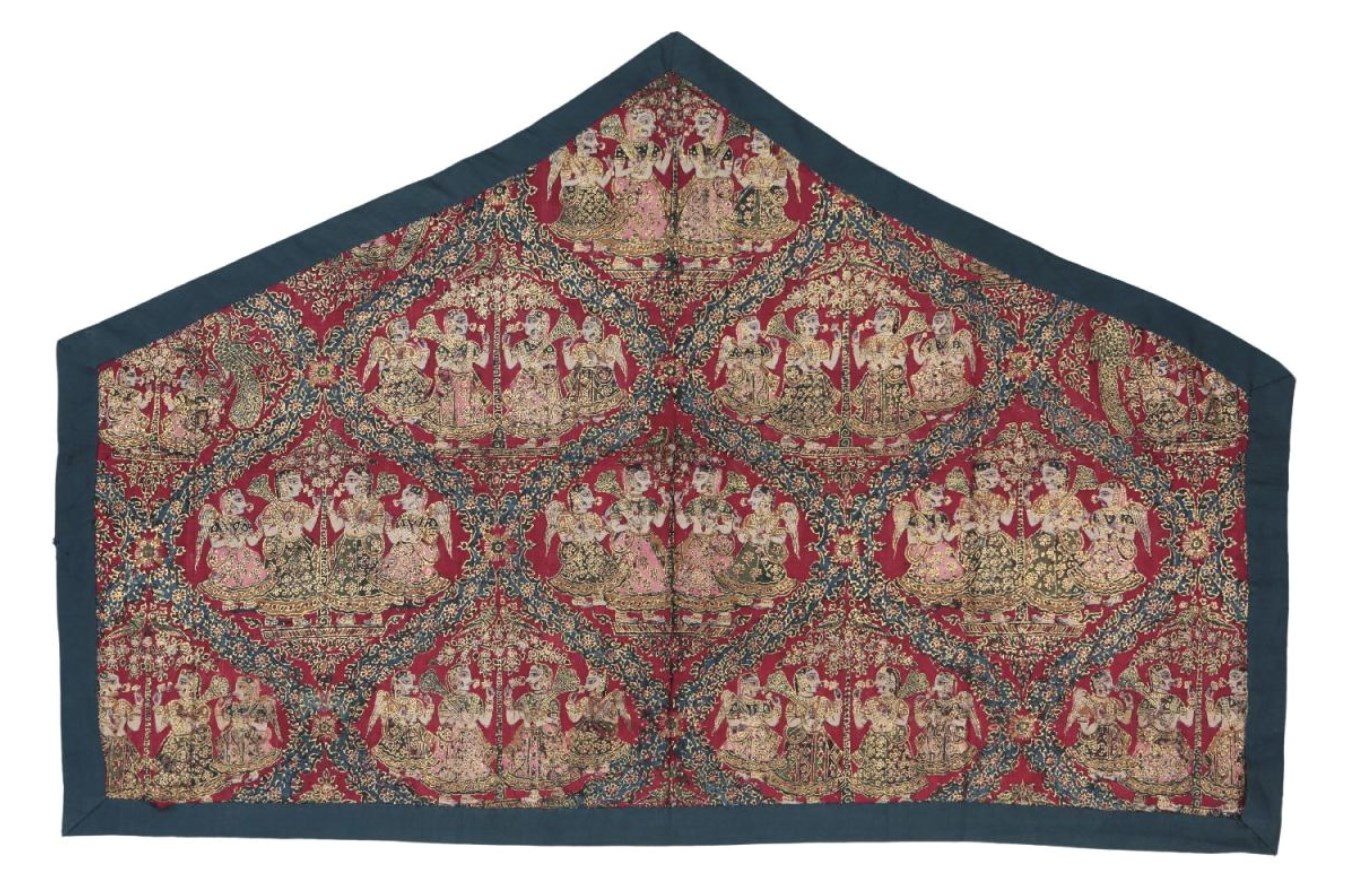 Lot 102, A block printed cotton textile from Masulipatam South East India, 19th century
Lot 102 was a block printed cotton textile work from Masulipatam in South East India, made in the 19th Century. The fabric was painted, resist-dyed, and mordant-dyed and was also applied with gold and silver pigment to create its trellis pattern of  gopi girls and blossoming plants. Such hanging textiles with similar designs were used to decorate shrines dedicated to the deity Krishna. The piece realised £13,750 following a £800-£1200 estimate.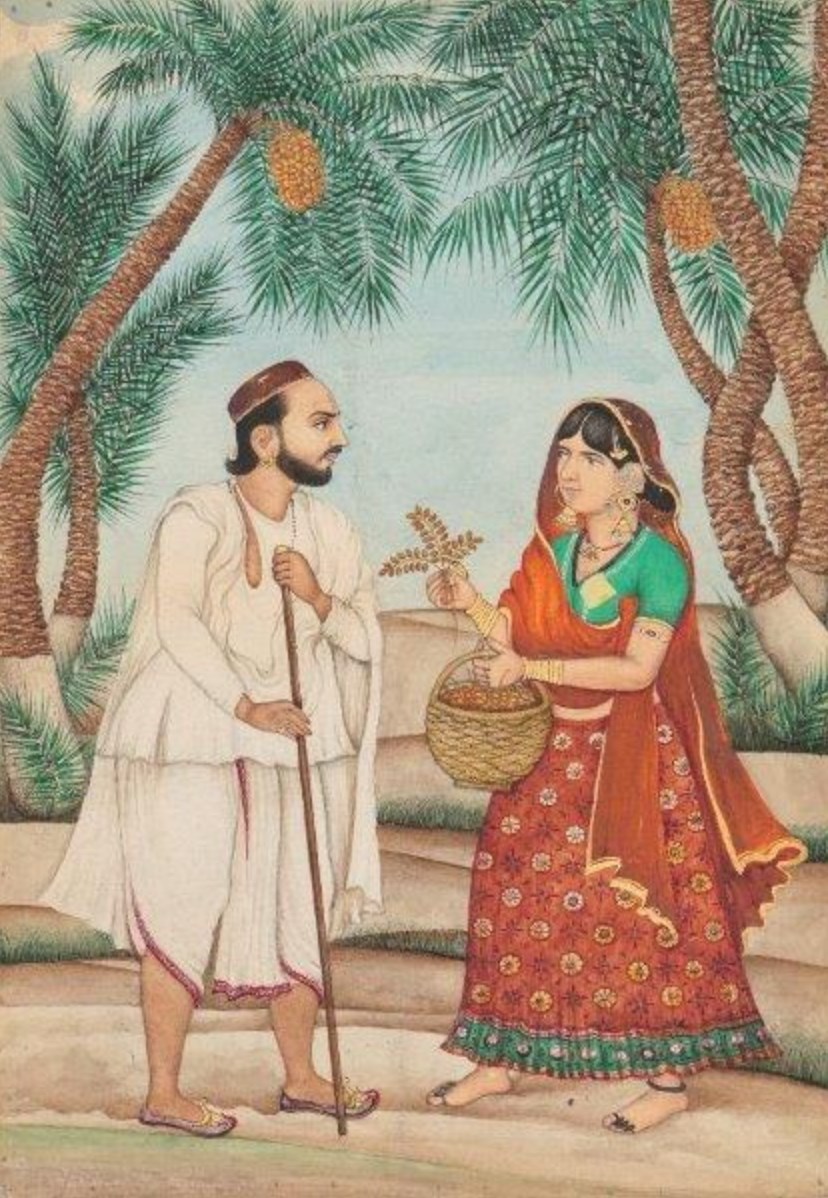 Lot 221, Bishan Singh, North India 1865
Lot 221 was a painted work attributed to the artist Bishan Singh (1836-1900), circa 1865. The piece shows a Pandit and a flower seller, and was made using opaque pigments heightened with gold on paper, mounted on card. The work realised £10,000. Lot 200, also attributed to Bishan Singh, shows a Sadhu carrying weapons and skin accompanied by a female figure holding a conch shell and bell. Lot 200 made a price of £7,500.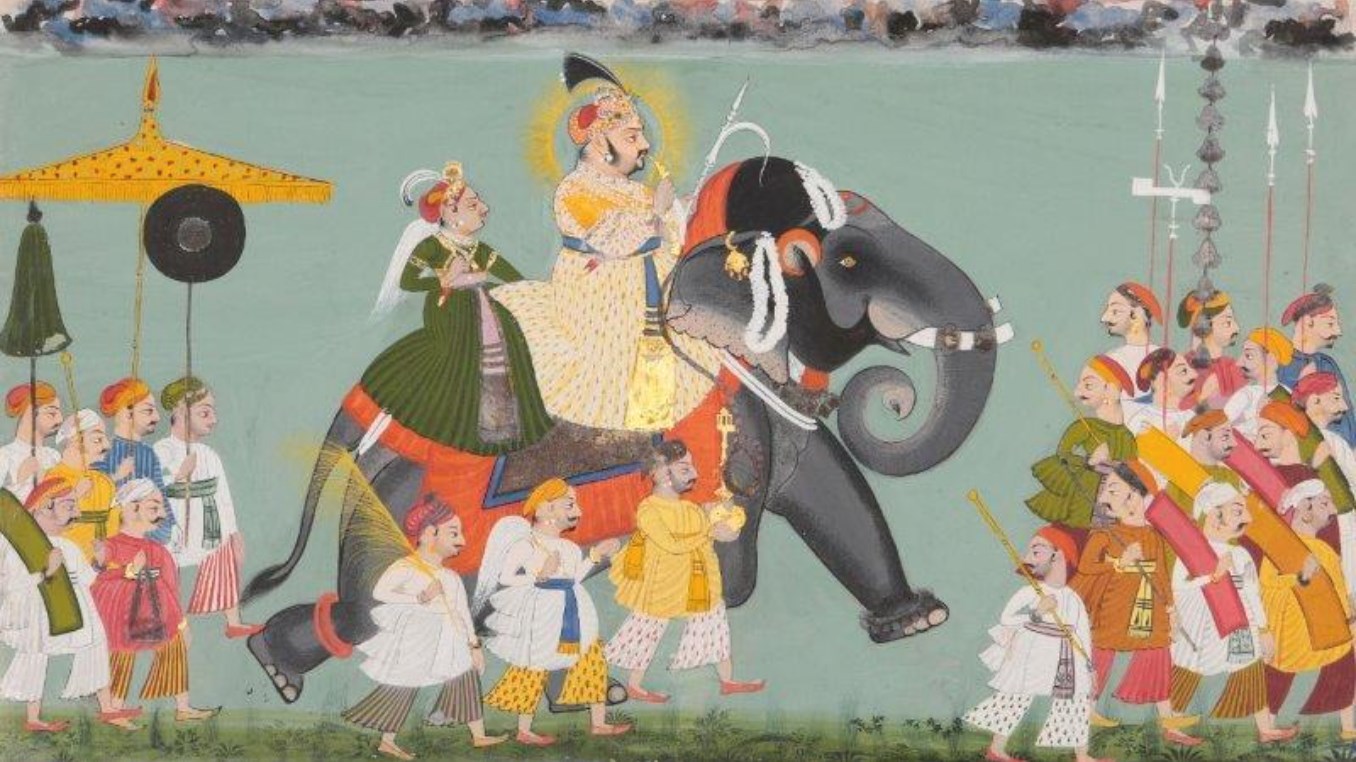 Lot 161, A Maharaja in a processional scene, Jodhpur, Marwar, North India, circa 1810
Several other pigment-on-paper works were highlights of the Arts of India sale. Lot 158, a Mughal portrait showing Akbar the Great with a falcon, created circa 1590, realised £7,500. Another work showing the Maharana Sangram Singh receiving visitors in a lush garden made in the first half of the 18th Century also realised £7,500. Lot 161, showing a Maharaja in a processional scene, was made in Jodhpur around 1810 and included an inscription in Devanagri. The lot realised £7,500. 
Lot 263, Francis Newton Souza, Indian 1993,1984 & 1985
Lots 262-265 was four chemical works by the artist Francis Newton Souza (1924 – 2002) from the Private Collection of the distinguished art critic K.B.Goel. Goel describes Souza's chemical works in an article for The Times of India in 1990 as ''pictures of things taken from glossy art magazines ... defaced and chemically altered, they achieve a new emotional and personal content … [they] speak of how the artist's whimsies have transparent windows and how we ourselves enjoy looking through them to admire the compositional sense of how the game is played. It is the same old game Souza is adept at, one which allows him to break down our inhibitions and undo our muscle-bound understanding". The pair had been friends for several years before this article was written.