Two-day Modern & Contemporary British & Irish Art auction includes the Estate of Agi Katz
29/04/2022 Modern & Contemporary British Art, News Stories & Press Release
Roseberys are proud to present the Modern & Contemporary British & Irish Art auction, this time taking place across two days on Wednesday 25th and Thursday 26th May. The second day of the sale will include the Estate of Agi Katz Founder and Director of Boundary Gallery, London. Highlights on offer from the first day of the sale include Camden Town Group artworks. Lots 299-329 are from the collection of important political cartoon editors, including Sir William Orpen, Leslie Illingworth and Sidney Herbert Sime. From the Estate of Agi Katz, a wonderful group of works by David Bomberg, Mark Gertler, Henryk Gotlib, Josef Harman and Bernard Meninsk are offered– lots 330-488.
William Summerfield, Head of Sale and Specialist of the Modern and Contemporary British & Irish Art Department comments: 'Yet another strong selection of Modern & Contemporary works, from the Camden Town Group to the YBAs. We are extremely proud to be presenting as part of the sale the Estate of Agi Katz, founder and director of Boundary Gallery, London. Agi had a long relationship with Roseberys, so we are honoured to celebrate her life and career, with a sensational group of works that includes masterpieces by David Bomberg, Mark Gertler, Henryk Gotlib, Josef Harman and Bernard Meninsky.'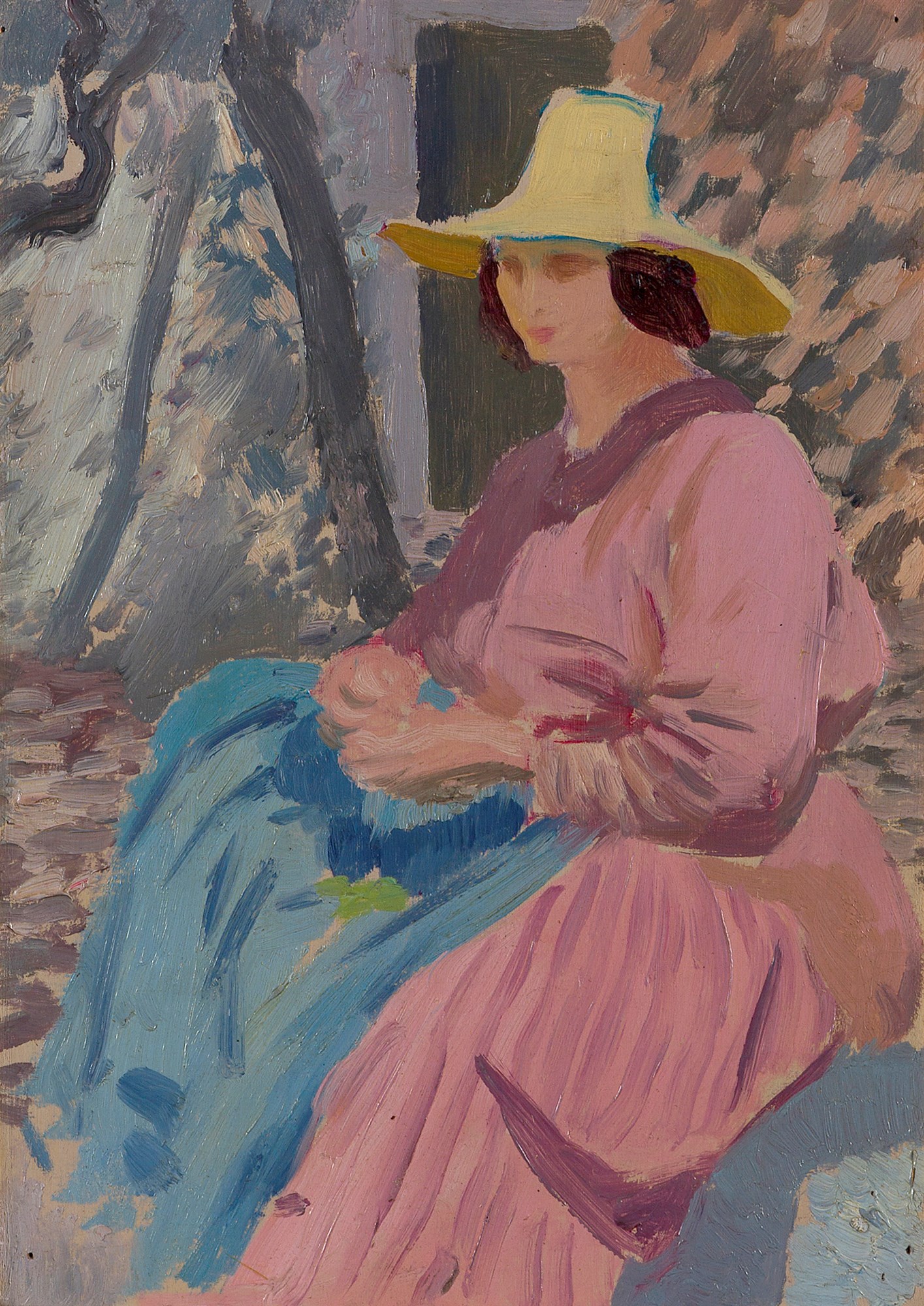 Leading the sale is lot 20 by Augustus John OM RA, 1878-1961 – 'Dorelia in a cyclamen dress with a blue apron', c.1910-12; oil on panel, has an estimate of £70,000 - £90,000. Summerfield comments: 'We are delighted to have another sensational early work by Augustus John from the descendants of Arthur Tooth & Sons. This work is likely painted in the south of France, at the Villa Saint Anne, where Augusts John and his second wife and early muse lived partially from 1910-1928.'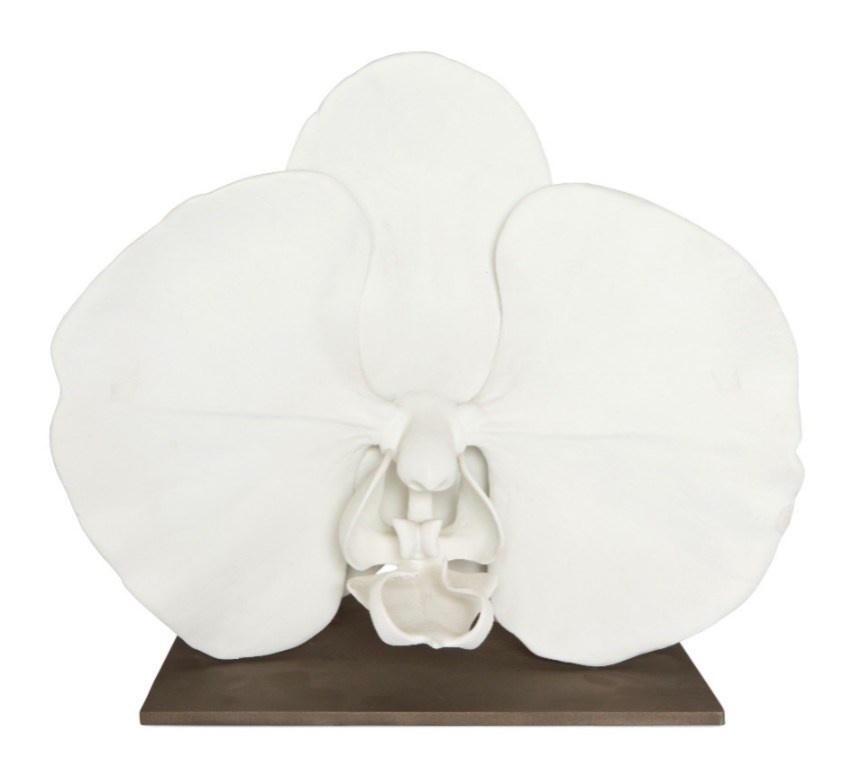 Lot 287, Marc Quinn, b.1964 - The Virtue of Desire, 2013; Patinated bronze, from an edition 8 plus 4 AP, comes with an estimate of £40,000 - £60,000. Marc Quinn is one of the most important and celebrated artists of his generation, shooting to fame in the 1990s following the RA's 'Sensation' exhibition alongside his fellow YBAs, Damien Hirst and Gary Hume. Since 1988, Quinn has made works focusing on the form of the Orchid, seeing the flowers as 'perfectly evolved little sculptures in themselves, they're full of colour, interesting shapes and beauty'. Reminiscent of the iconic paintings of Georgia O'Keeffe, Quinn's sculptures encapsulate, in the hybrid form of the orchid, the link between nature, artificiality and temporality. The artist's most celebrated use of the orchid was in his large scale installation 'Garden' at the Fondazione Prada in Milan in 2000.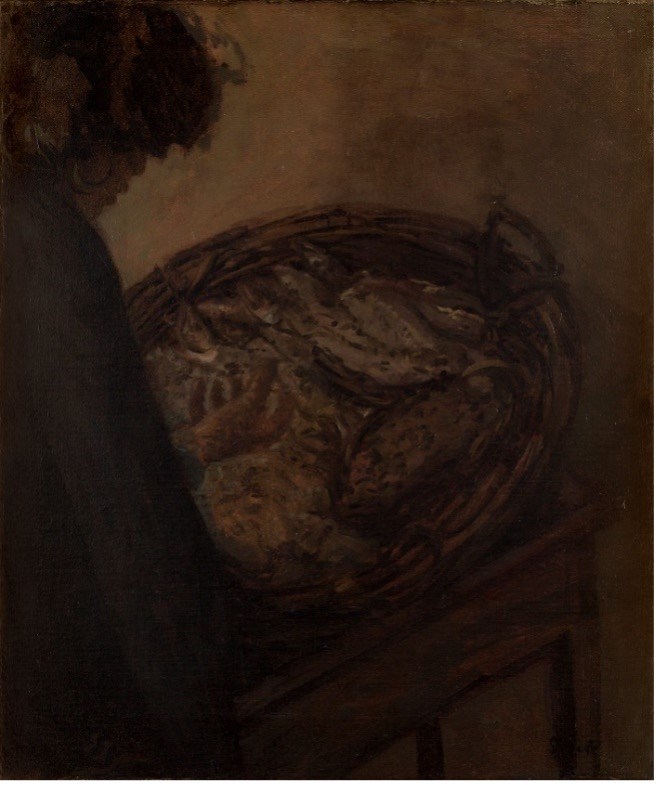 Lot 14: Walter Sickert ARA, British 1860-1942 - Alla Pescheria, c.1903-04; oil on canvas
(Lot 14 & 13) We are extremely fortunate to have two works by Walter Sickert for sale at the same time as his acclaimed exhibition at Tate Britain. Lot 14, Alla Pescheria, c.1903-04; oil on canvas, was painted in Venice, where the artist regularly visited and depicted throughout his career. Due to early bad weather, during his stay from 1903-04, Sickert focused for the first time on the citizens of Venice, rather than the city itself, looking at working people in their ordinary daily environments. These works would pave the way for the realist interiors of the highly influential Camden Town Group, which the artist founded with Robert Bevan, Harold Gilman and Spencer Gore. Lot 14, 'Alla Pescheria', comes with an estimate of £ 20,000 - £30,000.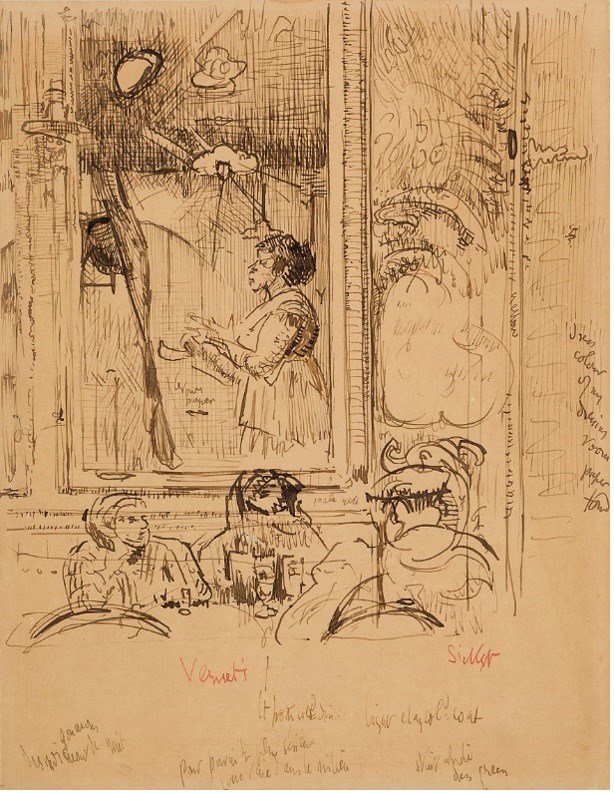 Lot 13: Walter Sickert ARA, British 1860-1942 - Café Vernet, Dieppe, c.1920; pen and ink on paper
Lot 13, 'Café Vernet, Dieppe', c.1920; pen and ink on paper, is one Sickert's most elaborate and complex drawings from the series of studies connected with either the Café Vernet in Dieppe, where the artist lived for two years following the death of his wife, Christine, in 1919. This work comes with a pre-sale guided price of £3,500 - £4,500.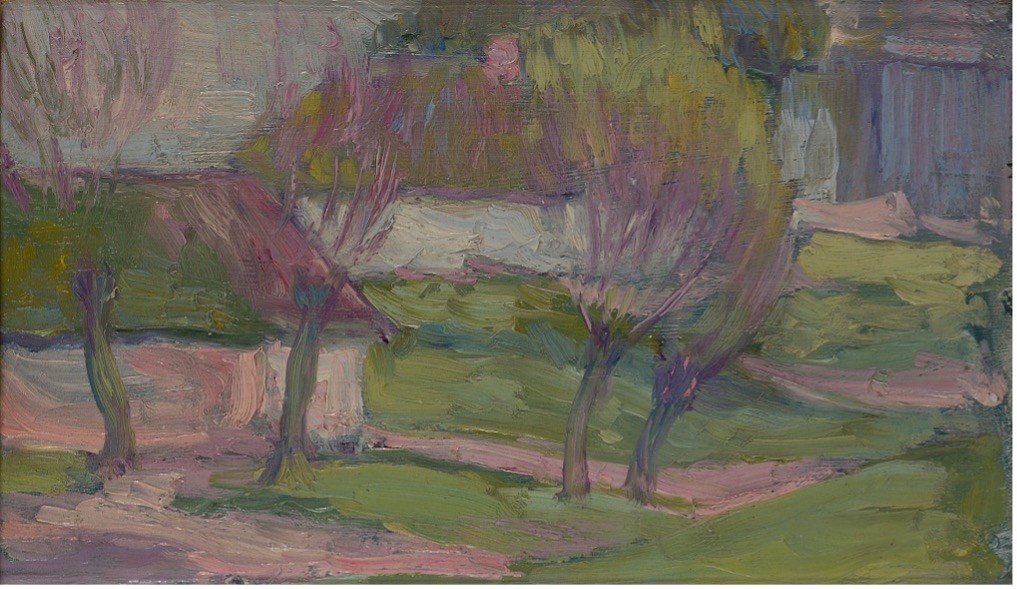 Lot 10: Robert Polhill Bevan, British 1865–1925 - Willows in Spring, Mydlow, 1907; oil on panel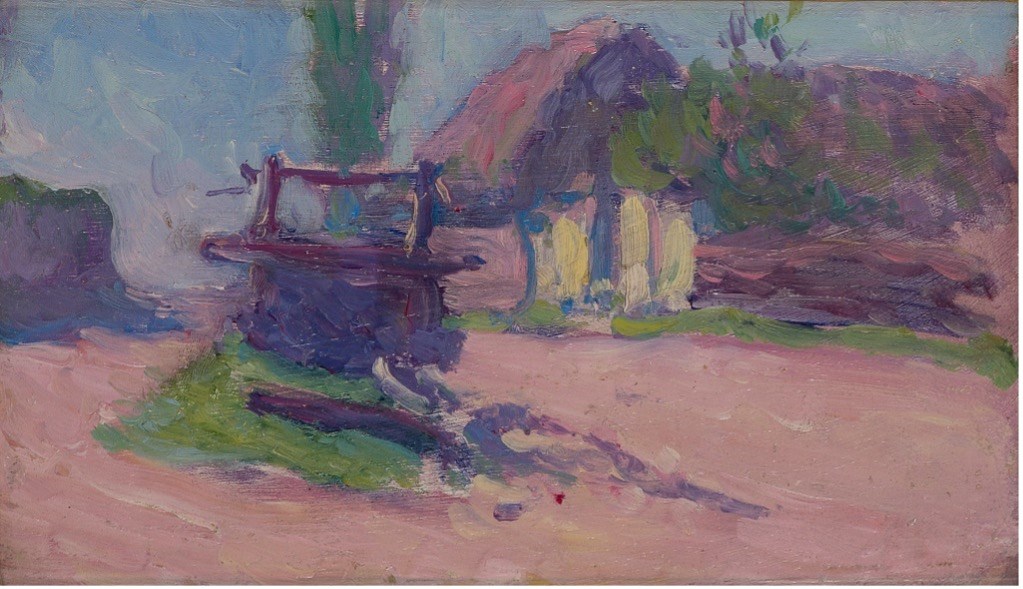 Lot 11: Robert Polhill Bevan, British 1865–1925 - A Polish Well, 1907; oil on panel
Following on from Sickert and the theme of the Camden Town Group, we have two beautiful early works by Robert Bevan - lot 10 and 11. Bevan spent much of his early career living and studying in Pont-Aven in northern France, where his work was influenced by the symbolism and simplified forms of the Synthesism of Maurice Denis, Emile Bernard and his friend Paul Gauguin. Lot 10, 'Willows in Spring, Mydlow', 1907; oil on panel and lot 11 'A Polish Well' demonstrates the careful composition of colour and effortless naturalism that Bevan achieved in his early work, the cool pink delicately offsetting the blue of the sky. The artist travelled to Poland in 1901-04, suggesting the influence on this scene. Both works come with the same estimate of £4,000 - £6,000.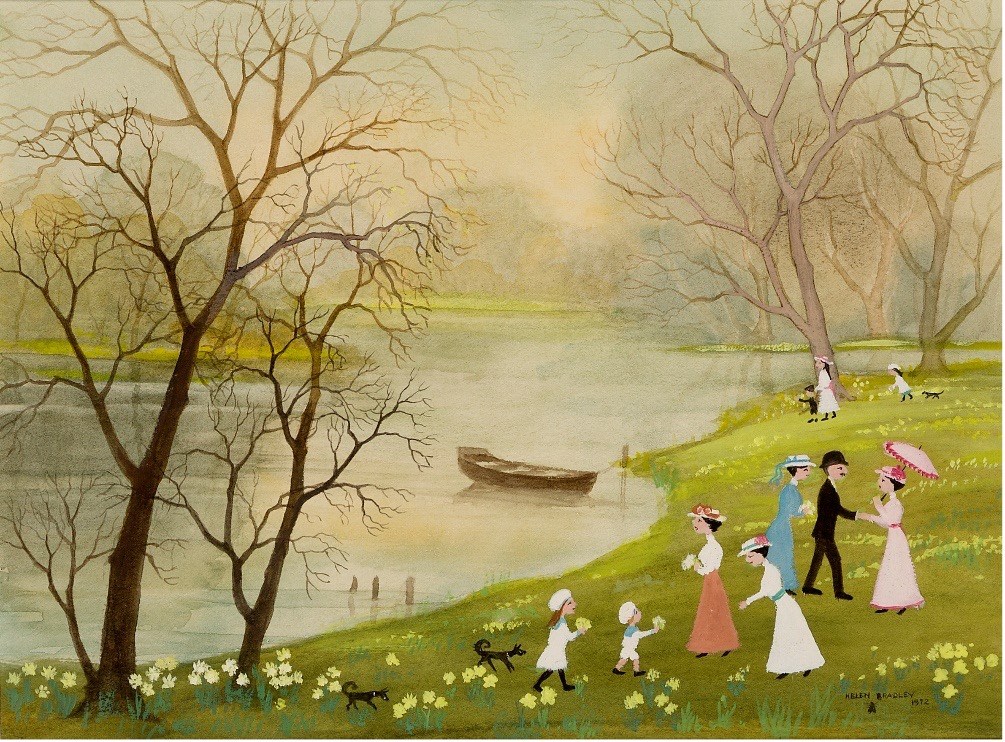 Lot 170, Helen Bradley MBE, 1900–1979, 'On a warm spring day in May' 1972; watercolour on paper has been given an appraisal price of £12,000 - £18,000. In the 1960s, Bradley met L.S. Lowry, who inspired her to pursue her dream of painting professionally, even though the artist was in her 60s at the time. Bradley quickly found international success, painting her childhood memories in a naïve style, appearing on television and illustrating a series of novels in the 1970s, starting with 'And Miss Carter Wore Pink: Scenes from an Edwardian Childhood,' which became bestsellers around the world. This charming scene is inscribed on the reverse, 'On a warm Spring day in May Grandpa took mother, the aunts, Mrs Carter (who wore pink), Mr Taylor (the Bank Manager) and, as a special treat, George and I, with him to visit an old friend who had a farm on the shore of Lake Windermere. A man took us across the lake in a boat and would row us back as soon as Grandpa was ready, but although we had taken a picnic lunch we dare not settle down to enjoy it. There were cows slowly snaking their way through a gate into our field - thank goodness Grandpa came, just in time to get us safely back across the lake and the year was 1908. Helen Layfield Bradley 1972.'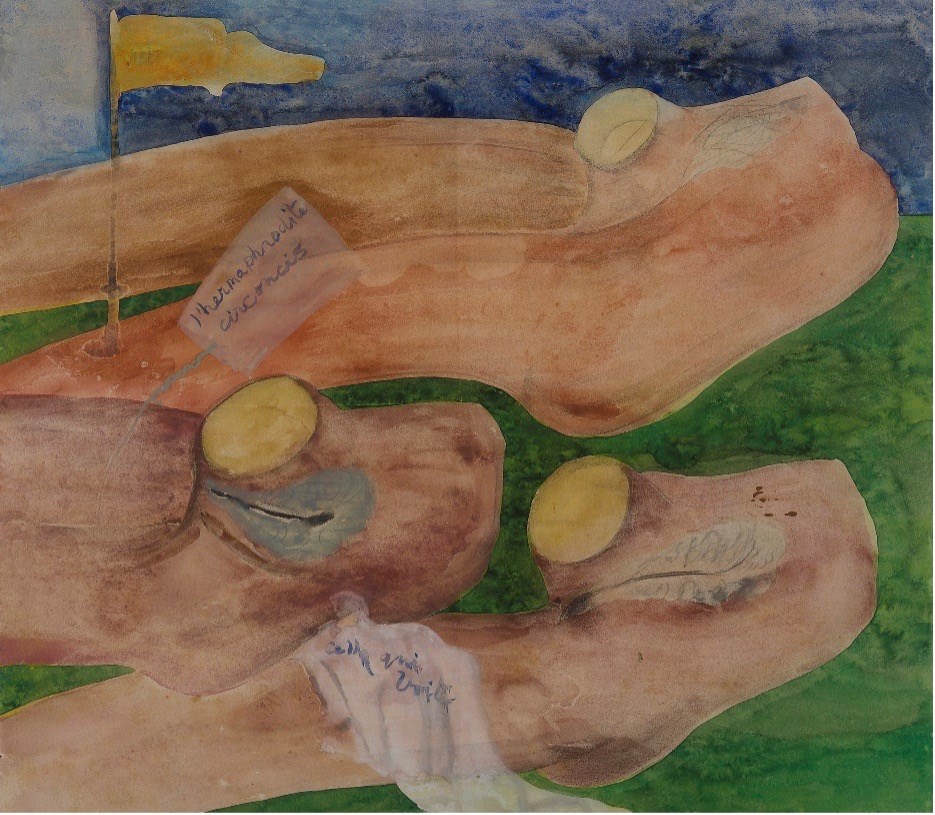 We have an extremely strong selection of Surrealist inspired works, including works by Reuben Mednikoff, Grace W Pailthorpe, Desmond Morris and this masterful early watercolour by Ithell Colquhoun, seen here for the first time on the open market. Lot 61, Ithell Colquhoun, 1906-1988 -  'Study for 'The Pine Family', c.1940; watercolour and pencil on paper comes with an estimate of £7,000 - £9,000. This work is a study for one of the artist's most extraordinary images, 'The Pine Family, 1940' which is now in the Israel Museum in Jerusalem. Another study for the work is in the Tate collection. The work explores the artist's complex and often disturbing ideas relating to gender, sexuality and metamorphosis, incorporating three truncated figures; male, female and hermaphrodite. The final painting was first exhibited in 1942 at the Leicester Galleries in London but was removed for its deemed pornographic content.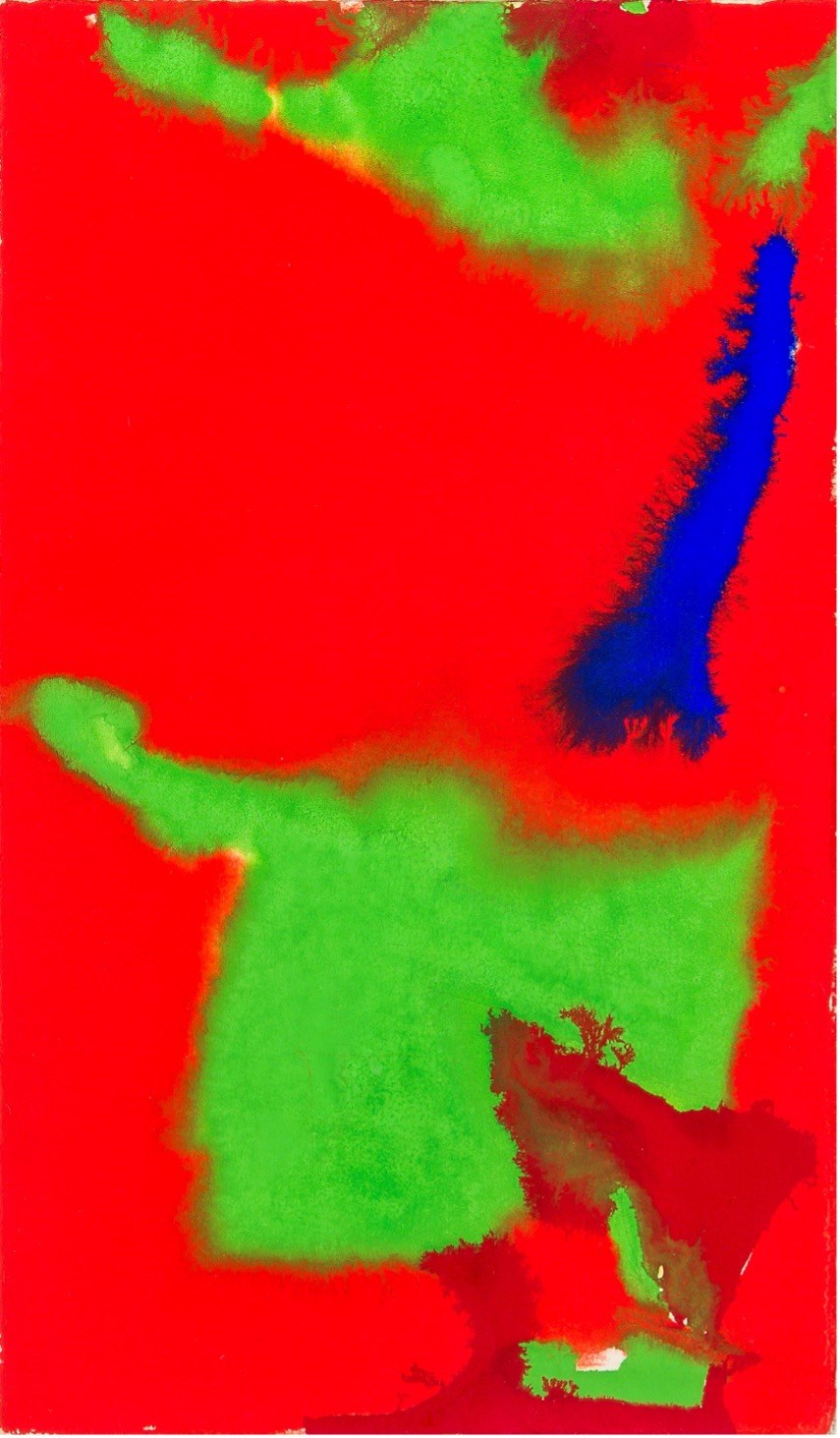 Lot 107, Patrick Heron, 1920–1999, 'Granada Three: December 1983', 1983; gouache on paper has been entered onto the marker with an estimate of £7,000 - £9,000. This is a brilliant example of the artist's mature style, which has been in a private collection for many years. Heron was a central part of the St Ives School which shaped the landscape of 20th-century British art. Living and working largely in Cornwall, Heron was closely connected to figures such as Ben Nicholson and Barbara Hepworth and worked for Bernard Leach at the Leach Pottery. We also have works by other artists associated with St. Ives, including a wonderful selection of works on paper by John Wells, lot 109-114, and pieces by George Dannatt (98-99) and Hans Tisdall (97).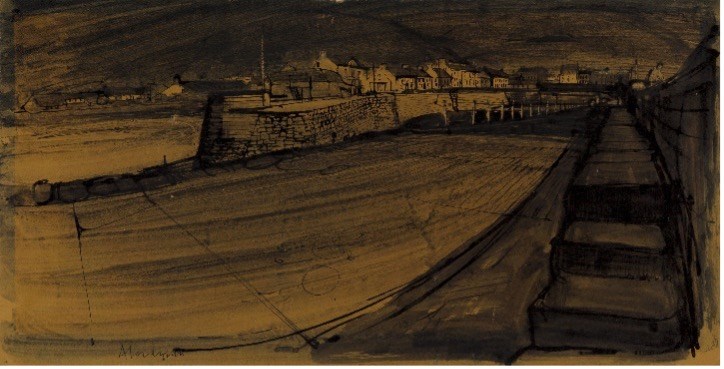 Lot 51, John Piper CH, 1903-1992, 'Aberaeron', 1939; ink on paper, has a pre-sale price guide of £4,000 - £6,000. Piper travelled in 1939 with his Welsh wife Myfanwy Piper to Wales to see Hafod House. This was an important trip for the artist, as he moved away from his purely abstract works of the 1930s, into more intense and atmospheric images based on the British landscape. These works would become hugely influential in the Neo-Romantic movement during and after the Second World War. They visited other parts of Wales during the trip, including the West coast where the present work was made.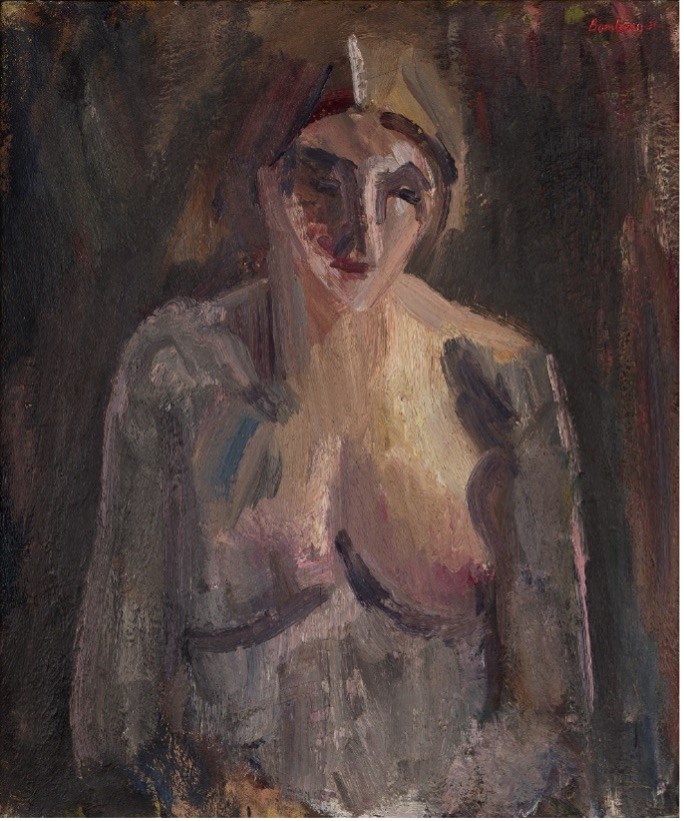 Lot 342, 'Woman in sunlight, Lilian', 1931; oil on canvas, from the Estate of Agi Katz, the founder and director of Boundary Gallery, is one of the most tender and soulful portraits Bomberg ever made of his wife, the artist Lilian Holt. During the 1930s Bomberg created a number of celebrated portraits of Lilian in his innovative mature style, that combined heavy brushstrokes with deep colour, the figure gradually emerging from the paint. These works would be hugely influential on a generation of artists including Frank Auerbach, Leon Kossoff and Lucien Freud. A related portrait 'Lilian, 1932' is in the Tate collection. This artwork has been given the pre-auction appraisal of £30,000 - £35,000.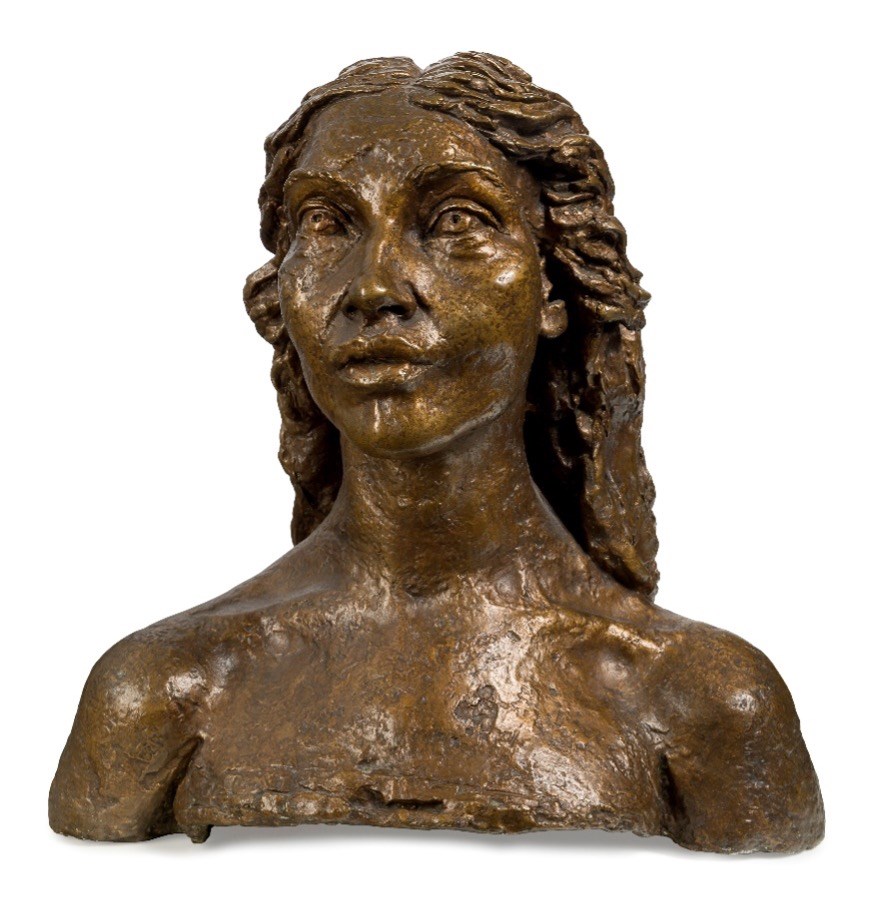 Lot 348, Sir Jacob Epstein KBE, British/American 1880-1959 – 'First Portrait of Kathleen', 1921; bronze, is another work from the Estate of Agi Katz, and one of her favourite artists. Epstein was one of the most important sculptors in Britain of the 20th century, his works adorning public sites, including Coventry Cathedral, Hyde Park, London and the Père Lachaise Cemetery, Paris. The artist created highly sensitive works, characterised by textured surfaces and expressive, heavy features. This is the first sculpture that the artist made of Kathleen Garman, who would go on to be his second wife, after their first meeting in 1921. This work was first owned by Edward P. Schinman, an important Epstein collector and scholar. Casts of this work can be found in public collections including Manchester Art Gallery and The New Art Gallery Walsall. This bronze comes with an estimate of £4,000 - £6,000.