Trend Predictions For The Modern & Contemporary Art Market
30/06/2020 News Stories & Press Release, Modern & Contemporary British Art, Prints & Multiples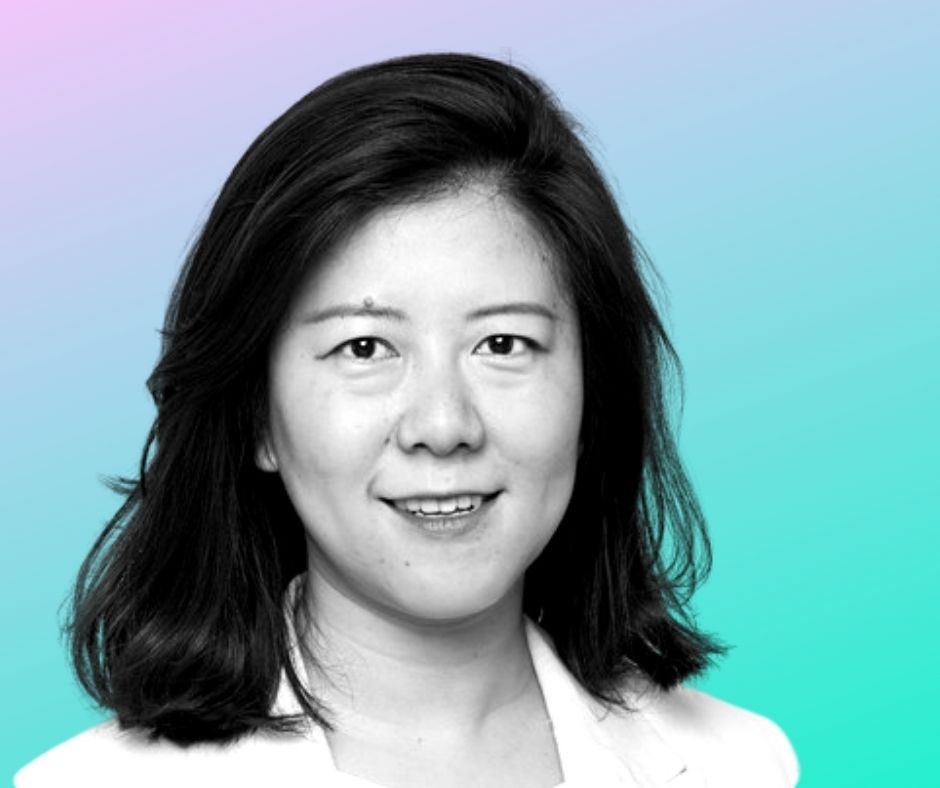 Ahead of the upcoming Modern & Contemporary Prints & Multiples auction at Roseberys Fine Art Auctioneers on Tuesday 7 July, we sat down with the Head of the Department, Shane Xu to discuss the trends in the contemporary and modern art market. Here she reveals which artists within the sale could have the potential to produce a return on investment and why.
This year, when predicting the 'next big thing' in the art market, it may seem a little more tricky to foresee with an ongoing global pandemic. But the future is always in flux in the art world —and thus always suited for the fun exercise of speculation and imagination. When thinking of which artists could harvest a good return on investment, I not only looked into planned ideas on the horizon and trajectories tracing into the past, but also the art works and artists who were commenting on the present.
Here are my top 6 picks of artists to invest in.
Bridget Riley

Bridget Riley CH CBE, British b.1931- Intervals 2, 2019; screenprint in colours on wove for sale at Roseberys Modern & Contemporary Prints & Multiples 7 July auction
The English painter known for her singular op art paintings, is currently the leading lady on the London art scene. Ending in January this year, Hayward Gallery's major retrospective exhibition was devoted to the art of the celebrated artist and was the largest and most comprehensive exhibition of her work to date. Tracing both the origins and the evolving nature of Riley's innovative practice spanning 70 years, the exhibition brought together the artist's iconic black-and-white paintings of the 1960s, expansive canvases in colour, early figurative works and recent wall paintings. Now after the quiet lul of lockdown, Riley's works have returned onto the scene with an exhibition now at the David Zwirner gallery. For this exhibition, Riley has selected a group of works from the 1980s and 1990s that reflect the connection between the writings of Paul Klee (1879–1940) and her own understanding of abstract painting. No doubt the gallery chose this artist to be featured in their debut show since lockdown due to her ongoing popularity and investment potential in mind. Furthermore, her works are simply beautiful and look amazing hanging on any wall.
Christo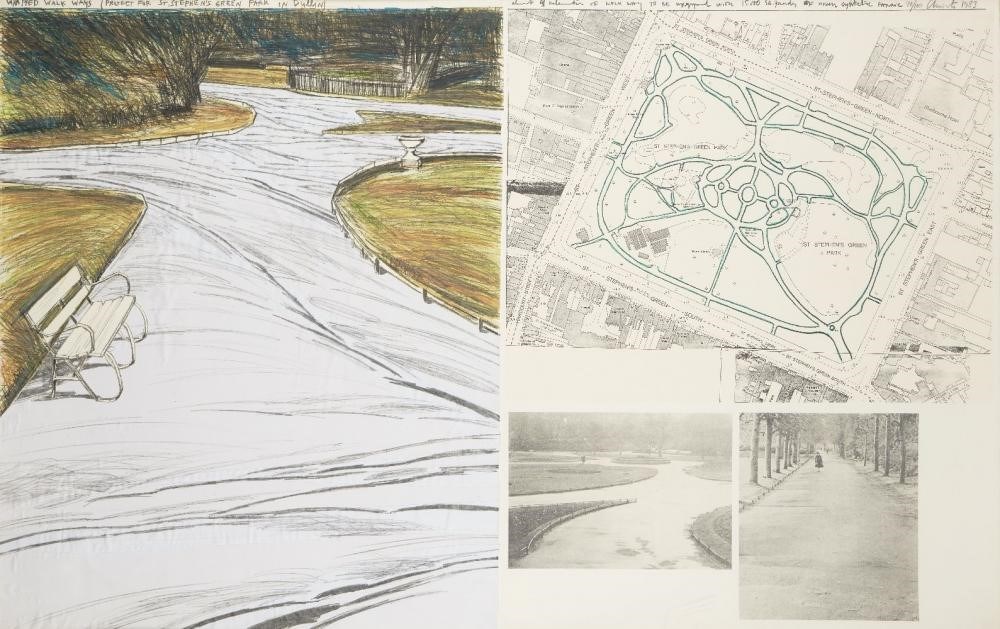 Christo, American 1935-2020- Wrapped Walkways, Project for St. Stephen's Green Oark, Dublin 1983; lithograph with collage in colours on wove for sale at Roseberys Modern & Contemporary Prints & Multiples 7 July auction
Even before his sad recent passing, Christo's name was sending ripples through the art world, with many finding joy in revisiting his works and sharing their favourites on social media. In the midst of lockdown and a pandemic, the Bulgarian born artists work symbolised freedom, beauty and nature. Something we have all started to take more for granted in the recent months. Even after his death the artist's work will still be showcased with his pending project at L'Arc de Triomphe. L'Arc de Triomphe, Wrapped, a project for Paris, was conceived in 1962 and will be on view for 16 days from Saturday, September 18 to Sunday, October 3, 2021. The Arc de Triomphe will be wrapped in 25,000 square meters of recyclable polypropylene fabric in silvery blue, and 7,000 meters of red rope. Throughout their careers, Christo and partner Jeanne-Claude paid the entire cost of their extensive public artworks themselves. They earnt all of their money through the sale of Christo's preparatory studies, similar to the prints on offer at Roseberys. Within the upcoming auction we have 3 prints by the artist.
You can view all the prints here.
David Shrigley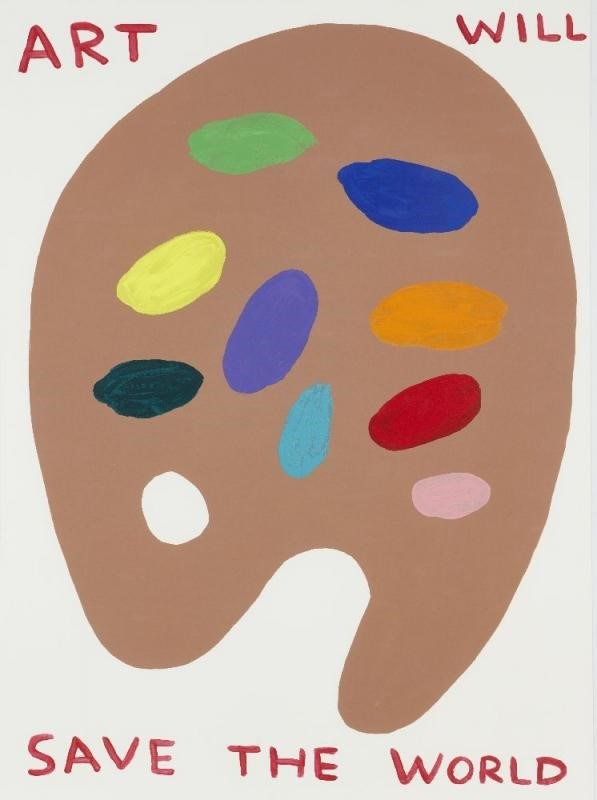 David Shrigley OBE, British b. 1968- Art Will Save The World, 2019; screenprint with varnish overlay in colours on Somerset Satin Tub wove, initialled and numbered from the edition of 125 in pencil verso for sale at Roseberys Modern & Contemporary Prints & Multiples 7 July auction
David Shrigley gained popularity in the 2000s, with several international exhibitions, such as a survey at London's Hayward Gallery in 2012, which led to his nomination for the Turner Prize in 2013. Now the artist is even more popular than ever with his recent digital showcase of work. During the past couple of months while holed up in his home studio in Brighton the British artist has been keeping us sane and smiling throughout the lockdown period with his satire images that hit the current crisis right on the head. The artist bought 500 sheets of paper and several bottles of ink at the beginning of lockdown to create his new art that he shares to his masses of followers on Instagram and Twitter.  "I'm really aware we're going to be here [in lockdown] for a long time," Shrigley told The Art Newspaper. "After a certain point I'll have done more drawings than for any particular project that I've ever done. In six weeks', time I'll have amassed a body of work in a particular format and in a particular time that will have eclipsed anything else I've ever done." Although Shrigley's work may seem not as exclusive as other artists while being plastered over Instagram, their selling rate are surprisingly high, and he is one of the most in demand artists of the moment.  Soon once everything is settled, Shrigley has a busy schedule planned with global shows scheduled, visits to art fairs and his anticipated OBE ceremony. Which leads me to believe that his popularity will only grow more and more in the future, reflecting the rising prices of his works that are a snapshot of our times.
You can view all his works in the upcoming auction at Roseberys by David Shrigley here.
Grayson Perry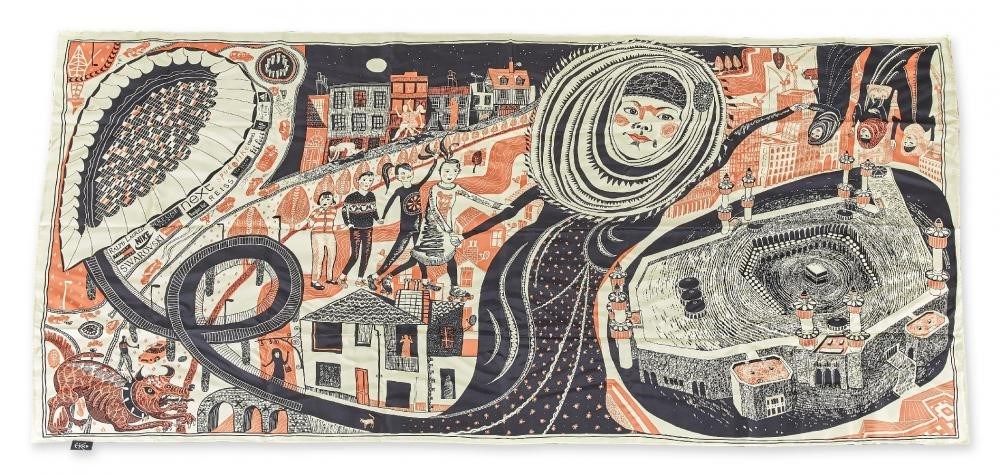 Grayson Perry CBE RA, British b.1960- Ashford Hijab, 2014; screenprint in colours on silk scarf for sale at Roseberys Modern & Contemporary Prints & Multiples 7 July auction
Grayson Perry has always been a popular artist, especially in the UK, with many labelling him England's national treasure.  In recent months he has been even more thrust into the public eye than ever, with his new channel 4 show, Grayson's Art Club. In the show Grayson Perry brings the nation together through art, making new works and hosting masterclasses set to unleash creativity during lockdown, joined by various renown names from Anthony Gormley to Martin Parr. On top of filming his lockdown TV special, the artists' works have been touring the country this year. The Pre-Therapy Years are being showcased from 12 June – 20 September 2020 at the Centre of Ceramic Art (CoCA). The touring exhibition, developed by the Holburne Museum in Bath, is the first to celebrate Grayson Perry's earliest forays into the art world and will re-introduce the explosive and creative works he made between 1982 and 1994.

Within Roseberys upcoming Modern & Contemporary Prints & Multiples auction we have 7 works of art by the artist. View all the works here.
Andy Warhol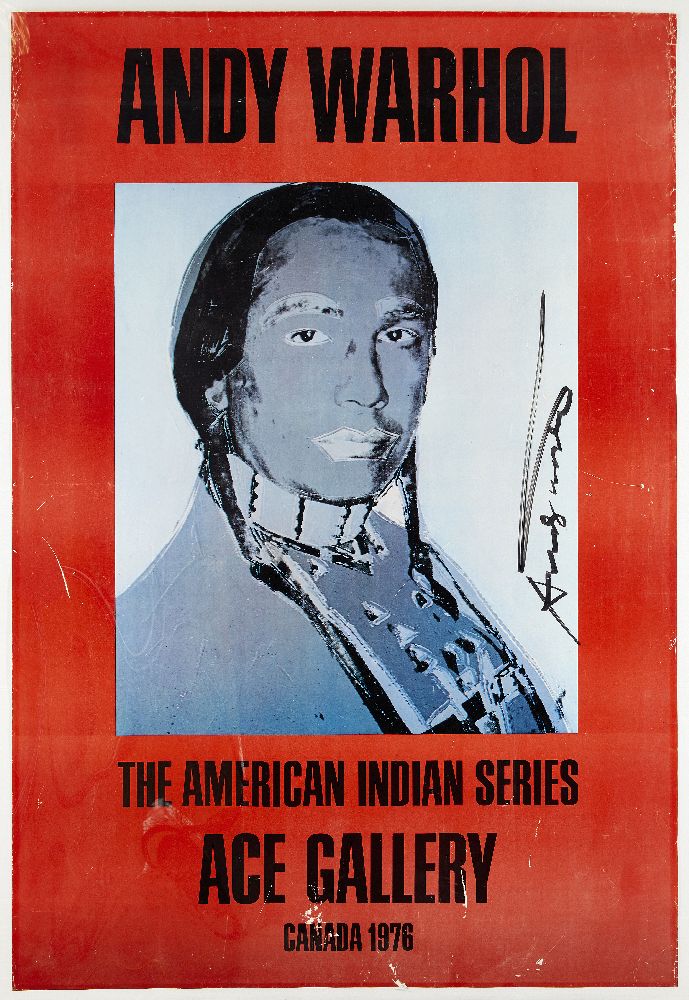 Andy Warhol, American 1928-1987- SAS Passenger Ticket [Feldmann & Schellman II. 20], 1968; screenprint in colours on wove, signed in pencil verso, from the edition of 250, published by Modern Museet, Stockholm. For sale at Roseberys Modern & Contemporary Prints & Multiples 7 July auction
While more investors are seeking to diversify their portfolios with high-performing alternative assets, others like to stick with household names such as the king of Pop Art, Andy Warhol. Not only is the artist a safe bet to go with but the renown American pop art is presently having a moment with his current major retrospective exhibition at Tate Modern in London. The exhibition is presently online and soon to be open again to the public at the end of July through to September 2020. According to Artnet's propriety database last year the index of the 10 top-performing artists, including Warhol produced a 7% compound annual growth rate, beating the 3.7% for the S&P 500. A fine example of this growth can be seen in regard to the Andy Warhol Statue of Libery silkscreen, which sold for $453,000 at auction in 1999 and $3.7 million in 2016. A stable growth in value over the last 10 years has come mainly from the top segment of artist like Andy Warhol, who continue to drive the market. On offer in the upcoming auction at Roseberys auction by the artist in question is The SAS Passenger Ticket 20 large print, which is a great visual representation of an SAS (Scandinavian Airlines) passenger ticket done in bright yellow with black graphics covering it. The piece was based on Andy Warhol's round-trip SAS airline ticket and baggage check to Stockholm dated December 7, 1967. The abstracted and enlarged subject of the ticket for Scandinavian Airlines was published for a Warhol exhibition in Stockholm, Sweden at the Moderna Museet, and it is one of Warhol's earliest published prints in beautiful condition. This print is estimated to sell for £2,000 – 3,000.
Taskashi Murakami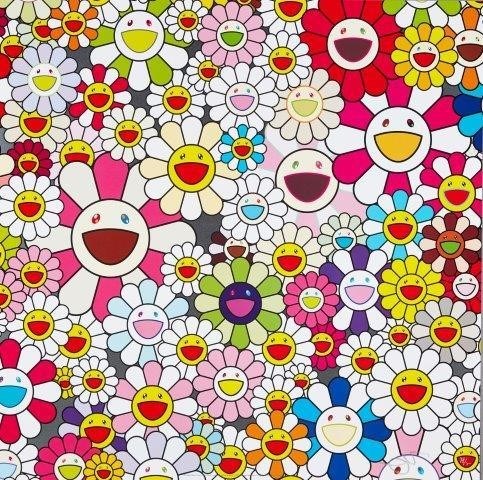 Takashi Murakami, Japanese b.1962- Flowers Blooming in This World and the Land of Nirvana, 2013; five offset lithographs in colours on wove for sale at Roseberys Modern & Contemporary Prints & Multiples 7 July auction
My final recommendation for great works of art to invest in come from someone many call the Andy Warhol of Japan – Takashi Murakami. To date, the highest price paid for a Murakami is around £2.7m for an original work of art. The market for his work continues to thrive globally, but particularly in Asia. It is still possible to pick up Murakami for around £20,000 and a limited-edition print like the work on offer at Roseberys for much, much less.  The vast collection of art that we have on offer at Roseberys from the Japanese artist are extremely rare to the European market. Each print included within the sale includes his signature iconology, ranging from the artists alter ego, Mr. DOB to the kitsch smiling flowers. Also included within several of the prints is the hugely popular manga character, Doraemon. The estimated selling prices among prints by the artists range from £400 up to £3,500. A highlight within the group is lot 441, five offset lithographs in colours on wove titled Flowers Blooming in This World and the Land of Nirvana. This set is estimated to sell for £2,500 – £3,500.
You can view all the prints by Takashi Murakami here.
View the fully illustrated catalogue of the sale and find our more information about the sale here.
If you wish to find out more about the upcoming sales sign-up to our newsletter alerts here.
Register to sign-up for key word alerts of upcoming artists here.
Request a valuation to find out how much your work of art is worth here.