Top of the lots!
21/03/2017 Modern & Contemporary British Art, News Stories & Press Release, Decorative Arts & Modern Design , Furniture & Rugs
Roseberys London is pleased to present some select highlights from their March Decades of Design and Fine Art Auctions.
The auction comprises over 1300 lots across multiple disciplines beginning with Decades of Design: Decorative Arts & Modern Design and moving on to a fine selection of jewellery and arts and antiques.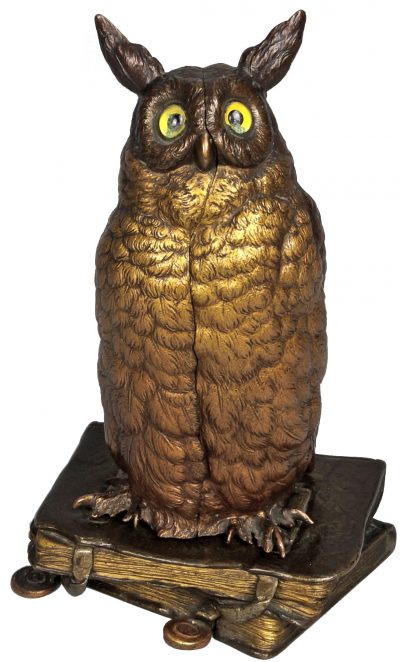 Decades of Design:
Lot 9
James Powell & Sons, Whitefriars Glassworks, A collection of over three hundred designs for ecclesiastical stained glass windows from the 19th century, various churches throughout the UK and USA, including designs for South Aisle window for Christ Church, Forest Hill, St. Marys Church, Waterloo, Carlisle Cathedral, St. David's School Chapel, Reigate, St. Peters Church, Wimbledon, St. Anne's Church Brooklyn, NY, USA, Trinity Church, Elmira, USA and others, various sizes. (Three lots in total Lot 9, 10 and 11)
James Powell & Sons, also known as Whitefriars Glassworks, were an English glassmakers and stained glass manufactures. Whitefriars glass was established around 1680 and became well known in the 19th century due to the gothic revival and demand for stained glass.
James Powell, a London wine merchant bought the Whitefriars Glass Company, a then small glass works off Fleet Street in 1834. The company flourished and developed, exhibiting across the world. However after two world wars and with the rising costs of handmade glass the factory eventually closed in 1995.
[Lot 9]
Estimate £1000 – £1500 +27.6% BP*
Lot 27 (Picture above)
Franz Bergman, a metamorphic erotic bronze study of an owl and nude, the polychrome cold painted bronze owl, perched upon two books, with sprung door, opening to reveal a gilt bronze standing nude maiden, signed Namgreb in the bronze and stamped B within urn symbol, approx 19.5cm.
Franz Bergman (or also known as Franz Xaver Bergmann) (1861–1936) was the owner of a Viennese foundry who produced numerous patinated and cold-painted bronze Oriental, erotic and animal figures, the latter often humanized or whimsical, humorous objects d'art.
The 'Nam Greb' signature stands for 'bergman' in reverse.
[Lot 27] Estimate £2500 – £3500 +27.6% BP*
Lot 107
Edward Barnsley Workshop, a sycamore and holly wood inlaid bow front side table, c. 1950, with brass handles, with kite inlay escutcheon plate, on square tapering legs joined by curving stretchers, stamp to drawer Barnsley, 66cm high x 66cm wide x 34 deep. From a collection of ten Edward Barnsley lots.
Edward Barnsley (1900 – 1987) raised from a line of furniture makers is regarded as one of the most important British furniture makers of the 20th century. [Lot 107]
Estimate £600 – £1000 +27.6% BP*
Jewellery:
Lot 575 (Pictured Left)
Pershing, an 18ct gold cased gentleman's wrist watch No. 40151 Edition Numerotte 21/30, see-through dial and glazed back, black rubber strap and deployment clasp, approx 204.4g gross.
Parmigiani Fleurier makers of the Pershing watch was founded in 1996 by Michel Parmigiani and the Sandoz Family Foundation who acknowledged his talent as a watchmaker the company makes exceptional luxury timepieces. [Lot 575]
Estimate £20,000 – £40,000 +27.6% BP*
Lot 569
Schreiner, Munich, A pair of cabochon sapphire and baguette diamond cufflinks, the oval cabochon natural sapphires, approx 45.00ct total, deep light blue colour, type II included, with a border of baguette cut diamonds, approx 4.30ct total, G-H colour, VS-SI clarity, approx 2.5cm x 2.2cm
Gerhard Schreiner's name is synonymous with fine jewels, He has been creating 'Haute Joaillerie' since the late 1980s and prides his work on sourcing the most exquisite gems and pearls to be found on the planet. [Lot 569] Estimate £4000 – £6000 +27.6% BP*
Art:
Lot 944
Anthony Eyton LG RWA RWS NEAC RA, British b.1923- "Tar Steps"; oil on canvas, 132x193cm.
Award winning artist Eyton was elected into the RA in 1986 and since 1999 Resident artists at the Eden project in Cornwall. He otherwise works and resides in London.
[Lot 944] Estimate £2000 – £3000 +27.6% BP*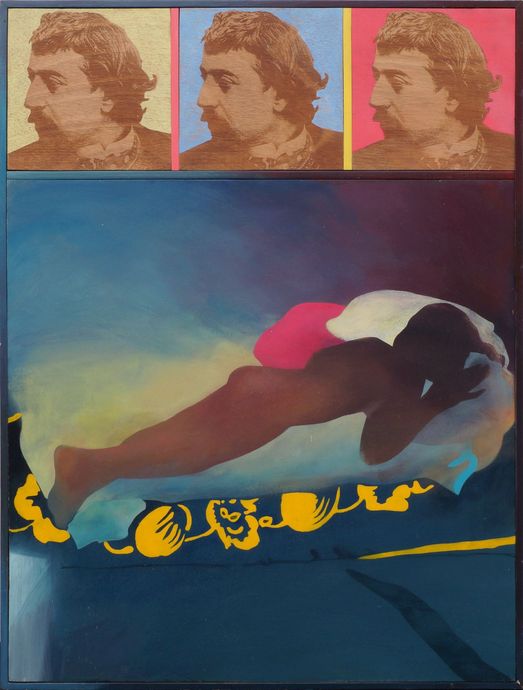 Lot 967 (Pictured Left)
Antony Donaldson, British b.1939- "My Hero", 1970; oil and silkscreen on panel cut-outs, in the artist's painted frame, signed on the reverse, 89.5x67cm, (ARR) Purchased directly from the artist by the present owner.
Donaldson studied at the Slade School of Art and was part of the development of pop art in the early 60s with contemporaries such as Patrick Caulfield and Allen Jones. [Lot 967]
Estimate £8000 – £12000 +27.6% BP*
Lot 706
Hamish Mackie, British b.1973 – Crab; Silver, signed and numbered 3/6 Hallmarked on the underside. 35cm wide (ARR)
Hamish Mackie is a renowned wildlife sculptor who works directly with the animals to create his often life sized figures. Mostly self-taught and working since 1996, Mackie won a major public art commission in 2014 for the Berkley Homes Goodman's Field development. His six galloping stallions can be seen in the pedestrian plaza.
[Lot 706] Estimate £2500 – £3500 +27.6% BP*
Furniture & Works of Art:
Lot 1381
A pair of French Louis XV giltwood fauteuils, one bearing stamp for Jean-Jacques Pothier, 18th century, with scrolling backs and arms, on cabriole legs, with red orange plush velvet upholstery and cushions, 102cm high x 75cm wide x 92cm deep
Acquired from Mallets, London.
Jean-Jacques Pothier (active until c.1785), received his maître in 1750. He worked as a menuisier-ébéniste in the Rue Mazarine from where he moved to the Rue de Bourbon-Villeneuve around 1775-76. His work was considered to be of the highest quality, and he is considered to have worked in collaboration with Georges Jacob, as many pieces from the Jacob workshops appear to have his signature style. He is known to have worked in the Louis XV style as exhibited by this lot, and in the Louis XVI style as exhibited with pieces in the Metropolitan Museum of Art. For an example of a similar pair of Fauteuils see Christie's Paris, lot 133, 19 – 21 September 2011 [Lot 1381]
Estimate £5000 – £7000 +27.6% BP*
Lot 1069
An Italian micro-mosaic of the Doves of Pliny or Capitoline Doves, 19th century, within a rectangular rosewood and gilt gesso applied frame, 14 x 18.8cm
This piece is of particularly high quality, as seen on the shading around the Dove's wings. [Lot 1069]
Estimate £3000 – £5000 +27.6% BP*
Decades of Design Tuesday 28 March, 10am
Fine Art Tuesday 28 March, 1pm
Fine Art Wednesday 29 March 10am
Viewing Times
24 March 1pm-5pm
26 March 10am – 2pm
27 March 9.30am-5.30pm
28 March 9am-9.45am
(ARR) Artist's Resale Right
Qualifying living artists and the descendants of artists within the last 70 years are entitled to receive a re-sale royalty each time their work is bought through an auction house or art market professional.
It applies to lots with hammer value €1,000 as follows:
0 to €50,000- 4%, €50,000.01 to €200,000 – 3%
€200,000.01 to €350,000 – 1%, €350,000.01 to €500,000 – 0.5%
Exceeding €500,000 – 0.25%
ARR is capped €12,500
Please note ARR is calculated in euros. Auctioneers will apply current exchange rates.
BP* – Buyers Premium includes VAT at 20%.
~Ends~
For further information please contact Charlotte Meddings charlottemeddings@roseberys.co.uk +44 (0) 20 8761 2522
Contact one of our department specialists for a complimentary valuation:
Bill Forrest billforrest@roseberys.co.uk
Richard Gibbon richardgibbon@roseberys.co.uk +44 (0) 20 8761 2522
Roseberys is a privately owned auction house operating at the heart of the fine art market for more than 25 years.
With offices in London's Mayfair and Lambeth Roseberys offer a calendar of more than twelve specialist fine art, antiques and collectibles auctions each year.
Specialist sales include a wide range of Asian and Islamic Arts, Modern and Contemporary Art and Design, Decorative Art, Fine Silver and Jewellery, Ceramics, Paintings, Prints, Photography, Antique Textiles, Vintage Fashion and Fine Wine and Whisky.
Roseberys team of world-renowned specialists also provide a wide range of art market services to professional clients, including valuations for insurance and probate.
Roseberys is a member of SOFAA – The Society of Fine Art Auctioneers.