Top of the Lots 2019
6/12/2019 Ceramics & Glass, News Stories & Press Release, Chinese, Japanese & South East Asian Art , Impressionist, Modern & Post War Art, Islamic & Indian Art , Old Master & 19th Century Pictures
2019 has seen many highlights throughout the year, mainly coming from the Chinese, Japanese & South East Asian and the Islamic & Indian Art departments. The two departments have a combined ten lots in the top fifteen hammer highlights of 2019. Other highlights come from the Old Master, 18th & 19th Century Pictures, Impressionist, Modern, Post-War & Contemporary Art and Fine & Decorative auctions. A growing interest in specialist sales has seen a record growth of consignments this year, which has been reflected in Roseberys rising sale figures.
Read on to discover the top fifteen lots of 2019.
Price Realised: £115,000


Rare paintings by revered Korean and Chinese artists spanning the 18th, 19th and 20th centuries, emerged as the star performers in a diverse offering of Asian art held at Roseberys London in May. Six months after 16 silk genre scenes by Korean artist Kim Jun-Geum (late 19th-early 20th century), better known by his artistic name Kisan, sold in Roseberys' November 2018 sale of Asian art for a remarkable £50,000, 14 more from the same series of genre scenes were discovered in the vendor's attic. Despite containing two fewer works, the latest group made considerably more this time round. The buyer from the November sale was active again hoping to reunite the set, while other bidders were determined not to lose out a second time. In all, bids were taken from the internet, room and five phone lines before it fell to a buyer bidding via the latter for £115,000 – a reflection of their great value and rarity.

Price Realised: £72,500
Bullish prices were generated throughout the autumn offering of Chinese, Japanese & South East Asian Art at Roseberys, with strong interest and fierce bidding coming from a wide international audience. Rare Chinese ceramics and jades were particularly sought after but it was an important painting of two horses by the major Indonesian Chinese artist Lee Man Fong (1913-1988) that topped the auction, selling for £72,500. Bidders from Indonesia, Singapore, and the USA competed by phone to buy it, with the winning bid coming from Jakarta.
Price Realised: £65,000
The unusual form of this Chinese vase proved to be the driving factor behind a strong performance on the rostrum in the Chinese, Japanese & South East Asian Art auction in November. The Ming-style facetted vase is rare as it is an extremely challenging shape to pot. Such works, which include a comparable Qianlong version in the Shanghai Museum, imitated the facetted shapes found on an early metal prototype, probably of Middle Eastern origin. In addition, the painting on the vase was of superb quality. It sold to a telephone bidder after competition from the room and three other telephones for £65,000.



Price Realised: £50,000


One of the big surprises of the Chinese, Japanese & South East Asian Art auction in November was this Cultural Revolution vase, knocked down at £50,000, as eleven phones and two buyers in the room competed for the lot. The garlic-head vase was finely painted to the bulbous body with a father and son repairing a railroad in a winter landscape. Twentieth century porcelain rarely appears among the best-selling lots in Asian art sales and perhaps indicates a shift in the appetite of Chinese collectors.
A pair of Chinese porcelain 'clobbered' sleeve vases, Transitional period, painted in underglaze blue with officials and attendants in a mountainous landscape

Price Realised: £50,000

The Chinese, Japanese & South East Asian Art auction in November proved to be full of high earnings with lot 28 selling for £50,000. These 'sleeve' vases, c.1650, typically appear on their own, so to offer a pair was particularly appealing to collectors. In spite of some later Dutch enamel decoration, these attracted huge interest with international bidders on all three internet platforms, two bidders in the room, and no less than nine telephone lines.


YUAN JIANG (ACTIVE CIRCA 1690-1739), ink and colour on silk, hanging scroll, 'Spring Dawn in the Han Palace', dated 1740


Price Realised: £47,500

Strong bidding emerged for a silk painting conveying the legendary splendour of a Han Palace by the Qianlong court artist Yuan Yao (active 1720-1780) in the May Chinese, Japanese & South East Asian Art auction. Despite significant water damage and several tears and splits to the silk, it sold for £47,500 after a prolonged bidding battle between three phones.
Price Realised: £46,250

An impressive Umayyad carved marble capital from Madinat Al-Zahra - the vast fortified Moorish medieval palace-city in Andalusia, Spain –sold at Roseberys London for £46,250. The large capital dates to the second half of the 10th century and has survived in remarkable condition, retaining much of the beautiful crisp carvings of scrolling flowering vines, protruding leaves and pronounced volutes. The capital featured in Islamic Art & Manuscripts, an auction held in May at Roseberys London that brought together nearly 400 lots of historic artefacts heralding from the fascinating and diverse civilisations of the Middle East and wider Islamic world, including Arabic manuscripts, Persian paintings and Ottoman Turkish works of art.
A important dated medical treatise composed by Muhammad bin 'Ali bin 'Umar al-Mutatabbib


Price Realised: £42,500

Also during the Islamic & Indian Arts auction in May an important dated medical treatise composed by Muhammad bin 'Ali bin 'Umar al-Mutatabbib, Iran, sold for £42,500. The treatise signed Muhammad bin Abi Bakr al-Nishapuri, completed at dawn of Tuesday 13 Muharram 594AH/25 November 1197AD, on illnesses and their treatments, occasional marginal commentaries, colophon signed and dated. The preface states that the work (mujallada) was composed by the author for himself and gives the name of Ibn Sina's Qanun, Hippocrates and Muhammad bin Zakariya al-Razi's treatise known as al-Murshid, in 19th century Ottoman binding with flap.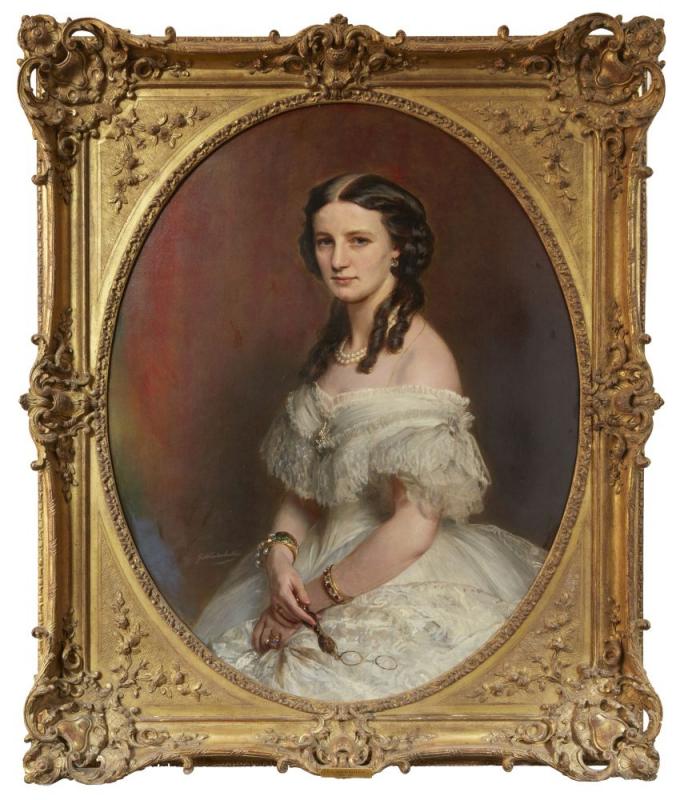 Franz Xaver Winterhalter, German 1805-1873- Portrait of a lady
Price Realised: £35,000
Franz Xaver Winterhalter, German 1805-1873- Portrait of a lady, half-length, wearing a white dress and holding a pair of lunettes; oil on canvas sold for £35,000 in the March, Old Master 18th & 19th Century Art auction earlier in the year. Winterhalter's masterly talent attracted the great and the good from around Europe, including Queen Victoria and Emperor Napoleon III. He was considered at his best as a painter of women, creating images of great elegance and sophistication - always showing his sitters in the best possible light.
Successful bid: £33,750
Furious bidding between five telephone lines and international online bidders resulted in one tenacious buyer walking away with a unique work from 1969 by Yvette Achkar (b.1928) in the Impressionist, Modern, Post War & Contemporary Art July sale. Not seen before in circulation in recent memory, the privately-consigned Untitled Composition VI was secured by the winning bidder at £33,750.
Price Realised: £33,750

Alicia Perez Penalba's (1913-1982) Esquisse du Double (1959), a bronze made in a small edition of just nine from her so-called 'Doubles' series, achieved £33,750 in the Impressionist, Modern, Post War & Contemporary Art July sale. The result reflects the strong demand for this Argentinian doyenne of the art world.

Price Realised: £33,750

This 19th century interior scene by Albert Chevallier Tayler (1862-1925), one of the major talents in British Victorian painting, sold with a flourish at Roseberys London. The hotly contested work was considered a fine example of the artist's carefully conceived genre scenes and dated to a high point in his career when he had mastered the treatment of form and the manipulation of space and was painting with exceptional lucidity. The signed oil on canvas of figures luncheoning, dated 1890, showed the combined influences of James Tissot from his studies in Paris at the Atelier of Jean Paul Laurens, and the Newlyn School in Cornwall – then the location of some of the most advanced painting in Britain. Tayler later settled in London and focused on portraiture. "This painting was admired by many people who came to view the sale, and as such had universal appeal", said Marcus Grey, Head of Picture Department at Roseberys London. On the day it attracted fierce competition and was knocked down at £33,750.

Price Realised: £32,500

Terrain précis (1953), the title of a dynamic period abstract work painted by the Russian artist André Lanskoy (1902-76) sold for £32,500 in the Impressionist, Modern, Post War & Contemporary Art auction in July. It dates to the 1950s – a high point in the artist's career when he was achieving international recognition and had developed his abstract depictions, abandoning his earlier figurative pieces. 
REN YI (REN BONIAN, Chinese, 1840-1895), ink and colour on paper, hanging scroll, study of cranes and pine
Price Realised : £31,250
Coming in fifteen place is this hanging scroll by Chinese artist Ren Yi (REN BONIAN, Chinese, 1840-1895). The ink and colour on paper, hanging scroll showcases a study of cranes and pine by two artist's 'Bonian Changshou', 'Yi Yi Cao Tang', and a collector's seal 'Tian Jian'. The painting was likely to be a birthday gift at the time it was made. The inscriptions were written by He Tianjian (1891-1977) who presented good wishes to Mr. Pei Liang.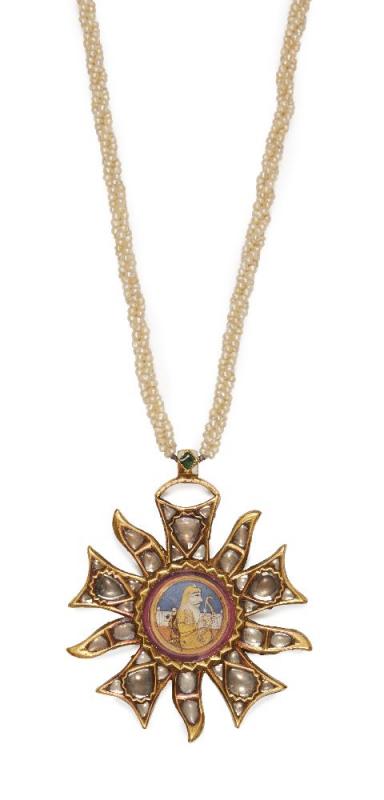 An enamelled and diamond-set gold Order of Merit of Maharaja Ranjit Singh, the first Sikh maharaja of the Panjab (r.1801-1839), Lahore, circa 1830s
An important and rare enamelled and diamond-set Sikh 'Order of Merit' emerged as the star of Roseberys London's Islamic & Indian Arts auction in October where it was taken to £30,000. The medal, offered alongside other choice pieces from the Islamic and Indian worlds on October 22, was introduced by the charismatic ruler Maharaja Ranjit Singh (r. 1801-1839), the first Sikh maharaja of the Indian state of Punjab. Ranjit Singh, remembered for uniting Sikhs and founding the prosperous Sikh Empire, had a great curiosity of European medals and decorations, with this medal appearing to have been directly inspired by the French Legion d'honneur worn by one of his foreign military commanders, General Allard. Introduced towards the end of his reign, the c.1830s medal, known as 'Star of the Prosperity of the Panjab', is distinguished by its five large and five small pointed branches issuing outwards alternately from a roundish centre bearing a likeness of the Maharajah on one side. It was meant to be worn round the neck and is similar to an Order of Merit in the Sheesh Mahal Museum and Medal Gallery in India and an emerald-set example in the V&A.
For more information contact Peigi Mackillop: peigimackillop@roseberys.co.uk
View all the results from 2019 here.
We are now welcoming consignments for all of our auctions in 2020. 
To recieve a complimentrary valuation click here or email clientservices@roseberys.co.uk 
All prices included in this press release include a buyer's premium