Tips for Identifying Antique & Vintage Jewellery
5/11/2019 News Stories & Press Release, Jewellery & Watches
Here Roseberys Head of the Jewellery & Watches department Mark Bowis, FGA DGA FSA gives advice on how to identify antique and vintage jewellery.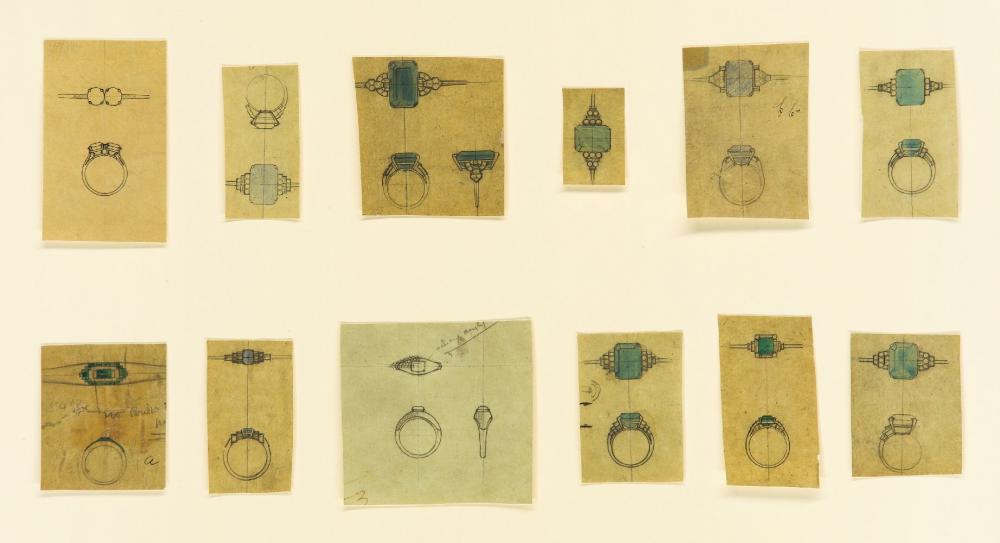 A collection of original artwork of jewellery designs on wove paper, including working drawings of Art-Deco design bracelets, brooches, rings and various necklaces for sale in our upcoming Jewellery & Watches auction; November 20 November

Tools of the Trade
Always use a 10x and 4x loupe, (magnifying tool) in tandem to inspect the Jewellery, a golden rule is to inspect very thoroughly and never assume. When identifying a brooch, necklace or ring for example that purports to be a genuine antique it is typical for the mind to want to believe that the piece is authentic so always examine items with a sceptical approach. Inspect the back of a jewel as well as the front as this is often the key in understanding the history and quality of its construction. From antiquity jewellery was always made by hand and often worked in isolation, the mounts were always hand finished before and after mounting the gems or diamonds and, in the case of 18th and 19th century jewels, enameling. If a mount looks rough or cast with only a cursory amount of finishing and metal flakes or scratches are present this is likely to be a modern copy.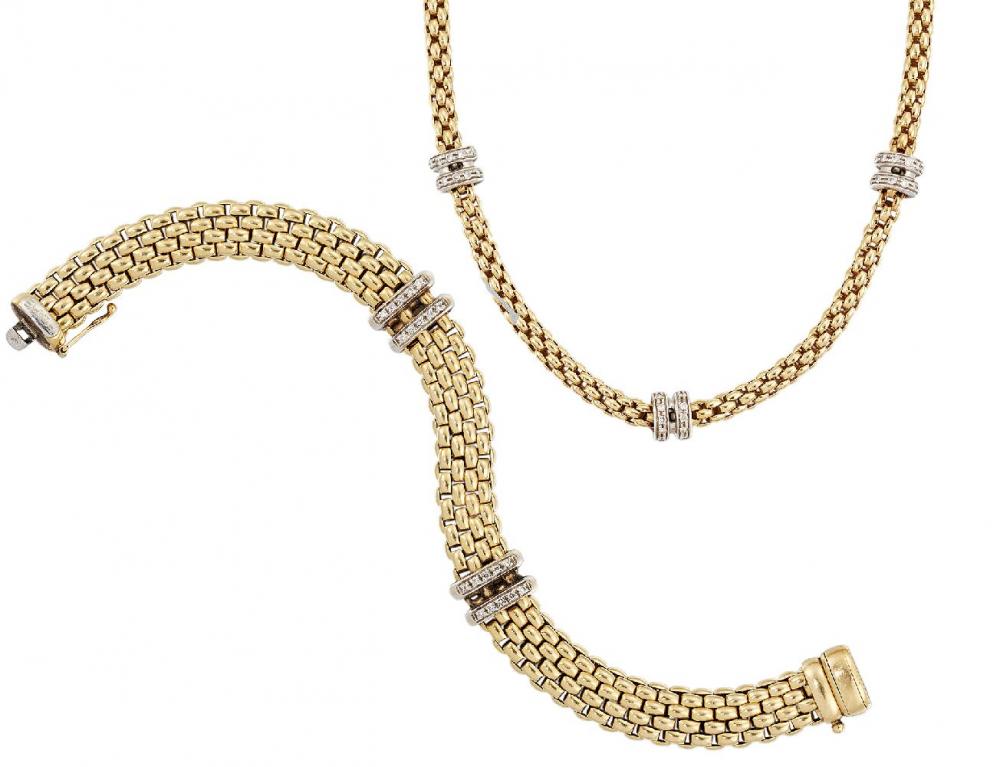 An 18ct gold, diamond-set necklace and bracelet, by Fope, of brick link design with brilliant-cut diamond twin line spacers, 50.5 and 18.5cm long, European Convention hallmark and Birmingham hallmarks  for sale in our upcoming Jewellery & Watches auction; November 20 November
Research
It is worth researching jewellery techniques for example, most Victorian diamond set jewellery was designed as a gold frame with honeycomb type recesses and the settings were silver as the melting point was lower and allowed the goldsmith to work setting the stone in the silver whilst the gold backing remained stable. Types of diamond cut and use of gemstones will also be an indication of whether the piece is original. For example, if a ring appears 19th century in design but is set with modern brilliant-cut diamonds or cultured pearls beware! Much Edwardian Jewellery included demantoid garnets in their design particularly for insect or animal design Jewellery. This is a highly desirable gem stone however, the recent introduction onto the market of tsavorite green garnets which have a very similar look has resulted in an alternative gemstone that can be incorporated to deceive when used for reproduction early 20th century Jewellery. Opals are another pointer, as the more recently discovered Ethiopian opals which are of a water opal appearance, and commercially of lower value than their Australian counter parts, often appear in Victorian style mounts. Turquoise, which has in recent years been over treated in order to look bright and uniform in colour, is sometimes seen in faux Georgian Jewellery; if all the turquoise are bright and show no staining or signs of wear be suspicious.

An early 20th century gold, synthetic ruby and diamond circular cluster ring, the circular bezel with central collet-set brilliant-cut diamond to a ruby and lasque-cut diamond surround (one synthetic ruby deficient). For sale in our upcoming Jewellery & Watches auction, Wednesday 20 November, 2019
Anything missing?
It is important to collectors that antique jewels are all original and therefore it is necessary to establish that the gem stones are original to the jewel and complete.  Look for odd or damaged settings, missing, damaged or replacement stones. These often do not match the remaining stones or have not been cut in the same manner; in some cases, the cut of the stone is too sophisticated for the period it is trying to imitate. Some replacements might be crude and easy to detect such as paste or a synthetic gem. It is very common to see a Victorian diamond five stone ring that at some stage has lost a diamond and this has been replaced with a modern brilliant-cut, rather than taking the trouble to source an old-mine cut. It is worth familiarizing ones-self with the basic changes in diamond cuts over the centuries.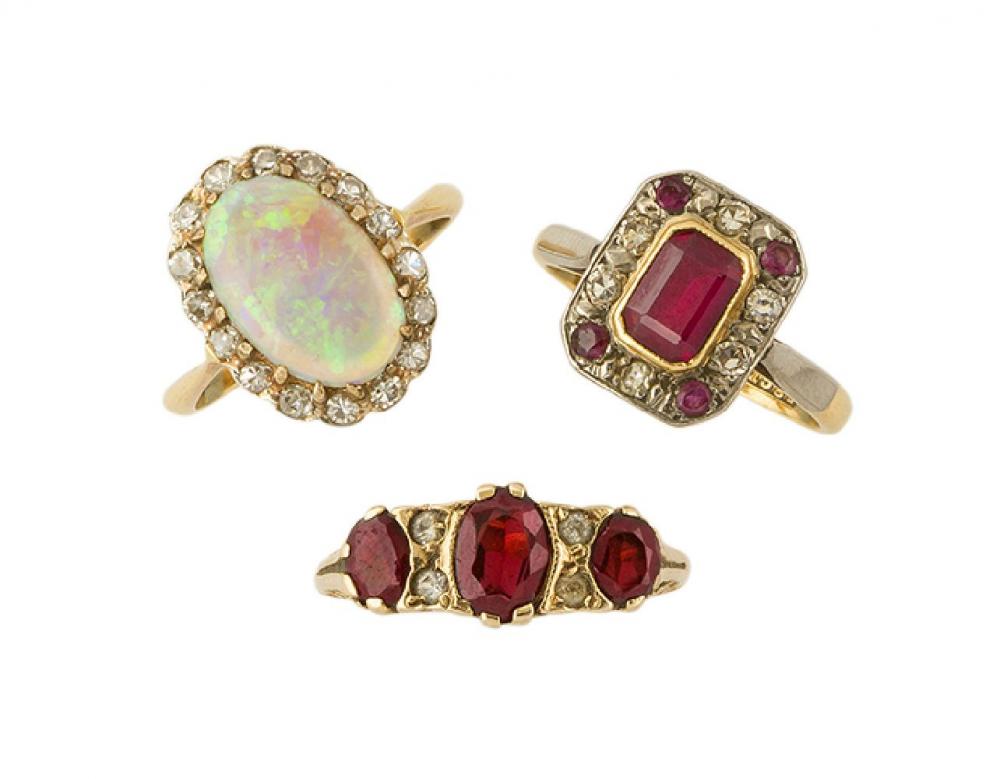 Three gem rings, comprising: an opal and diamond cluster ring. For sale in our upcoming Jewellery & Watches auction, Wednesday 20 November, 2019 
Identification
Identification of types of gold or other precious metals is also important in establishing age. A great deal of 18th century diamond-set jewellery was entirely set in silver and this often patinates or tones to a dull grey over the years and if it appears bright it has either been overcleaned or is not correct for the period. Good Victorian or generally 19th century Jewellery was often produced in a relatively low carat or purity of gold most typically 15ct then treated with a wash of high carat gold giving the appearance of a buttery yellow and often has a satin or frosted appearance, this is the feature that collectors often look for. In some cases, this wash has gradually rubbed away on the edges or extremities such as on a brooch or necklace. However, if the whole piece appears brightly polished it has either been overcleaned or is not an original period piece.  General condition of these is also important and, as a large quantity of this type of jewellery is composed of stamped components, the jewellery is prone to dents and buckling. If the article of jewellery is masquerading as 19th century and is cast completely out of the same metal it is wrong. Always check whether there are solder repairs or that the item is not a marriage of several pieces. Art Deco jewellery was mostly set using the new innovative platinum settings as opposed to white gold copies. Platinum generally has a distinctive blueish grey look as opposed to the car bumper brightness of white gold. It is also noticeably heavier and if held in the palm of the hand it will exhibit a noticeable heft, official testing may be necessary if the piece is not hallmarked.

A historically important early 19th century gold ring that was given to Lord Cardigan of 'Charge of the Light Brigade' fame. Sold at Roseberys in March 2019 for £11,300 (Plus bp / VAT)

Maker's Marks
Antique jewellery produced in the UK, during the medieval period to the 19th century, it was not compulsory to officially fully hallmark small items of jewellery.  If you are inspecting a Victorian bangle for example and it is missing any kind of hallmark there is no reason for alarm. In many cases it was up to the jeweller to inspire confidence in the buyer and one can often for example come across only an applied plaque inscribed 15ct, however be aware of spurious hallmarks that do not match or are not consistent with the piece in style or date. Some hallmarks or maker's marks in early 20th century jewellery can be difficult to detect, in some cases they can be buried in the engraving or in the case of Russian jewels under the enameling. It is therefore always worth double checking and persevering; in the case of a brooch always check the pin. In 1960s and 70's abstract jewellery the marks can also be stamped into the decoration. The position in which marks are placed is also significant. Imperial Russian jewels are in most cases profusely marked but always in a discrete area of the object. If the marks are on the front or very easy to see this could be a tell tail sign that it is not genuine.
The next sale will be Wednesday 20 November. 
Conact Peigi Mackillop for anything press related.