Thorburn to Palmer
31/07/2018 News Stories & Press Release, Works of Art, Sculpture & Clocks
The Pictures sale from Roseberys London offered paintings, drawing and prints dating from 1500-1900, and the strong array of works proved popular with bidders.
Marcus Grey commented: 'We are delighted with the success of this sale, a broad range of artists and subject matter attracted bidding across all platforms, nationally and internationally.'
A selection of highlighted lots from this sale include: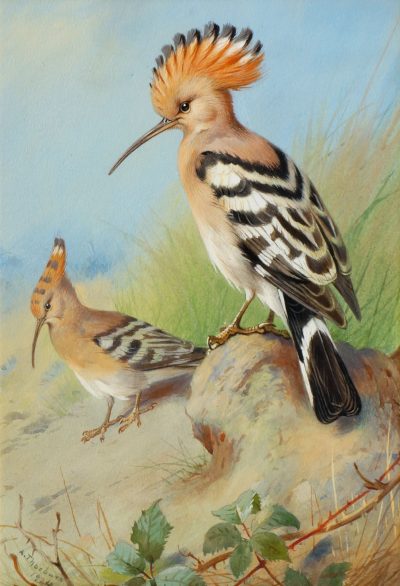 Lot 281
Archibald Thorburn FZS, Scottish 1860-1935- Hoopoes; watercolour and gouache, signed and dated 1924, 25.5x18cm Provenance: Christie's, London, March 16th 1993, lot 45
Archibald Thorburn, was a Scottish painter specialising in bird studies mostly in watercolour. His popularity has continued and his works are enjoyed as much today as they were at the time of being made.
From an estimate of £4000-6000, bidding soared to a final hammer of £10,100*
Lot 78
A charming portrait of Miss Elizabeth Patten by Follower of Sir Thomas Lawrence PRA, British 1769-1830- The head and shoulders depiction is an oil on canvas, 46.5x56cm.
Sir Thomas Lawrence was a leading English portrait painter and the fourth president of the Royal Academy. A child prodigy he was supporting his family by age ten with his pastel portraits, by eighteen he received his first royal portrait commission of Queen Charlotte.
The estimate started at a modest £1200-1800 before hitting a final price of £8600*.
Works on paper also saw strong bidding. Especially with lot 338
Félicien Joseph Victor Rops Belgian, 1833-1898- L'idole (Les sataniques); pencil on paper, L'idole (Les sataniques); pencil and wash on paper, bears stamp on the reverse of the sheet, 46x30cm
Provenance: Sotheby's, London, 14th November, 2007, lot 290; Sotheby's, Amsterdam, 25th October, 1999, lot 120
Going to a private collector in Belgium for £8,000*.
Finishing off the sale highlights was a superb etching by the ever more popular Samuel Palmer –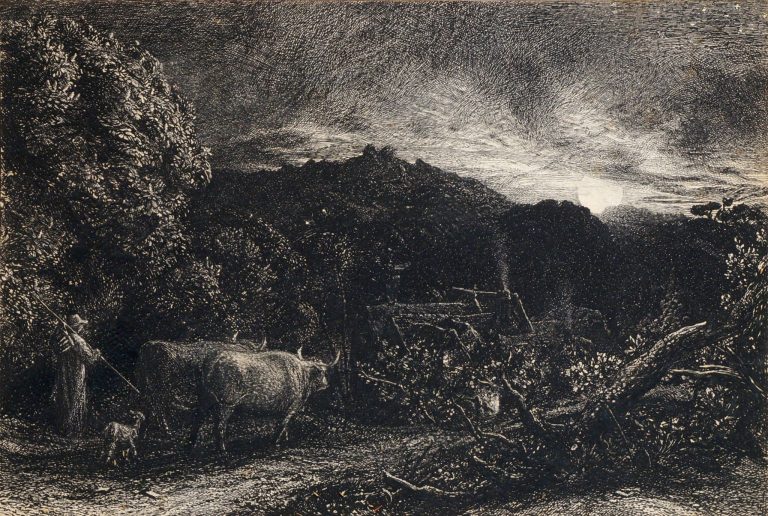 Lot 328
Samuel Palmer RWS, British 1805-1881, The Weary Ploughman, 1858; etching, on chine applique, 13×19.5cm Note: Published in A Selection of Etchings by the Etching Club, 1865. The published state is an edition of 350, comprising 300 on Indian paper and 50 proofs on larger paper. The Weary Ploughman and The Early Ploughman are companion pieces. A version of this print can be found in the Tate Collection (ref N03868). Literature: Raymond Lister, "Samuel Palmer and His Etchings", 1969 no.8. Viii/viii: Strudwick, A catalogue of Samuel Palmer's etchings, 1982 no.8
A main figure in the romanticism movement in Britain, Palmer was known for his etchings, prints and paintings of the British Landscape.
The lot drew interest across platforms with the final bid going to a UK based dealer for £3570*.
Consignments are now open for the November auction, which will be held on 21 November.
For further information on the jewellery sales or to arrange a free valuation please contact Head of Sale:
Marcus Grey – Director
marcusgrey@roseberys.co.uk
~Ends~
*Prices include Buyers Premium of 27.6%.
For further information please contact Charlotte Meddings charlottemeddings@roseberys.co.uk
+44 (0) 20 8761 2522
Roseberys is a privately owned auction house operating at the heart of the fine art market for 30 years.
With offices in London's Mayfair and Lambeth Roseberys offer a calendar of more than twelve specialist fine art, antiques and collectibles auctions each year.
Specialist sales include a wide range of Asian and Islamic Arts, Modern and Contemporary Art and Design, Decorative Art, Fine Silver and Jewellery, Ceramics, Paintings, Prints, Photography, Antique Textiles, Vintage Fashion and Fine Wine and Whisky.
Roseberys team of world-renowned specialists also provide a wide range of art market services to professional clients, including valuations for insurance and probate.
Roseberys is a member of SOFAA – The Society of Fine Art Auctioneers.