The rise of textile art
4/03/2022 Prints & Multiples , News Stories & Press Release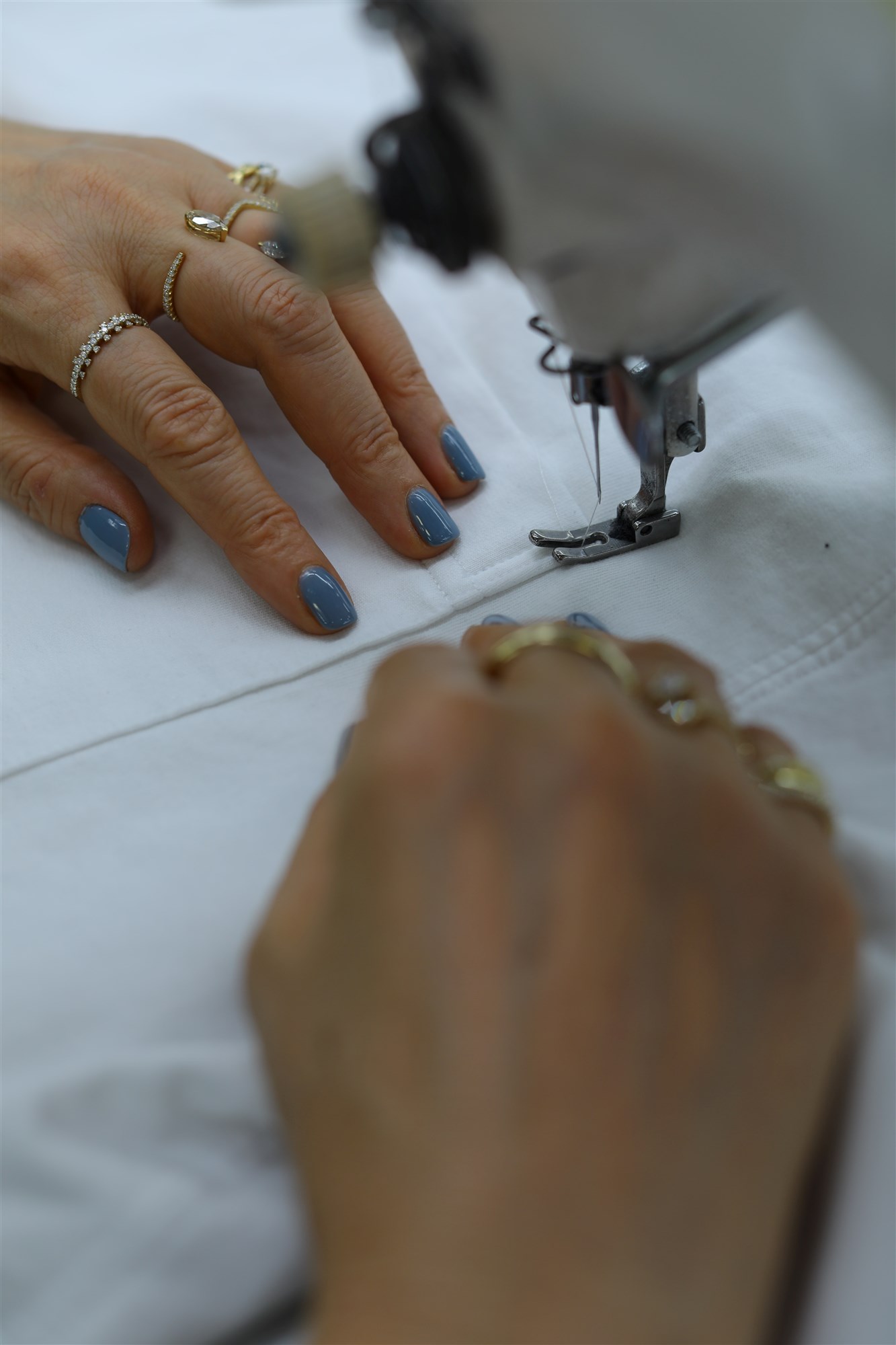 Image by Reuben Kim 
Textile art uses plants, animals, insects, or synthetic fibres to construct practical or decorative objects. Textiles have been a fundamental part of human life since the beginning of civilization. It's one of the oldest forms of art in history and has played a factor in practical and decorative man-made objects for hundreds of thousands of years.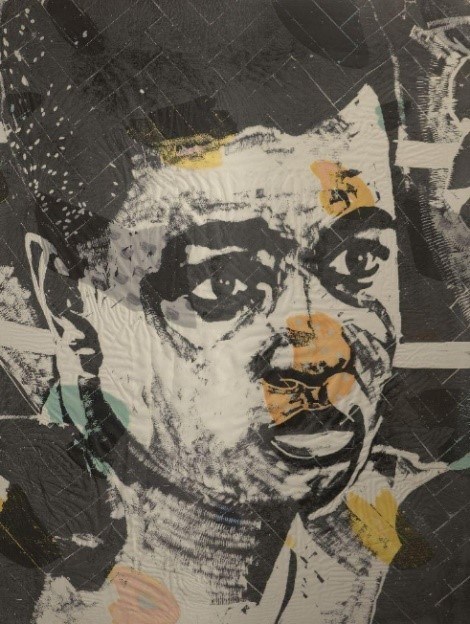 Lot 348: Thomas Kilpper, British b.1956- Mohammed Ali, 2000; unique woodcut with hand colouring on fabric
Today artists using textiles as a medium is being embraced by the art world and the art market, from intricately sewn appliqué to Bauhaus-inspired geometric compositions in silk.
In an essay introducing Phaidon's recently published book Vitamin T: Threads and Textiles in Contemporary Art, the Los Angeles-based curator Jenelle Porter comments: "We are now experiencing another fibre art heyday, yet one very different from the 1960s and 1970s. Our era is post-fiber, medium unspecific."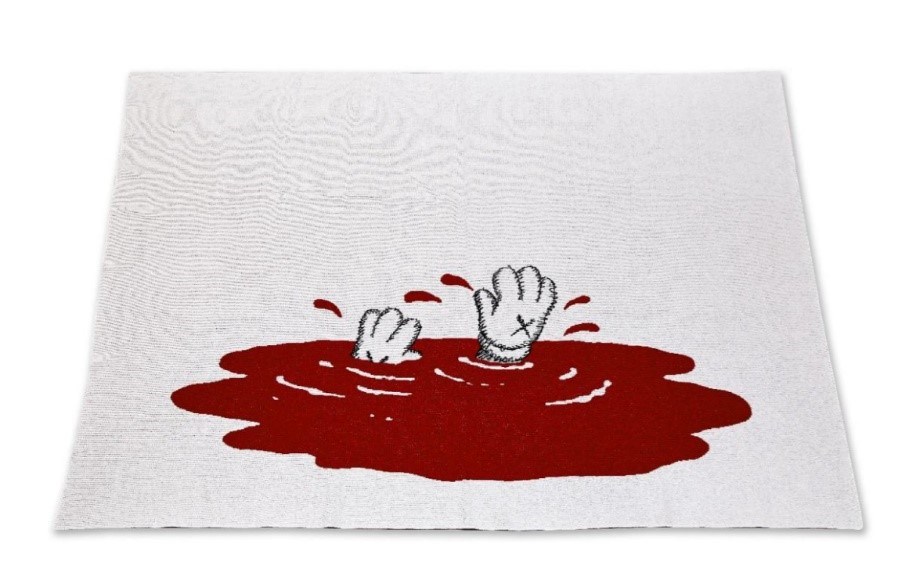 Lot 391  KAWS, American b.1974- Blanket (Red), 2019; 100% cashmere blanket in colours, from the edition of 85, published by Studio Voltaire, made in Scotland, overall 130 x 180cm: Estimate £800- £1,200
Textiles especially play a big part within the multiples art sector. Multiples are typically associated with objects, sculptures, or installation pieces. The technique is the most accessible form of art on the market. In recent years, multiples, in general, have become increasingly popular.
Here we explore multiples incorporating textiles in the upcoming Modern & Contemporary Prints & Multiples auction that will take place at Roseberys on Tuesday 8th March.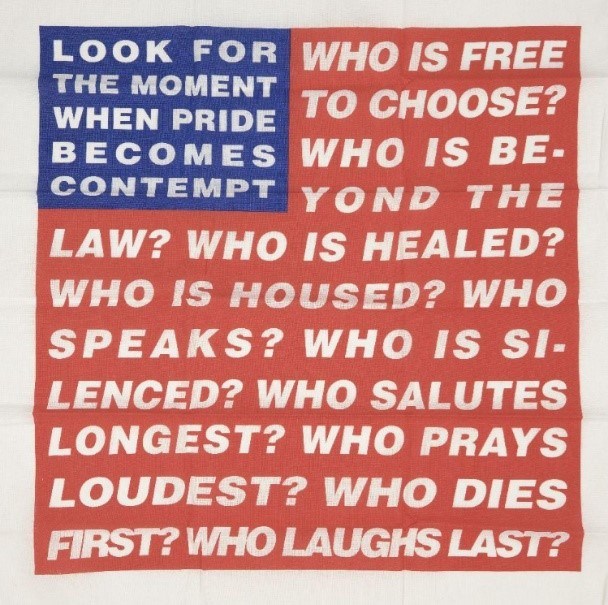 Barbara Kruger, American b.1945, is a conceptual artist and collagist associated with the Pictures Generation. She is most known for her collage style that consists of black-and-white photographs, overlaid with declarative captions, stated in white-on-red Futura Bold Oblique or Helvetica Ultra Condensed text. Kruger's artistic mediums include photography, sculpture, graphic design, architecture, video, and audio installations as well as textiles.  Kruger's earliest works date back to 1969 when she began creating large wall hangings which incorporated materials such as yarn and ribbons. These pieces represented the feminist reclamation of craft during this period. Kruger crocheted sewed and painted brightly-hued objects. Lot 230 on offer at Roseberys, which comes with an estimate of £200- £400, is Untitled (flag), 2020; screenprint in colours on cotton, created for Artists Band Together, published by Los Angeles County Museum of Art, contained within original black card envelope, sheet measuring 55 x 55cm.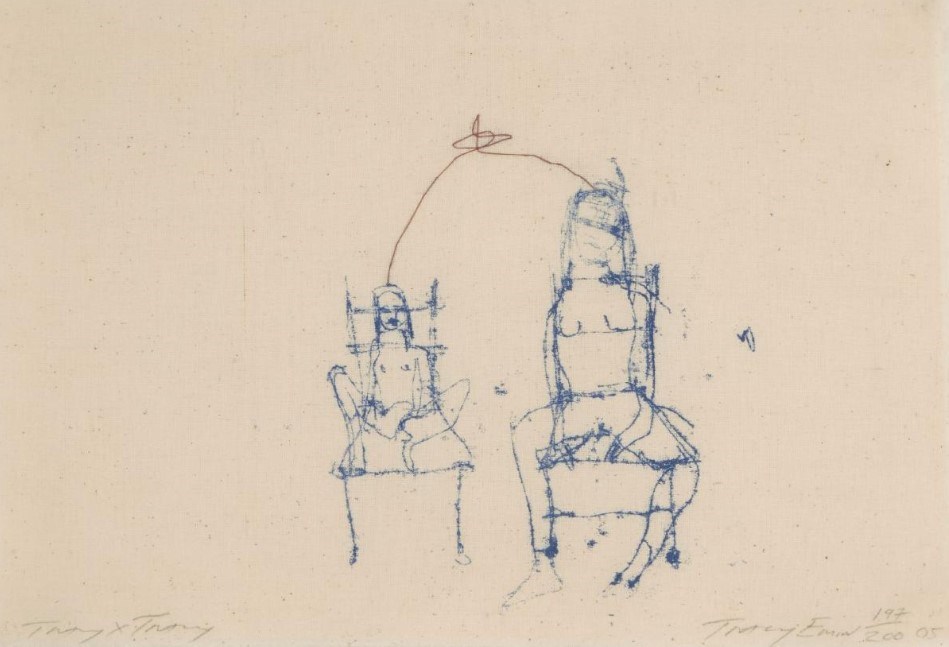 Tracey Emin, CBE, RA is a British artist known for her autobiographical and confessional artwork. Emin produces work in various media, including drawing, painting, sculpture, film, photography, neon text, and sewn appliqué. The use of textiles is a well-documented part of her creative output. In 1997, her work 'Everyone I Have Ever Slept With' 1963–1995, a tent appliquéd with the names of everyone the artist had ever shared a bed with, was shown at Charles Saatchi's Sensation exhibition held at the Royal Academy in London. Emin regularly works with textiles in the form of appliqués – material sewn onto other material. She has collected fabric from curtains, bedsheets, and linen for most of her life and keeps the material that holds emotional significance for later use in her work. Emin's use of fabric is varied, one of her most famous works came from sewing letters onto her grandmother's armchair in There's A Lot of Money in Chairs. Emin has made a large number of smaller-scale works, often including hand-sewn words and images, such as Falling Stars. In 2007, Emin launched a specially designed flag made out of fabric with the message One Secret Is To Save Everything written in orange-red letters across the banner made up of hand-sewn swimming sperm. Emin's works on fabric have been related to other artists such as Louise Bourgeois. On offer in Roseberys upcoming auction is a large collection of works by Emin. Including lot 279: Tracey Emin CBE RA, British b.1963- Tracey x Tracey, 2005; screenprint with hand stitching on calico cotton, signed, dated, titled, and numbered 197/200 in pencil, sheet measuring 45 x 31cm. This work comes with an estimate of  £1,500- £2,000.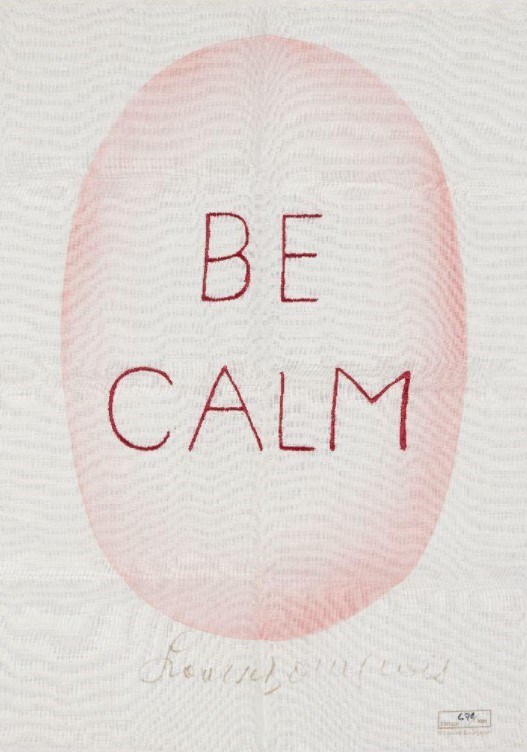 Louise Bourgeois was a French-American artist, best known for her large-scale sculpture and installation art, as well as being a prolific painter and printmaker.  She explored a variety of themes throughout her long career including domesticity and the family, sexuality and the body, as well as death and the unconscious. Textiles played a major aspect in the Bourgeois' practice and life. She grew up around textiles, her parents' owned a tapestry restoration workshop. Like Emin, Bourgeois also collected sentimental textiles throughout her life including, clothes and household items such as tablecloths, napkins, and bed linen. From the mid-nineties, Bourgeois, cut up and re-stitched these, transforming her lived textiles into art. Bourgeois's fabric drawings are abstract yet acutely personal, recalling references to the materials' past incarnations. Offered to the market at Roseberys is lot 357: Be Calm, 2005; screenprint with embroidery on linen tea towel, signed in the plate, numbered 694 /1000 in black pen, in original paper packaging, published by Third Drawer Down and Tate, London, sheet measuring 68 x 49.5cm. In 2005, Bourgeois created ''Be Calm'' a drypoint etching, after whicha  this tea towel is reproduction. It was created two years prior to Louise Bourgeois's monumental exhibition at the Tate Modern, London in 2007. This piece comes with a pre-sale guided price of £1,200- £1,800.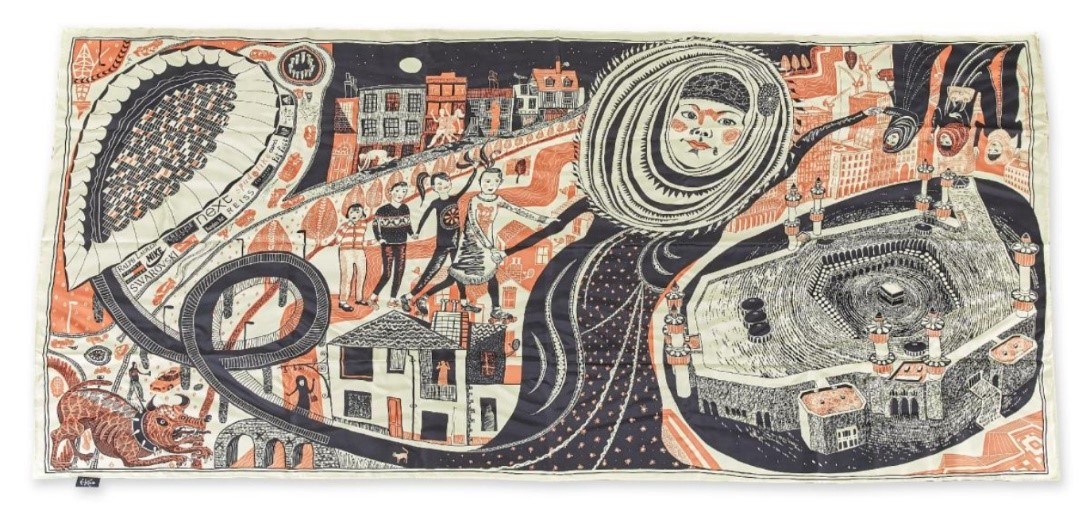 Grayson Perry CBE RA, born 1960, is an English contemporary artist, writer, and broadcaster. He is best known for his ceramic vases, tapestries, as well as his observations of the contemporary art scene, and for dissecting British "prejudices, fashions and foibles". Perry created the 15 m x 3 m The Walthamstow Tapestry in 2009. The large woven tapestry bears hundreds of brand names surrounding large figures in the stages of life from birth to death. Perry's 2012 TV documentary series All In The Best Possible Taste with Grayson Perry, about class "taste" variables, included him making large tapestries, called The Vanity of Small Differences. Their format was inspired by William Hogarth's A Rake's Progress. Of the tapestries, Perry commented: 'The Vanity of Small Differences consists of six tapestries that tell the story of Tim Rakewell. Some of the characters, incidents, and objects I have included I encountered whilst filming All in the Best Possible Taste. The tapestries tell a story of class mobility. I think nothing has such a strong influence on our aesthetic taste as the social class we grow up in.' The sketches were created using Adobe Photoshop to design the finished images and the tapestries were woven on a computer-controlled loom. On offer at Roseberys is lot 311: ' Ashford Hijab', 2014; screenprint in colors on a silk scarf, in original National Portrait Gallery Box, 88.5 x 170.5cm (multiple) coming with an estimate of £500- £700.

Lot 307: Yinka Shonibare CBE, British/Nigerian- Aristocrat in Blue, 2020; lithograph with collage in colours on wove
View the fully illustrated catalogue here
More about the sale 
Day 1: Modern & Contemporary Prints & Multiples
Tuesday 08 March 10.00am 
Day 2: Modern & Contemporary Prints & Multiples - Prints from the estate of master printer Alan Cox will take place Wednesday 09 March 10.00am 

Viewing Times
Friday 4 March 9.30am - 5.00pm
Sunday 6 March 10.00am - 2.00pm
Monday 7 March 9.30am - 5.00pm
 
Please contact prints@roseberys.co.uk or for marketing or PR relations peigimackillop@roseberys.co.uk