The much-loved cat collection of the late Pamela Marian Cole
17/01/2022 Ceramics & Glass, News Stories & Press Release, Decorative Arts & Modern Design
The beauty and charm of cats have enchanted many artists, sculptors and collectors over the years, which is evident in the clowder of figurines, antique and collectable cats that came through Roseberys doors recently. Carmen de Aldana from Guatemala may hold the title for the largest collection of felines, around 21,300 different cat-related items last noted, but the late Pamela Marian Cole from Birmingham also amassed a rather impressive collection of her own, which are now being offered to the market by Roseberys.
Pamela spent most of her life putting together an impressive collection of over 2,000 ceramic cats.  Her ceramic cats can be traced back to her childhood years, in the 1940s, when her mother bought her a cat to stop her from feeling lonely. It was a simple pottery cat from a gift store in Corporation Street, but it kick-started her passion for collecting, and from then on, she spent her days scouring shops and craft fairs in search of china cats. She commented about her collection within an article to Birmingham Live: "I have them from all over the world and I've bought them in china shops, toy shops, antiques shops, at craft fairs, antiques fairs and on eBay.' And when asked about the particular model that holds a special place for her, she replied: 'My favourite is a Siamese kitten my mum gave me.'
The collection of cats will be offered to the market within Roseberys upcoming Modern Home auction, which also includes silver, posters, Asian art, books, photos, works of art, lighting, clocks, decorative art, textiles, fashion, furniture, rugs and sculptures. The sale will take place on Thursday 27 January, starting at 10 am.
Here we showcase highlight lots from the collection on offer within Roseberys.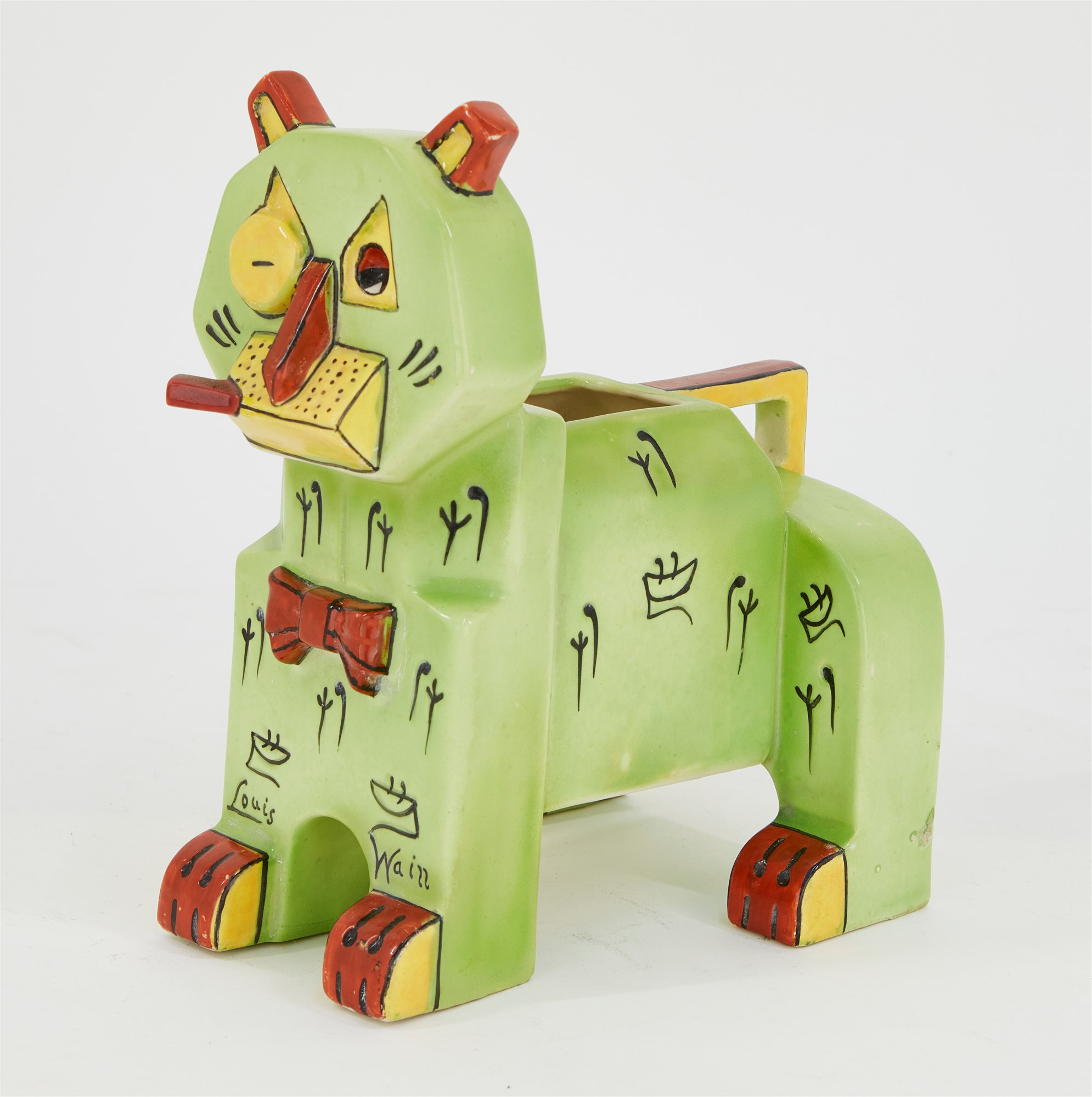 Lot 2003: A Louis Wain 'Lucky Futuristic' cat form pottery spill vase, depicted in cubist outline painted with black markings on a green ground with red highlights, multiple marks to include impressed serial number to side no. 637131, indistinct impressed signature to reverse, painted Louis Wain signature to front, printed factory mark to underside, 21.5cm high.
Estimate: £200- £300

Lot 2001: A rare Staffordshire salt glazed agateware figure of a seated cat, mid-18th century, its coat splashed with blue over white and manganese striations, unmarked, 11cm high.
Estimate:  £400- £600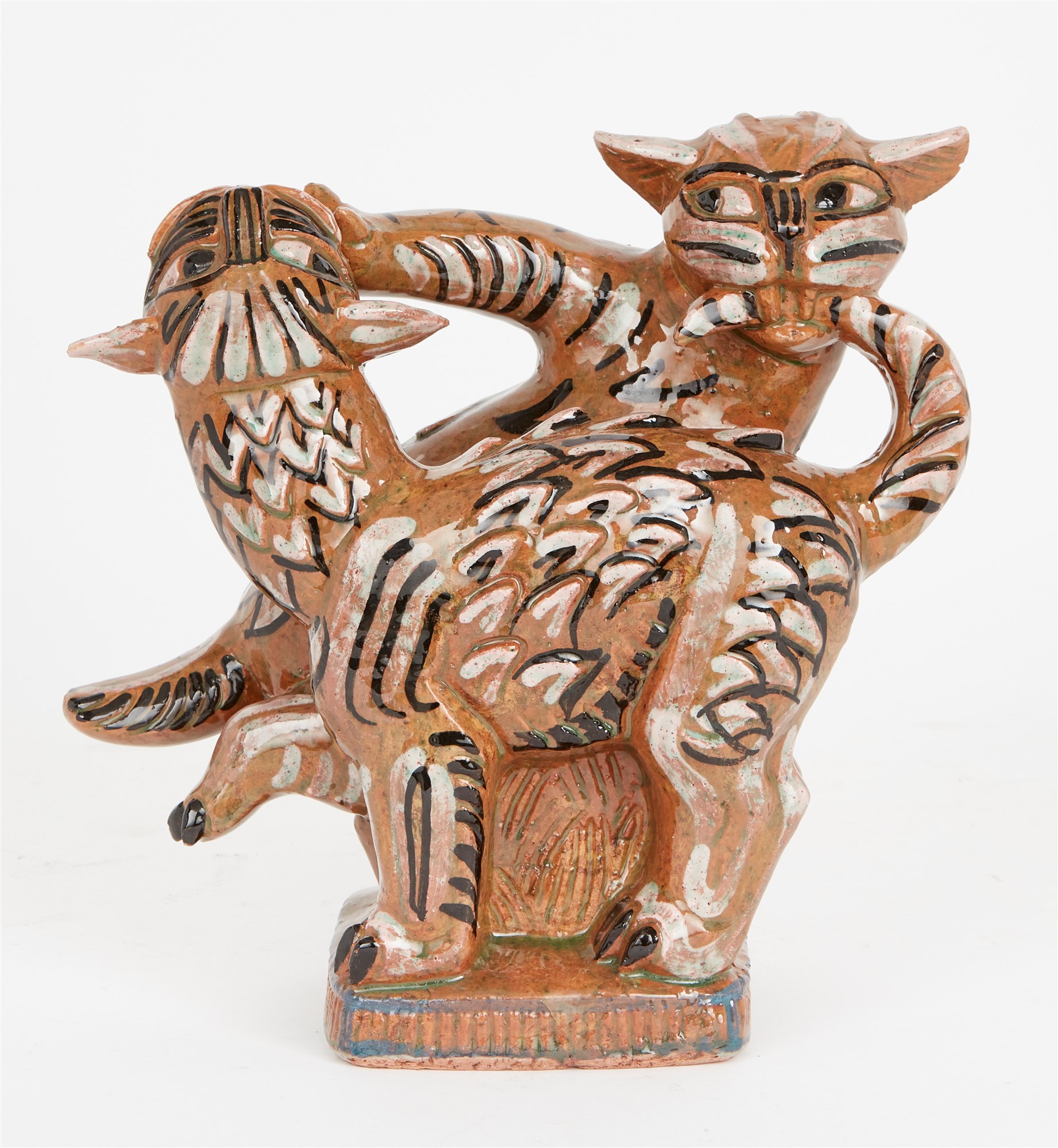 Lot 2008: Helge Christoffersen (Danish, 1925-1965), an earthenware sculpture depicting a catfight, mid-century, bearing incised signature to base 'CH, Danmark', 27.5cm high
Estimate: £400- £600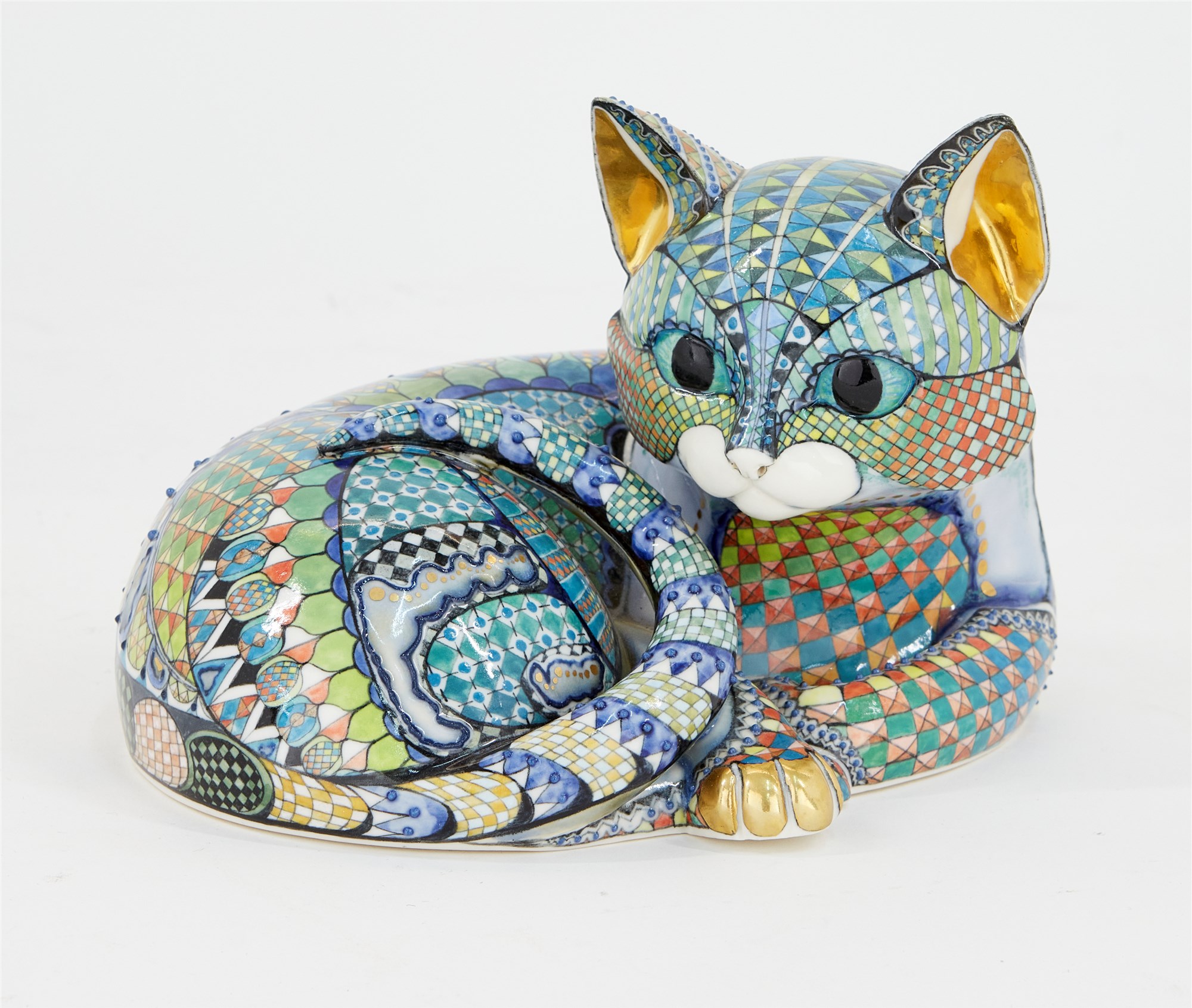 Lot 2037: A David Burnham Smith pottery cat, porcelain, dated 2013, artist's painted monogram to base, 17cm wide
Estimate: £400- £600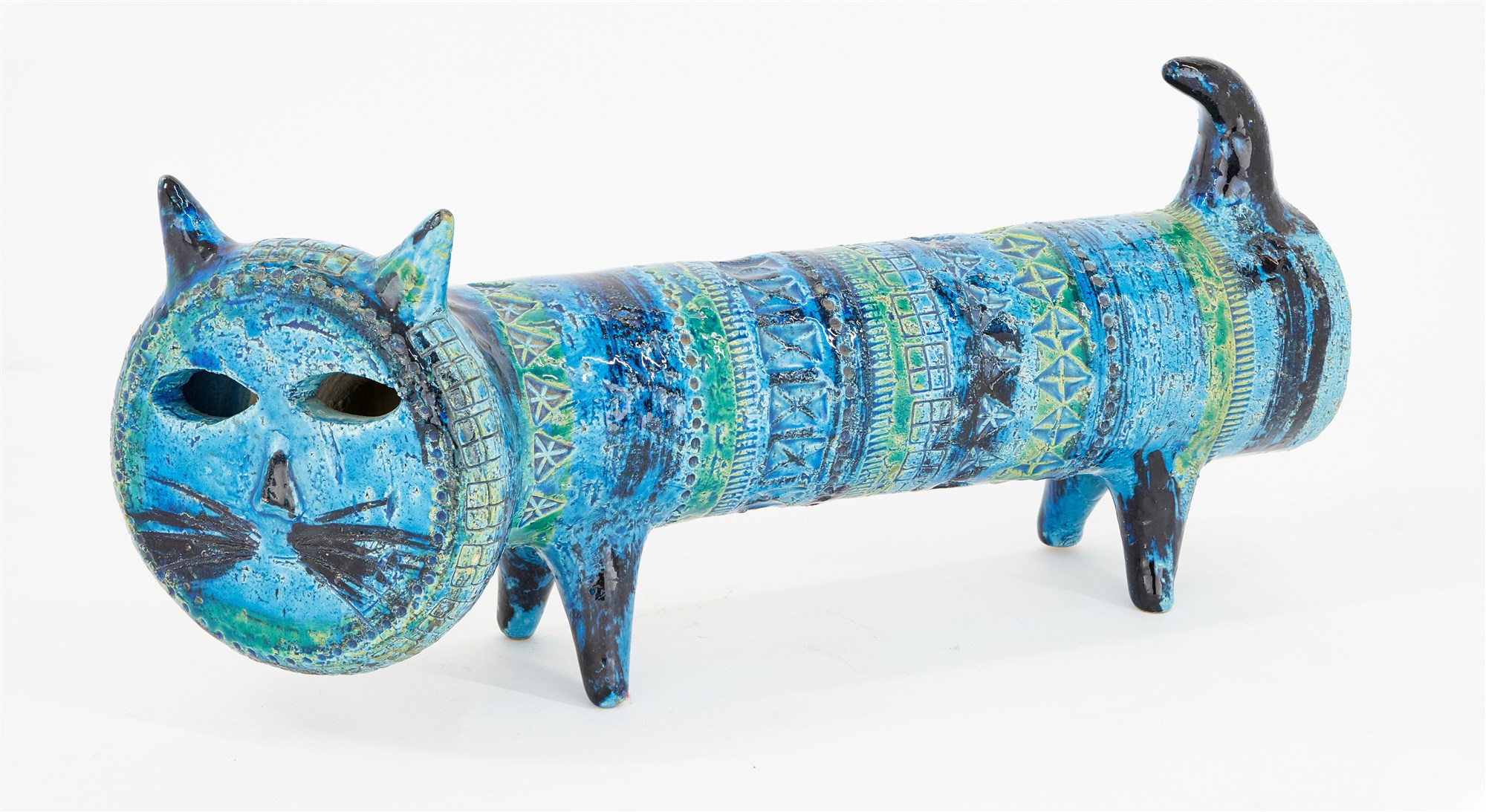 Lot 2007: An Italian Bitossi 'Rimini Blue' pottery cat designed by Aldo Londi (1911-2003), 1960s, with incised geometric decoration and blue and green glaze, unmarked, 39.5cm long.
Estimate: £200- £300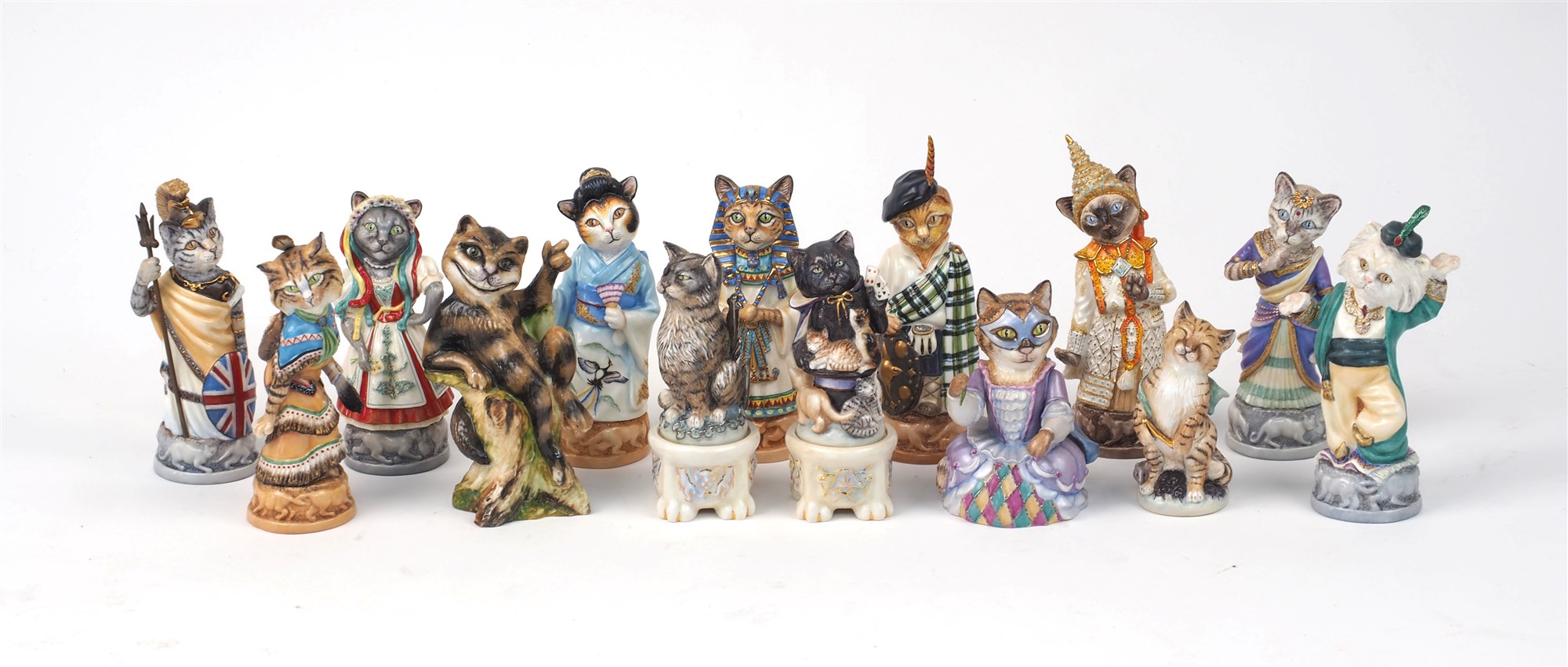 Lot 2059: A collection of Bronte cats to include; a 'Cheshire Cat', 627/2500, 12cm high, a 'Maine Coon', 29/250, a 'Japanese Bobtail', 29/250, a 'British Shorthair', 29/250, 'Crocheting Cat', 29/250, 'Benegal', 29/250, 'Russian Blue', 29/250, 'Siamese', 29/250, 'Scottish Fold', 29/250, 'Egyptian Mau', 29/250, 'Persian', 29/250, 'Conjuring Cat', 29/250, and 'Barge Cat', 29/250, 'Pussycat', 203/350, tallest 12.5cm high, all porcelain with stamped factory marks (14)
Estimate:  £400- £600
Visit the fully illustrated catalogue here