The first Fine & Decorative sale of 2022 was a testament to a strong market in the decorative arts
3/04/2022 Ceramics & Glass, News Stories & Press Release, Furniture & Rugs , Silver, Works of Art, Sculpture & Clocks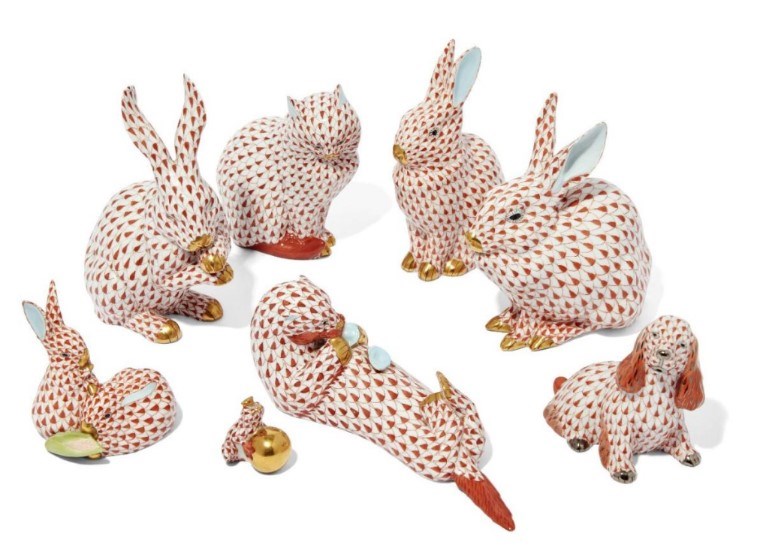 A group of modern Herend porcelain animals, late 20th/early 21st century

Roseberys were pleased to present the first Fine & Decorative auction of the year on Wednesday 23rd March. This sale offered an opportunity to decorate the home and interior, spanning centuries and styles and featuring renowned artists and designers. The auction included antique and decorative ceramics, glass, silver, works of art, collectibles, rugs, and furniture.

Anna Evans commented: 'The first Fine & Decorative sale of 2022 was a testament to a strong market in the decorative arts and furniture fields.  International bidding across all categories resulted in an 85% sell-through rate.  We look forward to the next sale on 21 July which will include a number of notable private collections.'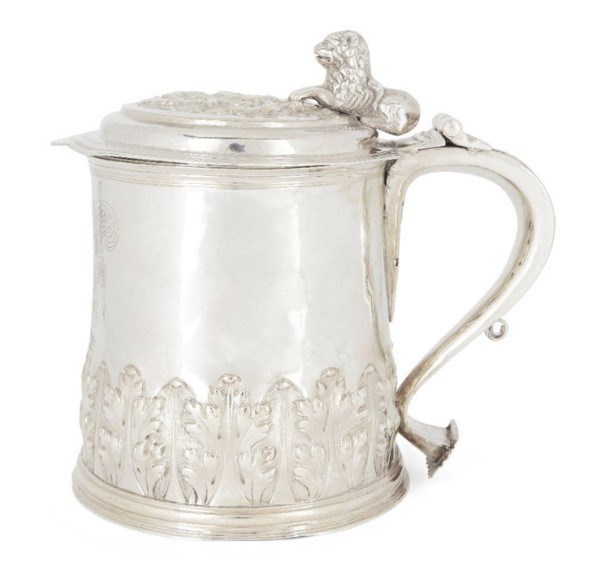 Lot 4, a William & Mary silver presentation tankard, London, 1693, which came with an estimate of £1,500- 2,500 made £11,250 to a bidder in the room. This impressive 17th-century tankard generated a lot of interest and competitive bidding on the internet, phones, and in the room. A lovely example of 17th-century silverware, this tankard may have been commissioned for presentation or ceremonial use. It was in good condition commensurate with age and featured an original lion thumbpiece surmounting the hinged lid. Shortly after this tankard was made, the style of these pieces began to shift, with subsequent Queen Anne tankards often featuring domed covers rather than the flat lids typical of 17th-century examples. This tankard was therefore a very nice example of its time.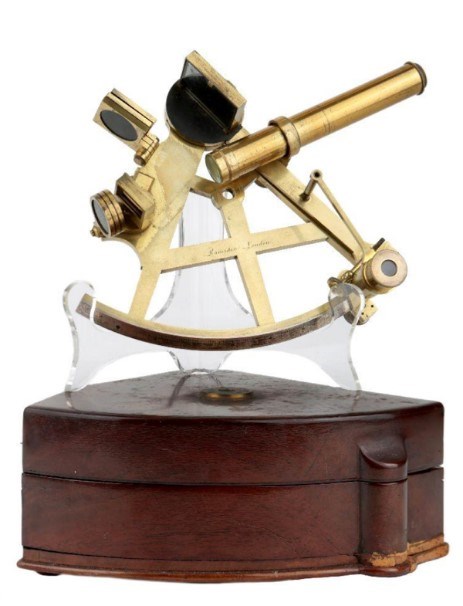 (Lot 300) Entered onto the market with an estimate of £1,000 – 1,500 was lot 300, a 9in. radius brass sextant, by Jesse Ramsden, London, late 18th century. Jesse Ramsden FRS (1735 – 1800) was one of the leading manufacturers of scientific instruments in the latter part of the eighteenth century.  Ramsden was pioneering and forward-thinking in his inventions, tackling his projects with the mindset of an engineer seeking exactitude through mechanical precision as opposed to pure draughtsmanship. It was this mentality that led him to develop his first dividing engine in 1767, which meant that instruments such as sextants could be produced with accurately divided scales, cheaply and in a larger volume. At a time when astronomical research for the purposes of navigation was at the forefront of Britain's Maritime ambitions, Ramsden's advances allowed sextants to be affordable and portable. The vendor of the lot was the charity Emmaus which had the piece donated to the shop. The sextant realised the price of £9,375, to a London-based online bidder.



(Lot 159) A Royal Worcester 'Fallen Fruits' composite tea service, 20th century made £6,875, against a pre-sale guided price range of £1,000 – 1,500. The beauty of the Royal Worcester fruit-painted works is in the incredible technical skill of the painters. Using a palette of translucent colours several stages of painting and firing take place to build up the strength of colour to give the fruit a real three-dimensional quality. Translucent colours are used so that the lighter colours underneath will show through and give remarkable depth to the finished piece.  The present lot had a large number of pieces which attracted lots of competitive bidding.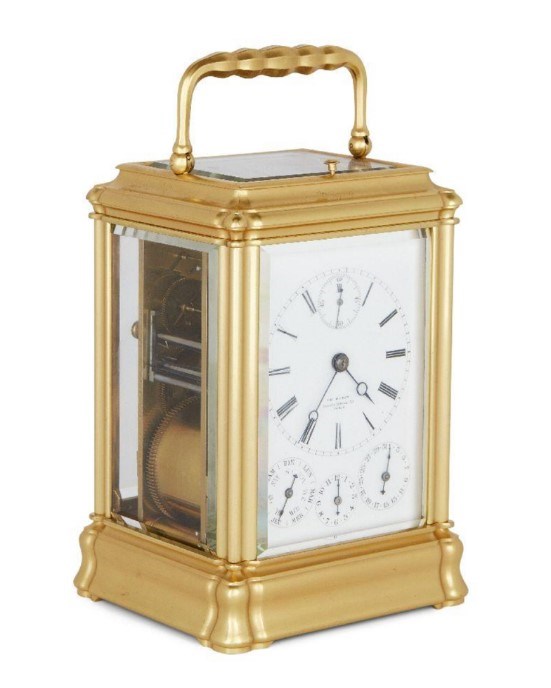 Lot 297, a French gilt brass Grande Sonnerie striking and repeating carriage clock with alarm, by Charles Oudin, Palais Royal 52, Paris, 19th century realised £6,250 against a top estimate of £2,500, going to an online bidder based in France. Charles Oudin is listed as working at Palais Tribunat, Gallerie de Pierre, Gallerie Montpensier, Palais National and from 1860 until 1890 in Palais Royale. The company became known as Charles Oudin & Cie. after 1870. He apprenticed under the great Master Abraham Louis Breguet (d. 1823) and was renowned for making top-quality watches in the style of Breguet.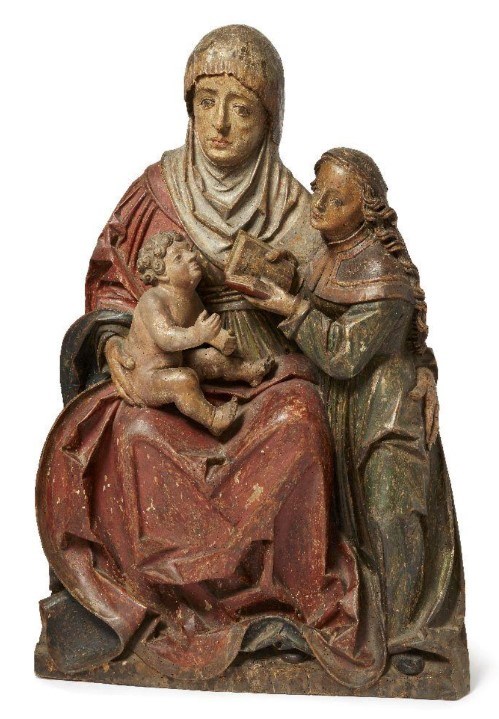 Lot 194, a South German polychrome limewood group of the Virgin and Child with St Anne (Anna Selbdritt), probably Schwabian or Bavarian, early 16th century made £5,250. The cult of the Virgin Mary's mother grew intensely during the 15th century, and in 1481 Saint Anne was included in the Roman church calendar. This prompted a rise in the popularity of the 'trinity' motif of Saint Anne, the Virgin and the Christ Child, referred to by the German term Anna Selbdritt in the visual arts. This was a fine example in excellent condition on a large scale.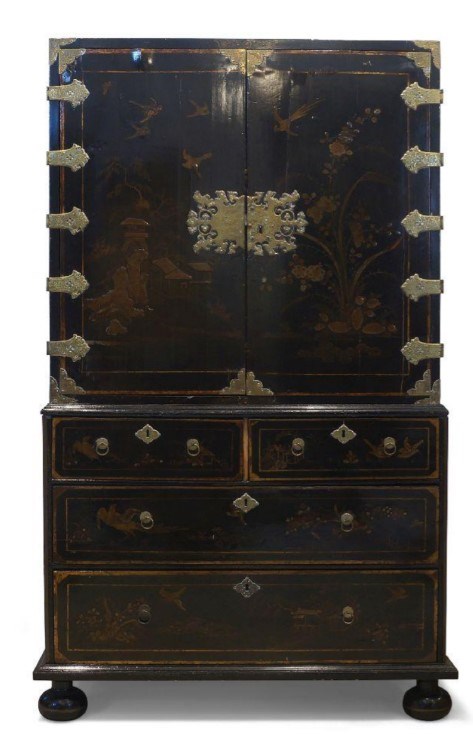 (Lot 318) A Queen Anne black japanned cabinet on chest , c.1710 made £5,000, going to a bidder in the room. The word Japanning originated in the 17th century. It was used to describe a lacquer finish that was created as a European imitation of the original Asian (mostly Oriental Chinese and Japanese) lacquer-work. Antique Japanned furniture is still one of the most desirable areas of antique furniture collecting which is reflected in the price on this lot.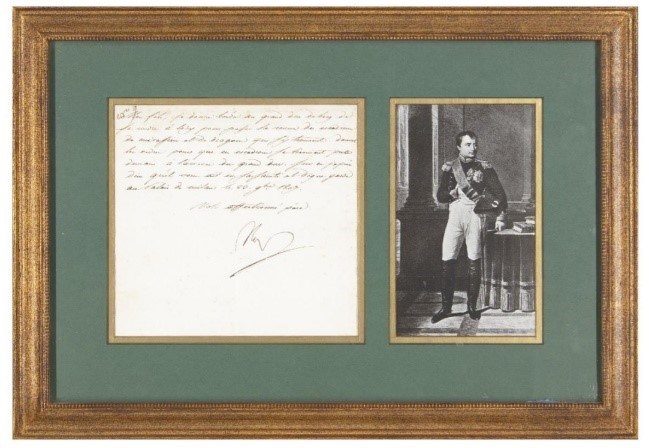 A PRIVATE COLLECTION OF NAPOLEONIC LETTERS (LOTS 262-278) NAPOLEON I: (1769-1821)
Alongside the highlights listed above in the sale, a private collection of Napoleonic letters, lots 262 – 278, attracted healthy pre-sale interest with the top price coming from the letters of Napoleon I which sold to a US bidder for £1,750. Multiple bidders also competed on a large private collection of Herend porcelain animals, lots 182-189, to achieve a 100% sell-through rate and some strong prices, particularly on the rarer examples such as the running cheetah and snow leopard.
You can find all the auction results here
The next auction will take place on Thursday 21 July
Contact worksofart@roseberys.co.uk for further information