The first Fine & Decorative auction of the year to suit all tastes & budgets
8/03/2022 Ceramics & Glass, News Stories & Press Release, Furniture & Rugs , Works of Art, Sculpture & Clocks
Roseberys are pleased to announce the first Fine & Decorative auction of the year on Wednesday 23rd March. This sale offers an opportunity to decorate the home and interior, spanning centuries and styles and featuring renowned artists and designers. The sale includes antique and decorative ceramics, glass, silver, works of art, collectibles, rugs, furniture, and even a Triumph motorcycle.

Anna Evans, Head of sale, comments: 'The first Fine & Decorative sale of 2022 includes an exciting and eclectic offering of 396 lots from the 800 years of the decorative arts.  From 14th century Italian maiolica to an iconic modern Triumph motorcycle the sale includes items for all tastes and budgets.'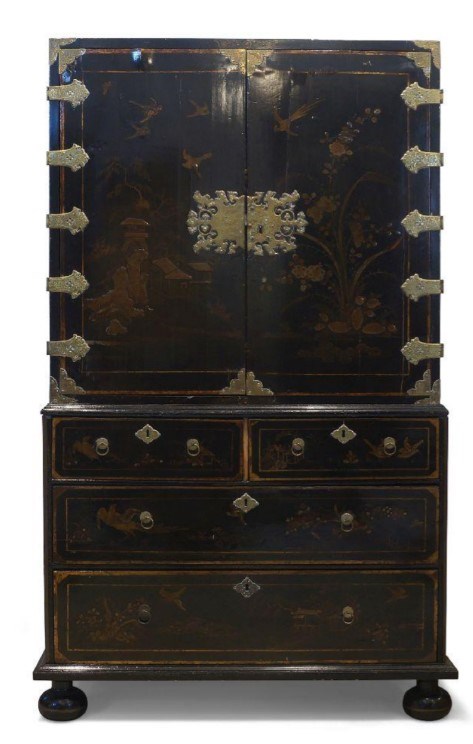 A highlight furniture piece on offer is lot 318. A Queen Anne black japanned cabinet on chest, c.1710, with an estimated price of £3,000-£5,000. The word Japanning originated in the 17th century. It was used to describe a lacquer finish which was created as a European imitation of the original Asian (mostly Oriental Chinese and Japanese) lacquer-work.  Antique Japanned furniture is still one of the most desirable areas of antique furniture collecting.
Lot 317, is a William & Mary seaweed marquetry side table, estimated to make £700-£1,000. The two-dimensional and highly stylised 'seaweed' or arabesque marquetry of this lot is one of the most recognisable traits of the William & Mary style.
Lot 194 is a South German polychrome limewood group of the Virgin and Child with St Anne (Anna Selbdritt), probably Schwabian or Bavarian, early 16th century, which comes with a pre-sale guided price of £3,000-£5,000. The cult of the Virgin Mary's mother grew intensely during the 15th century, and in 1481 Saint Anne was included in the Roman church calendar. This prompted a rise in the popularity of the 'trinity' motif of Saint Anne, the Virgin and the Christ Child, referred to by the German term Anna Selbdritt in the visual arts.

Among the silver on offer is lot 127, a large 19th century American silver centrepiece by Tiffany & Co., New York. Entered onto the market with an estimate of £3,000-£5,000, the centerpiece has the mark of J.C. Moore, 1870-1875, raised on a circular pedestal foot, measuring 29.5cm high, 35.5cm wide and weighing 67oz.
Another highlight silver item is lot 1. An impressive George III silver trophy cup by Paul Storr, London, 1801, which has a projected price range of £1,000-£1,500. The trophy is of horse racing interest and weighs 72.7oz. There is a similar example in the Royal Academy Collection.
Lot 261 is a Triumph Bonneville 865 cc motorcycle, estimated to make £4,000-£6,000. Named after the famous US salt flats at which Triumph-powered bikes set land speed record across three decades in the 50's, 60's and 70's, the Triumph Bonneville defined British biking.  It is a British icon in classic 1970s style.
LOUIS-NAPOLEON (1856-1879), The Prince Imperial, only son of Napoleon III, killed in Zululand, four letters
Lots 262 – 278 are a private collection of Napoleonic letters, with estimates ranging from £100 up to £2,000. Collected over a 20 year period this extensive group of letters relate to Napoleon I, Napoleon III and a number of key family members covering over 100 years of correspondence.  Highlights include letters from Napoleon I to his step-son Prince Eugène de Beauharnais giving military orders to letters and sketches from Louis Napoleon (The Prince Imperial, only son of Napoleon III), killed in Zululand.
Lot 248, a pair of French bronze Japonisme vases, by Maison Marnyhac, Paris, late 19th century comes with an estimate of £800-£1,200. Maison Marnyhac, the commercial name for la Société des Marbres et Bronzes Artistiques de Paris, was established under the direction of Charles de Marnyhac in Paris in the mid-19th century, firstly at avenue de l'Opéra then rue de la Paix; it closed in circa 1910. The company also opened a magnificent gallery at 163 to 165 Regent Street in 1875, which was frequented by the English aristocracy. They specialised in the creation of objets de luxe and their repertoire was extensive incorporating 'tous les styles et toutes les epoques', Pompeian, Chinese and 'Japonisme'.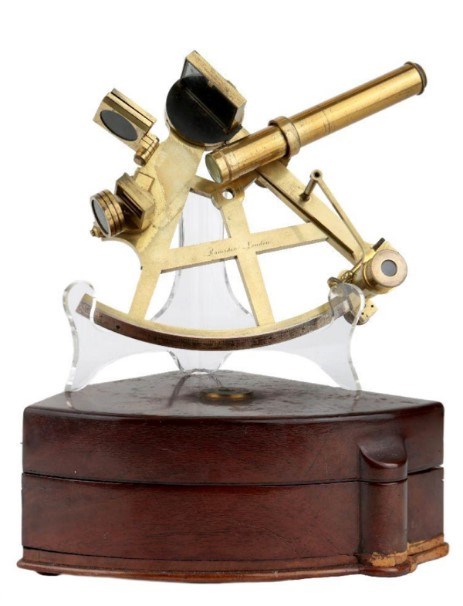 Lot 300 on offer is a 9in. radius brass sextant, by Jesse Ramsden, London, late 18th century, valued at £1,000-£1,500. Jesse Ramsden FRS (1735 – 1800) was one of the leading manufacturers of scientific instruments in the latter part of the eighteenth century.  Ramsden was pioneering and forward thinking in his inventions, tackling his projects with the mindset of an engineer seeking exactitude through mechanical precision as opposed to pure draughtsmanship. It was this mentality that led him to develop his first dividing engine in 1767, which meant that instruments such as sextants could be produced with accurately divided scales, cheaply and in a larger volume. At a time where astronomical research for the purposes of navigation was at the forefront of Britain's Maritime ambitions, Ramsden's advances allowed sextants to be affordable and portable.
Lot 191 is a Sicilian maiolica albarello, second half 17th century, Caltagirone with a price projection of £800-1200. Storage vessels were among the most frequently produced maiolica wares in late medieval and Renaissance Italy. Made in fairly standard shapes, they were designed to fit with dozens of others on a shelf, often in a pharmacy or shop.  The flanged lips helped secure cloth or paper seals.
-Ends-
Fine & Decorative Auction
23/03/2022 10:00 AM GMT

View the fully illustrated catalogue
Viewing Times
Friday 18 March: 9.30am - 5.00pm
Sunday 20 March: 10.00am – 2.00pm
Monday 21 March: 9.30am - 5.00pm
Tuesday 22 March: 9.30am-5.00pm
Please contact worsofart@roseberys.co.uk for condition reports and further information.