The best results for an Antiquities, Islamic & Indian Arts auction at Roseberys to date
28/04/2022 News Stories & Press Release, Islamic & Indian Art
ROSEBERYS LONDON: The Antiquities, Islamic & Indian Arts department were proud to present their first auction of the year on Friday 1 April. Within the efficacious sale, which was Roseberys most profitable Islamic & Indian Art sale to date, many of the lots far exceeded their top estimates. The collection of jewellery, with esteemed provenance on offer, did particularly well. Furthermore, the works of art on offer from the Private Collection of William and Mildred Archer had a 100% sell through rate, making £72,625.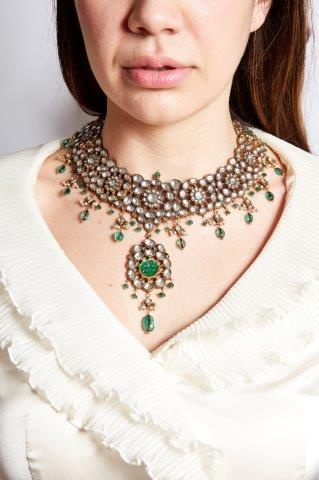 Alice Bailey, Head of the department commented on the success of the sale: 'The April Antiquities, Islamic and Indian Arts sale saw great results across all the categories. Indian jewellery with royal provenance took pride of place, with the top lot, the 17th century Mughal Imperial inscribed spinel which once belonged to ruler Shah Jahan and which was in the possession of Raja Vizier of Faridkot. An emerald-set bazuband worn by Maharani Duleep Singh on her wedding day achieved the second highest result of the day. Paintings from the private collection of William and Mildred Archer were fought over by bidders from the US, India, Canada, Europe and the UK and rounded out a very successful Indian paintings section. Scribe's cases, Qajar portraits, and lacquered qalamdans from an Important Private Collection indicated the strength of strongly provenanced works. An Achaemenid glass phiale achieved over £12,000 continuing Rosebery's strong results in Antiquities.'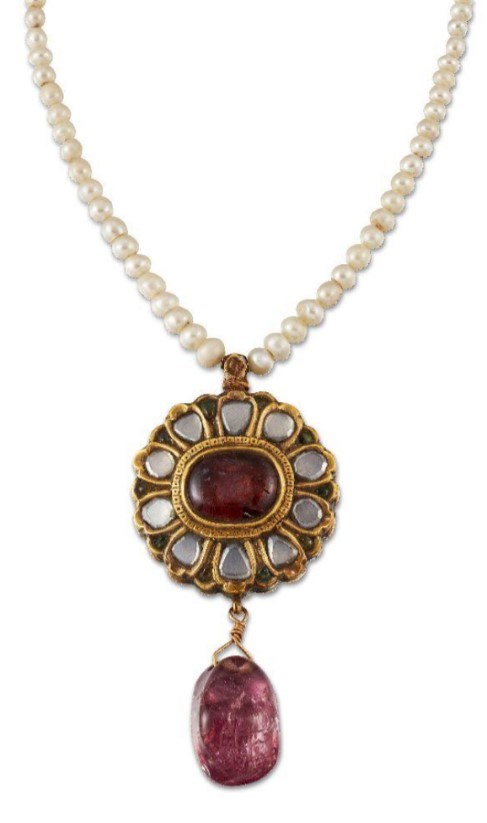 A Mughal imperial inscribed spinel from the treasury of Shah Jahan dated 1039/1629-30AD was the highlight of the sale (lot 126), which sold to a room bidder for £68,750. Suspended from a 17th-century diamond-set enamelled gold pendant the necklace strung with natural pearls, noted Mughal jewellery scholar Michael Spink examined the piece and identified the inscription as the cipher for Shah Jahan and the weight as 23 carats. The pendant was in the collection of devout Sikh Raza Wazir Singh of Faridkot, Punjab, who succeeded his father Raja Pahar Singh in 1849.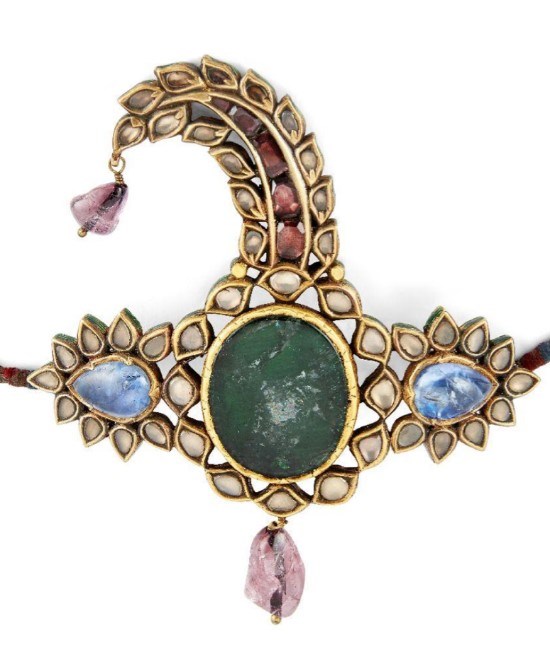 Entered into the sale with an estimate of £15,000-20,000, was a sapphire-, emerald- and spinel-set gold sarpech, Murshidabad, India, mid-18th century (lot 125). The sarpech came with provenance with Private UK Collection, Raja Wazir Singh of Faridkot (1828-1874), and thence by descent. A similar turban ornament in the Victoria and Albert Museum ( IS 3-1982) is part of a group of jewels presented to Admiral Charles Watson by the Nawab of Bengal on 26 July 1757 following the Battle of Plassey. The sarpech sold over mid-estimate at £18,750 to a UK-based RoseberysLive online bidder.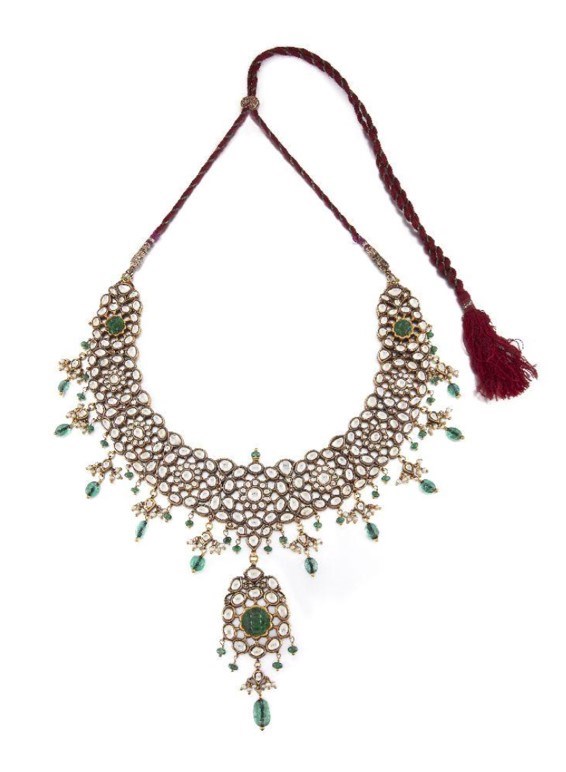 (Lot 127) On offer with the same provenance was a sapphire-set enamelled gold necklace, North India, 19th century which realised £12,500, going to a UK based telephone bidder. Commissioned by a wealthy patron, the necklace comprised of white sapphires set in gold with foil backing, on flexible floral openwork band with seed-pearl and emerald trefoil drop, hanging flowerhead-shaped pendant with emerald drop, enamelled on the reverse in red, green and white with floral details on each setting, on gilt metal and cotton thread attachment.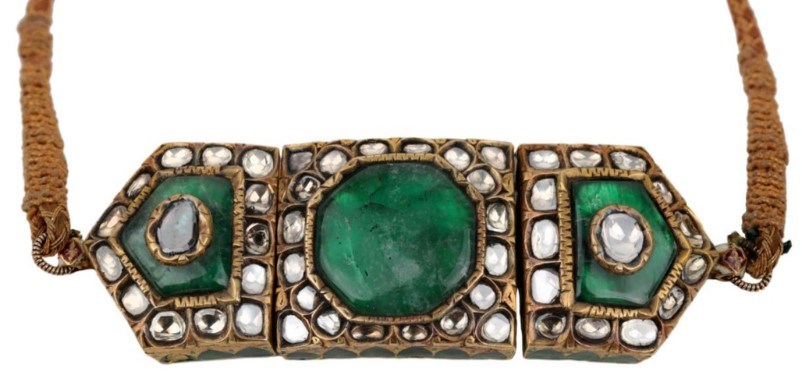 Rounding up the highlight jewellery lots sold was lot 129, a diamond and emerald set gold bazuband, Jaipur, India, mid-19th century. The bazuband has three hinged sections, the central square with an emerald in an octagonal gold setting and surrounded by diamonds, the pentagonal sections on either side with a central diamond in an emerald set within the gold setting and surrounded by diamonds, the reverse enamelled in red, white, green and lilac with three large flowers heads and leaves, on the gilt-metal thread and cotton string. This piece comes with provenance from a Private Collection UK; Maharani Bamba Singh (1848-1887), wife of Duleep Singh; acquired from the family of her daughter Princess Bamba Sophie Jindan (1869-1957) Maharani Bamba, Lady Duleep Singh was the Egyptian wife of H.H. Maharaja Sir Duleep Singh. Given the pre-sale price guide of £20,000-30,000, the bazuband sold for an outstanding £42,500, to a bidder in the room.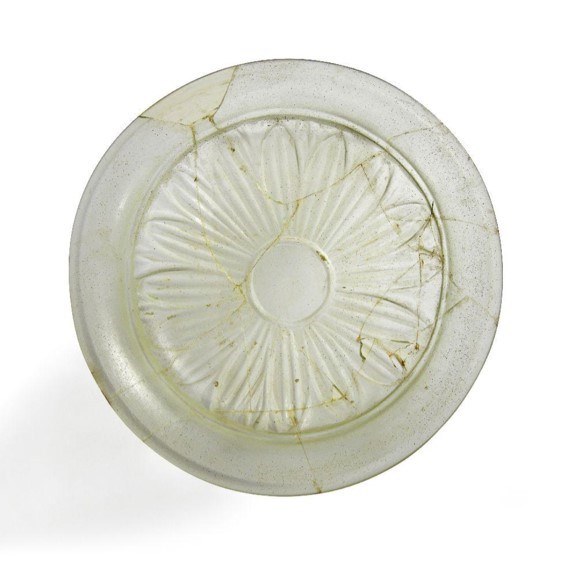 Estimated to make  £2,000- £2,500, lot 59, an Achaemenid cast green glass phiale, of shallow form with slightly flaring rim, circa mid-5th-early 4th century B.C., made well over its original estimate realising £15,000. The phiale comes with provenance from the Private Collection of Theo Sarmas (1938-2018). Theo Sarmas was a London businessman who was a passionate collector of Byzantine ceramics and Greek coinage. Princeton University, New Jersey holds the Theo Sarmas collection of medieval Greek coinage. These luxury vessels, made in the finest quality colourless glass, derived their forms from Achaemenid silver and bronze pieces and were specially made in imitation of highly prized rock crystal.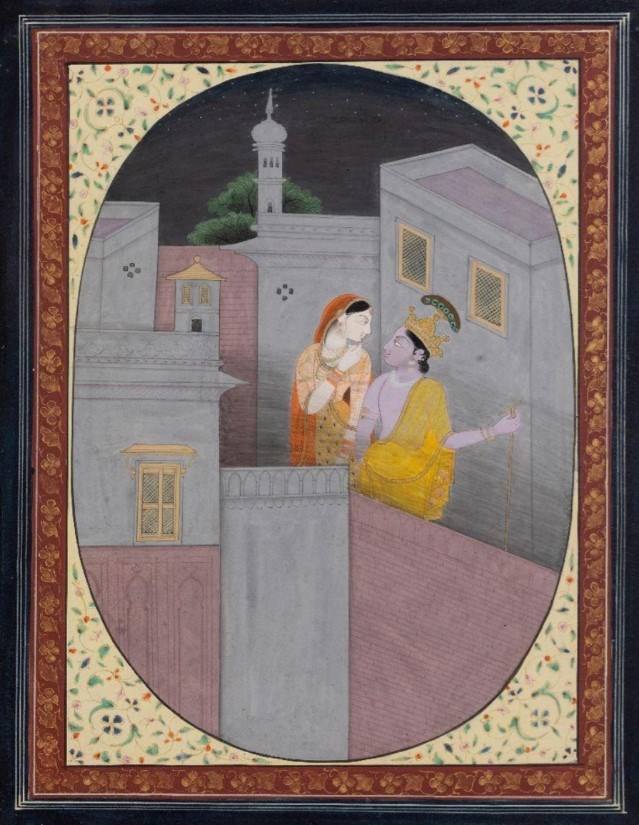 All eight Indian paintings from the Private Collection of William and Mildred Archer sold in the auction, making a collective total of £72,625. William and Mildred Archer are considered to be pioneers in the scholarship of Indian painting, establishing reputations as two of the most prominent authorities on Indian art in twentieth-century Britain. A highlight from the collection sold was lot 157, an Illustration to the Sat Sai of Bihari, Krishna and Radha in a townscape at night, Garhwal or Sirmer (Nahan), North India, circa 1800. Coming with a pre-sale estimate of £2,000-3,000, the artwork that was created with opaque pigments on paper heightened with gold, mounted, glazed and framed made £10,625, selling to an online buyer based in the USA.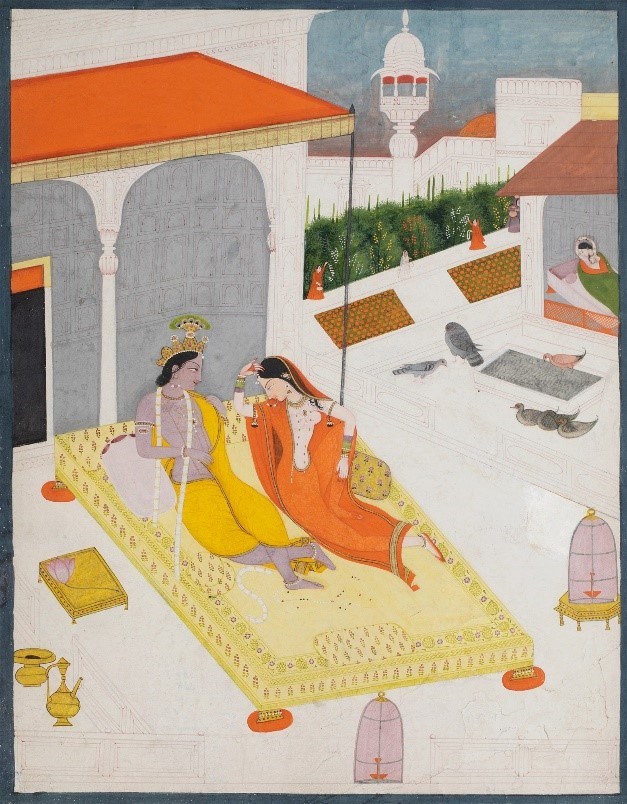 Another highlight from the Private Collection of William and Mildred Archer was lot 158, A painting of Radha and Krishna on a bed, Garhwal, India, 1800-1820, opaque pigments on paper heightened with gold. Entered into the sale with an estimate of £5,000 - £7,000, the work sold for £22,500, also to a buyer in the USA.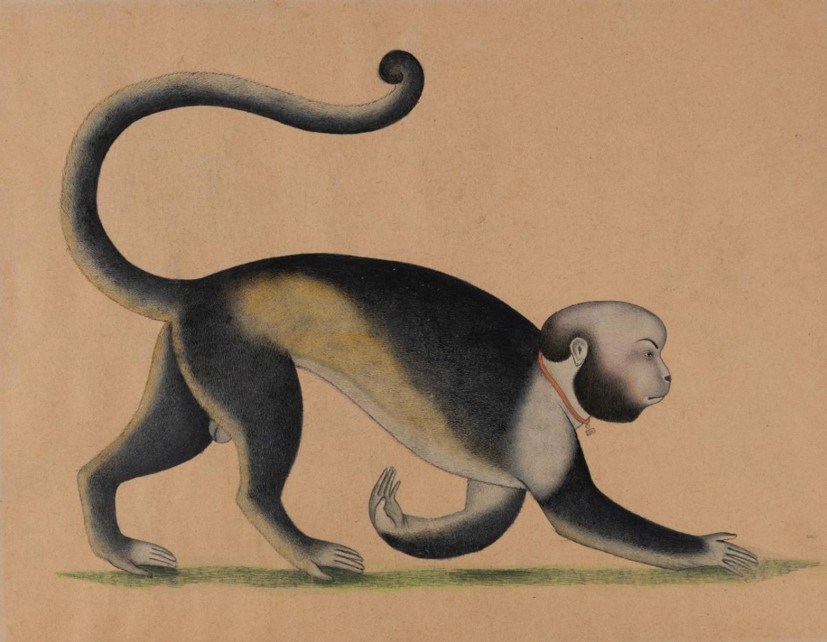 A Company School painting of a monkey, India, mid-19th century, after a Mughal painting of the same subject attributed to the "Stipple Master" (active circa 1692 -1715), opaque pigments on paper, was another highlight from the works of art on offer. The original painting dated to 1705-10AD is held by the Art Institute of Chicago (2011.248). The inscription on the reverse written in Devanagari states that the monkey is named Husaini and "comes from" Nawab Davad (or Daud) Khan. This name most likely refers to Daud Khan Panni, a powerful nobleman and a faujdar (a military commander and territorial administrator) who served the Mughal emperors from Aurangzeb (r. 1658–1707) through Farrukhsiyar (r. 1713–19), in various parts of India. The refined elegance of the painting saw international bidders compete on the phone, internet and in the room for this delightful study. Entered into the sale with an estimate of £2,000-£2,500, the painting sold for £21,250 to a New York based RoseberysLive online buyer.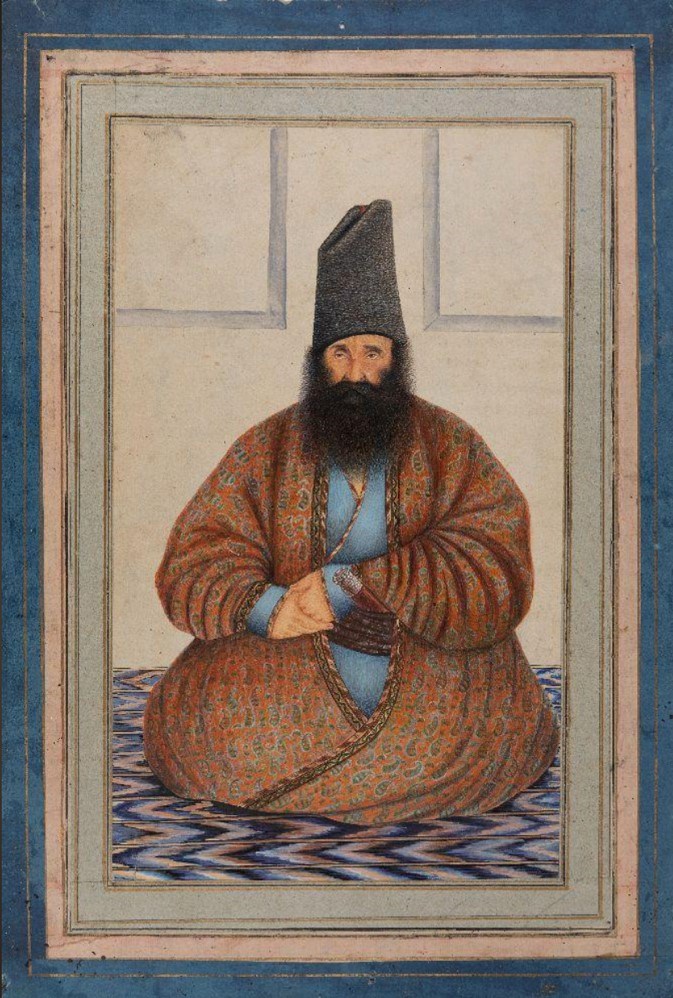 (Lot 414) A portrait of a seated bearded minister, Qajar, Persia, mid-19th century, opaque pigments on paper, with provenance from an Important Private Collection, was another highlight artwork sold. The sitter is similar to an unidentified portrait published in T. Falk ed., Treasures of Islam, Geneva, 1985, no.191. Given the estimate of £300-£500, the work sold for £17,500, going to a telephone bidder.
The next auction will be Arts of India on Tuesday 14 June.
The department are now welcoming consignments. Please contact islamic@roseberys.co.uk for a complimentary valuation.