The Sublime Art of Asia
29/06/2017 News Stories & Press Release, Chinese, Japanese & South East Asian Art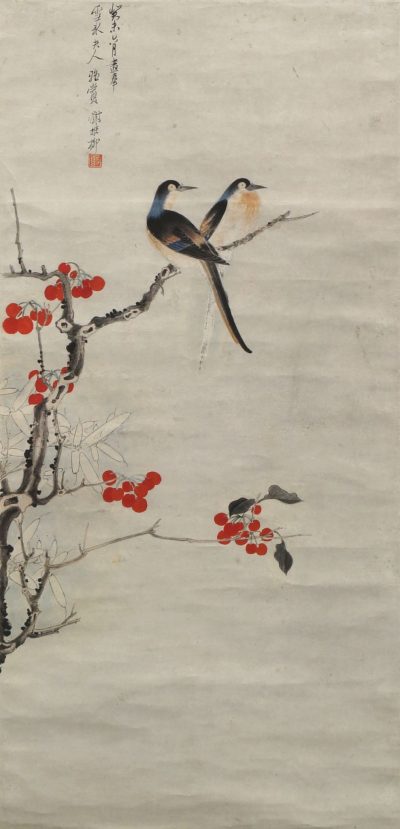 Roseberys London specialist Asian Art auction of 487 lots held on Tuesday 27 June realised a total of £669,550. Bill Forrest, specialist and auctioneer, said "I'm delighted with the overall sale result, whilst these specialist auctions are a testament to the enduring strength of the Asian market, there is no doubt that the buyers are increasingly seeking those objects with superb provenance and of fine quality. It is becoming more and more important to ensure that we curate the auctions so that they present the pieces in a more favourable way to the discerning buyer."
The objects on offer showcased the diverse breadth of Chinese art produced over the last three millennia.
The sale kicked off with an academic collection of early ceramics, traditionally Western in taste. A collection of striking terracotta figures produced in the Sui and Tang dynasties sold for just over £6,500 (Lots 15-28), whilst an unusual 'fahua' vase produced in the Ming dynasty sold to a Chinese collector for £5,150 (lot 7).
Two pieces of Chinese blue and white porcelain produced for 'domestic consumption' during the reign of Emperor Kangxi attracted a huge amount of interest, with seven telephone bidders competing for a large brushpot, (lot 87), ending with a sale price of £21,675. The other, a Ming inspired vase dating from the late 17th century, selling for £3,825, despite a significant crack to the body, (lot 88)
Slightly later in date, (lot 130), two similar Chinese doucai porcelain 'chicken' cups, set the saleroom alight. The cups, painted in underglaze blue and doucai enamels depict a rooster and hen with chicks, interspersed with floral sprays issuing from rocks. Aptly offered for auction in the year of the rooster, international attention made them the focus of the sale for many bidders covering ten phone lines and both UK and international clients bidding online and in the room saw the hammer come down at £53,550.
The following (lot 131) from the same private collection, a rare Chinese porcelain double gourd-shaped vase from the Qing dynasty, 18th century also created furious bidding with 16 phone lines it was finally bought by a private bidder in China for £44,625. With an unmarked based there is no indication of where the vase was made, however porcelain of such quality can usually be attributed to that of the Jingdezhen region. The vase shows Cai Shen beside a boy holding a jar issuing wufu (five bats) which can also be referred to as five blessings to one side and Shoulao (god of longevity) beside a crane and gnarled staff on the other; the sides painted with the Eight Buddist Emblems, from Nepali Buddhism.
Jade is an ever popular material within Chinese art, although the market is becoming ever more selective, because there is a lot of jade on the market the stone needs to be of impeccable quality, the final aesthetic of the stone needs to precisely matched to the carving and how well it is carved are all major factors for buyers.
(Lot 182), proved a good example that the sale of jade carvings is still strong. The fine Chinese jade brush rest, Qing dynasty 18th/19th century was popular with bidders due to the good provenance that accompanied it, formerly in the collection of Mr William A Russel of Westminster, Kingston Estate, Oxford and acquired in 1875 by T. Mallam & Sons. Alongside the stone being of impeccable quality and finely carved, both factors essential in an ever more selective market for jade the bidding finally stopped at £10,200.
With the rarity of early Chinese metal ware collectors enjoy the challenge of finding genuine pieces, this was evident with (lot 264), a censer believed to be from the 17th century and paying homage to the earlier Chinese art of the Warring States style, with gold and silver motifs the main body of the piece and modelled as a mythical beast. Again strong bidding across the internet and on the phone saw bidding cease at an impressive £20,400.
The highlight section of the sale came in the form of two private collections of scroll paintings. The first collection being gathered in the 1950s – 80s by the vendor's great uncle from UK auctions and galleries. The collection arrived in the auction house in a suitcase and tent bag – unbeknownst at the time the collection would amount to over £200,000.
A highly specialist field due the number of imitations on the market the majority of the section was fought out on the telephone between two Chinese collectors with the star lots being 330 and 341.
(Lot 330) SHI TAO (Manner of, Chinese, 1642-1707) is a misty landscape in ink and colour on paper, hanging scroll. Inscribed with a poem by Song dynasty poet Guo Xiangzheng showed to be demanded, commanding a final price of £25,500
(Lot 341), attributed to XIE ZHILIU, Chinese 1910 – 1997, stood out from the previous scrolls, it had a different style to the earlier moody landscapes. This piece depicts a much more private, quiet, intimate imagery of two birds on a blossoming branch, it is inscribed that this was painted as a gift for a lady, perhaps the overall message and imagery lending suggestions to symbols of a blossoming love for the lady. It certainly set hearts a flutter on the day as it reached a final price of £70,125.
The sale drew to a close with a collection of fine Japanese Inros, amassed from two private collections, the section was spearheaded by (lot 415), a fine ivory and Shibayama four case inro by Nemoto, Meiji. With exquisite finish and in remarkable condition the inro was finely lacquered inhiramaki-e, takamaki-e and kiragani-e and inlaid with amethyst, coral, hardstone, mother of pearl and ivory with kitsune no yomeiri (foxes' wedding) and monkeys dressed a shumans dancing and enjoying the hanami (cherry-blossom viewing) season to one side and with a skeleton and two children fording a stream to the other, signed to white metal tab. A truly beautiful example of Japanese craftsmanship it sold on the day for £7,650.
Roseberys London next Asian Art auction is 5 December 2017.
~Ends~
Prices include Buyers Premium of 23%.
For further information please contact Charlotte Meddings charlottemeddings@roseberys.co.uk +44 (0) 20 8761 2522
Roseberys is a privately owned auction house operating at the heart of the fine art market for 30 years.
With offices in London's Mayfair and Lambeth Roseberys offer a calendar of more than twelve specialist fine art, antiques and collectibles auctions each year.
Specialist sales include a wide range of Asian and Islamic Arts, Modern and Contemporary Art and Design, Decorative Art, Fine Silver and Jewellery, Ceramics, Paintings, Prints, Photography, Antique Textiles, Vintage Fashion and Fine Wine and Whisky.
Roseberys team of world-renowned specialists also provide a wide range of art market services to professional clients, including valuations for insurance and probate.