The Short and Influential Reign of the Yongzheng Emperor
29/04/2020 News Stories & Press Release, Chinese, Japanese & South East Asian Art
The Yongzheng emperor reigned from 1722 until 1735. Although the reign was short, the period saw many cultural and aesthetic advances under an emperor who prized artistic excellence. The emperor himself oversaw and approved every aspect of ceramic production in the imperial kilns, and official records note that he would comment on the quality and properties of new creations, issuing directives such as 'make thinner', and to refine to achieve 'an elegant presence'. If an object did not meet the aesthetic standards desired by the emperor they were sent back for modification or complete overhaul, showing that any objects created under the auspices of the imperial workshop fully reflected the personal artistic taste of the Yongzheng emperor.

Development of the Lemon-Yellow Glaze

One of the artistic innovations of this period was the conception of the lemon-yellow glaze. Technically difficult to achieve, the lemon-yellow glaze traces its origins to earlier imperial yellow objects manufactured during the Ming dynasty. These objects utilised yellow and blue enamels to the body, and Yongzheng-period examples that use the same technique and similar decoration are displayed below. Objects such as these were reserved for imperial use only, except for a few pieces that found their way abroad as diplomatic gifts.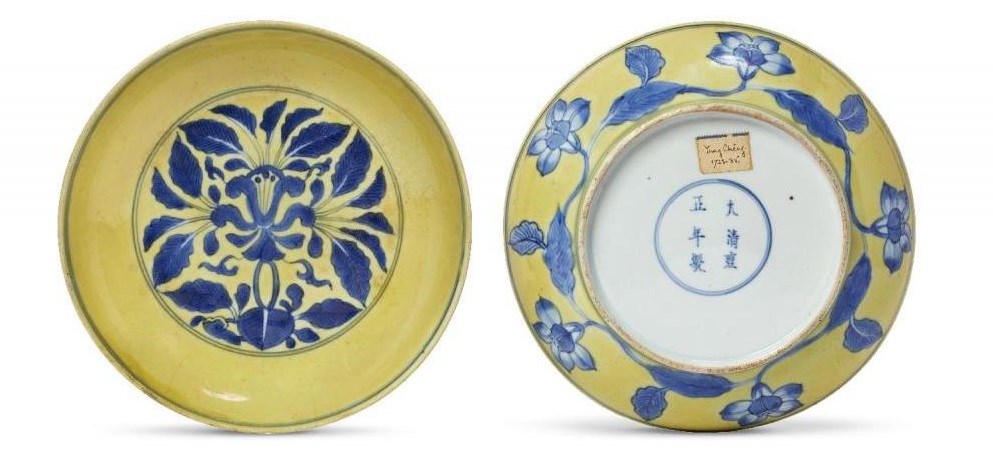 A pair of Chinese underglaze blue and yellow enamel decorated dishes, Yongzheng mark and period, sold at Roseberys Asian Art Auction for £3250

The refinement of this new lemon-yellow glaze involved combining the antimoniate of iron with tin oxide - a technically challenging process, and one that resulted in the destruction of the piece if the slightest imperfection was to occur. Requiring immense skill in potting, glazing and firing, these monochrome pieces are some of the finest produced during the Yongzheng period. Below is an example of this refined quality - a pair of lemon-yellow glazed bowls, Yongzheng mark and period. These objects are wonderful examples of the craftmanship and the minimalist beauty achieved during this period.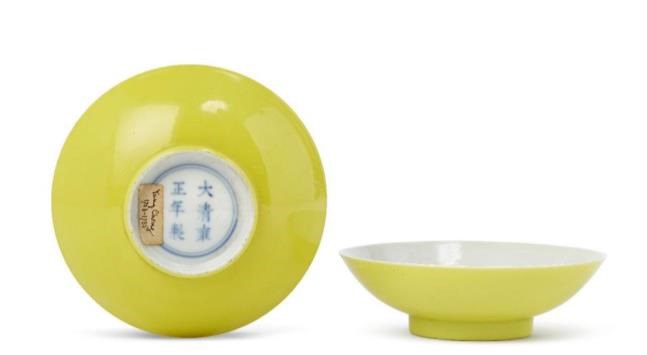 A rare pair of lemon-yellow glazed bowls, Yongzheng mark and period, sold at Roseberys Chinese, Japanese & South East Asian auction for £50,000

The Yongzheng period saw a concerted effort in the refinement of monochrome glazes, and Tang Ying's Taocheng Jishi Beiji notes that 57 different monochrome colours were produced during this time, both new inventions and recreations of older classics.

Imperial Authority and Symbolism

Rumours of the illegitimacy of his position on the throne plagued the Yongzheng emperor, and he spent much of his rule fighting potential political challengers. These would-be opponents included his brothers Yinzhi, Yintang, Yin'e and Yinti, who all regarded his accession to the throne as illegitimate, and the emperor pursued an aggressive divide-and-conquer strategy to weaken their challenge.

To further remove doubts on his imperial authority, the Yongzheng emperor oversaw the production of objects that bore imperial imagery rich with symbolism. These motifs, such as the five-clawed dragon, were reserved for imperial use only, and were used as visual displays of imperial power. A particularly commanding symbol that has a profound influence, even to this day, is the five-clawed dragon, which expresses accomplishment and excellence. The phrase 'hoping one's son will become a dragon' is just one of many Chinese proverbs and idioms that refers to the dragon as an aspirational symbol.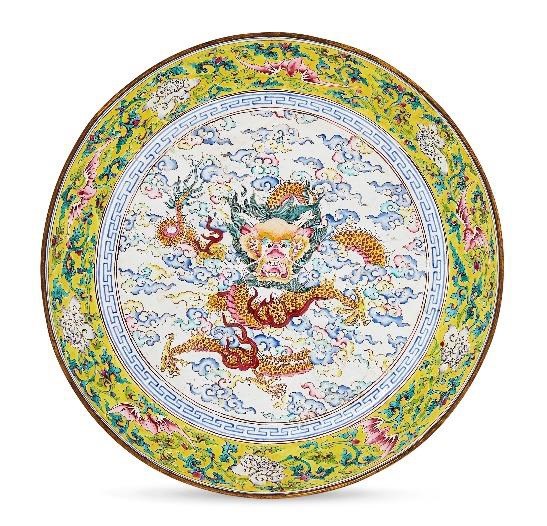 A Chinese painted enamel dish, Qianlong period to be included within Roseberys upcoming Chinese, Japanese & South East Asian auction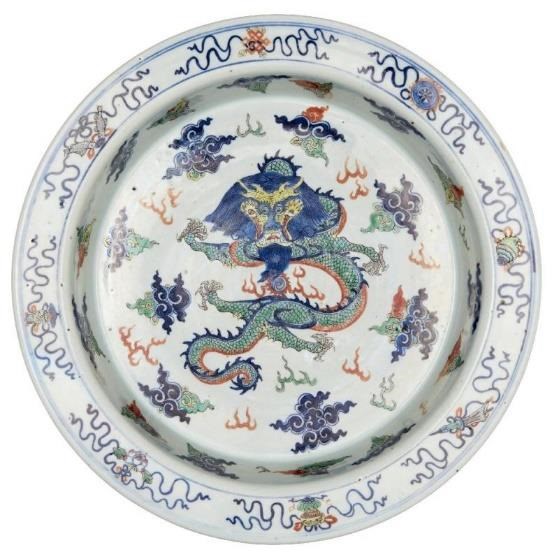 A Chinese porcelain wucai basin, Wanli mark, 18th century, sold at Roseberys Chinese, Japanese & South East Asian auction for £3,250

Flowers

The Yongzheng emperor was a passionate collector and benefactor of the arts, and would frequently commission gifted court officials to create works of art that followed the aesthetic styles of certain masters, such as landscape paintings following the orthodox style of the Four Wangs. For flowers, painters would follow the style of Yun Shouping, a 17th century artist regarded as one of the Six Masters of the Qing dynasty. Shouping's works were highly expressive and vivid, and made frequent use of vibrant reds and purples that had previously been shunned by Chinese painters for being too gaudy.

With the refinement of glaze and firing techniques during this time, flowers on porcelain became more vibrant and expressive, displaying an elegant, painterly quality directly descending from Yun Shouping's masterpieces. New developments such as famille rose, which had only been introduced to China by the end of the emperor Kangxi's reign, allowed for beautiful depictions of prunus, chrysanthemum and poppy blossoms.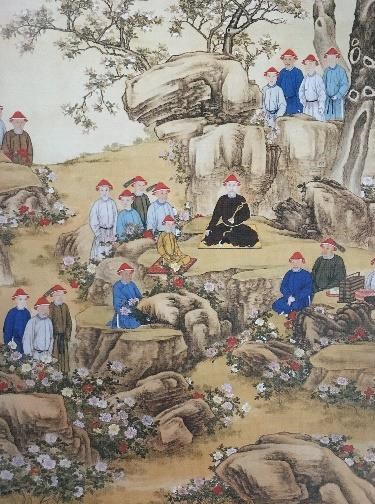 '
The Yongzheng Emperor Admiring Flowers', from the Palace Museum, Beijing, & included in the exhibition 'China. Three Emperors', The Royal Academy, London, 2006, cat. no. 272.

A rare pair of Chinese porcelain anhua and famille rose bowls, Hongzhi marks, Yongzheng period, sold at Roseberys Asian Art auction for £17,500 hammer
Flowers are also rich with symbolic meaning. The appearance of purple lingzhi fungus as on the bowl pictured below is significant, and appears only on a small number of other Yongzheng examples. Lingzhi represents immortality and longevity, the orchid is symbolic for love and beauty, and the chrysanthemum here symbolizes a life of ease. The appearance of these three together on this wine cup suggests it was a gift, and meant to bestow sentiments of a long and happy marriage upon the drinker.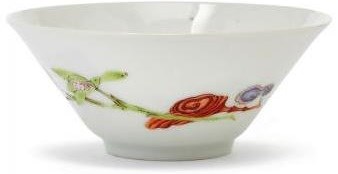 A rare and fine Chinese porcelain famille rose bowl, Yongzheng mark and period, sold at Roseberys Asian Art auction for £12,500 hammer
REQUEST A VALUATION FROM THE ASIAN DEPARTMENT 

FIND OUT MORE ABOUT THE ASIAN DEPARTMENT