The Royal Society of Sculptors x the Saving Dora House campaign
28/09/2021 Modern & Contemporary British Art, News Stories & Press Release
Within the upcoming Modern & Contemporary British & Irish Art auction at Roseberys on Wednesday 13 October there is a collection of works (lots 328 To 457) that have been kindly donated to the Royal Society of Sculptors. All proceeds support the Saving Dora House campaign to repair and restore Dora House – the Society's HQ in South Kensington.
Here we explore further into the background of the Royal Society of Sculptors, Dora House, and talk to the Director, Caroline Worthington, about the organisation in more detail.
The Royal Society of Sculptors is an artist-led, membership organisation that champions contemporary sculpture and those who make it. With over 600 members across the world, the Society supports and connects sculptors throughout their careers, whilst also leading the conversation about sculpture today through exhibitions and events.



Cecil Thomas Dora House 
The Society has been housed in the beautiful Dora House, on Old Brompton Road, since the 1970s. Previously the home of British sculptor Cecil Thomas OBE FRBS, it was left to the Society by the Dora Charitable Trust, the charity set up by Thomas in memory of his late wife.The building's architecture and red brick is highly individual and catches the eye in an area that is dominated by stuccoed Italianate villas. It was originally built by William Blake in 1820 but the current facade dates to a remodelling in 1885-6 undertaken by William Flockhart.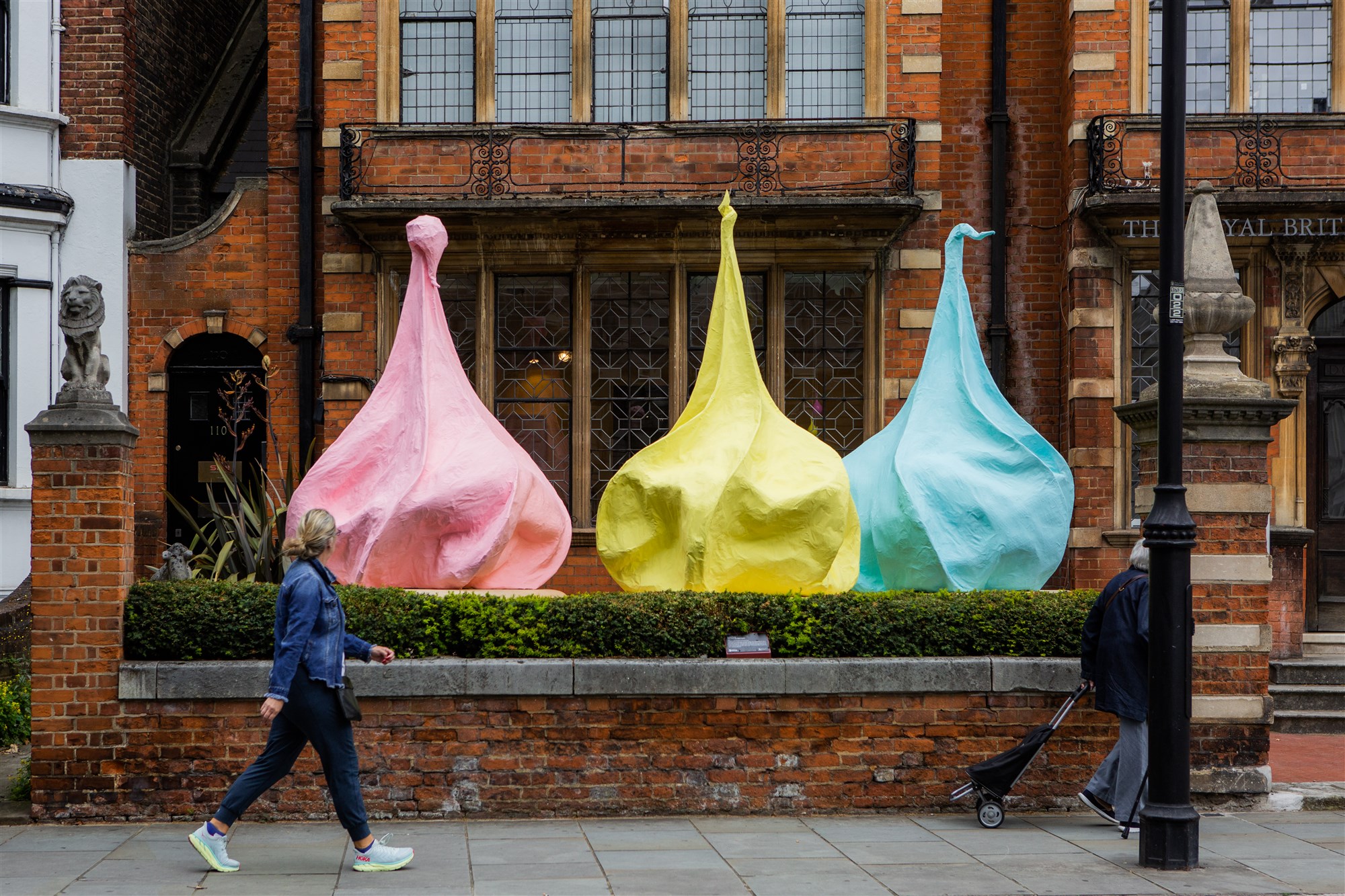 Sophie Kemp, More Than You Might Expect, photo by Jennifer Moyes 
The Society is focused on restoring Dora House, creating an exciting space to see, experience and enjoy sculpture, being a leader in its field and making its mark on London's cultural map. Money is being raised to do so in campaigns such as this collaboration with Roseberys Auctioneers. To make this vision a reality, the Society will close in November 2021 for six months to enable urgent conservation work to the building's historic facade to take place. The Society plans to re-open in May/June 2022 with their annual Summer Exhibition.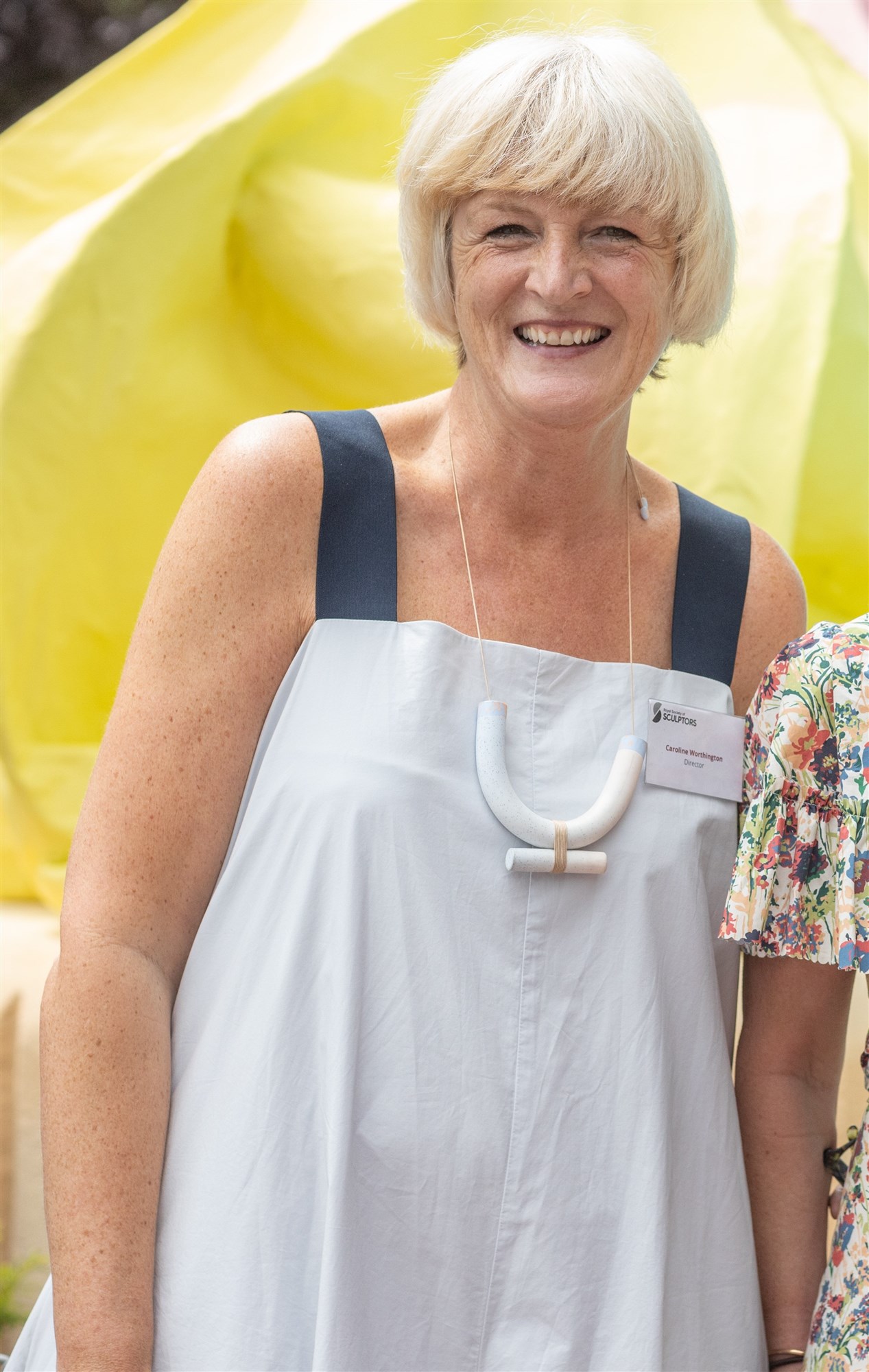 Image of Caroline Worthington

Director, Caroline Worthington, has worked with artists throughout her career as a curator. She previously served as Chief Executive of Bexley Heritage Trust, in which she managed two historic houses and introduced a contemporary art programme and as Director of the Florence Nightingale Museum, where she raised funds and oversaw a complete redesign and relaunch in 2010.
Here we talk to Caroline in more detail about the organisation and her role there. 
Hi Caroline, can you tell us how more about how you got involved with The Royal Society of Sculptors?
In 2017 I was looking for a new challenge and the opportunity arose to become the Society's director. Despite being based in South Kensington near all the great museums, at the time it seemed to me that the Society was relatively little known.  I set about changing that so that our members, their work and Dora House all have a much higher profile.
Who are some of your favourite sculptors, either past or contemporary?
My relationship with sculpture goes right back to my days as a student in the 1990s. I wrote my thesis about Jacob Epstein. My viva was heard by the art historian Ben Read (see below).  I even took part in a work placement at the Henry Moore Institute in Leeds. Having read Louisa Young's biography of her grandmother the sculptor, Lady Kathleen Scott, on holiday I have enduring interest in her work. In fact, one of the first exhibitions I curated was of Kathleen's work at Dorich House – the home of Dora Gordine. I was delighted to discover when I arrived here that according to the archive both Kathleen and Dora were members of the Society.



Glynn Williams FRSS, British b.1939 - Gateway of Hands; bronze on offer at Rosberys 

Can you tell us more about the works on offer at Roseberys?
The works have generously been donated by members of the Society over the years to support our work and include prints, drawings and paintings as well as sculpture. It's an exciting opportunity to acquire work that doesn't often come on to the market.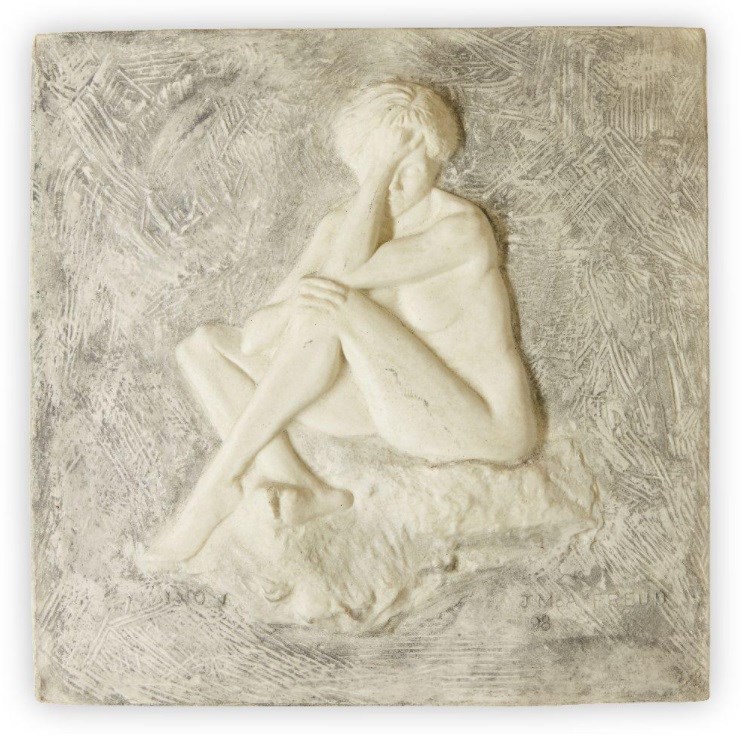 Jane McAdam Freud FRSS, British b.1958- Untitled; reconstituted marble on offer at Roseberys
Can you offer an insight into the refurbishment of Dora House and why it is so important?
Dora House is a beautiful building but it flatters to deceive; there is no central heating and no hot running water and we work in what were Cecil Thomas and his families bedrooms. If you look closely you will see that the chimney is about to collapse. The stone pillars in front of the building both lean and the west gable is also on the brink of falling away. Saving Dora House is a two part project. This first phase will address major defects with the building's exterior. The second phase in two years' time, will aim to complete the internal transformation of Dora House as an exhibition and educational space, talks venue, and archive.


Edwina Sandys MBE, British b.1938 - Hands On, 1994; painted marble on a bronze base on offer at Roseberys
Can you tell us more about any upcoming exciting events with The Royal Society of Sculptors?
Yes ! October is a busy moth full of festivals that we like to take part in – from London Craft Week to the Big Draw and the Great Exhibition Road Festival:
Thursday 7 October 6.30pm
London Craft Week talk at Dora House in conjunction with Cavaliero Finn
Making Thoughts with potter and sculptor Nicholas Lees 6.30pm
Tuesday 12 October 6.30pm
Ben Read memorial lecture with Aya Haidar
Thursday 21 October 6.30pm
October Third Thursday at Dora House with London Terrariums 6.30pm-8pm £45
Monday 25 – Wednesday 27 October
The Big Draw – Make the Change
Free drop in family activities led by Rebecca Griffiths 11am-1pm and 2pm-4pm
Friday 29 October
We are welcoming back Wildlife Drawing to Dora House for a day of meeting and drawing owls.
11am-pm and 2-4pm tickets from £30
For more details on all events see: www.sculptors.org.uk
Find out more about the all sculptures on offer and the sale here. 
Modern & Contemporary British & Irish Art
Wednesday 13 October, 10am
Viewing by appointment only contact williamsummerfield@roseberys.co.uk to book a time slot 
We will be facilitating time slot appointments of one hour each.
When making your booking please provide a contact telephone number and the number in your party up to a maximum of 2 people.
Viewing Times
Friday 8 October 1.00pm – 5.00pm
Sunday 10 October 10.00am – 2.00pm
Monday 11 October 9.30am – 5.00pm
Tuesday 12 October 9.30am – 5.00pm
Please contact williamsummerfield@roseberys.co.uk for condition reports and further information.