The Popularity of Chinese Antiques in the UK
9/05/2022 News Stories & Press Release, Chinese, Japanese & South East Asian Art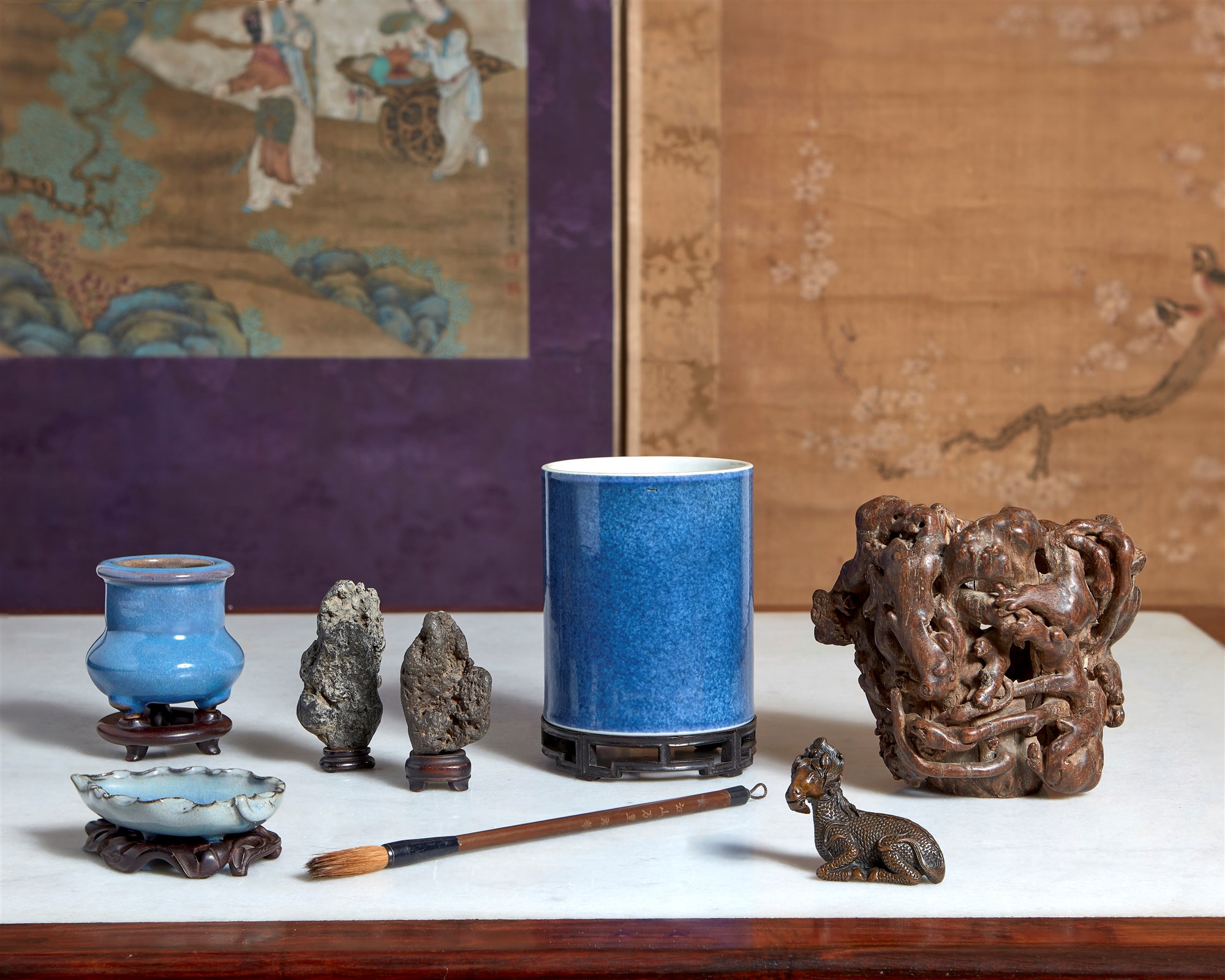 One of the main stories in antiques over the past few years in the UK has been the flourishing demand for East Asian art and antiques, particularly from China. Chinese art collectors have been buying antiques from UK auction houses at an extraordinary rate, reclaiming the nation's heritage, whilst transforming trade across the country. With ever-growing demand and astonishing sale figures, it also explains why so many Chinese works of art are coming out of the appearing on the market in the UK, as consigners can see an increase in profits of what they would have made in the past. But how and why were Chinese art and antiques made popular in the UK in the first place, in a location hundreds of miles away?
In our upcoming Chinese, Japanese & South East Asian Art auctions on Tuesday 17 and Wednesday 18 May, Roseberys is hosting over 500 such objects. The lots on offer range from figurative ceramics (Lot 9), rare jade bowls (Lot 49), and exemplary porcelain (Lot 37) to intricate jewellery (Lot 41), and large pieces of furniture (Lot 79) and wood carvings (Lot 68).
Why do people buy Chinese art and antiques from the UK?
The growing middle class in China have an ever-increasing desire to purchase Chinese antiques from abroad, bringing them back to their sovereign country. In 2018 global auction sales of Chinese art and antiques were over $6 billion (as reported in the Global Chinese Art Auction Market Report). In 2017, the Chinese accounted for 34% of world total auction sales (with the US at 32% and the UK at 18%). As is the inherent issue with antiques, there are a finite number of genuine articles in circulation. With an increasing appetite in China for purchasing Chinese antiques abroad, budding collectors would be well-advised to purchase these antiques sooner rather than later, while supplies last in reputable auction houses and before prices sky-rocket further to reflect increasing scarcity. In 2002, the Law of the People's Republic of China on the Protection of Cultural Relics made legal the lawful circulation or antiques bought in auction – raising the number of auction-purchased artworks and antiques being purchased by the Chinese market and brought back to mainland China. In China itself, forgeries and fakes are rife, with auctions reporting an unsold rate of 55% (in comparison to the US at 26%). Britain's historical following of European industry standards mean that collectors can rest assured in the authenticity of the pieces on offer at auction. These guarantees also make British auctions appealing for overseas collectors.
The appeal of Chinese art and antiques to Europeans


Chinese art and antiques have been viewed as desirable investments in Europe for over 100 years. Europeans had a fascination with Asia due to their increased, but still restricted, access to new cultures through expanded trade with East Asia, especially China. Chinese art and antiques were considered a source of inspiration; the atmosphere rich in images and the harmonic designs of the oriental style reflected the picture of an ideal world, from which to draw ideas in order to reshape one own's culture. They acted as symbols of the well-travelled and intellectual nature of their collectors.
How Chinese art and antiques were transported to the UK
The Chinese collections in the British Museum were built mostly during the 19th and 20th Centuries. It was only from the late 19th Century onwards that transporting significant quantities of historical objects from China became a possibility for European collectors and archaeologists. The building of railways across the north of the country (which disturbed ancient tombs which were then excavated and objects taken) allowed for new ease of transportation. Asia quickly became a must-see location for European archaeologists and explorers. This period of archaeology up to the early 20th Century was a key source for pre-Ming age objects, and British military presence in China was responsible for much of the rest of Chinese antiques and art we retain in the country today. The first travel agency in China was set up in the 1920s, and wealthy travellers could transport small amounts of art and antique goods back with them.  Some objects did come into European circulation earlier than these industrial developments, traveling through the Silk, Spice, and Salt Roads during long journeys made on the behalf of royal parties.
Bill Forrest, Head of the Chinese, Japanese & South East Asian Art department adds: 'There was an enormous appetite in Europe for Chinese porcelains, hence the massive trade in export goods from east to west. These trade routes with China gave way to millions of pieces of Chinese porcelain that were imported to Europe. A trade that probably began in the 16th century between Portugal and China. 
The upcoming two-day sale is the ideal opportunity for collectors to procure high quality Chinese antique objects and art.
Ends 

Day one will include: Fine Chinese Art, South East Asian Works of Art and Japanese Works of Art, taking place on Tuesday 17 May.

Day two will include: Chinese Ceramics & Works of Art, taking place on Wednesday 18 May.
Viewing at Roseberys
Thursday 12th May 10am-5pm 
Friday 13th May 10am-5pm 
Sunday 15th May 10am-2pm 
Monday 16th May 10am-5pm
Contact asian@roseberys.co.uk for further details