The Luxurious Maison Boucheron
7/03/2019 News Stories & Press Release, Jewellery & Watches
 
Situated plum on the Place Vendôme in Paris - one of the most distinguished shopping quarters in the world - stands the historic French jewellery house, Maison Boucheron. 
Since its arrival on the corner of Rue de la Paix over a century ago (the first jewellery boutique to open on the square), Boucheron has stood at the epicentre of Parisian luxury, synonymous with taste and innovation in the exclusive world of designer jewellery. A longstanding favourite among royalty, film stars and the exceptionally well-heeled, Boucheron's creations have spanned the vivid design eras of Second Empire, Art Nouveau and Art Deco. Its glamorous patronage, together with the diversity and quality of its designs, has ensured Boucheron's place as one of the most desirable names for vintage jewellery collectors on the secondary market.  
"Founded in 1858, Boucheron jewellery is traditionally of the finest quality and craftsmanship recognised throughout  the world. Examples by this company particularly of vintage production are highly sought after by buyers and collectors. People understand that when they acquire a Boucheron piece they are getting an item of pedigree from a respected brand are confident to buy so prices achieved at auction are always high. I feel that the high standard of pieces made from the 1900s to the present day has been lasting." Mark Bowis, Head of Jewellery at Roseberys London
The dynasty was founded over 160 years ago by the innovative French jeweller Frédéric Boucheron, who came from a family of drapers. Frédéric opened his first store under the arcades of the Palais Royal, in the Galerie de Valois, during the heyday of the Second French Empire. With a great eye for design and a flair for business, Frédéric's atelier went from strength to strength. In 1867 - just nine years after he founded the business - he was awarded the prestigious Gold Medal during the Exposition Universelle. Early visual inspiration for Frédéric and Boucheron came from the treasures Emperor Napoleon brought back from his campaigns. Antiquities from ancient Greece and Rome, artefacts from Pompeii and the influence of Egyptian culture through the creation of the Suez Canal - all inspired. 

Painted crystal intaglio pendants depicting exotic beetles and multiple intaglios with subjects of cats and ladybirds influenced by these rich cultures were among a group of late 19th early 20th century Boucheron pieces that sold in a job lot at Roseberys for £1300 in 2017.
After Frédéric's death in 1902, his son Louis assumed control of the business and it continued to grow, with stores opening in Moscow and on London's salubrious Old Bond Street in Mayfair. Today, vintage pieces from its London boutique are highly collectable. A pair of gentleman's pearl set cufflinks still in their fitted Boucheron London case, made a multi-estimate £4600 in our Fine Art sale in 2015.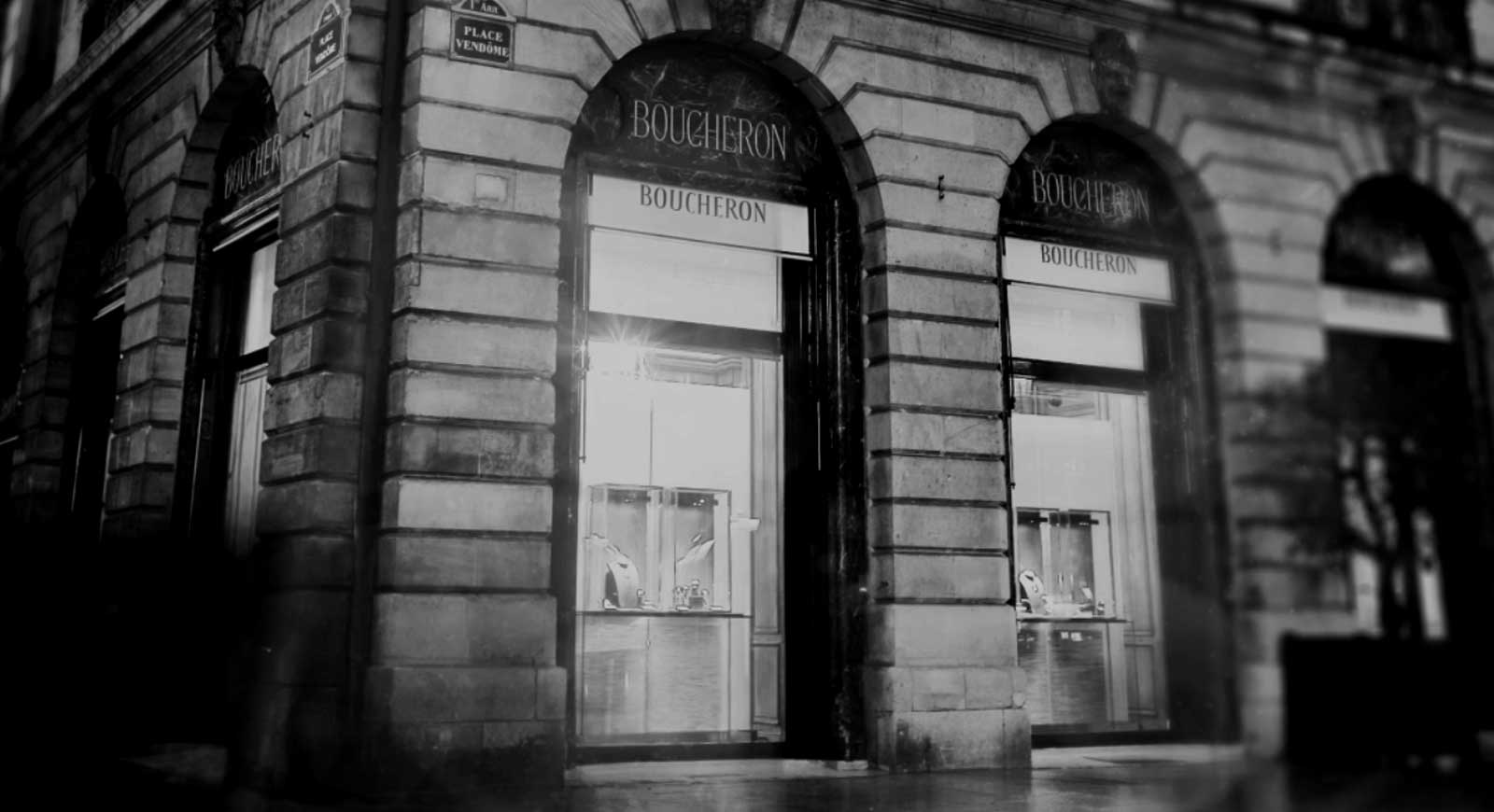 Established since 1893 at the 26, Place Vendôme, the craftsmen are perpetuating the Maison's savoir-faire, inherited from its founder Frédéric Boucheron more than 160 years ago.

Among the famous commissions to come out of the Old Bond Street shop was a diamond tiara made in 1921 for Lady Greville, which was later given to Queen Elizabeth The Queen Mother and is now with Camilla, Duchess of Cornwall. 
A fine example of Boucheron's craftsmanship during this period is an antique platinum, diamond, pearl and onyx brooch, which is set to go under the hammer on March 19, with a top estimate of £3500. Made by Boucheron Paris in c.1915, it features a mesmerising circular panel with central bouton pearl circular twin borders, black onyx plaques and brilliant-cut and rose-cut diamonds.

During the 1930's and '40s, the company popularised detachable dress clips – these were clips that could be worn separately or combined into a single piece, depending on the wearer's outfit or mood. A lovely example to come to market was a c.1940s invisible set sapphire and diamond dress clip of scrolled design, stamped Boucheron Paris, which sold at Roseberys for £4200 in 2013.
Like many of the great jewellery houses, Boucheron also create luxury accessories like watches, vanity cases and cigarette lighters. In 2015, we sold an 18ct bi-colour gold cigarette lighter featuring a textured basketwork design for £600.
The upcoming Jewellery & Watches auction will take place on Tuesday 19 March, starting at 1 pm. You can view the whole catalogue here. 
Viewing Times 
Friday 15 March: 1.00 pm – 5.00 pm
Sunday 17 March: 10.00 am – 2.00 pm
Monday 18 March: 9.30 am – 5.30 pm
Tuesday 19 March: 9.30 am -12.30 pm
For further information please contact Mark Bowis, FGA DGA FSA
markbowis@roseberys.co.uk
For further press information please contact Peigi Mackillop peigimackillop@roseberys.co.uk +44 (0) 20 8761 2522